Everything You Need To Know About Renting a Motorhome, Campervan Or RV For The Ultimate Road Trip Vacation
How To Choose The Right RV, Save Money, Avoid Expensive Mistakes, And Have The Road Trip Of Your Life!
Are you fed up with having to drag heavy luggage from A to B, the endless grind of packing and unpacking as you check in and out of hotels and motels that you've spent half the day trying to locate?
Would you prefer to fly to your vacation destination and drive off in a rental RV with all your gear and just stop for the night when and where you feel like it?
Yes Yes! …I hear?
Well you're in the right place because we got you covered with our one-stop motorhome rental guide full of information, hiring tips and all-round practical and realistic advice on everything you need to know about renting a motorhome, RV or campervan.
Before we get started, unless specified, the generic term for 'motorhome, RV and campervan' will be 'motorhome'. Cool bananas?
Richard Wolskel, Founder of Go4MotorhomeRental.com, Blogger and Travel Lover!
Let's get started.
What's The Difference Between a Motorhome, RV And Campervan?
In order to qualify as either a campervan, motorhome or RV, a motor vehicle needs to incorporate at the very minimum, a bed.
But the similarity pretty much ends there, so before you start looking at campervan, motorhome or RV rental and planning your road trip, let's get some basic details on what each has to offer to get the very best out of this motorhome rental guide.
Campervan Defined
Average: Two Berth.
Usually, the smallest of the three vehicle/home classes and can be anything from a car converted to contain enough space for basic sleeping arrangements, to a large van with stove, sink and maybe even bathroom facilities.
Their size means they may be easy to drive and less inclined to gulp fuel, but they're never going to be as comfortable as an all-singing, dancing RV or Motorhome, despite pop-tops and expanding roofs to ensure the limited space is maximised.
By and large, when it boils down to campervan vs RV vs. motorhome, the former is an attractive option on account of affordability and running costs.
4WD Campervan Defined
Pretty much the Campervan as described but with four-wheel drive enabling it to undertake more challenging surfaces, but it will be thirstier on the fuel consumption.
Motorhome Defined
Average: Four Berth.
This is where the motorhome vs. RV/motorhome vs. campervan discussion intensifies as the lines blur, but the main difference between motorhomes and RVs compared to the relatively frugal campervan is that they are usually larger, some considerably so, with a longer wheel-base and the cab separated from the living quarters.
On average expect your motorhome to be able to sleep between four and six people and expect decent kitchen and bathroom facilities with enough interior space to enjoy a level of comfort over and above that of a campervan.
Many are equipped with TV's, DVD's and so forth and you can add a whole host of features and options to suit your exact requirements.
Of course, this additional luxury comes at a cost, motorhomes are more expensive to run but they could be relatively cheap when compared to a top of the range RV.
RV (Recreational Vehicle) Defined
Average: Six Berth plus.
Confusingly an RV (Recreational Vehicle) may be referred to as an RV, a motorhome or Winnebago.
Winnebago is the US company that began manufacturing trailer homes before moving into motorhomes in the mid 1960's and governing the RV market.
But an RV is, essentially, a large motorhome with the largest examples resembling a bus or coach containing every imaginable mod-con and capable of tackling any terrain you can throw at them.
The closest to a definition of sorts is to run through the checklist of what qualifies as an RV in the state of California, namely:
a sink or shower
a refrigerator
cooking facilities
110v electrical system
AC unit (or heater)
And a lavatory
These are minimum requirements. A top spec RV can even facilitate the needs of a family on a short or long term road trip giving you a hotel-on-wheels feeling!
Non-Motorised RV Options
Two to six berths:
Towable Travel Trailer – typically like a trailer home or caravan and not much different to the former trailer, though more traditionally attached with a tow-hitch to a (powerful) vehicle, and arguably just as challenging to drive.
Four to eight berths:
Fifth Wheel Camper – typically like a luxury trailer home or caravan. This pull-behind RV requires a fifth wheel hitch mounted in the bed of a truck, such as a Ford F-350 Super Duty.
Fifth wheel campers are kitted out much like a Class C motorhome, with some getting close the luxury you'd expect with Class A's, but you do need a good vehicle to pull the camper and the subsequent drive can be challenging without a bit of experience.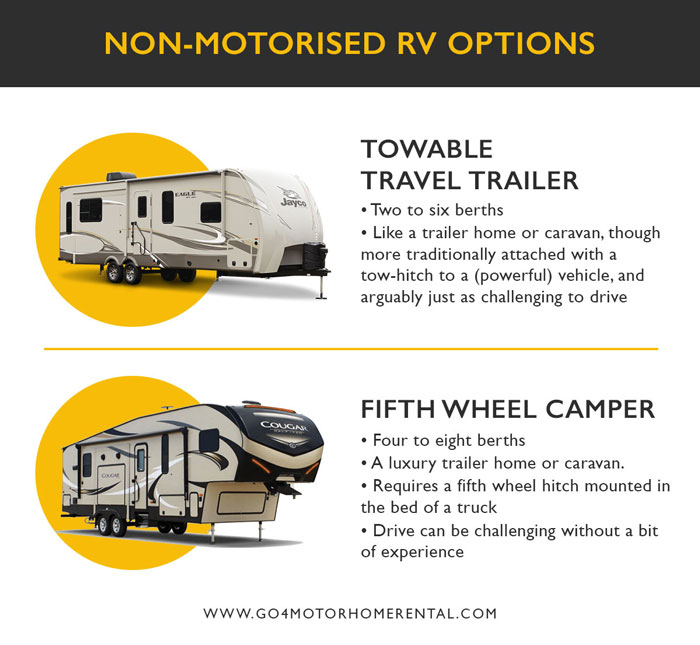 Motorhome Rental Size Guide Comparison: What Are Your Options?
We can discuss semantics on the finer points of what does/doesn't constitute an RV/motorhome until hell freezes over, but we can make motorhome comparisons a little more scientific by breaking our vehicle types into recognised classes that take into account size and additional options.
These include berth and bedding, bathroom and kitchen facilities, seating, storage, security, TV/DVD etc in addition to acting as a good rule of thumb when it comes to the finer points of campervan, motorhome, RV hire.
Two berths:
Campervan: See Above
Camper Cars – Typically like a small campervan. You'll just about be able to sleep in one of these clever little vehicles, complete with kitchen and storage for all your camping needs, but you'll need to stay at a campground for bathroom facilities.
Class B and B+ Motorhome/Campervan – typically like a campervan. The most resemble an oversize van with the cab and the home aspect sharing the same space. Despite this you'll get at least one berth, a kitchen, bathroom and some living room.
Simple to drive, frugal with fuel and fantastically innovative when it comes to maximising limited space. Class B+ Motorhomes are a bit larger and may even have a space for a stand-up combined shower and toilet.
Four to six berths:
Class C (Cabover) – Typically like a motorhome. A van-type cab with a motorhome attached behind and reaching over the cab providing additional bedroom space, this is the compromise between (confusingly) Class A and Class B vehicles.
Expect to find bedrooms, living space, combined shower/toilet and kitchen. The Class C Cabover can happily accommodate four to six people and they're reasonably easy to manage on a day to day basis.
Four berths to eight berths
Class A Motorhome – typically like an RV. When it comes to Motorhome/RV comparisons this is the daddy. This a vehicle you can comfortably live in for an indefinite period, assuming your fellow travellers are on the same page, in comparatively luxurious surroundings. These vehicles have one or more slide-outs, and often a separate bedroom.
Obviously, Class A's are very large, and this can make driving them more difficult; you may even need to upgrade your driving license for some vehicles.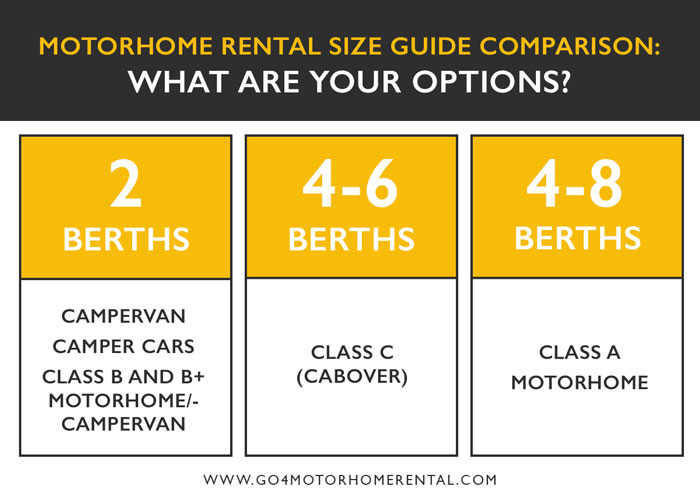 Motorhome Mod-Cons, Facilities, Features & Amenities
Rental options for Motorhomes can be confusing. One of the key things to understand about the tips provided in this guide is that they require you, the prospective motorhome vacationer, to work out first what you require in terms of your time and budget while avoiding temptation by features and options that you simply don't need.
Vehicle Options
As we've discovered in previous motorhome rental tips, the lines that separate campervans, motorhomes and RV's are blurred; all three come in a variety of shapes and sizes and can be referred to as either/or depending on location or preference.
Irrespective of their moniker, you have all manner of options and features to choose from in all classes, so you can mix and match from the following to suit your needs and budget accordingly.
Engine Options
Engine size: 1.5 litres to 3 litres plus
Transmission Type: Auto or Manual/Stick
Drive: 2WD or 4WD
Fuel: Petrol or Diesel
Internal Options
Seating
Sleeping berths
Shower
Toilets
Air-conditioning
Cooking facilities
Fridge
TV/DVD/Satellite
External Options
Roof Racks
Bike Racks
Trailer Towbar
Satellite dish
What's Included When I Hire a Two Berth Campervan?
Stove
Sink
Accessories: Dustpan, brush, fire extinguisher, first aid kit, bucket, hose, maps.
What's Not Included When I Hire a Campervan?
Many campervan rental companies (see NOTE below) offer their customers the opportunity to purchase optional extras, such as the following:
Utensils: Plates, bowls, cups, pots, pans, a kettle, teapot, dishcloths.
Bedding: pillows, sheets, duvets/sleeping bags, bath towels
Outdoor furniture and accessories: tables, chairs, awnings, roof racks
Internal accessories: Children seats, heaters, fans, cabling for technology such as GPS, phone, stereos etc.
Safety equipment: GPS units, Satellite phones, first-aid kits, locator beacons, puncture repair kits, tools.
NOTE: Some motorhome rental firms offer some of these extras as standard, so check!
What Gear to Take/What To Bring With You In Your 4 to 8 Berth Motorhome/RV
Firstly, the 'optional extras' as outlined previously may apply to you as well, so check. As established already, checking first is on the top of every motorhome rental checklist.
Not far behind is a phrase that'll be familiar with every good boy scout and girl guide: be prepared. Putting it simply, with more space and comfort, it's far more likely that you'll venture further into less familiar territory.
The desert, for example, can be scorching during the day and considerably colder in the night so it's always best practice to bring warm, waterproof clothing, even if the terrain your covering is largely hot and sunny.
Make sure you have paper maps as well as GPS/Sat Nav, a pair of sturdy walking boots, hats for hot and cold weather and ensure all of your electronic equipment is fully back-up with an additional power pack.
First aid supplies should be mandatory, a torch and spare batteries, a basic tool and puncture kit are essential, ensure you've a good supply of non-perishable foodstuffs and last and by no means least, water, always, always carry more than you need.
A Glossary Of Common Terms:
Having parked your RV rental in a back-in site after your first proper road trip, the last thing you need is the camphost helpfully directing you to the dumpstation and hook-ups and you not having a clue what they're talking about. So, let's get wise.
In this section, we'll refer to the 'motorhome' as an 'RV' as most of these terms derive from the US, but many are used globally.
Like all languages, this glossary will change from region to region with words and phrases coming and going over time, so check for updates.
Insurance/Rental Terms:
CDL: Commercial Driver's License
General Terms:
Black water: Dirty water from an RV's toilet
BLM: Bureau of Land Management (US)
Caravan: In addition to a travel trailer, 'caravan' can refer to a group of RVs' travelling together as a group
DOC: Department of Conservation (NZ)
Dump station/CDP (Chemical Disposal Point): A place to dump the black and grey water (see below)
Full-timer: A person who lives in their RV full-time
Grey water: Dirty water from an RV's sink and shower
MM: Mile marker
NFS: National Forest Service (US)
NPS: National Park Service (US)
Potable: Safe to drink water
Snowbird: A person who lives in the northern part of the U.S. in the summer and the southern part in winter
SP: State Park
Toad: Vehicle towed behind an RV ie., "towed"
USFS: US Forestry Service
Winterize: Storing an RV for the winter
Campervan/Motorhome/RV Descriptions:
Bus conversion: A commercial passenger bus or school bus that has been converted into an RV
Coach: A slang term for a Class A motorhome.
Diesel Pusher (DP): A Class A motorhome with the diesel engine at the rear
Dually: A pick-up truck with dual-rear wheels
Pop-up (US Definition) Collapsible campers towed in a compact unit behind a vehicle
Super C: A type of motorhome that looks like an overgrown Class C. It resembles an 18-wheeler truck.
Teardrop trailer: A compact, lightweight travel trailer, or caravan, that resembles a teardrop
Toy hauler: An RV with a large opening at the back for "toys," e.g., ATV, motorcycle, golf cart
Truck camper: A pickup truck that has a temporary living space mounted in its bed
Motorhome Parts:
Back-up monitor: A camera mounted on the rear of the RV that lets the driver see what is behind
Bunkhouse: The portion of an RV that contains bunkbeds
Chocks: Devices that prevent wheels from rolling
Holding tanks: A tank in which fresh water, grey water, and black water are stored separately
Slide: A portion of the RV body that can extend to give extra living space
Stabilizing jacks/Stabilizers: Underneath supports used to reduce the amount of movement when camping
Sway control: Device that keeps a trailer side to side from moving in poor environmental conditions
Tag axle: A third axle positioned behind the rear drive axle of an RV
Tandem axle: Two axles (or Duel) on a trailer or fifth wheel
W/E/S: Water/Electric/Sewer
Campsite Terms:
Back-in site: A campsite that requires you to back your RV into it
Boondocking: Camping without hookups (see below) in a remote location
Camp host: The point of contact in the campground
Dry camping: Camping without any hookups. Similar to boondocking
Full hookup: A campsite with electricity, water and sewer facilities at the campsite location
Hookups: Utility connections at a campsite: electric, water, sewage and cable TV
KOA: Kampgrounds of America
Levelling: Positioning the RV so that is level from side to side
Pull-thru/Pull through: A campsite that lets in and out without the need to back up
Shore power: Electricity provided to the RV from an outside electric source
Wallydocking: Staying overnight in a Walmart parking lot
Yamping: Camping in a yard or driveway of someone's home
Benefits of a Motorhome Driving Vacation
Firstly, it depends where you're going to be spending your motorhome vacation. If you're planning on a two-week trip to Venice, you're not going to maximise the potential of motorhome hire.
However, if you're game for a cross country RV trip, the USA coast to coast, for example, this is a good time to whet your appetite with the advantages of hiring a motorhome.
Freedom: Possibly the greatest lure; free from the hassles of a schedule, the journey is yours to do as you wish, all day, every day.
Comfort: Motorhomes and RV's are designed with comfort in mind, there is space to move, room to relax, with top spec RV's offering unprecedented levels of luxury.
Self-drive: Remember when you'd go out for a drive, just for the sake of driving? The motorhome driving experience is unsurpassed, it's you, out there, enjoying an unforgettable journey.
Variety: The spice of life, right? How about a different view every evening, every morning and all that's between, no two moments the same, all there waiting for you to explore.
Quality time: Get out of the city, spend some real downtime with friends and family exploring places you never knew existed, and discover something new.
Motorhome Rental Costs: Save Money And Avoid Common Mistakes
So now you're interested in motorhome hire? Time to stop dreaming about that epic road trip and step back.
Before you set off you need to know a few basic things, so follow these motorhome rental tips and you can't go far wrong. Firstly, decide where you want to travel to and from and shop around based on your desired location.
The key thing to remember is that it's a buyer's market, you can be sure there will be a motorhome rental company that will be able to accommodate your exact requirements. Shop around.
Fee per day: These vary greatly depending on country, distance, class of vehicle, time of year, number of passengers, when you make the booking etc., so shop around based on your preferred route and adjust if necessary.
Insurance: Again, depends on a variety of factors. Every vehicle hire company will have a host of packages so you can decide which one best suits your circumstances and budget.
Driver Under 25: Some motorhome hire companies will have a minimum age restriction; others will charge a fee if the driver is under 25 and a few make it compulsory for underage drivers to purchase excess reduction insurance.
Additional Drivers Listed: Again, expect to pay more but some companies will charge more than others.
Costs of Damages: This is dependent on the severity of the damage and where it is. Generally speaking, if your rental vehicle is seriously damaged you will only pay the excess (called a 'deductible' in the US) on the insurance to repair the bodywork, so long as you're in possession of a Damage Waiver (or a Collision Damage Waiver).
Minor damage such as scratches on paintwork or marks on the upholstery will be covered by your holding deposit or bond.
Holding Deposit/ Security Bond: This is the fee you'll be required to pay in order to hire a motorhome. It's refundable so long as your vehicle is returned in the condition stipulated in your agreement with the motorhome hire company.
Unexpected Costs: In addition to ensuring that studied the T&C's you may need to budget for overnight Stays at holiday/trailer Parks, campgrounds and private parking.
Cancellation Fees: Some companies offer 'free cancellation' as standard but others may charge you a 'free cancellation' fee. It's worth remembering that 'free cancellation', comes with separate T&C's, so check.
Hidden Fees: The number one motorhome rental tip is to thoroughly check all the details in the small print before you hand over your credit card. Virtually all hire companies will have costs that you may not have considered, such as charges for accessories.
Minimum Hire Periods: A minimum rental period of 3 to 5 days plus is the most common.
Location Fees: Check the small print as a few rental companies will charge you extra for travelling on outback or alpine roads. Maybe that campervan was a bit too cheap to hire, don't wind up paying exorbitant location fees on the back of it.
Tips To Save Money On RV Hire
Book your RV rental as soon as possible: This may not save you the most amount of coin but the earlier you book, the more you'll save.
Research your journey: You may be able to get away with parking up for the night when and where you please, if not, check as staying at certain holiday/trailer parks, camp grounds etc., maybe cheaper booked in advance.
Avoid peak seasons: Quite obviously peak seasons can vary country by country, don't make assumptions, check first. Generally travelling in Spring or Autumn (Fall) often are better options than Summer, with even bigger discounts in Winter.
Keep away from well-beaten tracks: Get into the spirit of a road trip, avoid the obvious save money and have an adventure!
Don't get more RV than you need: Do you really need a hot tub on the roof of your RV? Be practical and save $$$
Motorhome Rental Insurance: How Much Does It Cost And How Does It Work?
Basically, it works like your regular car or motorcycle insurance, the more you pay, the more cover you have. The question is, do you really need it all for your road trip in your rental RV? Let's have a look in your one-stop motorhome rental guide.
Costs: These can be endless depending on a number of factors, but what it really boils down to is your personal confidence regarding your driving/environment/safety. Be pragmatic, don't get sold cover that you probably won't need and be aware of paying for insurance that you already have.
What's covered/What's not: Again, you are in full control, you can cover everything from bodywork to wheel nuts, it just depends on how much you're prepared to pay in relation to the likelihood of the insured event actually happening.
Insurance excess: This is the percentage you pay an insurance company for the privilege of making a claim. Rule of thumb is simple, the cheaper the insurance, the higher the excess so find a balance that suits you.
Age excess: To hire a motorhome in most countries you need to be over 21. Driver's under the age of 25 may have to pay a Young Driver Surcharge, so check the small print if this applies to you.
Important information about Motorhome rental insurance: Two words. "Shop around".
Types of RV Rental Insurance
Motorhome insurance, the easy way
Before you get the keys to your motorhome rental and begin your road trip, there is the small matter of insurance to consider, and while best practice is always to read the small print, our guide will keep it simple.
Insurance is already included with your rental
It's very basic and almost definitely comes with a huge excess, which is the pre-agreed amount of money you will pay towards a claim on your Motorhome policy and can be referred to as a 'deductible' in the US.
It won't include cover for anything outside of serious damage to the integrity of the vehicle and in most cases, the excess will be retained as a bond or held from your credit card.
Additional Insurance options vary between rental companies: some offer full cover or partial cover and others offer a variety of plans with different excess amounts.
If you have an accident or the motorhome is damaged during your vacation, you will need to contact your rental supplier and have them arrange for the necessary repairs.
The excess will be taken from your bond/credit card and everything else will be covered by the insurance policy unless it is a specific type of damage which is not included on the policy.
Protection Plus Insurance
The gap between motorhome rental insurance and full cover can be filled with Protection Plus Insurance.
This is a separate, private, insurance product with policies tailored to the customer so you can choose how much cover you want, which can be everything from windscreens to wheel nuts.
Protection Plus Insurance is available to customers from Australia, New Zealand, the United Kingdom, Austria, Belgium, Cyprus, Denmark, Finland, France, Germany, Ireland, Italy, Malta, the Netherlands, Norway, Portugal, Spain, Sweden and Switzerland, covers a range of options you can insure against depending on your destination and confidence, such as damage to tyres, glass, theft, towing costs, weather-related damage, fire damage, plague, locusts and so forth.
Some Protection Plus policies also cover a few extras such as costs incurred as a result of misfuelling, replacement keys/locks and any unrecoverable claims' administration charges.
Why take independent excess refund insurance?
In a word, cost. Many rental companies offer their own versions of excess cover, but the chances are it'll be eagerly sold to you while you're standing in their office because you've omitted to arrange it in advance.
Most Protection plus policies provide customers with a contact who will help them with the claim process and help them to work with the rental company in question in the event of an incident.
Ensure you choose policies with well-established underwriters (Lloyds of London for Australia and New Zealand, Europ Assistance for Europe) and that you are covered in the country of your vacation.
Finally, not all Protection Plus policies cover damage to someone else's vehicle (aka the third party) when hit by a policyholder so check carefully.
Taking out excess insurance can seem like an unnecessary cost when you're planning your dream vacation, so weigh it up carefully before you set off. Factor in your destination and your own confidence as a driver, for example, and think it through.
For some it's all about peace of mind so going for every possible option is the only way, for others, pragmatism and personal assurance might see them paying less but for less cover.
Holding Deposit/Bond
This is the refundable deposit you'll be required to pay in order to hire your motorhome. It's 100% refundable so long your rented vehicle is returned in the condition stipulated in your agreement with the motorhome hire company.
What if I have an accident?
So long as the accident wasn't caused by criminal negligence on the part of the motorhome rental driver, you're legally covered as you'll be required to have the barest minimum insurance to drive the motorhome.
However, if you do have an accident with minimum protection, you'll pay for what's not covered, so most of us will err on the side of caution and grab some additional insurance.
How much you want and how much you actually need are determined by a whole range of factors and you'll probably find yourself handing back the motorhome keys with one policy too many.
If you do have an accident and need to make a claim, irrespective of what/what's not covered, you'll be required to contact the motorhome rental company and they will guide you through the process.
Kilometers/Miles – General Rules
With limited kms/mileage, there is usually a basic, payable fee for each day you use the motorhome, but if you exceed the set mileage, you'll be charged additional fees.
Unlimited mileage means just that (but do check) but you'll have to pay extra for the privilege; it's worth bearing in mind that it may be the better option if you are unsure of the total number of kilometres/miles that you'll be travelling per day.
Limited Kilometres
A few companies cap daily kilometres/miles but most offer unlimited travel. In terms of what works for you, it's a no brainer, really.
Drop Off Costs For One Way Motorhome Rental
Many motorhome rental companies will allow you to pick up a motorhome in one location and drop off in another. Fees are usually calculated on the costs of returning the vehicle to its original location, so obviously this fee will rise exponentially with distance.
Here are two examples of the additional fee for a one-way rental (based on trip distance):
Short Distance (1000Km / 620Mi) – From US$0.00 to US$250 or more*
Long Distance (3000Km / 1800Mi) – From US$0.00 to US$550 or more*
*The above prices are purely examples. Prices will vary between RV & motorhome rental companies, locations and availability of vehicle types.
Relocation fees for hires starting and finishing in different countries are likely to be higher than those between depots in the same country. You can obtain an accurate quote using our motorhome hire search box at the top of this page.
Rules, Restrictions And Regulations:
License to drive: A regular car license will be enough in most circumstances and being a driver over 25 years of age will ensure you'll avoid additional fees.
Be aware, though. Some states in the USA require you to have a commercial driver's license (CDL) depending on the size of your motorhome.
What do I do if I've had a breakdown in a Campervan/Motorhome/RV?
Hopefully, you'll have already checked to see if the motorhome rental rate, or your existing car or travel insurance, bank or lender, has already covered you for roadside assistance.
If you're not covered, you'll need to make your own plans to get it towed the nearest garage.
Fees and Fines
First and foremost, your motorhome rental doesn't make you anonymous to misdemeanours such as speeding, they apply to you just as they do in your own private vehicle.
Should you get a speeding fine there will be information enclosed on how to pay. It's advisable to pay it immediately and get back to enjoying your vacation.
You will also be required to pay for another day, and maybe incur additional fees, if you return your motorhome after the agreed time/date.
You may also be fined if you've not emptied your waste tanks when you return your Motorhome.
Speed Cameras:
Apart from the famous Autobahns of Germany, every country has a speed limit and the vast majority of these overseen by speed cameras, designed for the sole purpose of capturing the number plate of a vehicle when it exceeds the designated speed limit.
If you are caught speeding, the details of your vehicle will be forward to your motorhome rental company and they will contact you to pay for the ticket.
Red Light Cameras:
These cameras operate in the same way as their speed cousins but are designed to capture the number plate of a vehicle that crosses a red traffic light.
Similarly, if you run a red-light, the details of your vehicle will be forward to your rental company and they will contact you to pay for the ticket.
What's Not Included With Motorhome Rental?
Fuel: You are wholly responsible; most hire rental companies have a 'full to full' policy meaning you return your motorhome rental with a full tank of gas or you'll be charged extra.
Insurance: The very basic level is included with all motorhome rentals and almost definitely comes with a huge excess. Additional insurance can be purchased from the rental company, though it's probably more cost effective to take out private cover before you've begun your trip.
Child seats: You will have to hire these if you've not brought your own and they may need to be reserved in advance so check.
SatNav/GPS: The majority of motorhomes have this as standard, but not all.
Extra miles: If your rental has limited mileage you will be charged extra for additional miles.
Linens/kitchenware: You may be charged additional fees for some of the interior contents too, just because it's a motorhome don't assume it's going to come with pillows, blankets, knife, fork etc.
Generators/Propane: The motorhome will be able to accommodate both a generator and propane gas, the question of their being supplied without costs is another matter entirely.
Tax Charges: In some countries or states you may have to pay local taxes on top of the price of your motorhome rental.
Road Tolls: You are responsible for these, worth bearing in mind when planning a trip as costs vary enormously.
Admin or processing fees: These additional costs can appear on top of your bill, ask the company if this applies to you before you set off.
What Costs Are Included With Motorhome Rental?
This depends on the Motorhome hire/rental company you're going to use, but don't expect to pay for stamp duty, vehicle licensing charges or, if applicable, airport taxes and surcharges.
Some, not all, charge vehicle drop fees, recovery fees, premium location fees, corporate location fees etc., so get it straight from the start.
Modifying Your RV Rental Booking
Modifying your booking in any way will change the original quoted price.
What Are The Road Rules In Each Country?
What side do I drive on?
Most countries drive on the right-hand side, so here is a definitive list of all the countries that drive on the left-hand side:
Africa: Kenya, South Africa, Zimbabwe, Lesotho, Botswana, Malawi, Zambia, Namibia, Swaziland, Uganda, and Tanzania.
Asia: Hong Kong, India, Brunei, Bangladesh, Bhutan, Malaysia, Pakistan, Singapore, Indonesia, and Sri Lanka.
Oceania: Australia and its territories including Christmas Island, Cocos Islands and Norfolk Island. New Zealand and its territories (The Cook Islands and Tokelau) Fiji, Pitcairn Islands, Kiribati, Tuvalu, Niue, Nauru, Samoa, Papua New Guinea, Tonga, and Solomon Islands.
Europe: UK, Guernsey, the Isle of Man, Ireland, Malta, and Cyprus.
West Indies: Anguilla, Turks and Caicos Islands, Montserrat, Cayman Islands, British Virgin Islands, Saint Kitts and Nevis, Jamaica, Trinidad and Tobago, Saint Vincent and the Grenadines, Barbados, Saint Lucia, Bahamas, Antigua and Barbuda, Dominica, Grenada and the U.S. Virgin Islands.
Government Links To Driving Rules By Country
USA: In the States, they drive on the right-hand side of the road, white lines separate traffic travelling in the same direction, yellow lines separate traffic going in the other direction. A 'stop' sign means you must physically stop before continuing your journey and so long as you've clear access, you can turn right on a red light. usa.gov
Canada: As in the USA, motorists drive on the right, but always pass other vehicles on the left. Drivers must carry a valid driver's licence, registration and insurance documents at all time. Canada.ca
United Kingdom: In the UK they drive on the left, give way for pedestrians at crossings and every passenger must wear a seat belt. Beware of low-emission zones in capital cities, failure to do so can result in fines. Visit Britain
European Union: Apart from the United Kingdom, Ireland, Malta and Cyprus, all countries drive on the right. Many of these require you to keep your lights on day or night, especially in the North, and all have strict alcohol limits. Europa.eu
Australia: In Australia, they drive on the left, so if you're travelling slowly you should keep left. Overtaking in the left (slow) lane of a multi-lane highway is however allowed. Beeping your horn should only be used when warning other motorists of danger, not to catch the attention of an old school buddy. Australia.gov.au
New Zealand: Another left-hand driving country with strict speed limits and as in the USA, a 'stop' sign means just that. The roads are undulating with a lot of corners, so ensure you slow down before making that turn. NZTA.govt.nz
Renting a Motorhome In The USA: What You Need To Know
No need for a special license though there may be caveats in certain states and most motorhome hire companies won't let you drive if under 25
No pets, no smoking
Always call campgrounds in advance to ensure there's a spot for you and to make sure your RV meets their campground requirements.
There are always deals to be had when hiring a Motorhome in the USA, check rental deals during off-seasons, look for area-specific discounts or, if you're only going one way, check one-way deals
Revise your USA RV glossary of terms!
Important Information About Credit Card Insurance and RV Rental:
For US citizens
Some US credit cards and personal car insurance policies provide Motorhome insurance so please check with your credit card provider and your insurance policy for details to ensure you're not playing twice.
Visiting the US from another country
It is illegal to drive in the US without vehicle insurance. Your travel insurance probably only covers the excess so check the small print in your travel insurance policy.
Renting a Motorhome In Canada: What You Need To Know
No need for a special licence, though Europe and residents must have a Class B license and Swiss residents need a pink one and the driver must present a credit card with the same name as his/her driving license
Canadian highway code requires all passengers to wear a seatbelt which means children cannot sleep in a berth while the vehicle is travelling
You can only legally park in Campgrounds overnight, so book ahead
Rent your vehicle in Alberta rather than British Columbia and don't pay any provincial sales tax
Avoid commercially-owned/ private campgrounds. The best places are provincial parks or national park campgrounds
Renting a Motorhome In Australia: What You Need To Know

If between 21 and 25 you're less likely to have to pay a young driver surcharge when you hire a motorhome. Some rental firms allow drivers to be 18, but you'll have to pay the surcharge
Motorhome hire/rentals are based on calendar days, so the days of pick-up and drop-off are counted as a day of rental each, regardless of actual pick-up and drop-off times
Easy to stay at places overnight, though campsites are recommended
Popular (coastal) tourist destinations don't permit RV parking overnight. Check for signage before settling in for the night)
Some roads are unsuitable for two-wheeled motorhomes and certain destinations require written permission before you can travel there, so do your homework in advance
Renting a Motorhome In New Zealand: What You Need To Know
You can drive a motorhome if you're under 25 but you'll have to pay extra
Only self-contained motorhomes are allowed to park in public spaces for a maximum of three days, everyone else needs to use a campsite.
Remember ferry costs getting between the North and South Island
DOC campgrounds (Department of Conservation) are managed by the government. These areas are cheap and fairly basic but are usually located beside areas of outstanding beauty.
Only use Wastewater treatment stations, located in most campsites, holidays or parks in the main cities and towns. Look out for the blue dump station logo
Renting a Motorhome In The UK: What You Need To Know

To drive a motorhome between 3.5 and 7.5 tonnes, you need a category C1 licence. To drive a motorhome over 7.5 tonnes, you need a category C licence.
Penalty points on your license may prevent you from being permitted to hire a motorhome
You are not allowed to camp on the side of the road in Ireland, Northern Ireland, England or Wales. But in Scotland, you can.
Renting a Motorhome In Ireland: What You Need To Know
Unlikely you can drive under the age of 25 and over 75-year old's have to meet additional requirements
Caravan parks are your best option for overnight parking, Ireland has strict rules about overnight parking. Be aware of entrance gates to campsites that only allow vehicles under two meters in height
Most caravan parks are open between March and October, but many caravan parks only run at full service only between mid-May and late August.
Renting a Motor Home in Scotland: What You Need to Know
Renting a Motorhome in Europe: What you need to know
The same driving licensing laws that govern the UK apply to all the countries in the European Union.
However road rules may have local differences in each country:
Austria
Belgium
Bulgaria
Croatia
Cyprus
Czech Republic
Denmark
Estonia
Finland
France
Germany
Greece
Ireland
Italy
Latvia
Lithuania
Luxembourg
Malta
Netherlands
Poland
Portugal
Romania
Slovakia
Slovenia
Spain
Sweden
You are strongly advised to get an International Driver's Permit. An IDP is mandatory in Austria, Greece, Hungary, Italy, Latvia, Poland, and Romania.
The minimum age to rent a motorhome in Europe:
Age 18: Austria, Croatia, Germany, Slovakia, Slovenia, and Sweden;
Age 19: Estonia and Norway
Age 20: Bulgaria, Finland, and Switzerland
Age 21: Belgium, Czech Republic, Denmark, France, Greece, Hungary, Ireland, Italy, Latvia, Netherlands, Poland, Portugal, Romania, Spain, and the United Kingdom
Age 23: Luxembourg
Drivers over the age of 70 should check with their motorhome rental company to see if they are still eligible to drive, as it's forbidden in Czech Republic, Greece, Poland, and Slovakia.
Irrespective of age, all drivers must have a valid driver's license issued at least a full year before the rental (two years in Ireland and Sweden).
In all cases, rental companies state that drivers under 25 (under 23 in Ireland) may be required to pay additional fees.
Finally, Germany requires that drivers age 18 to 22 buy collision damage waiver (CDW) from the rental company, even if they have alternative coverage from a credit card.
Generally speaking, in the case a few exceptions, you can't just rock up in Europe in your motorhome and expect to park where you want for a good night's sleep. Most countries require you to stay in a campsite so, check before you book.
Renting a Motorhome In Japan: What You Need To Know
You'll need an International Driving Permit, but largely, driving in Japan is a lot easier than you think as most road signs are in English and drivers are courteous and respectful
'Michi no eki' are roadside stations providing rest for travellers with bathroom facilities and space to park up overnight, they're dotted all over Japan and Michi no eki maps are a must
Pedestrians and bicycles have priority so give way or you could be in trouble
Renting a Motorhome In Africa: What You Need To Know
Outside of South Africa, you'll need a 4×4 motorhome to tackle the challenging terrain that cuts through this vast and varied landscape and it's advised you have a compressor to vary the tyre pressures to suit the roads.
But before you do that, you'll need an International Driving Permit, be over 25 years of age to be eligible to drive and prepared to pay for the privilege of your motorhome holiday because it can be expensive. Follow these particular motorhome rental tips carefully as parts of Africa are no go zones on account of conflict.
Botswana:
You can be as young as 18 to rent a motorhome, but you'll all most definitely have a to pay a surcharge
There are many toll roads so ensure you take plenty of change on your road trip
Petrol/Gas stations are open from 8am to 8pm and it's common for them to run out of fuel so take extra supplies
Malawi
You need to be over 23 to hire a motorhome and a competent driver as road conditions can be treacherous, especially after rain, even in a 4×4 vehicle
Before you set off on your trip in your motorhome hire/rental it's essential you check the vehicle thoroughly: bald types, holes in chassis are common
On top of the rental fee, you'll pay 16.5% government tax, the 1% tourism fee and about 5% for using a credit card
Mozambique
You need to be over 23 to hire a motorhome
All travellers (except citizens of South Africa, Swaziland, Tanzania, Botswana, Malawi, Mauritius, Zambia and Zimbabwe) require a visa in order to enter into Mozambique
Beware of the police as they have a tendency to fine motorists on a whim
Namibia
You must be over 23 to hire a motorhome but most motorhome hire/rental companies insist the driver is 25 and over.
Avoid driving at dusk, the animals are more active and wander across roads. In unlit areas, this can be a serious problem
Research your road trip thoroughly, get maps and ask locals as you travel to make sure you're on the right route
South Africa
You can drive on any licence that is printed in English or use an International Driver's License and some motorhome hire operatives will rent a vehicle to 18-year-old, but more commonly its 21 plus.
A 4×4 isn't mandatory unless you're specifically planning on going off-road as generally the roads are good
Be attentive in built-up areas, carjacking/theft is common so don't invite trouble with visible possessions and keep windows rolled up at dusk/night
South Sudan
Roads outside Juba are of a poor standard and unsealed, so a 4WD Camper is essential.
During the wet season (May to December) roads are often closed.
Best time to travel and avoid the heat is in winter (November to February)
Doro Camp is a village and refugee camp near the Upper Nile
At present it's advised to avoid travelling to Sudan unless essential, so check with your government for updates.
Tanzania
It's advisable to have an International Driving Licence and you have to be between 21 and 74 years old.
Dar es Salaam to Zanzibar is your best option for your fly and drive vacation, do your research first as some motorhome hire companies have restrictions on where you can travel to
Numerous campsites and so much cheaper than paid-for accommodation in National Parks
Zambia
You can be 18 or older, but the usual caveats apply. An International Driving License is best practice too
A good network of camping parks across and you can also stay in National Parks and Game parks. There are designated areas to stay overnight too
Roads can be tricky with terrain, wildlife and broken-down vehicles, though these may be forewarned by green branches on the road
Zimbabwe
You can be 16 to drive a car, but 21 to hire a motorhome and if under 25 you will pay a driver's excess
Fly and drive highly recommended as crossing borders can be hugely problematic
Beware of thieves at traffic lights and be polite to policemen!
Renting a Motorhome In South America/Caribbean: What You Need To Know
Argentina
You must be 21 years old to rent/hire a motorhome
Children under the age of 10 have to sit in the rear of the Motorhome
Plenty of places to camp, stunning scenery and a safe, pleasant road trip beckons
Chile
You must be 20 years of age or more for motorhome hire
Road trips in a Motorhome are uncommon so camping parks are virtually non-existent, however, you're free to stop and park as you please
The Pan American Highway is a great conduit to get you off the beaten track
Cuba
You must be over 18 to drive a motorhome in Cuba but the usual fees apply
Travelling by campervan, motorhomes or RV's has only just become a thing in Cuba with hardly any companies renting vehicles so you're limited with options
Don't be put off! A little research goes a long way and you will be rewarded with an unforgettable visit to a stunning country
Where To Go By Campervan/Motorhome/RV – Top Self-Drive Scenic Drives: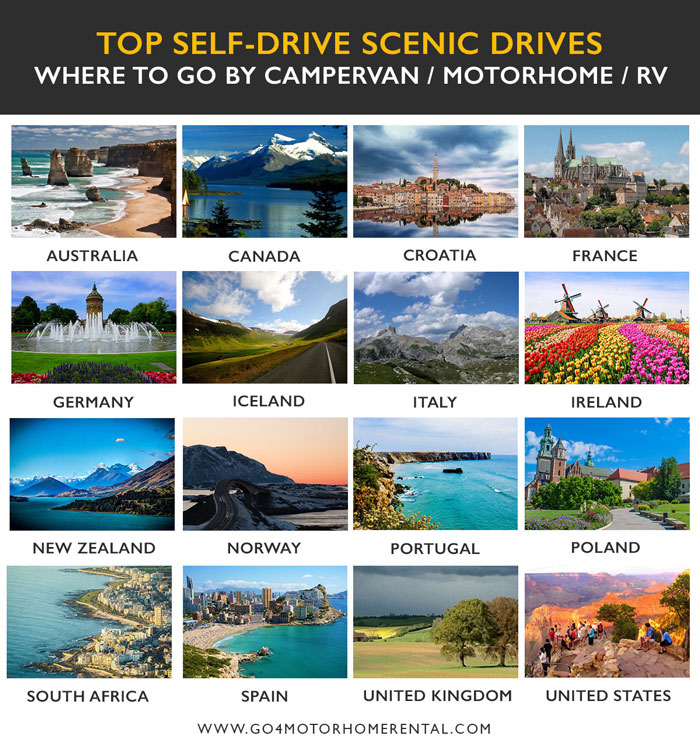 The USA may be the natural home of the RV, but there are plenty of other countries that can offer spectacular views and scenery. Here's a selection of the best from Go4MotorhomeRental.
Australia
You can make a very strong case for the motorhome being the only way to travel through Australia's vast landscape serving up some of the best scenery anywhere in the world.
Canada
You could spend months exploring Canada, or step in and out of this glorious country for a week or two with a fly-drive package. For Winnebago Hire this is the place to be.
Croatia
Croatia shares a border with three other countries and dedicates a coastline to the Adriatic, no surprise that Croatia is a popular destination for travellers, get going before the tourists find out.
France
Arguably the best way to explore the many stunning scenic driving routes in France is in a motorhome and by dividing your trip into regions. Take time to explore each properly and get a true taste of what this beautiful country has to offer.
Germany
Germany's scenic driving routes are some of the best in Europe, from deep forests to high mountains, a motorhome is the best way to explore them all.
Iceland
Compact and raw, a land of outstanding natural beauty, Iceland's scenic drives may be some of the best in the world to see in a motorhome.
Italy
Every part of Italy is home to food and wine specific to that region all connected are by spectacular roads with eye-popping scenery across Italy. Stunning in every respect.
Ireland
Practically speaking, it may not be the easiest of places to camp up for the night, but it's so worth it with the many stunning scenic drives in Ireland. It may be known as the Emerald Isle, but this poetic moniker doesn't do the gorgeous coastline justice at all.
Netherlands
Unwind your way through the Netherlands in a motorhome, stop when you want and take time to explore the scenic routes of this beautiful part of western Europe.
New Zealand
It'd probably take you a couple of lifetimes to see all of the sensational scenery New Zealand has to offer. Go for a motorhome hire and take it all in at your pace, your way. Worth every cent.
Norway
You're a little bit spoilt for choice in Norway, not only is it packed for of outstanding natural beauty, there are a host of Norwegian scenic options that put you, the motorhome traveller, right in the picture.
Portugal
The whole of Portugal's west coast faces the Atlantic, so if you're after some cool coastal motorhome drives away from the hustle and bustle of neighbouring Spain, this should be a destination on the top of your list.
Poland
Located in between Germany, Czech Republic, Slovakia, Ukraine, Belarus, Lithuania and Russia, Poland's rich cultural heritage is open to explore via stunning scenic routes from Warsaw that are woefully underrated.
South Africa
Thousands of miles of unspoilt coastline, wide-open spaces and sky-scraping mountains is best tasted from the comfort of your very own South African motorhome rental. You won't want to leave.
Spain
Travel sites are always telling us to discover 'real' places in a country, hire a motorhome in Spain, go off the beaten track and discover the Spanish countryside that's a million miles away from throbbing beaches of Benidorm.
Spain has some amazing campgrounds, RV parks and campsites suitable for a camping vacation.
United Kingdom
Relatively small, or even tiny depending on your point of view, the United Kingdom is packed with great scenic driving roads with loads of history and culture to visit along the way. Don't forget your umbrella.
United States
The USA scenic driving routes are almost designed with the motorhome in mind and it's highly recommended as the first big country for the inexperienced Winnebago hire/rental fly/drive traveller to cut their teeth. Outstanding.
Top Motorhome One-Way Driving Road Trips:
A nigh on impossible task! And it's guaranteed to be wrong in the eyes of some, so bear with us as we highlight what we think are the best A to B (or B to A) road trips in the world, before settling on one.
As with all the countries we're looking at, it's vital you're stocked up with traditional maps and the latest geo-tools/SatNav software so you're able to precisely pinpoint your location in reference to your destination.
Top Motorhome Driving Road Trips In The USA
Recommended:
Chicago – Los Angeles: The ultimate road trip by RV rental, Route 66 from Chicago all the way through to Santa Monica just outside Los Angeles. On the way see such natural wonders as the Petrified Forest, Painted Desert, Meramec Caverns and Mojave Desert, with a detour to the Grand Canyon possible. (2,448 miles, or 3,940 km)
Denver – San Francisco: Suggested route is through Northern California via Salt Lake City and Brigham City to Yellowstone National Park, before heading to Snake River Canyon and Shoshone Falls, Reno and Sacramento to San Francisco (1,875 miles, or 3,018 km). Alternatively you can take the Southern California Route through Arches National Park, Grand Canyon, Las Vegas and Yosemite National Park. On the Southern California Route there is an option to visit Antelope Canyon, but you will need to go on a tour with a local Navajo Indian (1,696 miles, or 2,730 km).
Las Vegas – San Francisco: Take the back road through Death Valley, the Sierra Nevada Mountains and Yosemite National Park (601 miles or 968 km). Alternatively drive through Mojave Desert Reserve to Joshua Tree National Park and Los Angeles, and then North on the Pacific Highway to Santa Barbara and Big Sur to San Francisco (768 miles or 1,236 km).
Los Angeles – San Francisco: Take the Pacific Coast Highway north and drive through Santa Barbara and Big Sur (444 miles or 715 km)
Miami – Dallas: Suggest driving from Florida through Alabama and Louisiana in the deep south to Texas via Orlando, Pensacola with its Crawfish Festival and historic buildings, Tallahassee, Chipley, New Orleans and Shreveport (1,394 miles or 2,249 km).
New York – Miami: We recommend you take the Historical and Mountain Route south in your campervan via Hershey – for chocoholics, Gettysburg, Washington DC, Raonoke – also known as the Lost Colony, Charlotte, Beaufort, Savannah and Orlando to Miami (2,049 miles or 3,297 km).
Phoenix – Las Vegas: Drive on of the most scenic routes in Arizona through Prescott, Sedona, Oak Creek Canyon and Flagstaff. A great option is a detour to camp in your motorhome rental in Grand Canyon National Park for a few days (533 miles or 857 km).
Salt Lake City – San Francisco: Discover the top National Parks in Utah, Arizona and California including Arches and Canyonlands National Park, Monument Valley, Bryce and Zion Canyon National Parks to Las Vegas, the gambling capital of America. Then see the Grand Canyon, Death Valley and Yosemite National Park, before finishing in San Francisco. An unbeatable American Road Trip. (1,715 miles or 2,761 km)
San Francisco – Seattle: Travel through the wine country of Napa and Sonoma to Mendocino. Visit Lassen Volcanic, Redwood and Crater Lake National Parks. Then follow the Oregon Coast from Coos Bay to Cannon Beach, before visiting Mt Hood and Mt Rainier. (1,883 miles or 3,033 km)
Washington DC – San Francisco: For the ultimate across America Road Trip consider driving across The Great Smoky Mountains to Nashville, Memphis and Dallas. Through Amarillo and Santa Fe to Grand Canyon, Zion National Park and Las Vegas, before crossing Death Valley to Yosemite National Park and finally leaving your RV rental in San Francisco. (3,418 miles or 5,500 km)
Our top pick: Los Angeles – San Francisco
Routes: Don't let the simplicity of the route suggest that this trip isn't one of the most spectacular anywhere in the USA, it's basically Highway One then onto the Pacific Coast Highway all the way to San Francisco. This is one trip where you probably won't need location services or mapping tools.
Places to Visit Along The Way (Stops/Lookouts): You're inundated with beautiful, and famous, places to visit, including Silicon Valley, Big Sur, Seal Beach, Malibu… The list goes on and on, really.
Overnight Stops/Parking Overnight: There are dozens of them, here's ten of the best:
Manchester Beach KOA
Ocean Mesa Campground at El Capitan
Jumbo Rocks Campground
Kirk Creek Campground
Leo Carrillo State Park
Anaheim RV Park
Durango RV Resort
Big Basin Redwoods State Park
Malibu Beach RV Park
Chula Vista RV Park
Top Motorhome Driving Road Trips In Europe
Recommended:
Croatia
Pula – Dubrovnik: Arguably the greatest scenic drive in Croatia, this route takes you all along the stunning Adriatic Sea coast. Starting in Pula, the main city in Istria and home to a majestic Roman amphitheater, you'll wind your way southward to Dubrovnik, one of the most beautiful coastal towns in the Mediterranean, which Game of Thrones fans will recognize as King's Landing. On the way, the drive passes countless other highlights, including Zadar, Krka National Park and Split. (420 miles or 676 km)
France
Marseilles – Lyon: A vibrant historic port city on France's gorgeous Mediterranean coast, Marseilles is renowned for its old landmarks and charming city center. It's the perfect starting point for a fantastic road trip through the heart of Provence. En route to Lyon, the French culinary capital, myriad attractions await. Those range from nature parks like Camargue Regional Nature Park and Calanques National Park to architecture in Arles, Nîmes and Avignon to amazing vineyards and lavender fields along the Rhône River. (265 miles or 427 km)
Nice – Toulouse: The ultimate southern France road trip, the scenic route between Nice and Toulouse runs along much of the French Mediterranean coast. You get to enjoy the beaches and glitz and glamour of Nice, Cannes and Saint-Tropez, while architecture and cuisine can be found in cities like Marseille and Nîmes. Once you've left the coast behind, you'll drive by Carcassonne, a picturesque fortified medieval town. In Toulouse, the final destination of this wonderful road trip in Europe, you can visit everything from aerospace institutions to historic buildings. (403 miles or 649 km)
Paris – Nice: For a cross-section of France, we can't imagine a better road trip than the one from Paris to Nice. From the bustling City of Lights to the famous Côte d'Azur, you'll get to experience everything that makes France such a popular tourist and road trip destination. Absolute highlights on the way include traditional cuisine in Lyon, medieval architecture in Avignon, wineries along the scenic Rhône River and glorious Mediterranean beaches. (579 miles or 932 km)
Germany
Frankfurt – Berlin: Home to one of Europe's busiest airports, Frankfurt is a superb place to begin a road trip through Germany. After sightseeing in Frankfurt—the Main Tower and Römerberg are top attractions—you drive northeast across the German heartland. There are many places worth stopping on the way, including Erfurt, Leipzig and Potsdam. In Berlin, the capital, you'll find a wealth of cultural and historic landmarks, from the Brandenburg Gate and Reichstag to the Berlin Wall, Holocaust Memorial and Museum Island. (366 miles or 590 km)
Munich – Frankfurt: One of Germany's greatest road trips, the trip from Munich to Frankfurt meanders through central Germany, a region dotted with amazing historic towns. While there's a pretty straight route between both cities, we highly recommend snaking your way across the beautiful part of Germany. Besides to famous highlights of both Munich and Frankfurt, you'll also have the opportunity to visit other destinations like Dachau, Augsburg, Rothenburg ob der Tauber, Nuremberg and Bamberg. A wonderful Europe road trip by all accounts. (394 miles or 634 km)
Italy
Bologna – Rome: Driving from Bologna to Rome is one of the greatest road trips you can do in Italy. One of the country's culinary hotspots, the Bologna region is the birthplace of world-famous dishes and products, most notably ragu sauce ("bolognese"), Parmesan cheese, balsamic vinegar and prosciutto. Additionally, the route leads right through the heart of Tuscany, taking in iconic towns like Florence, San Gimignano and Siena. At the end of this epic drive lie Roman attractions such as the Colosseum, Vatican City and Trevi Fountain. (253 miles or 407 km)
Portugal
Lisbon – Porto: The quintessential Portugal road trip, the drive from Lisbon to Porto, the country's two main cities, takes you on a journey along the gorgeous Portuguese coast. Not-to-be-missed places on the way include Cabo da Roca, which is the westernmost point on mainland Europe, Sintra, Cabo Carvoeiro, the charming town of Obidos, the Knights Templar castle in Tomar, and the gorgeous vineyards of the Douro River valley. (238 miles or 383 km)
Spain
Barcelona – San Sebastian: A memorable road trip across northeastern Spain, driving from Barcelona to San Sebastian allows you to explore the spectacular Pyrenees from up close. Of course, make sure to visit of all Barcelona's famous attractions first—it'd be a shame to miss landmarks like the Sagrada Familia, Casa Battlo and Park Guell. A noteworthy destination on the way is Pamplona, famous around the world for being the location of the annual "running with the bulls." In San Sebastian, you can immerse yourself in some of Europe's finest innovative cuisine. (347 miles or 558 km)

Granada – Malaga: Two popular destinations in Andalucía, southern Spain, Granada and Malaga make for a great day trip destination from either city. The drive between both cities, when using the highways, takes no more than 1.5 hours, but we do recommend taking the more scenic coastal route. This beautiful road trip takes you past stunning Mediterranean beaches and quaint fishing towns. Stop in Nerja for a delicious seafood lunch. (96 miles or 154 km)
Top Motorhome Driving Road Trips In Australia
Recommended:
Brisbane – Cairns
Brisbane – Perth
Melbourne – Sydney
Melbourne – Brisbane
Sydney – Brisbane
Cairns – Sydney
Perth – Melbourne: Travel across the Nullarbor
Perth – Darwin
Adelaide – Melbourne: Drive via the Great Ocean Road
Our top pick:
Alice Springs to Darwin: If you want to explore the Top End and see some of Australia's outback, then driving almost 1000 miles/1600km through Australia's Northern Territory is not to be missed.
Places To Visit Along The Way (Stops/Lookouts): Devils Marbles, Katherine Gorge, Kakadu National Park and Litchfield National Park.
Overnight Stops/Parking Overnight: Devils Marbles, Daly Waters Pub, Mataranka/Elsey National Park and Katherine are recommended, but there's plenty more. If you have time drive out to Uluru (Ayers Rock) from Alice Springs and see Watarrka National Park, home of Kings Canyon; as well as Kata Tjuta, better known as the Olgas.
Top Motorhome Driving Road Trips In New Zealand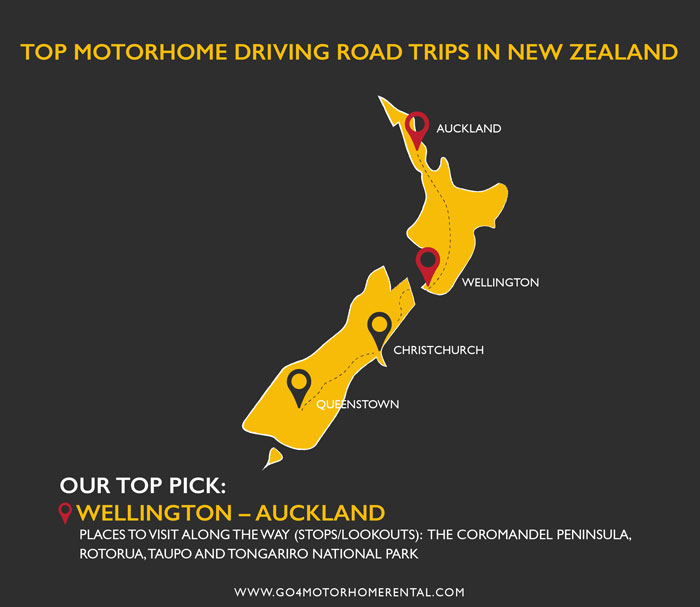 Recommended:
Auckland – Christchurch
Queenstown – Auckland
Christchurch – Queenstown
Our top pick: Wellington – Auckland:
Lakes, volcanoes and oceans feature in this stunning trip over New Zealand's north island from Wellington, and if you're in a hurry (why would you be?) it can be done in a day. But want you really want to be doing is loading up location services and maps to discover what lies to the east and west of your route
Places To Visit Along The Way (Stops/Lookouts): The Coromandel Peninsula, Rotorua, Taupo and Tongariro National Park are well worth a visit.
Overnight Stops/Parking Overnight: The DOC (Department Of Conservation) manages the nations nature reserves and will allow your motorhome in beautiful locations for around NZ$10 per night.
Top Motorhome Driving Road Trips In Canada
Recommended:
Our top pick: Calgary – Vancouver:
You can do this trip over the Rocky Mountains in a week but a fortnight is highly recommended because you'll be spending so long stopping to stare. Drive the Icefield Parkway from Jasper National Park to Banff National Park. For fairly obvious reasons GPS SatNav/location services are essential as is being aware of changing weather conditions.
Places To Visit Along The Way (Stops/Lookouts): There are literally hundreds, but Lake Louise, Icefields Parkway, Revelstoke Hot Springs, Glacier National Park and the Okanagan Valley should not be missed.
Overnight Stops/Parking: Among many, Spring Creek RV Camp, Whistlers Campground, Williamson Campground, Nk'Mip Campground and Manning Provincial Park
Top Motorhome Driving Road Trips In Africa
Recommended:
South Africa
Port Elizabeth – Cape Town
Botswana
Our Top Pick: Kasane – Maun
This exceptional road trip can be done in a day, but you'll need a lot longer to take it all in, you're going be seeing something completely different to the rest of the top picks in this motorhome rental guide. Mapping/location services are imperative and don't forget the old school maps.
Places To Visit Along The Way (Stops/Lookouts): Victoria and the Livingstone Falls, the Okavango, Chode National Park, Makgadikgadi Pans and, er, free-roaming Lions.
Overnight Stops/Parking: There are plenty of campsites in the national parks with plenty more private operators offering 4×4/RV accommodation
Where To Park/Stay Overnight In Your Motorhome:
In an ideal world, you'd be able park your motorhome rental where you pleased and have a good night's sleep, and in certain regions/countries you can do just that. But that's the exception rather than the rule.
Even when wild, random camping is possible you're still going to need access to bathroom facilities, electricity, fresh water, maybe even a playground for the kids to let off steam, even if your RV is fully self-contained.
In this part of the motorhome rental guide, we're going to look at the different sort of parking options available on your campervan vacation. Suffice to say, parking in cities and towns isn't advised because of a host of restrictions, so assume all of the below are out of town.
Holiday Parks
The luxury end of camping for some and a nightmare for others, holiday parks are more akin to leisure resorts where you park up and enjoy said parks given amenities: bar, restaurant, swimming pool, amusements etc.
Great for the kids but having spent the time, effort and expense of hiring a motorhome and enjoying the freedom they offer, it could be seen as a bit of a waste of resources.
Caravan, Trailer Parks and Sites
Definition: an area of land where people in caravans can stay on holiday, or where people live in caravans. In reality, these are places where you'll find bathroom facilities, water supplies and maybe a shop, varying in cost and quality.
Some are inhabited by private communities that won't welcome your company, some have size limitations on motorhomes with a few excluding motorhomes entirely. If you're planning on hopping from caravan site to trailer park on your vacation, get details in advance.
Camping Sites
Assuming motorhomes are permitted, campsites are usually quiet, spacious areas that may or may not have bathroom facilities or even water supplies. Generally speaking, they're inclined to be more isolated from towns and cities and all the cheaper for it.
In terms of your motorhome vacation, camping sites are probably the best places to start when planning overnight stays, but also remember to check first.
Planning a RV Trip:
A motorhome rental checklist can go on indefinitely, let's break them down on six basic components.
Who's coming?
A group of four friends in their twenties will have totally different ideas about how they want to spend their motorhome vacation, as will a retired couple and a family with three kids. Who comes along will have a huge sway on where you're planning on going to
Choose a destination:
Decide where you're going and choose the right vehicle for that destination. A two-wheel driver campervan isn't going to be much use in Malawi so don't waste your time. It's 4×4 or nothing for you so start your research from there
Make plans:
How are you going to get to and from your motorhome and what will you need to take? It's only now you can begin to look at rental options with regard to what's on offer and where.
Budget:
This is harder than it sounds. It's not just a question of getting there and hiring your motorhome, you'll need cash for camping, fuel, food and unseen aspects like road tolls and in certain parts of the world, even loose change for curious policeman. Don't get caught out, check.
Route:
Always use both technology and traditional maps and plan fastidiously. In addition to the actual route, it'll involve details on where you can stay, where to go, what to see.
Route planning should be always be considered with safety and welfare for others so if something goes awry, you've got it covered
Research, check, be prepared:
Still waiting for the obligatory Motorhome rental tips? If you've followed the first five steps that's already taken care of. And if you've been reading this from the beginning, you're already an expert.
Avoiding Problems
While many trials and tribulations can pop up out of the blue (for which you'll be prepared, of course) there are still plenty of things that you can do to avoid encountering them in the first place.
Adjust your driving in accordance with weather conditions and your environment, bear in mind that road surfaces can suddenly change, and we're not just talking about going from asphalt to shale, if it's been dry for a long period rain will turn all the particles of rubber that have accumulated on a regular road into an ice rink.
If you're in the wilderness be on the lookout for animals, avoiding them can be just as dangerous as striking them, so never drive if you're tired or sleepy.
Hopefully, your meticulously planned route will have taken you away from areas known to be dangerous for vehicles or your fellow travellers, but if you find yourself in an unplanned situation due to unforeseen circumstances, don't panic, remain calm and plan your next move accordingly.
RV Road Trip Planning Tool
In our modern age, we don't just need to rely on traditional maps to plan a route, though you should always carry them; maps don't run out of electricity or stop working because you've dropped a cup of coffee over them. And best practice is to research your trip from multiple sources.
If you are going to the USA RV Trip Wizard is a good place to start and it'll sync with virtually all major Sat Navs.
Motorhome Holiday Top Tips:
Do pack clothes and possessions in soft luggage to maximise the use of storage space
Don't leave your Campervan unattended on a powered Caravan Park site without disconnecting your power cable
Do stock up on provisions before travelling to less populated areas
Don't embark on long journeys without replenishing your water tanks and emptying waste tanks
Appliances and plug-in electrics in the living cabin require mains power hook-up
Some Motorhome rental companies allow you to pre-purchase gas and fuel at discounted rates
Picking Up a Campervan, Motorhome or RV At An Airport – Rules And Requirements:
Airports are busy places so while you're waiting to speak to a motorhome company representative take the time to get your paperwork in order.
At the counter, you'll be asked if you have a reservation and you'll be guided from there.
You'll definitely be asked for your driving licence, proof of identity -passport or ID- and a credit card in the name of the main driver.
You may well be asked for an international driving permit where applicable (obviously you'll have checked if this applies to you) and proof of a 'round trip' which could be flight, cruise or train tickets, essentially, evidence that you intend to return the vehicle as agreed.
If you haven't pre-booked this is the moment you'll pay for your motorhome and any 'extras' you may require, such as child seats and GPS.
At about this time you'll have to decide which optional, extra, insurance you intend to purchase, if any. It's advisable to have made this decision at the time of booking your motorhome; similar advice applies to offers to upgrade your vehicle.
Take time to read the hire agreement before signing.
Make sure you gather all of the rental documents together and put them in a safe place.
Once done you'll be handed the keys to the motorhome and either shown or directed to where you can find it. Remember, motorhomes spend nearly all of their driving lives in the open and are arguably more vulnerable to damage, so take photographs of all the knocks and scrapes, inside and out, and if there are any discrepancies between what's on the paperwork and what's on the motorhome, inform a member of staff before you drive away.
Crossing a Country Border in a Rental Campervan, Motorhome or RV:
If you're intending to drive your campervan, motorhome or RV into another country you need to inform the hire company in advance as travel between some countries -USA and Mexico, South American and African countries, for example- require additional paperwork that may take time to collate.
Failure to inform your rental company that you're travelling between countries can invalidate any existing insurance and/or contravene your agreement with the hire company.
Finally, you may or may not be required to pay a fee for the privilege of driving across a border so always check ahead.
Popular Motorhome Brands:
Arguably, VW's classic Type Two Camper kicked the camper/motorhome scene in the fifties and before long other manufacturers wanted a slice of the action, notably, Winnebago, to the extent that it's become collective noun for motorhomes.
These days it's a buyer's market, from off the peg campers to bespoke RV's, spend anything between the price of a family hatchback to a top-of-the-range sportscar, and beyond.
There are literally dozens of manufacturers supplying great gear to a hungry market, let's take a look at some well-known brands.
Documents Required to Hire a Campervan/Motorhome/RV:
In most cases, you'll need a valid driver's licence and a credit card, but terms, conditions and minimum age requirements can vary, so check in advance.
Driver's License: A full, valid driver's license in English is required for vehicle rental.
International Drivers Permit: For motorhome rental drivers with licenses in any other language you'll require an International Driver's permit or an approved English translation of your license or permit, depending on your destination. These can be acquired from the transport agency from the country of your destination, the authority that issued your overseas license or from your countries high commission, embassy or consulate.
Passport: An accredited, valid passport from your country of origin is required for motorhome hire.
Tickets: You may need to provide flight, cruise ship or airline tickets to hire a motorhome as proof of a round trip. Motorhome hire policies vary so check carefully.
Tourist Driving Tips – What to Look Out for Driving in a Different Country:
Before we look at some basic rules governing driving around the world, a quick word on what to look out for in a more general way. The chances are you've rented your campervan/motorhome/RV to get out there and explore the world, rather than viewing it from a hotel window.
Motorhomes are more likely to visit less inhabited, distant places naturally taking you and your fellow travellers out of the comfort zone associated with ordinary day to day life, which is the whole point. This also increases the likelihood of encountering the unexpected, again, that's why you hired an RV and not a car but be practical too.
If you're travelling through the outback at dusk, be prepared for wild animals to appear in your headlights, similarly, mountainous roads may have multiple hazards to counter, loose surfaces, ice, snow etc., so drive accordingly and if you want to admire the view, stop.
While you may have done your homework on what to look out for in a specific country, it's important to apply it in context to your location, environment, weather conditions and so forth. Ultimately, the biggest hazard out there is yourself, so be constantly aware and act accordingly.
USA:
In the States, you drive on the right-hand side of the road, white lines separate traffic travelling in the same direction, yellow lines separate traffic going in the other direction. A 'stop' sign means you must physically stop before continuing your journey and so long as you've clear access, you can turn right on a red light. All American states have local rules and regulations, which must be adhered to.
Canada:
As in the USA, motorists in Canada drive on the right, but always pass other vehicles on the left. Drivers must carry a valid driver's licence, registration and insurance documents at all time. As in the USA, road rules do vary between states and territories.
UK:
In the United Kingdom they drive on the left, give way for pedestrians at crossings and every passenger must wear a seat belt. Beware of low-emission zones in capital cities, failure to do so can result in fines.
European Union:
Apart from the United Kingdom, Ireland, Malta and Cyprus, all countries drive on the right. Though driving rules are similar throughout Europe, there are country specific road rules that you should know. In Europe road rules require you to keep your lights on day or night, especially in the North, and all have strict alcohol limits.
Australia:
In Australia, they drive on the left, so under Australian road rules if you're travelling slowly you are meant to keep left. However, on multi-lane highways, overtaking in the slow lanes is a common practice. Beeping your horn should only be used when warning other motorists of danger, not to catch the attention of an old school buddy. Road rules in different states do vary, so please check if driving inter-state.
New Zealand:
Another left-hand driving country with strict speed limits and as in the USA, a 'stop' sign means just that. The roads are undulating with a lot of corners, so ensure you slow down before making that turn. New Zealand road rules also have differences that you should know before driving there.
Top RV Driving Guide Websites:
There are Campervan/motorhome/RV driving guides all over the internet with many more being added every day.
So, whether you're considering Winnebago hire/rental or have already set your heart on a pop-top Campervan to rent, here is a guide to the best guides:
Ten Common Questions About Motorhome Hire:
How old do I have to be to hire a motorhome?
Generally, between 21 and 79, though you may have to pay a surcharge if under 25
Do I need a special license to hire a motorhome?
As long as the vehicle is under 4.5 tonnes, then you will just need a full unrestricted car driver's license from your home country that is in English. If the license is in the language of another country, then you will either need an International Drivers Permit (IDP) or a certified English translation.
Should I choose a campervan, motorhome, RV, 4×4?
This depends entirely on your destination. Some of the more adventurous African routes forbid non-4×4 vehicles, but this type of vehicle would be an unnecessary expense if passing through the English Countryside.

Best practice is to research your route and settle on the most practical option in consideration of your budget.
Where can I stay?
In most countries, it's unlikely you can just pull over and park when and where you feel like it unless you've specifically chosen a route that allows for this. Plan your journey with access to caravan parks and legitimate places to stay in advance. There are a few countries that allow Freedom Camping.
How do Hook-ups work?
Connecting to campground services or hookups, may include connecting to water, power or electricity connections, linking up to sewerage or even connecting to Wi-Fi or cable TV. Not all campsites will have all these services.

Normally connecting is relatively easy and is not as daunting as they sound! When you pick up your motorhome or campervan rental you will have been briefed by your rental/hire company. If you have any difficulties, your fellow campers will be only too help to help if the camp site manager isn't on hand.
Do motorhomes come with hot water?
All except the most basic camper van will have either gas or electric hot water heating for both your sink and shower. Some of the luxury motorhome rentals even have solar heating.
What if I run out of gas?
Whether you're using tanks or a refillable system, gas is widely available in garages/gas station and campsites. With gas bottles, there is normally a back-up bottle available, or this can be supplied for an additional charge.
What if I breakdown?
Provided you haven't already been informed about breakdown/recovery, contact your motorhome rental company and they can advise. All main campervan hire and motorhome rental company have a 24 hour phone assistance line.
Do I have to pay to have the motorhome cleaned when I return it?
No, unless the vehicle is filthy to point that isn't possible to return it to its original condition then you may have to. Just make sure you remove any rubbish and give it a basic clean beforehand.
What documents do I need to bring to hire a motorhome?
Each driver will need a driving licence in the language of the country you are renting in. If your home license is in a different language then you will need an International Drivers Permit as well.

As well as this you will need a credit card for your security bond, debit cards and cash are not usually accepted. If you are travelling outside of your country of origin, a passport.
Summary:
We made it! … a one-stop guide to all your motorhome rental requirements for your perfect motorhome vacation, with a few links taking you to other handy resources.
In addition to proving you with a lot of valuable information, we hope you enjoyed along the way and we were able to answer all of your questions, yes?
Now its time to stop dreaming and start booking… life is out there to be enjoyed!
Richard Wolskel, Founder of Go4MotorhomeRental.com, Blogger and Travel Lover!