Italy Scenic Drives
Italy is another of the world's most scenic countries and is literally bursting at the seams with a variety of wonderfully diverse scenic routes. If you are planning to see something of the country besides the famous cites of Rome, Milan, Venice and Florence, do yourself a favour and get behind the wheel of a rental motor home or campervan – it is simply one of the best ways to see the real Italy, and your biggest hurdle will be deciding which of the scenic drives to include in your itinerary.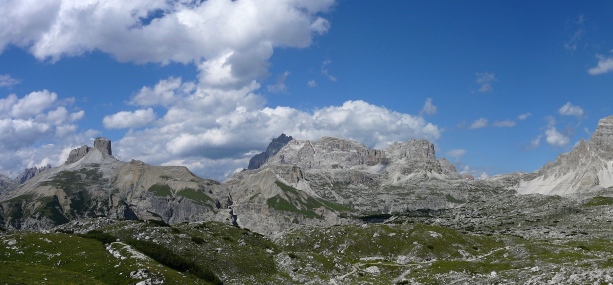 Italy is surrounded on three sides by a beautiful and dramatic coastline, and the northern parts of the country bordering Switzerland, France and Austria have spectacular mountains and lakes to explore. In the centre of the country there are wide open hills and valleys, vineyards and olive groves all guarded by dozens of walled hill-top villages just begging to be discovered. In addition to all this, the country is famous for its food and wine….so what are you waiting for?
The Great Dolomite Road – Strada della Dolomiti
The Great Dolomite Road, the SS48, stretches for about 65 miles from Cortina to Bolzano and is generally acknowledges as one of the most beautiful stretches of road in Italy. You can get to Cortina in just 2 hours from Venice – (Go via Alleghe and take the gondola ride up the mountains for an exceptional view). This is an excellent area to linger for a few days and enjoy some hiking in the spectacular mountain scenery.
Amalfi Coast Drive
A leisurely motorhome rental holiday along the Amalfi coast is a pleasure that is enjoyed by thousands of visitors and locals every summer, so it can be rather busy if you choose high season. The Amalfi Coast scenic drive from Sorrento to Amalfi is just stunning as you navigate the two-lane road that hugs the mountainside, straddling a path between verdant forested hills on one side and plunging cliffs and turquoise waters on the other. There are dozens of hair-pin bends, and each turn opens up a new coastal vista. There are many good places to stay along the Amalfi coast and many attractions, such as Pompeii, Isle of Capri and stunning beaches. Try to plan your trip out of peak season for the best experience.
Lake Garda
Spend some time driving around one of the most beautiful lake and mountain regions in the north east of Italy; Lake Garda is an area of outstanding natural beauty and very popular with local Italians as a summer holiday destination. There are wonderful views around every corner, excellent water sports, hiking, biking and walking, plenty of historic buildings and great food and shopping.
Tuscany
Here you can drive around for a day or a week and be mesmerized by the beauty of the rural landscape of Tuscany, interspersed here and there by ancient medieval walled villages and towns. The views are just picture-perfect and there is such a lot to see and do that you will have to specially plan some time for relaxation. Wherever your travels take you in Tuscany you are never far from the next fabulous scenic drive.