California RV
California RV Rentals, USA
If there is one place on Earth where there is literally everything for everyone, it's California. Beyond the glitter and glamour of Hollywood, the never-ending fantasy of Disneyland, gazillion-dollar tech empires of Silicon Valley, big surfer waves of Mavericks, same-sex marriages and "weed" dispensaries of San Francisco, vineyards of Napa Valley, and the more mundane locavore and organic food movement; with California RV rentals there are a full gamut of things to do and places to see and food to taste that getting overwhelmed in the Golden State is the norm.
RV Hire in California and Explore NorCal
Depending on what you want to experience; you can explore California in the USA from north-to-south, or the other way around. One option is to fly to San Diego first; then pick up your recreational vehicle or RV rental in California from there; and then drive up all the way to the north. Apollo Motorhome Rentals, Cruise America, Compass, El Monte RV, Pure Motorhomes and Road Bear RV are national operators which have offices statewide; while a host of smaller RV rental outfits exclusively serving NorCal (North California) or SoCal (South California) may also have models that fit your comfort level and budget.
If you decide to explore NorCal first; you can fly directly to San Francisco or the nearby Sacramento and drive down to San Diego. The Bay Area is a scenic introduction. The iconic Golden Gate Bridge connects you to Marin County; and on to the Redwood National Park 300 miles north for the tallest tree species on earth.
Napa Valley and Silicon Valley
You can then drive your RV rental or campervan hire in California back down to Napa Valley for some of the best varietals in the world. Then stuff yourself with organic vegetables in the northern city of Central Valley, state capital Sacramento, just 70 miles to the east.
From wine and food, drive your California RV rental to the birthplace of (silicon) wafers and the empires they built. Apple, Cisco, Yahoo, Google, Intel, eBay, YouTube and virtually thousands of movers and shakers of the digital world are all headquartered here.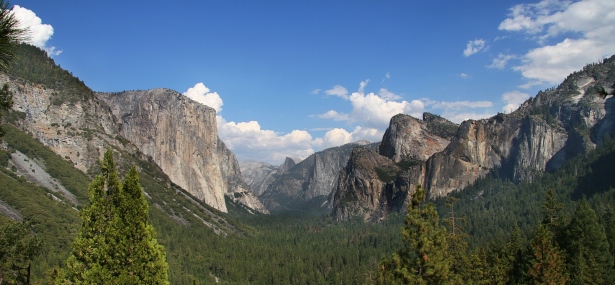 Less than 20 miles west of Silicon Valley is the (in)famous Mavericks; North America's Mt. Everest for big-wave surfers. One hundred eighty-five (185) miles to the east is Yosemite National Park which you get to on your motorhome rental or RV hire via Central Valley. Scale the towering granite cliff El Capitan; kayak in the park's placid Mirror Lake; or simply stand before the 2,400-foot Yosemite Falls which is the highest in North America.
From Sequoias to San Diego by California RV Rentals
Yosemite has a decent patch of giant sequoias; but they are just an appetizer for the hundreds of thousands of acres of giant trees in Sequoia National Park less than 200 miles south on your California RV rental. One character of note is "General Sherman"; a Methuselah of a sequoia that has been in existence long before humans counted zero A.D.
The Hollywood sign is 225 miles directly south of the sequoias via Bakersfield. Of course, Los Angeles is a destination unto itself, and the plethora of attractions could easily ground your California RV rentals in one of the Malibu Beach and Santa Monica RV parks that put you within biking distance of Tinseltown. You can also do a full hook-up in one of the RV parks in Anaheim, 26 miles south; while you spend a magical day in Disneyland.
To cap off your road trip, drive 113 miles down for miles and miles of beaches; to the birthplace of California and the southernmost megalopolis of the Golden State. As befitting a city of this size, there is virtually no end of things to do in San Diego before you fly back home, or have your passport stamped to Mexico.