California RV Rentals USA
Deals on Recreational Vehicles to Hire in California, America
If there is one place on Earth where there is literally everything for everyone, it's California. Beyond the glitter and glamour of Hollywood, the never-ending fantasy of Disneyland, gazillion-dollar tech empires of Silicon Valley, big surfer waves of Mavericks, same-sex marriages and "weed" dispensaries of San Francisco, vineyards of Napa Valley, and the more mundane locavore and organic food movement; with California RV rentals there are a full gamut of things to do and places to see and food to taste that getting overwhelmed in the Golden State is the norm.
One of the largest and most diverse U.S. states, California is a road tripper's paradise. With a California RV rental, you can explore remote deserts, towering mountains, pristine lakes and giant redwood forests. About half of the U.S. West Coast is in California, too, running from San Diego to the Oregon border, while renting an RV in California also allows you to visit several of the nation's greatest national parks.
And it is those parks that are one of the most popular destinations among visitors. Cities like Los Angeles, San Francisco or Sacramento, all of which have many California RV rental deports, are fantastic starting points for nature-focused RV road trips in California. Major national parks, such as Death Valley, Joshua Tree, Sequoia, Yosemite and Redwood, offers unlimited outdoor adventures.
So, if you are planning to rent an RV in California, you will find a wealth of information on this page. From the types of RVs you can rent in California and rental locations to the state's top attractions and scenic drives, we are here to help you create the California RV rental road trip of your dreams.
Types of RV Rental in California
Whether you are looking for a luxurious motorhome with all bells and whistles, or just an affordable RV for a low-key family road trip, you will be able to find your ideal RV hire in California, USA. Additionally, home to stunning parks and beautiful coastlines, California is also a fantastic destination for the ultimate van-life experience. You can hire a campervan, camper car and even truck campers in California, too.
Below, we offer an overview of all types of RV you can rent in California, from campers and sleeper cars to class B, C, and A motorhomes.
Camping Cars
Car camping is hugely popular in California and almost all campgrounds have car camping sites. Often people choose these sites to park their car and pitch a tent, but you can, of course, also just sleep in your rental camping car in California.
These vehicles are essentially spacious passenger cars, such as station wagons, that have been converted into a camper car. They have a bed and camping equipment, some even complete with a rooftop tent. Depending on your trip and destinations, you can choose from camping cars with or without cooktops and fridges.
Campervans
The smallest type of RV rental in California, campervans are popular among younger, more adventure-minded road trippers. Small, fuel-efficient and manoeuvrable, yet well-equipped and spacious, a California campervan hire is the ideal RV for couples and small groups of friends.
This is the type of RV you should rent if you are dreaming of living the "van life", even if it is just for a week or two. These well-outfitted campers offer ultimate freedom, allowing you to share unforgettable moments with the closest people in your life.
Truck Camper
You will see all kinds of RVs in California—and across the USA—but the truck camper might just be the most typically "American" one. Essentially an addition to a pickup truck, truck campers are a combination of a pickup truck and an RV-like living and sleeping cabin that is put in the truck bed.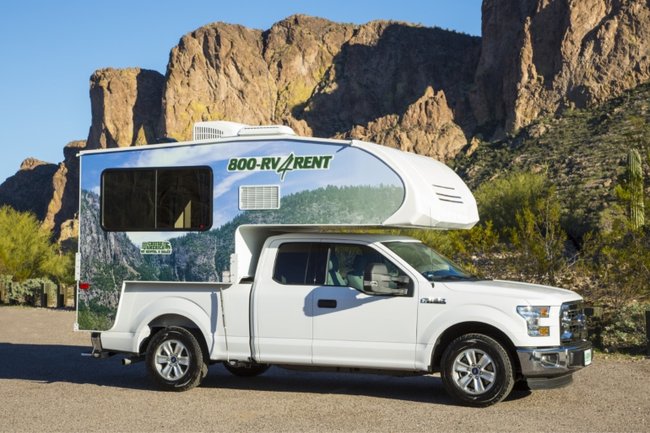 The benefit of renting a truck camper in California is that this is a good way to get off-the-beaten-path, since pickups have 4WD and can manage some rougher terrain.
Class B
Basically a larger type of campervan, class B motorhomes are smaller, more fuel-efficient and more manoeuvrable than class C motorhomes. This type of motorhome is ideal for couples or small groups who would like to explore more.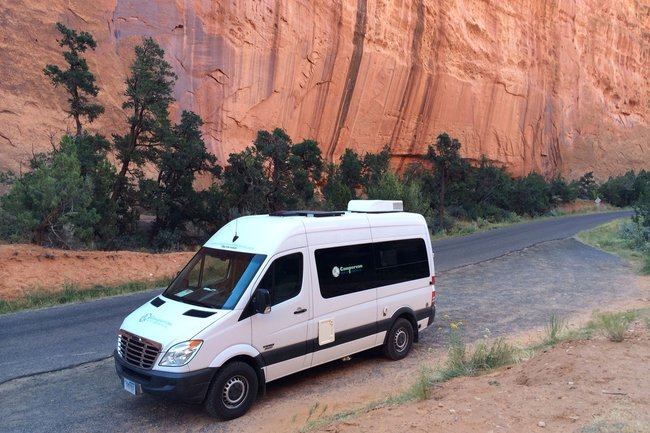 Class B motorhomes are equipped with all camping essentials, but are small enough to fit in a typical garage or street parking spot. Additionally, they are also capable of climbing steeper grades and making shaper turns than those larger RVs, big rigs and fifth-wheels.
Class C
If you are looking for a more spacious option for your California RV road trip, yet don't want to blow up your budget, class C motorhomes may hit that sweet spot. Arguably the most popular type of California RV rental, these larger motorhomes provide road tripping families and friends with plenty of room to hang out, eat, relax and sleep.
They come with all amenities you can expect from a large rental RV, while offering better gas mileage than the class A motorcoaches. You can recognize them by their upper storage or sleeping areas that extend over the cab of the motorhome. Operating a class C motorhome is similar to driving a large van.
While some of these RVs are non-slide out, several types you can rent in California do, in fact, have slide outs—either single or twin slide outs.
Slide Outs
Slide outs are able to make the interior space of certain RVs larger—sometimes quite a lot larger. As the name implies, these features literally slide out from the side of the vehicle when parked. Slide outs can enlarge a living room area or a bedroom, or both, depending on the type of RV you rent.
These are the different types of slide outs you can find for California RV rentals:
Non-Slide Out: Non-slide out RVs have no slide outs.
Single Slide Out: Single slide out RVs have one slide out on one side.
Twin Slide Out: Twin slide out RVs have two single slide outs, one on each side.
Double Slide Out: Double slide out RVs have a double slide out on one side (none on the other side).
Class A
Class A motorhomes are the largest recreational vehicles you can rent in the California. They are also among the most luxurious.
Constructed in the same way as commercial buses and trucks, these RVs provide plenty of sleeping, eating and relaxing space. Some of them even have full-scale bathrooms. Class A motorhome are more like a bus than a van, sometimes called motorcoaches. They have large panoramic front windows and offer full passenger access to the entire vehicle while driving.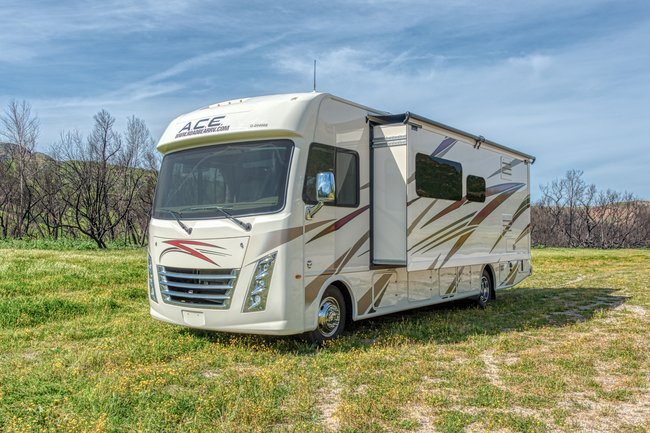 Anyone looking for that "home away from home" feeling on the road will find it in a class A motorhome. Additionally, as massive as some of these vehicles appear, most of them come with slide outs that make them even bigger when parked. They range from single slide out to twin and double slide out RVs.
RV Rental Locations in California
The second-largest and most populous states in the Lower 48, California is home to several major cities. Many of them are popular destinations themselves, with San Diego, Los Angeles and San Francisco drawing in tens of millions of visitors each year. Well-connected to the rest of the USA and the world through airports, seaports and other public transportation, they are the perfect places to start a California RV rentals road trip.
Additionally, you can also rent an RV in many other California cities, including Sacramento, San Bernardino and Santa Cruz. Below, you can see all major RV rental locations in California. One way USA RV rentals are available between cities as well as across America.
So, no matter what your point of arrival in California is, you should be able to find the perfect motorhome or campervan for your self-drive holiday.
Los Angeles
One of America's largest metropolises, Los Angeles is also among the country's most visited destinations. Home to Disneyland, Hollywood and Universal Studios, it is the entertainment capital of the USA.
Los Angeles—technically Santa Monica—is also the western terminus of world-famous Route 66, while surrounding mountains, deserts and beaches attract a variety of outdoor enthusiasts. This is arguably the most popular place to rent an RV in California.
Top 3 Attractions in Los Angeles:
Universal Studios Hollywood: A theme park and film studio in Los Angeles County, Universal Studios Hollywood is one of Hollywood's oldest and most famous still-in-use film studios. The park consists of two areas, some of its most famous attractions including the Wizarding World of Harry Potter, the Studio Tour and Springfield, U.S.A.
Disneyland: Situated in Anaheim, Disneyland Park is one of two theme parks at the Disneyland Resort and one of the most popular attractions near Los Angeles. The world's only theme park developed and constructed under the direct supervision of Walt Disney himself, the park consists of several areas, including Frontierland, Tomorrowland, Fantasyland, Adventureland, and Main Street, U.S.A.
Hollywood: Now synonymous with the American film industry, Hollywood is a neighbourhood in central Los Angeles. It is home to many attractions, such as the Hollywood Sign, the Hollywood Walk of Fame, Paramount Pictures, the Hollywood Bowl and the Dolby Theatre, which hosts the Oscars.
Leading Los Angeles RV Rental Brands: Apollo RV, Britz Campervan Rental, Cruise America, El Monte, Escape Rentals, Expedition Motorhomes, Lost Campers, Mighty Campers, Road Bear RV, Star RV, Travellers Autobarn
San Francisco
The centre of commerce, finance and entertainment in Northern California, San Francisco is world-famous for its natural surroundings, historic monuments, architecture and hilly downtown.
A superb place to start a Northern California RV rental holiday, the city itself has its fair share of attractions, too. Those include the iconic Golden Gate Bridge, Fisherman's Wharf, the Chinatown district and the Alcatraz prison.
Top 3 San Francisco Attractions:
Golden Gate Bridge: Arguably the most famous bridge in the USA, the Golden Gate Bridge spans the one-mile-wide strait that connects San Francisco Bay and the Pacific Ocean. It is to the north of downtown San Francisco, offering access to popular natural attractions like Muir Woods and Point Reyes National Seashore.
Fisherman's Wharf: Located on San Francisco's northern waterfront, Fisherman's Wharf is one of the city's busiest tourist areas. It has numerous shops, seafood stands and restaurants, and historic sites. Alcatraz is visible from here, while the shore has historic ships and a sea lion colony.
Cable Cars: Riding one of San Francisco's cable cars is a must-do activity before embarking on your California RV rental road trip. The last manually operated cable car system in the world, these cable cars are icons of downtown San Francisco, travelling up and down the city's steep hillsides.
San Francisco RV Rental Brands: Apollo RV, Best Time RV, Britz Campervan Rental, Cruise America, El Monte, Escape Rentals, Lost Campers, Mighty Campers, Road Bear RV, Star RV, Travellers Autobarn
San Diego
Situated near the Mexican border, sunny San Diego is California's southernmost major city. It is the gateway to the deserts of Southern California, including parks like Joshua Tree and Death Valley.
The city itself is famous for its abundance of sunshine, amazing beaches, parks, breweries and food. An international airport makes this a great place to rent an RV and explore the historic richness and natural wealth of SoCal.
Top 3 San Diego Attractions:
Balboa Park: The place that has everything in San Diego from beautiful gardens, parks and walking trails to art venues, over 16 museums including San Diego Zoo below. Balbao Park is a must to visit.
Gas Lamp Quarter National Historic District: The 'Historic Heart of San Diego', Gas Lamp Quarter is a hive of cafe, restaurants, bars, shops and nightclubs. With live music, comedy shows and theatre, this is the place to come for a meal, late night show or to browse some boutique shopping.
San Diego Zoo: Explore one of the best zoos in the world. San Diego Zoo has over 3,700 animals and 650 different species, with everything from elephants and leopards to the cute Arctic Fox, the unusual Babirusa (pig deer) from Indonesia or the Bonobo – one ofe the most intelligent primates on the planet.
San Diego RV Rental Brands: Cruise America, El Monte RV
Sacramento
The capital of California, Sacramento sits at the confluence of the American and Sacramento Rivers. The Old Sacramento district dates back to the California Gold Rush era and is home to many museums, such as the California State Railroad Museum.
Additionally, Sacramento is also famous for its farm-to-fork culture—there are dozens of farmer's markets and restaurants—and it is close to popular RV road trip destinations like Yosemite and Northern California.
Top 3 Attractions in Sacramento:
State Capitol: The working seat of the Californian government, the State Capitol also houses a fascinating museum exhibiting architecture, history and important legislation that was passed here.
California State Railroad Museum: Located in Old Sacramento, the California State Railroad Museum tells the story of the "iron horse" that connected California with the rest of the USA. The museum has more than 20 restored locomotives and cars, while also offering train excursions with a historic locomotive.
Old Sacramento: A beautiful historic district on the riverfront of Sacramento, Old Sacramento is home to Gold Rush-era buildings, many museums, horse-drawn carriage and cobblestone streets, numerous restaurants, shops and bars.
Sacramento RV Rental Brands: El Monte RV Rental
San Bernardino
Located east of Los Angeles, the city of San Bernardino is the gateway to beautiful San Bernardino National Forest and Big Bear Lake. Its biggest claim to fame, however, is its location directly on Route 66, which makes it popular among people on a self-drive RV holiday in California.
This world-famous road passes right through the heart of the city, lined with iconic motels, neon signs, gas stations and other Route 66 attractions. Additionally, San Bernardino is the location of the world's first McDonald's.
Top 3 San Bernardino Attractions:
Rim of the World Scenic Byway: The stunning 110-mile Rim of the World Scenic Byway runs through the San Bernardino Mountains. Along the way, there are various hiking trails, picnic areas, scenic viewpoints and tourist attractions like ziplines, spas and restaurant. The town of Big Bear Lake is a major destination on this wonderful mountain drive.
Original McDonald's Site & Museum: The site of the original McDonald's is a popular destination for lovers of history and fast food—this is essentially where fast food was invented. The museum is chock-full with McDonald's artifacts and memorabilia.
Big Bear Lake: The small town of Big Bear Lake is just north of San Bernardino. Surrounded by the San Bernardino National Forest, it attracts skiers and snowboarders in winter, while summers draw in hikers, boaters, tent and RV campers. The town centre has restaurants, boutiques and gift shops.
San Bernardino RV Rental Brands: El Monte RV Rental
Santa Cruz
A bustling city on the central coast of California, Santa Cruz sits on Monterey Bay and is known for its beach culture and abundant sunshine. Popular attractions include the downtown galleries and cafés of Pacific Avenue and the fun vintage rides along the Santa Cruz Beach Boardwalk.
Nearby Natural Bridges State Park is home to a famous rock formation shaped like a bridge. Santa Cruz is a must-stop destination when driving Highway 1 in California with an RV.
Top 3 Santa Cruz Attractions:
Santa Cruz Beach Boardwalk: Free to visit for everyone, the Santa Cruz Beach Boardwalk runs along a beautiful beach and is home to an amusement park with rides, games, arcades and eateries. It is the oldest remaining amusement park in California.
Santa Cruz Wharf: Dating from 1914, the Santa Cruz Wharf is one of the city's top attractions. Jutting out into Monterey Bay, it features gift shops, restaurants, boat tours, fishing and sea lion viewing.
West Cliff Drive: Running from Bay Street near Santa Cruz Wharf to Natural Bridges State Park, the West Cliff Drive is a gorgeous route along the Santa Cruz oceanfront. Only about three miles long, it is also popular among bikers and hikers for its spectacular views.
Santa Cruz RV Rental Brands: El Monte RV Rental
Santa Fe Springs
Located in south-eastern Los Angeles County, Santa Fe Springs is a gateway to L.A. as well as the surrounding area. While the town itself has little to offer compared to other California towns and cities, it does have an RV rental depot, making it a common starting point for self-drive vacations in the region.
Santa Fe Springs RV Rental Brands: El Monte RV Rental
RV Hire in California and Explore NorCal
Depending on what you want to experience; you can explore California in the USA from north-to-south, or the other way around. One option is to fly to San Diego first; then pick up your recreational vehicle or RV rental in California from there; and then drive up all the way to the north. Apollo Motorhome Rentals, Cruise America, El Monte RV and Road Bear RV are national operators which have offices statewide; while a host of smaller RV rental outfits exclusively serving NorCal (North California) or SoCal (South California) may also have models that fit your comfort level and budget.
If you decide to explore NorCal first; you can fly directly to San Francisco or the nearby Sacramento and drive down to San Diego. The Bay Area is a scenic introduction. The iconic Golden Gate Bridge connects you to Marin County; and on to the Redwood National Park 300 miles north for the tallest tree species on earth.
Napa Valley and Silicon Valley
You can then drive your RV rental or campervan hire in California back down to Napa Valley for some of the best varietals in the world. Then stuff yourself with organic vegetables in the northern city of Central Valley, state capital Sacramento, just 70 miles to the east.
From wine and food, drive your California RV rental to the birthplace of (silicon) wafers and the empires they built. Apple, Cisco, Yahoo, Google, Intel, eBay, YouTube and virtually thousands of movers and shakers of the digital world are all headquartered here.
Less than 20 miles west of Silicon Valley is the (in)famous Mavericks; North America's Mt. Everest for big-wave surfers. One hundred eighty-five (185) miles to the east is Yosemite National Park which you get to on your motorhome rental or RV hire via Central Valley. Scale the towering granite cliff El Capitan; kayak in the park's placid Mirror Lake; or simply stand before the 2,400-foot Yosemite Falls which is the highest in North America.
From Sequoias to San Diego by California RV Rentals
Yosemite has a decent patch of giant sequoias; but they are just an appetizer for the hundreds of thousands of acres of giant trees in Sequoia National Park less than 200 miles south on your California RV rental. One character of note is "General Sherman"; a Methuselah of a sequoia that has been in existence long before humans counted zero A.D.
The Hollywood sign is 225 miles directly south of the sequoias via Bakersfield. Of course, Los Angeles is a destination unto itself, and the plethora of attractions could easily ground your California RV rentals in one of the Malibu Beach and Santa Monica RV parks that put you within biking distance of Tinseltown. You can also do a full hook-up in one of the RV parks in Anaheim, 26 miles south; while you spend a magical day in Disneyland.
To cap off your road trip, drive 113 miles down for miles and miles of beaches; to the birthplace of California and the southernmost megalopolis of the Golden State. As befitting a city of this size, there is virtually no end of things to do in San Diego before you fly back home, or have your passport stamped to Mexico.
Top Attractions in California
California's amazing diversity—in both man-made and natural attractions—allows you to immerse yourself in all kinds of experiences. Everything is possible on a California RV road trip, from sunbathing on glorious beaches and indulging in (food truck) street food to camping in majestic national parks and cruising down some of America's most scenic highways.
Below, we have collected our favourite destinations for a self-drive RV rental holiday in The Golden State.
Yosemite National Park
One of the crown jewels of the U.S. national park system, Yosemite National Park sits in the Sierra Nevada Mountains just a few hours from San Francisco. Extremely popular in summer, it is best visited in late-spring or early-fall.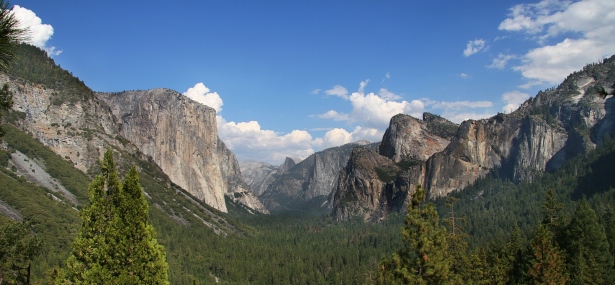 Camp at the park's many RV campgrounds, see breathtaking Yosemite Valley, hike to huge waterfalls, enjoy tranquil riverside scenery and picnic in wildflower-filled meadows.
Death Valley National Park
A magnificent park in Southern California, Death Valley National Park is the largest national park in the Lower 48. It is home to the lowest point in North America and is also the continent's driest and hottest place.
Attractions are plentiful and range from sand dunes and salt flats to historic mining sites, wildlife and badlands. Numerous campgrounds dot this sprawling park, many of which can accommodate RVs.
Big Sur
One of the greatest stretches of coastline in the USA, Big Sur is between San Simeon and Carmel-by-the-Sea. Scenic Highway 1 cuts through this area, paralleling the cliff-lined Pacific Coast and backed by the Santa Lucia Mountains.
Famous for its bridges, secluded beaches and misty forests, Big Sur is home to a variety of campgrounds, excellent basecamps for hiking, wildlife viewing and beach visits.
Lake Tahoe
Straddling the California-Nevada border, Lake Tahoe is a busy year-round destination. In winter, it offers great skiing, snowboarding and other winter sports, while summer brings sunshine, boating, swimming, camping and hiking.
Many RV campgrounds surround this beautiful lake, as well as state parks, tourist towns and other attractions and facilities.
Sequoia & Kings Canyon National Parks
Twin parks in the Sierra Nevada Mountains, Sequoia and Kings Canyon National Parks are some of the oldest national parks in the USA. Together, they offer scenic drives, world-class hiking, fun camping and potentially unforgettable wildlife sightings.
Top attractions include the General Sherman Tree and General Grant Tree, which are among the biggest trees on Earth. Additionally, you can explore caves, canyons and gorgeous mountain landscapes.
Redwood National Park
A UNESCO World Heritage Site on the Northern California coast, the Redwood National and State Parks Complex protects some of the world's tallest trees—coastal redwoods.
Four parks make up this diverse complex, all of which are home to hiking trails and campground. Besides towering redwood forests, there are also beautiful beaches and prairies to explore.
Joshua Tree National Park
Just a few hours from both San Diego and Los Angeles, Joshua Tree National Park is one of Southern California's greatest RV camping destinations.
Although its campground don't have hook-ups, the experience of staying amid Joshua tree forests and massive boulders is phenomenal. The park is also home to historic gold mines, palm oases, natural cactus gardens and abundant wildlife.
Hearst Castle
A famous historic landmark in San Simeon, Hearst Castle is a popular stopping point on road trips along the California coast.
The former home of publishing tycoon William Randolph Hearst, this massive estate has over 150 rooms, lush gardens, fountains, pathways, terraces and ponds.
Lassen Volcanic National Park
Located in northeastern California, Lassen Volcanic National Park is a fantastic destination to explore with a California RV rental. The park encompasses all four volcano types in the world, as well as boiling mud pots, hissing fumaroles and other volcanic features.
The spacious Manzanita Lake Campground has plenty of space for tents, small and large RVs.
Napa Valley
A verdant valley north of San Francisco, the world-famous Napa Valley is home to hundreds of wineries and cellars. The Napa Valley Wine Train is a popular tourist attraction, a restaurant on wheels that moves through the valley.
You can go on scenic drives through the valleys, stopping at vineyards as you please. In addition to wine, the Napa Valley towns are also known for their farm-to-table restaurants.
Best Time of Year to Visit California in an RV
The thing about California is that it offers amazing camping, fun outdoor activities and even sunbathing all year round. You just have to know where to go. Winters are comfortably warm in Southern California, while summer offers fantastic oceanside adventures. Both spring and fall are ideal for trips to California's mountain ranges and deserts.
Once again, this state is so diverse that there is always something to see and do. Each season has something to offer, whether it is waterfalls, beach time, fall foliage or winter sports—and so much more.
Spring
Many visitors consider spring to be the most favourable season to explore California. Typically from March to through May, the California spring may still be rather cold at higher elevations, but is comfortable anywhere else, including the southern deserts.
Spring is the wildflower season in many places, such as the Anza-Borrego Desert, Death Valley and Joshua Tree. Additionally, snowmelt also means that waterfalls are at their peak in late-spring. In general, a spring road trip in California with an RV offers a much quieter experience than summer—lines will be shorter, prices are lower, and campsites are available.
Summer
Summer in California is roughly from June through August, with July and August being the absolute peak tourist season in the state. Expect large crowds, busy campgrounds and restaurants, and high-season prices. However, you can still get away from the crowds pretty easily on a California RV rental road trip in summer. This is a vast state, after all.
While the southern deserts will be much too hot this time of year—which, interestingly, does attract the odd "heat seekers"—the higher Sierra Nevada Mountains, redwood forests and northern volcanoes, such as Lassen Peak and Mount Shasta, are phenomenal in summer.
Fall/Autumn
Running from sometime in September through November, fall in California sees things quiet down quite rapidly. The weather is still mild, especially in September and October, and this is the time of year when high-elevation snow cover is at its lowest, allowing for spectacular mountain hikes.
Of course, fall also brings beautiful colours at certain destinations, particularly the High Sierra. Additionally, spring is the grape harvesting season in California's wine regions, making this a great time to see and even experience this process yourself.
Winter
From December through March (and in some places beyond), California's mountains are covered by a thick blanket of snow. This offers world-class winter sports opportunities in places like Big Bear Lake and Lake Tahoe, just to name a couple.
While campgrounds in the mountains are most likely closed in winter, you will find plenty of road trip and camping opportunities in lower regions. If you are not into winter sports, this is still a beautiful time to explore the southern deserts and coasts. 
California Scenic drives
Stretching from the border with Mexico to Oregon, California is a vast state with thousands of miles of scenic roads, dozens of spectacular parks, numerous lakes and world-class beaches.
You can find scenic drives in California all over the state, from Yosemite's Tioga Pass to the Pacific Coast Highway and the Volcanic Legacy Scenic Byway. Check out California's greatest scenic drives to included in your RV holiday itinerary below.
Pacific Coast Highway
San Francisco to San Diego
Distance about 585 miles or 940 kms
The Pacific Coast Highway, also known as California State Route 1, is the longest state route in California. It is also one of the greatest multi-day drives on the U.S. West Coast, an incredibly popular route among road trippers.
The route runs from San Diego to San Francisco (and beyond), paralleling the Pacific Coast and passing numerous coastal towns and cities, state parks, redwood forests and a plethora of amazing beaches.
Kings Canyon Scenic Byway
Grant Grove to Road's End
Distance about 50 miles or 80 kms
Connecting Kings Canyon and Sequoia National Parks, the Kings Canyon Scenic Byway is a spectacular 50-mile route through the Sierra Nevada Mountains.
Kings Canyon Scenic Byway starts in the foothills, enters Grant Grove in Kings Canyon National Park and ends at Cedar Grove in Sequoia National Park. One of the greatest national park drives in the USA, it is a superb route to explore with a California RV rental.
Rim of the World Scenic Byway
Cajon Pass to Big Bear
Distance about 64 miles or 102 kms
The stunning Rim of the World Scenic Byway runs through the San Bernardino Mountains from Cajon Pass, just north of San Bernardino. Along the way, there are various hiking trails, picnic areas, scenic viewpoints and tourist attractions like ziplines, spas and restaurant.
A popular year-round destination for RV rentals in California, the drive around Big Bear Lake is a major highlight on this wonderful mountain drive.
Volcanic Legacy Scenic Byway
Lassen Volcanic National Park to Crater Lake National Park (Oregon)
Distance about 500 miles or 805 kms
Roughly 500 miles long, the spectacular Volcanic Legacy Scenic Byway links California's Lassen Volcanic National Park and Oregon's Crater Lake National Park.
On the way between these two volcanic parks, it passes by numerous other volcanic landmarks, lava beds and lakes. There are countless RV campgrounds along this All American Road, allowing you to explore this fascinating region in more detail.
Tioga Pass to Yosemite Valley
Distance about 75 miles or 120 kms
The east entrance into Yosemite National Park, Tioga Pass is California's highest highway pass. The pass is just east of Yosemite's stunning Tuolumne Meadows, which features alpine lakes, breathtaking views, wildlife and summer wildflowers, and runs to popular Yosemite Valley, the centrepiece of this world-renowned national park.
Because of its high elevation, Tioga Pass is only open to vehicle traffic from about early-June through October.
Best California RV Parks
There are so many RV parks and campgrounds in California it can be difficult to choose where to stay. To help you plan your California RV hire road trip, we have selected several of the best RV parks in the state. Check them out below and see if they have the amenities and/or location you are looking for.
Mountain Gate RV Park
14161 Holiday Road, Redding, CA 96003
If you are looking to tour Northern California with an RV rental, you may want to check out Mountain Gate RV Park. This RV park has more than 100 sites, as well as Wi-Fi, full hook-ups, a swimming pool, clubhouse and more.
Located in the Cascade Range foothills, near Lake Shasta and Redding, it is a great basecamp to explore Mount Shasta, Whiskeytown Lake, Burney Falls and even Lassen Volcanic National Park.
Ponderosa RV Resort
7291 Highway 49, Lotus, CA 95651
Situated on the south fork of the American River in the foothills of the Sierra Nevada, the Ponderosa RV Resort offers guests the opportunity to enjoy fishing, whitewater rafting, sunbathing and even panning for gold—all just a few miles from your RV campsite.
The campground itself has a swimming pool, Wi-Fi, bocci ball, a game room, clubhouse and volleyball court.
Ocean Mesa RV Park & Campground
100 El Capitan Terrace Lane, Santa Barbara, CA 93117
If you are looking for a great campsite on the coast of Southern California, Ocean Mesa RV Park & Campground is worth checking out. Located on the Santa Barbara coast, between the Pacific Ocean and the Santa Ynez Mountains, it is a gorgeous place to spend a few days.
This campground has a number of tent sites and many RV sites, all of which can accommodate motorhomes up to 50 feet long. RV sites also come with full hook-ups, Wi-Fi, a picnic table and fire pit.
San Francisco RV Resort
700 Palmetto Avenue, Pacifica, CA 94044
Located merely 15 miles south of downtown San Francisco, the San Francisco RV Resort sits on a 60-feet bluff and overlooks the shimmering Pacific Ocean. This easy access to the ocean makes this a great campground for surfers, sunbathers, tide-poolers and all beach lovers in general.
There are plenty of facilities available to campers, from a clubhouse, swimming pool and hot tub to showers, a camp store, playground, picnic area, laundry facilities and Wi-Fi.
Upper Pines Campground
Happy Isle Loop Road, Curry Village, Yosemite National Park, CA 95389
Arguably the most-sought-after campground in Yosemite National Park, the Upper Pines Campground sits in the heart of Yosemite Valley. It is surrounded by Yosemite's world-renowned granite cliffs, huge waterfalls and pristine forests.
This is the largest of three reservation campgrounds, which is suitable for an RV rental in Yosemite Valley—make sure to book many months ahead—and has potable water, flush toilets, food storage lockers, picnic tables and fire rings. A free shuttle bus stops near the campground's entrance, while nearby Curry Village has showers, restaurants, a general store and more.
Clio's Rivers Edge RV Park
3754 Highway 89, Clio, CA
To explore to spectacular northern Sierra Nevada Mountains, few—if any—campgrounds are better than Clio's Rivers Edge RV Park. Surrounded by 100 lakes, more than 1,000 miles of fishing streams and rivers, several golf courses and amazing hiking trails, it is a great basecamp for outdoor lovers.
Truckee is about 45 miles away, while Lake Tahoe is a possible day trip destination, too. Park your California RV rental at one of the 200 RV sites, all of which have full hook-ups, cable TV and free Wi-Fi. The park is directly on the Middle Fork of the Feather River, a wonderful place to fish and boat.
Boulder Creek RV Resort
2550 US-395, Lone Pine, CA 93545
Set east of the southern Sierra Nevada Mountains, Boulder Creek RV Resort is just west of Death Valley National Park. Mount Whitney, the highest mountain in the Lower 48, is at the resort's doorstep, while the nearby town of Lone Pine is a famous movie location.
This is a fantastic place to experience the American West, the meeting point of California's desert and the mountains. Boulder Creek offers tent camping and cabins, but also has numerous RV sites, including pull-through, drive-through and back-in sites.
49er RV Ranch
23223 Italian Bar Road, Columbia, CA 95310
The 49er RV Ranch is located in the Gold Country of central California, between such amazing destinations as Yosemite National Park, Lake Tahoe and Sacramento. All RV sites have full hook-ups with water, sewer and electricity, as well as cable TV and Wi-Fi.
The area offers a plethora of activities and attractions, from wineries and giant sequoia groves to historic gold mining towns. Make sure to visit Columbia State Historic Park and Railtown 1897 State Historic Park.