Florida RV Rentals USA
Book & Compare Florida Recreational Vehicle Hire in America
Nicknamed the "Sunshine State", Florida is one of the most popular holiday destinations in the USA. Dotted with vibrant cities, such as Orlando, Miami, Tampa and Fort Lauderdale, it is home to glorious beaches, great food, abundant sunshine, beautiful islands and several scenic drives. When you hire an RV rental in Florida, you get to explore world-famous places like Everglades National Park, Walt Disney World and the Overseas Highway in the Florida Keys.
On this page, we offer you all kinds of information about Florida RV rentals. From the types of RVs and campervans you can rent in Florida to the top road trip destinations, not-to-miss scenic drives and recommended campgrounds.
If you want to get a sizzling introduction to what Florida is all about; pick up your recreational vehicle (RV) rentals in Florida; and start vagabonding from here. National RV rental and sales operators Cruise America, Road Bear RV, Escape Campers and El Monte RV has locations in Orlando, Miami and south Florida; and there are plenty of smaller Florida RV rentals operators that you can choose from as well to suit your needs and budget.
Types of RV, Motorhome and Campervan Rental Vehicle
Whether you are planning a comfortable road trip with a luxurious big rig or an affordable getaway with a smaller RV, you can find a variety or motorhomes to rent in Florida. Most types of RVs are available for hire in Florida. Additionally, Florida and its endless sunshine and beaches is an ideal destination for a van-life experience, too. You can also rent campervans in Florida for one way hires throughout the USA.
Campervan
As the smallest type of RV for rent in Florida, campervans are a popular choice among adventure-minded, generally younger, road trippers. They are small, manoeuvrable and fuel-efficient, which make them ideal for budget road trips. However, campervans are pretty spacious and well-equipped as well, typically featuring a bed, sink, cooktop, storage and other camping necessities.
If you are looking to live your "van life" dreams, renting a campervan in Florida is the way to go. These well-outfitted campers offer ultimate freedom, allowing you to share unforgettable moments with the closest people in your life.
Motorhome – Class C
Significantly more spacious than campervans, yet also cheaper than large Class A motorhomes, Class C RVs hit that sweet spot between comfort and affordability. These kinds of motorhomes may just be the most popular Florida RV rentals, offering friends, families and couples the space, comfort and freedom they need for a memorable road trip in Florida.
Class C RVs have all the amenities you can expect from a large rental motorhome, including sleeping areas, a full kitchen, a bathroom and seating area. Their design and drivability similar to a large van, these RVs are easily recognized by their sleeping area or upper storage that extends over the motorhome's cab.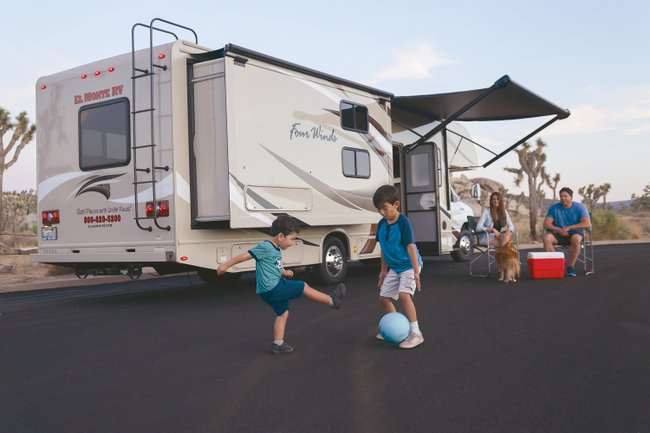 Slide Outs
You can find both Class C and Class A RV rentals with slide outs in Florida. As the name suggests, slide outs are, simply put, features that literally slide out from the side of the vehicle when parked. They increase the interior space of the RV, sometimes by quite a lot. Usually it is the living area or the bedroom that is enlarged, but the big rigs may have multiple slide outs that provide an impressive amount of space.
RV – Class A
By far the largest RVs you can rent in Florida are the Class A motorhomes. Resembling a bus, these huge RVs have panoramic front windows and full passenger access between the cab and the rest of the vehicle while driving (and while parked). Class A RVs are among the most luxurious vehicles on America's roads, boasting plenty of sleeping, eating and relaxing space, as well as full kitchens and bathrooms.
Anyone looking for that "home away from home" feeling on the road will find it in a class A motorhome. Additionally, as massive as some of these vehicles appear, most of them come with the aforementioned slide outs, which make them even bigger when parked at your campsite.
RV Rental Locations in Florida
The amazing Florida coast, whether it is the Atlantic Coast or Gulf of Mexico, is lined with charming seaside towns and major cities. Especially the Florida Panhandle has several large cities with excellent transportation connections, including airports, interstates and seaports. You can pick up your Florida RV rental in famous cities like Miami, Fort Lauderdale and Tampa, which are, incidentally, also major cruise ports.
Additionally, Orlando is also a fantastic starting point for road trip in Florida with an RV. The largest city in inland Florida, Orlando is home to numerous theme, water and amusement parks, and has by far the largest number of Florida RV rental companies.
Orlando, FL
Located in the middle of Florida, Orlando is a superb base to explore the Sunshine State. Home to an international airport and the meeting point of various highways, the city is conveniently accessible.
When you pick up your Florida RV rental in Orlando, you can explore some of America's greatest attractions, whether it is theme parks like Walt Disney World or natural areas like Everglades National Park, at your own pace and on your own schedule.
Top 3 Orlando Attractions:
Universal Studios: A theme park and production studio in Orlando, Universal Studios Florida has numerous rides, experiences and attractions, most of which have a TV or movie-related theme. It is one of the three Universal Orlando Resort parks—the other two are Volcano Bay and Islands of Adventure.
International Drive: A main thoroughfare in Orlando, the International Drive is lined with a plethora of attractions. When you drive your Florida RV down this road, you can visit famous places like The Wheel at ICON Park Orlando, Wonderworks Orlando and the Orlando StarFlyer. It is also close to both Walt Disney World and SeaWorld.
SeaWorld: One of Orlando's famous theme parks, SeaWorld Orlando is a marine zoo and amusement park with numerous rides and attractions. It is best known for its animal shows, live presentations and up-close animal experiences and interactions.
Leading Orlando RV Rental Brands: Britz, Cruise America, El Monte RV, Escape Rentals, Mighty Campers, Road Bear RV
Miami, FL
One of Florida's main tourist destinations, Miami is near the tip of the Florida Peninsula. It is one of the largest cities on the U.S. East Coast, a cultural hub featuring Art Deco architecture, amazing food, nightlife, beautiful beaches and access to all three of Florida's national parks.
The latter is a particularly great reason to rent your Florida RV in Miami. In just a couple of hours you can be at both Everglades and Biscayne National Parks, while the Florida Keys are also a scenic drive away.
Top 3 Miami Attractions:
Miami Beach: Located on an island just off the southern Florida coast, Miami Beach is connected to mainland Miami by several bridges. Along with its beaches, this city is known for its early-20-th-century Art Deco architecture, especially the wonderful pastel-coloured buildings along Ocean Drive.
Vizcaya Museum & Gardens: The former home of business James Deering, the Vizcaya Museum and Gardens are on shore of Biscayne Bay in Miami. You can visit this gorgeous National Historical Landmark on self-guided tours.
Florida Keys: The amazing Florida Keys are a series of small tropical islands that extend for 120 miles from the Florida Peninsula's tip to Key West. The islands are famous for their fishing, snorkelling and scuba diving, boating, seafood and nightlife. Driving the Overseas Highway, which connects the islands, with a motorhome rental in south Florida is a once-in-a-lifetime experience.
Miami RV Rental Brands: Cruise America, El Monte RV
Fort Lauderdale, FL
Located on the coast of north-eastern Florida, Fort Lauderdale is famous for its wonderful boating canals and sandy beaches. This is a great place to rent an RV in Florida and explore the state's southern highlights, including the Everglades, Miami and the Florida Keys.
In the city itself, you can visit the International Swimming Hall of Fame and the bars, boutiques and outdoor restaurants along East Las Olas Boulevard.
Top 3 Fort Lauderdale Attractions:
Bonnet House Museum & Gardens: Named after the Bonnet Lily, the Bonnet House Museum & Gardens is one of Fort Lauderdale's greatest tourist attractions. It is the former home and estate of Frederic and Evelyn Bartlett, comprising an art studio, music studio, the main house and a guest house. It is one of Florida's best-preserved turn-of-the-20th-century homes.
East Las Olas Boulevard: The premier area in Fort Lauderdale for entertainment, events, dining and other activities, East Las Olas Boulevard runs from the downtown business district through the canals to Fort Lauderdale Beach.
Hugh Taylor Birch State Park: Situated between the Intracoastal Waterway and Route A1A, the Hugh Taylor Birch State Park is home to some of the last remaining tropical maritime hammocks in the area. It is a fantastic place for hiking, wildlife viewing, biking, boating and camping in Fort Lauderdale.
Fort Lauderdale RV Rental Brands: Cruise America
Tampa, FL
Set on the shore of Tampa Bay on southern Florida's Gulf Coast, Tampa is known for its museums and other cultural highlights. One of its star attractions is Busch Gardens, an Africa-themed park with animals and rides.
There is also a great culinary and nightlife scene to explore in Tampa. Home to a Cruise America RV rental depot, this city is also a convenient place to start your self-drive RV holiday in southern Florida.
Top 3 Attractions in Tampa:
Dali Museum: In St. Petersburg, just across Tampa Bay from Tampa, you can visit the Salvador Dali Museum. Home to over 2,400 of his works, this is the world's premier museum dedicated to the life and work of Salvador Dali.
Naples: When driving the Tamiami Trail from Tampa to Miami, you will pass through the coastal town of Naples, which is famous for its golf courses, the Naples Pier, high-end boutiques and many miles of sand beaches.
Crystal River National Wildlife Refuge: About an hour and a half north of Tampa lies the Crystal River National Wildlife Refuge. One of the most famous wildlife areas in Florida, this is where you can see the famed West Indian manatees in the wild, and go on boating or snorkeling excursions.
Tampa RV Rental Brands: Cruise America
Florida RV Rental in the Sunshine State
Florida is hot, literally and figuratively. Blessed with an almost year-round balmy weather; the Sunshine State has also the longest coastline in all of the contiguous United States. The generous mix of the two only makes for a perennially favourite destination of bikini-clad sun-worshippers; or fur-bundled snowbirds escaping the frigid corners of the northeast.
Miami is a grand first stop on your Florida RV rental; because it is the melting pot of everything eccentric and devil-may-care way of life in North America. Miami's turquoise beach scene; specifically the all-aglitter South Beach celebrity scene; shimmering against sultry bikini bottoms, pastel-colored Art Deco buildings, sinfully decadent sprawling mansions, and a red hot spicy Latin culture the largest in the Americas north of Mexico; these are all worth serious exploration on your RV rentals in Florida. Afterwards you can head to the waters in three directions; or to the north Panhandle and into mainland United States.
From the Panhandle to the Keys on Florida RV Rentals
Despite valiant efforts of 21st century Americans to shape nature according to its whims and desires; Florida remains a vastly untamed territory of Jurassic-era flora and fauna. Ninety miles (90 miles) west of Miami lies the 1.5-million-acre swampy Eden of The Everglades; where alligators and reedy ponds are cliché.
For a more comprehensive road trip on a campervan hire or motorhome rental vacation in Florida, you can fly to the regional airport of Tallahassee, the state capital and the largest city in the Panhandle, and take Interstate 10 and I-75 to Cuban stronghold Ybor City in Tampa, and Salvador Dali Museum in St. Petersburg across Old Tampa Bay. From here, drive your Florida RV rentals another 206 miles south via I-75 and US Route 41 to get to the Everglades.
Or, take the eastern US Route 75 and spend some magical time in Orlando's Disney World. Another magical, but space-bound, experience can be found in Cape Canaveral and Kennedy Space Center Visitor Complex just an hour to the east. It's under 400 miles from here to Florida Keys, a coral cay archipelago strung by 220 miles of US Route 1 until Mile Zero at Key West.
Along the way, you can make requisite stops at the martini-sipping upscale Venice of America Fort Lauderdale, un-missable Miami, the must-see Everglades, and back east to US Route 41 for 162 miles of scenic driving from Key Largo to Mile Zero. If you fly straight to Key West International Airport, you can follow US Route 1 that winds through an unbroken 547 miles to the north until you cross the border at Georgia.
Top Attractions in Florida
There is a reason why Florida is one of the most popular tourist destinations in the USA. There are several great cities to explore, from Orlando to Miami, many of which have at least one Florida RV rental depot, as well as theme parks and waterparks.
Besides those many urban and man-made attractions, Florida also boasts some world-class natural destinations. When you hire and RV in Florida, you can visit the Everglades, Biscayne Bay and the Crystal River, all of which offer amazing wildlife viewing, boating and other outdoor activities. Take a look at some of the top attractions in Florida below, which should give you an idea about the variety that awaits you on your Florida RV vacation.
Everglades National Park
Protecting 1.5 million acres of wetlands at Florida's southern tip, Everglades National Park is one of the greatest destinations for a Florida RV road trip.
Known as "The River of Grass", this sprawling expanse of wetlands is a UNESCO World Heritage Site, a globally important refuge for hundreds of bird species, West Indian manatees, American crocodiles, alligators and Florida panthers. Popular things to do are camping, boat tours, fishing, canoeing, kayaking and wildlife viewing.
Kennedy Space Centre
Arguably the most famous NASA location in the USA, the Kennedy Space Centre is at Cape Canaveral, on the east coast of Florida. Open to the public, the Kennedy Space Centre Visitor Complex allows visitors to watch live rocket launches from a safe distance.
There are many other attractions as well, including the U.S. Astronaut Hall of Fame, the Rocket Garden, the Atlantis Space Shuttle and the Journey to Mars exhibits.
Tallahassee
The city of Tallahassee is a fantastic destination for a northern Florida RV road trip.
As the capital of the state, its attractions include the restored Historic Capitol, which houses a political history museum, as well as the observation deck of the Capitol Tower. Elsewhere in the city, you can see beautiful antebellum mansions.
Key West
The end of the phenomenal Overseas Highway, a highly recommended drive with a Florida RV rental, Key West is the westernmost island accessible by road in the sun-soaked Florida Keys.
This small island is home to the southernmost point in the United States, while its nightlife, coral reefs, historic sites, beaches and pastel-coloured houses attract a variety of visitors.
Dry Tortugas National Park
Only reachable by seaplane or boat, Dry Tortugas National Park is one of the remotest national parks in the USA. However, you can still get there relatively easily—even when you are on a Florida RV holiday—from Key West.
A boat runs from Key West to Dry Tortugas National Park, where you can spend a few hours on Garden Key, sunbathing, snorkelling and exploring massive Fort Jefferson, the largest brick masonry building in the Americas.
Daytona 500
The Daytona 500 is one of the highlights of the NASCAR racing season. This 500-mile car race takes place each February on the Daytona International Speedway in Daytona Beach. It is a great event to attend if you are into cars.
Elsewhere in Daytona Beach, you can enjoy the city's wide hard-packed sand beach, and its fun boardwalk home to arcades and rides.
Walt Disney World
The Walt Disney World Resort is one of the absolute star attractions in central Florida. A huge entertainment complex, it encompasses no fewer than four separate theme parks: Epcot, Disney's Animal Kingdom, and Disney's Hollywood Studios and the Magic Kingdom.
Additionally, there are more than 25 themed hotels, several golf courses, two waterparks, the Disney Springs shopping centre, and a well-equipped RV campground resort.
Salvador Dali Museum
One of the absolute top tourist attractions in St. Petersburg, Florida is the Salvador Dali Museum. It is the world's premier museum dedicated to the work of Salvador Dali, housing an unrivalled collection of more than 2,400 of his works.
This includes almost 300 paintings and drawings, as well as over 2,000 prints, posters, sculptures and other art objects.
St Augustine District
A beautiful colonial city on Florida's northeast coast, St. Augustine lays claim to the title of oldest city on the USA mainland. Founded by a Spanish admiral in 1565, the city is now famous for its Spanish colonial architecture and the 17th-century stone fortress known as Castillo de San Marcos.
Additionally, St. Augustine has wonderful sand beaches, while you can spot wildlife at Anastasia State Park. This is a great Florida RV rental road trip destination for history buffs.
Edison & Ford Winter Estates
Located on the banks of the Caloosahatchee River in Fort Myers, the Edison & Ford Winter Estates encompass a 20-acre botanical garden and historical museum.
The grounds also comprise the sprawling winter estates of both Thomas Edison and Henry Ford, inarguably two of the greatest men in American history. Edison's Laboratory is also a part of this popular attraction in southwestern Florida. 
Best Time of Year to Visit Florida in an RV
You would think that a place called the "Sunshine State" is a great destination year-round—and you would be right (kind of)! You can have a great time exploring Florida with an RV in every season.
However, you should also know that each season is a little bit different in Florida, depending on what part of Florida you are visiting and when.
Spring
Spring is essentially the end of the peak tourist season in Florida. This is a wonderful time for beach days and boat tours. Mid-March through Mid-June is also one of the cheapest times to visit, explore and stay in Florida.
Spring is also a great period to see manatees and visit theme parks without the crowds (except for the Spring Break weeks and Easter weekend).
Summer
Florida summers are hot and humid, so keep that in mind when planning a Florida RV holiday in July or August.
Summer days may bring lightning storms, which can occasionally be quite fierce, but luckily tend to pass quickly. This is a fun time of year to explore the Orlando theme parks and northern Florida.
Fall/Autumn
Fall in Florida is both an amazing and affordable time to road trip around Florida with an RV rental, and is hurricane season. September and October are generally considered to be Florida's cheapest and quietest months, while the weather is wonderfully comfortable.
If you keep an eye on the weather forecast, you can have the RV road trip of a lifetime in Florida in the fall. (Just make sure to avoid Thanksgiving week(end), which unofficially kicks off the winter tourist season.)
Winter
Thanks to the state's sunshine, warm climate, beaches and numerous parks, events and activities, winter is the high tourist season in Florida. It is especially popular from Thanksgiving through New Year's, attracting countless "snowbirds".
Florida winters are delightfully warm and less humid. January through March brings chillier weather to northern Florida, but offers world-class bird watching in southern Florida parks like the Everglades.
Best Florida Scenic Drives
There is no point in getting a Florida RV rental if you are not going to drive it to different places!
Luckily, you will find several USA scenic highways and byways all over Florida. From the Big Bend Scenic Byway and William Bartram Scenic Highway in the northern part of the state to the Tamiami Trail and Overseas Highway in the south, there are hundreds—if not thousands—of miles of scenic roads to discover.
Many of them either start in or run near major cities, making them easily accessible for people renting a motorhome in Florida.
Overseas Highway
The 110-mile-long Overseas Highway is one of the greatest drives in the entire United States. A highlight on any self-drive South Florida RV rental holiday, it runs from Florida's southern tip all the way to Key West.
Named appropriately, the highway is essentially an amazingly long bridge that connects the tiny Florida Keys and runs above crystal-clear water and marine life-rich coral reefs.
A1A Scenic & Historic Coastal Byway
An official American Byway, the 72-mile A1A Scenic & Historic Coastal Byway is a mostly two-lane road that runs along Florida's east coast. It extends from the northern boundary of St. Johns County to the Gamble Rogers Memorial Park on Flagler Beach.
On the way, it runs directly through St. Augustine, the oldest city in the USA, and passes beautiful coastal scenery, nature preserves, fishing spots and state parks.
Tamiami Trail
The southernmost part of U.S. Highway 41, the Tamiami Trail is a 275-mile stretch of highway between Tampa and Miami. From Tampa, the route first runs south to Naples, where it turns to the east toward Miami, passing straight through the Everglades.
This is easily one of the best roads to drive in Florida with an RV rental, lined with stunning beaches, vibrant towns and the wildlife-rich wetlands of southern Florida.
William Bartram Scenic & Historic Highway
Officially Florida State Route 13, the William Bartram Scenic & Historic Highway is a beautiful 17-mile road along the St. Johns River. It is about 25 miles west of St. Augustine in northeastern Florida.
Named after the naturalist William Bartram—who also wrote the first "tour guide" to Florida in the late-18th century—it is a wonderful drive past former plantations, riverside woodlands, hammocks and swamps.
Big Bend Scenic Byway
If you are planning on exploring the "Forgotten Coast" of Florida with an RV hire, don't miss the Big Bend Scenic Byway. This charming driving route winds its way through three counties in northern Florida, just southwest of Tallahassee.
Big Bend Scenic Byway is about 220 miles long and includes sections along the gorgeous Gulf of Mexico coast, as well as a stretch through Apalachicola National Forest. There are dozens of parks, museums and wildlife preserves to explore. 
Best Florida RV Parks
Wherever you pick up your Florida RV rental, or whichever destination(s) you are visiting, you will always find a great RV resort in the area. Just like most other U.S. states, Florida has no shortage of RV parks.
In fact, numerous campgrounds that can accommodate RVs surround all main Florida cities, including Miami, Fort Lauderdale, St. Augustine, Tampa and especially Orlando. To help you get started on your Florida RV holiday planning process, we have listed a handful of the best Florida RV parks below.
Coastline RV Resort
957 Highway 98, Eastpoint, Florida 32328
A top-rated Florida RV park, the Coastline RV Resort is in Eastpoint, the gateway to the "Forgotten Coast" of the Florida Panhandle. This campground is directly on Highway 98, which offers easy access to the area's coastal towns, beaches and parks.
A five-star RV camping facility in Florida, it boasts coastline RV sites, which can accommodate 5th-wheelers and 45-foot Class A motorhomes. Amenities include an outdoor pool, fitness centre, full kitchen, bathrooms, a fishing pier and a games room.
Disney's Fort Wilderness Resort
4510 North Fort Wilderness Trail, Lake Buena Vista, Florida
Disney's Fort Wilderness Resort and Campground near Orlando comprises 750 acres of cypress and pine forest, amazing pool areas and several entertainment venues. The campground has four types of campsites, which can accommodate everything from tents to 45-foot RVs.
Amenities include pools and waterslides, laundry facilities and hiking trails. The complimentary Disney Bus Transportation can take you from your campsite to the resort's many attractions.
Flamingo Campground
1 Flamingo Lodge Hwy, Homestead, Florida 33034
Located within Everglades National Park, the Flamingo Campground sits on an open field on the shore of Florida Bay. It offers pull-through campsites and a limited number of electrical hook-ups.
This is one of the best drive-in campgrounds in the Everglades, its facilities ranging from showers and picnic tables to an amphitheatre and two dump stations.
Compass RV Resort
1505 State Road 207, St Augustine, FL 32086
If you are planning on visiting historic St. Augustine, consider staying at the excellent Compass RV Resort. This RV campground has a variety of campsites, including full hook-up sites, buddy sites and patio sites.
Its three sections—The Oasis, The Grove and The Pond—all offer a different experience, while you can enjoy a variety of facilities, such as a dog park, swimming pool, nature trail, gym and laundry room.
Lake Magic RV Resort
9600 Hwy 192 West Clermont, FL 34714
Situated on beautiful Lake Davenport in central Florida, the popular Lake Magic RV Resort is only 6 miles from Disney, while other theme parks, golf courses and restaurants are also just a quick drive away. While this central Florida RV park is close to numerous attractions, its lakeside setting still allows guests to enjoy a peaceful resort vibe.
Sites can accommodate everything from small pop-up campers to big rig RVs. All sites have electricity, cable TV, sewage and water. Resort amenities are plentiful, too, and include a tennis, basketball and volleyball courts, WiFi, a swimming pool, laundry facilities, a games room with billiards, library and shuffleboard.