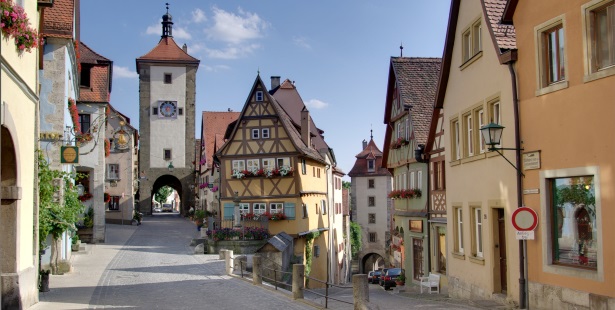 Frankfurt Motorhome Rental, Germany
Compare RV Rental and Campervan Hire in Frankfurt
Are you thinking of choosing a road trip in Germany for your next European holiday?  Why not arrange to pick up a Frankfurt campervan hire and do the classic road trip along Germany's Romantic Road, all the way from Frankfurt to Munich, and then visit the beautiful Black Forest region on your way back to Frankfurt?  This is one of the most scenic drives in Europe and along the way you will have the opportunity of visiting some wonderfully characteristic villages and town.  Germany has an excellent road system and there are many good caravan parks and campsites along the way, where you can linger for a day or more – remember, this is your holiday, and with a Frankfurt motorhome hire, you have the freedom to do it all at your own pace.
Camping Car models available from Frankfurt
With leading Frankfurt motorhome rental brands Autocaravan Express, Enviro Motorhomes, Euromotorhome Rental and Big Sky Motorhomes; there is a large selection of motorhome models for you to choose from.  Browse our online listings now to see all the models, full specs and costs.  If you do not mind using the facilities at the various campsites (and they are usually spotless in Germany!), you can select a budget compact campervan with a pop-up top, suitable for 2 adults and 2 children.  These smaller vans and camping cars are very easy to drive and park and get top points for economy.  If your budget or group size is larger, opt for one of the big luxury Frankfurt RV rental or motorhome hire.  The bigger vans all have showers and toilets on board, as well as well-equipped kitchenettes and comfortable berths for up to 6 adults.
The Romantic Road by motorhome from Frankfurt
This itinerary will take you along one of the most popular road trips in Europe.  With your accommodation all sorted out, you can choose to do the trip in 7 days, or take the slow road, spend more time in the towns and villages and stretch it out to 2 or even three weeks.  There is plenty to see on the Romantic Road and you will never be bored!  Starting in Frankfurt, your journey south will take you to Wurzburg, Rothenburg, Nordlingen, Augsburg, Hohenschwangau and finally to Munich, where there is a great deal to see and do.
On your return journey to Frankfurt, where you will drop-off your Frankfurt motorhome rental, consider visiting the beautiful university town of Strasbourg, on the French border and then spend some time relaxing in the Baden-Baden area, alongside the Rhine.  There are literally dozens of top-quality campervan parks in this part of Germany, many of which offer really good facilities and opportunities for relaxation.  Park your Frankfurt campervan rental at one or a few of these campsites for a few days and enjoy the hiking, water sports and other outdoor activities.  There are plenty of quant villages to explore in the area before you make your way back to Frankfurt.