Joshua Tree National Park by Motorhome Rental
A motorhome rental or RV holiday does not have to involve a long journey. Some folk hire them and travel a short distance to a natural beauty spot. Then they they park them there for a week, as a luxury tent-on-wheels while they explore the environment around them. They love it because this works out cheaper than hotel accommodation, and they have the luxury of their privacy too. We picked up a motorhome rental in San Diego, Southern California one summer. Then we drove down Highway 62 for three hours until we reached the Joshua Tree National Park.
Joshua Tree National Park Where Two Ancient Deserts Meet
Joshua Park stands at the point where the Mojave and Colorado Deserts merge. It offers a series of relaxing accommodations including cabins dating from the 1920's. and a colorful collection of six curvaceous airstream trailers painted vivid colors. We chose one of nine campgrounds dotted about the park with electrical and water hookups for motorhome rental or campervan hires. Then we set up the lean-to tent while we figured out where to go hiking first.
A National Park Slightly Larger Than Rhode Island
Approximately two thirds of the total 790.000 acres (319,000 hectares) are designated wilderness area. Permission is required for overnight camping but this is easy to arrange on arrival. Open fires may not be lit although camping stoves are permitted. Leave-no-trace zero pollution is in force, in other words 'pack it in, pack it out' if you are hiking. Gloriously for lovers of nature and quiet conversations there are no usable cellular signals. Our stay was easy going for we had a gas stove in our recreational vehicle. And we could move our hotel about, and even take it for a ride to some spectacular scenery.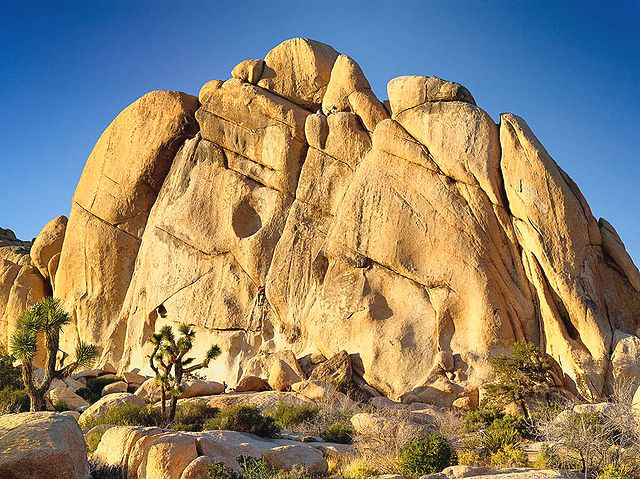 If You Feel Like a Spot of Hiking or Mountain Climbing …
If you enjoy hiking, or perhaps climbing giant boulders then Joshua Tree National Park belongs on your bucket list. We hiked through the Hidden Valley as we don't do dizzying heights. The one mile loop took us through massive rock formations some say were once cattle rustlers' hideouts. Mind you we did stop, and enjoy watching someone more ambitious summiting a boulder.
After a pleasant, relaxing week often doing nothing but listening to music, (and occasionally exercising) it was time to take the road back to San Diego three hours away. The folk at the depot where we returned the rented motor home were as friendly as ever. When we apologized for the dust on it they laughed and said, "Now don't you worry about that. As long as you had a great RV trip, that's all that matters."