Australia
Scenic Drives in Australia
Australia may be Down Under, but scenic drives in Australia are surely near the top of the list when it comes to countries with the most or best drives. Almost everywhere you venture in the Australian Outback, there will be an amazing vista to be appreciated, and like other really LARGE countries, many parts of Australia are just better admired from behind the steering wheel, where you get a better understanding of the vast scale of the landscape from Queensland and New South Wales to Western Australia.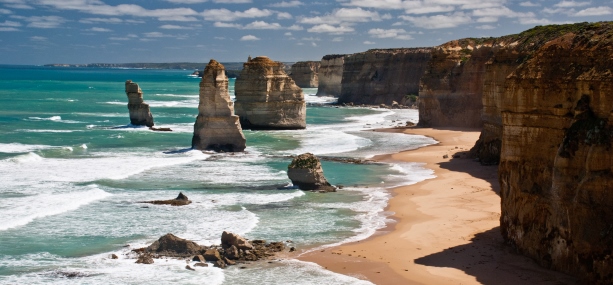 To really enjoy these scenic routes you need to get off the highways and travel the smaller, slower and quieter roads. All the routes we are going to suggest today would be perfect to explore with a motorhome or campervan – one of the very best ways to see Australia in some depth. Depending on your interests, starting point and the amount of time you have, one of the following routes is bound to appeal to you.
East Coast – Sydney to Cairns
This itinerary is perfect for those craving a sun-and-sea holiday, besides a really great scenic drive. Your journey will take you North from Sydney to the Hunter Valley, Coffs Harbour, Brisbane, Fraser Island and the Whitsundays, where you spend a few days enjoying the spectacular Great Barrier Reef. From there you continue up to Cairns, (and perhaps some more marine adventures). Its' a great family trip and on most days there is just a couple of hours behind the wheel to get you from one great beach to another; sounds like heaven to me!
Tasmania – Hobart to Hobart
Tasmania is perfect for exploring by motorhome, and a 10 day sojourn will give you a decent amount of time to enjoy this compact state.   From Hobart start by driving up the West coast to Cradle Mountain, (for amazing hiking and views) via Strachan.  Then just continue around the island in a clockwise direction via the beautiful Freycinent National Park until you get back to Hobart.  If you have 10 – 14 days this is a most rewarding and undemanding route, only requiring about 2-3 hours driving each day, and plenty of opportunity to admire the wonderful views and enjoy the coastline.
Victoria – The Great Ocean Road
This route is another coastal stunner, the Great Ocean Road acknowledged as one of the most scenic drives in the world. There is a great deal to keep you busy along this stretch of coastline – walk some of the Great Ocean Walk, see the famous Twelve Apostles – spectacular limestone stacks rising from the ocean in Port Campbell National Park, or whale watch at Warrnambool between May and September. There are many koalas living in this area (about 6 million!) so you are bound to see some during your trip!
Northern Territory – Alice Springs and Uluru (Ayers Rock)
No list of scenic drives in Australia would be complete without this one! You start off in the outback at Alice Springs and drive to Glen Helen for your first night, and then on to King's Canyon on day 2. From King's Canyon it's about 4 hours to Ayers Rock – 300kms. Once at Uluru, you can hire an Aboriginal guide to give you a guided tour and explain the spiritual significance of this unique feature. The drive back to Alice Springs takes about 5 hours if you do it all at once, but you could spend a little more time and retrace your steps to King's Canyon and spend some more time there doing the stunning King's Canyon Rim Walk.
These are just a small sample of the array of notable scenic drives in Australia – there are several more, and you really need to add some of them to your must-do list.