Route 66 RV Rental
Motorhome Rental or Campervan Hire Road Trip Chicago to Los Angeles
Driving the Great American Road trip along the famous historic Route 66 scenic drive; has featured prominently on many peoples' Bucket List. This stretch of iconic American Highway wanders for 2448 miles from Chicago to Los Angeles and is the very epitome of a grand scenic drive by motorhome rental, campervan hire or RV rentals. The original route across America was a thoroughfare for the unemployed seeking to make their fortune in California during the Great Depression of the 30's; and although much of the original road has been replaced by modern interstate highways.
Many of the towns and villages along the route have tenaciously clung to their historic Route 66 scenic drive character, preserving the old neon signs, rusting gas stations and kitschy buildings that will take you back in time over 60 years. Exactly where you go and how long it takes you will depend on how much time you have at your disposal; so as to explore the route and enjoy all there is to see along the way. Here is one suggested 2-week itinerary, which will give you time to see all the highlights.
Route 66 RV Rental Companies in Los Angeles & Chicago
Also known as the "Mother Road" or the "Main Street of America", Route 66 is the most iconic original highway of the Highway System in the USA. Running for 2,448 miles (3,940 kms) from Chicago to Los Angeles, it is America's most famous driving route. On this page, you will find everything you need to know about Route 66 RV rental, including the best RV rental companies in both Chicago and Los Angeles, as well as route descriptions and highlights.
The traditional—historic—direction to drive Route 66 is south and west, from Chicago to Los Angeles. It used to be the main route west during the 1930s Dust Bowl, which supported the numerous communities and towns along the way. (You can, of course, also drive Route 66 by motorhome from L.A. to Chicago.) Eventually, as cars became more popular, Highway 66 grew into the popular tourist attraction and road trip route it is today. Nowadays, driving Route 66 with an RV rental is as popular as ever, done either in sections or entirely by many thousands of travelers annually.
With a Route 66 RV hire, you get to go on a cross-country road trip in the USA. On the way, between those two iconic cities, you will explore the American heartland, see quirky roadside attractions, stay at historic campgrounds, and visit some spectacular parks.

El Monte
The Chicago and L.A. depots of El Monte's have a Class A motorhome and four types of Class C motorhomes for hire. As one of America's most popular RV rental companies, also among Route 66 travelers, they often offers great deals. Those range from seasonal discounts to one-way specials.
When you get a Route 66 RV rental from El Monte, the price you pay includes a bunch of amazing things like use of a generator and 24/7 roadside assistance. Additionally, you can also rent a GPS unit and/or housekeeping kits for a minimal extra fee.
Class C
El Monte's diverse fleet of Class C RVs for a Route 66 road trip allows you to find the absolute perfect vehicle for your self-drive holiday on America's most famous highway.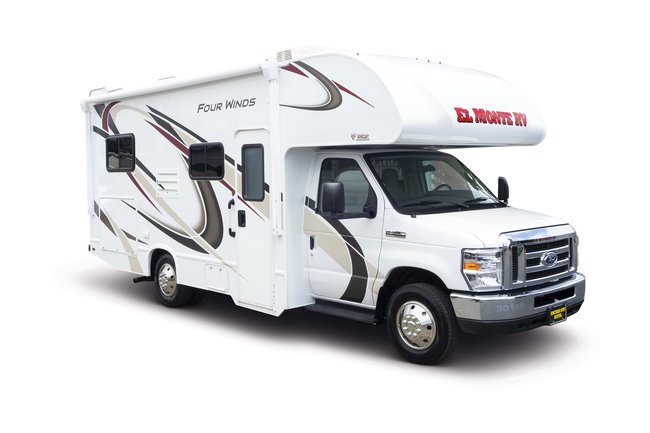 Their depots in both Chicago and Los Angeles have four Class C vehicles. All of them can accommodate minimum 4 adults and 1 child. Every model comes with a full kitchen, seating area, bathroom with toilet and shower, sleeping areas and a generator.
C22 Class C RV: sleeps up to 4 adults and 1 child
C25 Class C RV: sleeps up to 4 adults and 1 child
C28 Class C RV: sleeps up to 4 adults and 2 children
FS31 Class C RV with slide out: sleeps up to 5 adults and 2 children
Class A
Looking for a spacious Route 66 RV rental? Have a look at El Monte's wonderful Class A motorhome, which is available in both Chicago and Los Angeles.
Thirty-four feet long, this AF34 motorhome offers home-away-from-home comfort and luxury during your road trip. The well-equipped kitchen features an oven, cooktop, microwave and fridge/freezer, while the bathroom has a wash basin, shower and toilet.
Its slide out provides even more space while parked at your campsite. The El Monte Class A RV has enough room for 3 adults and 3 kids.
El Monte office hours:
Monday to Friday: 9am to 4pm

Pick Up: between 1pm and 4pm
Drop off: between 8am and 11am

Saturday & Sunday: Closed
Included with Standard Rate:
24 hour assistance
0-2 years old

Cruise America
One of the best-known motorhome rental companies in the USA, Cruise America is a great choice for your Route 66 holiday with an RV. They have depots near both the Chicago and L.A. airports. Both depots have three Class C RVs for rent, while the Los Angeles office also rents out truck campers.
Thanks to their abundance of depots across the USA, this is one of the most popular companies for USA one way road trips in a campervan hire, motorhome or RV rental, including, of course, iconic Route 66. Their vehicles are well-equipped and come with all modern motorhome amenities. What sets them apart, however, is their beautiful exterior decorations, which feature some of America's greatest national parks and road trip destinations.
Class C
All three of Cruise America's Route 66 RV rentals in Chicago and Los Angeles are Class C vehicles. Easy to manoeuvre and operate, they are ideal for both first-time and experienced RV travelers.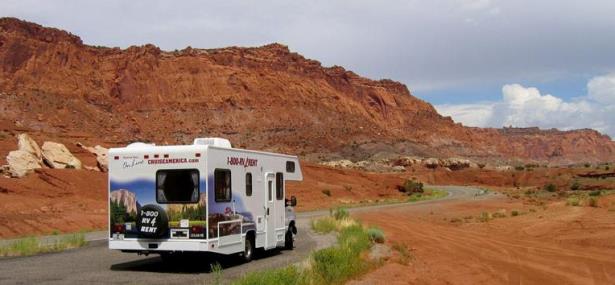 Each RV essentially comes with the same amenities, including air-conditioning, a shower, generator, full kitchen and more. They differ only in size and capacity. Moreover, they are kid- and pet-friendly as well, which makes these Class C RVs perfect for family vacations.
Compact 19' Class C RV: sleeps up to 3 people
Standard 25' Class C RV: sleeps up to 5 people
Large Class 30' Class C RV: sleeps up to 7 people
Truck Camper Rental
Although Cruise America's Chicago depot does not have truck campers, their Los Angeles depot does. So, if you are starting your Route 66 RV rental road trip in L.A. and are planning a more adventurous trip, check out the F-150 truck from Cruise America.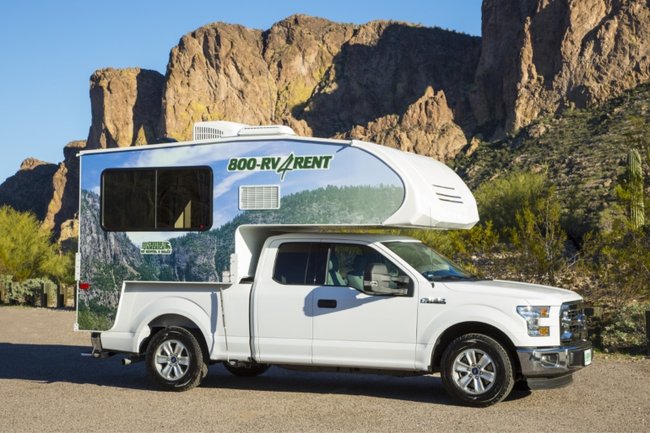 Thanks to their 4WD, these truck campers can navigate the steepest terrain and get you to the remotest wilderness campsites. They are equipped with a freshwater toilet, shower, fridge, microwave, gas cooktop and sink. The maximum capacity is 3 people.
Cruise America branch hours:
Monday to Saturday:

Pick Up: 1pm to 4pm
Drop off: 9am to 11am

Closed Sundays and Public Holidays
Included with Standard Rate:
24 hour assistance
0-4 years old
Route 66 from Illinois to California
Starting in Chicago, make your way across the Illinois farmland and rolling corn fields to St. Louis (300ml), a good place for your first overnight stop. From here you cross the mighty Mississippi and continue to Springfield where there are plenty of the original Route 66 relics to be seen and you can stop to visit the Crazy Dog drive-in, birthplace of the original corn dog. Stop overnight near Springfield before driving on to Tulsa and Oklahoma City, where a visit to the Oklahoma Route 66 Museum is well worth your while.
From Oklahoma the route will take you to Amarillo, Albuquerque, and Santa Fe, which is a good spot to spend a day enjoying the aerial tramway, a hot-air balloon ride or taking a side trip on the Turquoise trail route through the mountains.
The highlight of the drive is a visit to the Petrified Forest National Park; with its thousands of acres of petrified trees, en route to Holbrook for another overnight stop; before you drive through Navajo Indian Country to the wonderful Grand Canyon National Park.
Next up is the last leg of the RV rentals road trip through the Mojave Desert to Santa Monica/Los Angeles and the end of famous historic Route 66 scenic drive. All along this nostalgic scenic drive through the heartland of America; you will find good campervan parks to rest after a busy day of driving and sightseeing.
Illinois:
Chicago – Joliet – Pontiac – Bloomington – Springfield – Litchfield – St Louis
Total Distance about 289 miles/465 km
Running diagonally across Illinois between Chicago and St. Louis, Route 66 takes you through rural landscapes, countryside and prairies. You won't see many skyscrapers or factories on this journey of almost 300 miles, instead you will cruise past dozens of small towns, most of which still have at least one historic Route 66 landmark.
Route 66 Begin & End Signs: Major markers for all people driving Route 66 with an RV, the Begin and End Route 66 Signs are one block apart in downtown Chicago. They are the official starting and ending points of this historic highway.
Pontiac: One of countless towns you will pass on your Route 66 RV road trip, Pontiac is home to the Illinois Route 66 Hall of Fame & Museum. You can see thousands of artifacts, items and memorabilia dating from the glory days of the "Mother Road."
Litchfield: Visit several original Route 66 attractions in Litchfield, Illinois, including The Ariston Café, the Litchfield Museum & Route 66 Welcome Center, the Sky View Drive-In Theater and three Route 66 Wayside Exhibits.
Chain of Rocks Bridge: One of America's more fascinating bridges, the Chain of Rocks Bridge spans the Mississippi River just east of St. Louis. Crossed by Route 66, it is famous for its 30-degree bend in its middle, more than 60 feet above the water.
RV Parks & Campgrounds
There are excellent Route 66 RV parks and campgrounds throughout Illinois. Whether you want to drive short sections each day and explore everything to the fullest, or cover long distances between major destinations, you can find a great spot to park your rig all across the state. These are our recommended RV campgrounds along Route 66 in Illinois.
Double J Campground, Chatham IL
Located in Chatham, just outside of Springfield, the Double J Campground has more than 100 big rig-friendly campsites for most types and sizes of RVs. Their short-term sites are pull-throughs, allowing for easy parking, while amenities include everything from free Wi-Fi and cable TV to a swimming pool and a well-stocked convenience store.
Kamper Kompanion RV Park, Litchfield
Its convenient location just off of I-55—which is now a section of modern-day Route 66—makes the Kamper Kompanion RV Park in Litchfield a great place to stay.
Although a rather small campground, it has all 21st-century amenities for Route 66 RV travelers, including level pull-through sites with lots of space, full hook-ups, free Wi-Fi, a bathhouse, dog park and 24/7 laundry facilities.
Springfield KOA, Rochester IL
Located in the Rochester countryside southeast of Springfield, in the heart of Abraham Lincoln country, Springfield KOA offers a camping experience in a rural setting. There are tent sites, pull-through RV sites and cabins for rent.
Guests can enjoy the pool, bike rentals, mini-golf and complimentary Wi-Fi. Nearby Route 66 and various Lincoln-related attractions make for great day trips.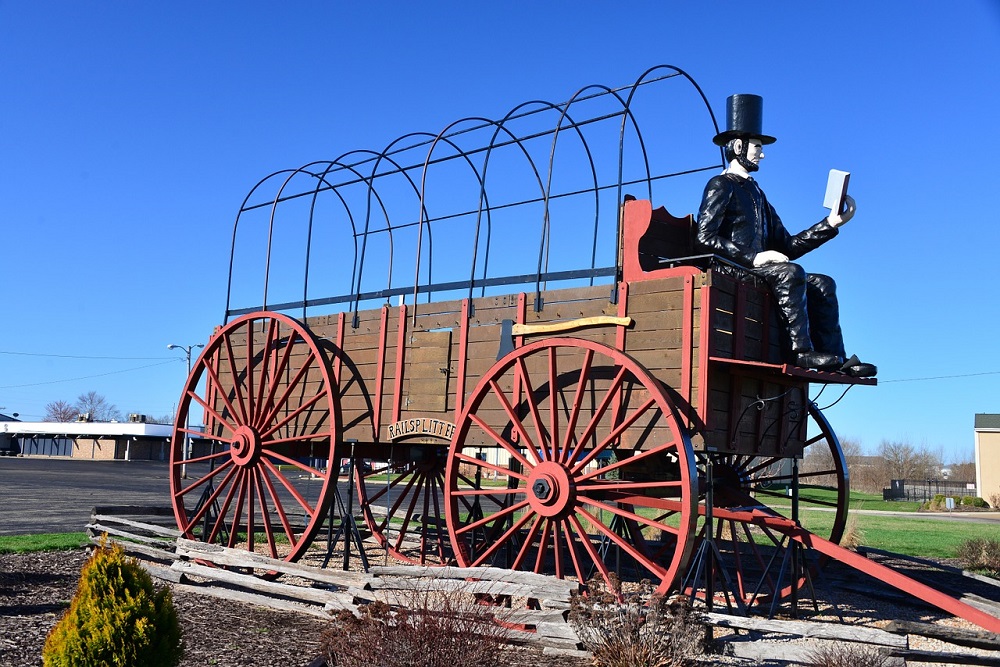 Missouri:
St Louis – Cuba – Lebanon – Springfield – Joplin
Distance about 313 miles/504 km
The journey on Route 66 across Missouri starts in St. Louis, one of the highway's greatest major cities. It links numerous small towns and large cities, following much of the old Kickapoo Trail, which is an Indian trail that became the Old Wire Road. Attractions are plentiful and include the Gateway Arch in St. Louis, the FourWay Restaurant, the "Route 66 Mural City" of Cuba, the World's Largest Rocking Chair and the Wagon Wheel Motel.
Fanning: The unassuming community of Fanning in central Missouri is famous for its huge rocking chair, now labelled the "World's Largest Rocking Chair on Route 66." When driving Route 66 with an RV rental, you will see many of these huge, kitschy attractions.
Springfield: History buffs will certainly want to stop at Springfield, Missouri, the birthplace of Route 66. This is the city were the highway was given the number "66" in 1926. There are several historic Route 66-related attractions here.
RV Parks & Campgrounds
Since Route 66 in Missouri passes by numerous towns, both small and large, there are also quite a lot of campgrounds along the way. If you are looking for the best RV parks on Route 66 in Missouri, check out the couple of recommendations below.
Springfield / Route 66 KOA, Springfield MO
The perfect base to explore the greater Springfield area, the Springfield / Route 66 KOA provides Route 66 RV travelers with a shady retreat.
Located in the heart of the Ozarks, this lush campground is close to lakes, golf courses, antique shops, restaurants, and various cultural and historical attractions. Amenities include a camp kitchen and store, a pizza restaurant, playground, bike rentals, Wi-Fi and much more.
Big Red Barn RV Park, Carthage MO
Situated just off Historic Route 66, the Big Red Barn RV Park is a wonderful place to overnight while driving Route 66 with an RV rental.
Sites range from tent sites to full hook-up and pull-through sites, while amenities include a barbeque area with free firewood, game room with pool table, kitchen facilities, Wi-Fi and laundry facilities. In town, you can visit an authentic drive-in movie theatre and the Carthage Civil War Museum.
Kansas:
Joplin – Galena – Riverton – Baxter Springs
Distance about 13 miles/21 km
The stretch of Route 66 in Kansas is the shortest of any state it passes through. Only 13.2 miles long, this short section is nonetheless packed with highlights. From Galena's iconic Cars on the Route gas station to the Brush Creek Rainbow Bridge and faded painted advertising from the highway's heydays on building walls, this is a part of Route 66 worth exploring.
Galena: A huge mural greets Route 66 RV travelers and other motorists in Galena. It used to be the first major town on Route 66 travelers passed through between Joplin and Tulsa. Nowadays, you can visit Cars on the Route at the Kan-O-Tex gas station, where you can see the tow truck that inspired the "Tow Mater" character in Cars.
Riverton: The next town west of Galena, Riverton is home to the wonderful Eisler Brothers Old Riverton Store, which has been open on Route 66 since the 1920s. It sells delicious sandwiches, souvenirs, groceries and produce.
Oklahoma:
Baxter Springs – Tulsa – Oklahoma City – Springfield – Texola
Distance about 376 miles/605 km
Also called the Will Rogers Highway in Oklahoma, the section of Route 66 through Oklahoma runs westward from the state's northeastern corner to the Texas border. This part is over 375 miles long and includes the longest driveable stretch of the original Route 66 in the USA.
Passing by several historic towns, quirky roadside attractions and oddities, famous diners and quaint motels, this is Route 66 at its very best. You will also find many excellent Route 66 museums and exhibits in Oklahoma.
Clinton: A major city along Route 66 in Oklahoma, Clinton is home to the amazing Oklahoma Route 66 Museum, which features a neon "Route 66" sign and a classic car in the window. Inside, you can see an abundance of pure Americana, including countless memorabilia, artifacts and vehicles that tell the story of the Mother Road throughout the decades.
Tulsa: The "Oil Capital of the World", Tulsa is one of the largest cities on this section of Route 66. It is jam-packed with Route 66-related attractions, from huge neon signs and drive-in movie theatres to fast food joints and several historic motels and gas stations. A must-stop destination on your Route 66 RV road trip.
Stroud: One of many iconic towns on Route 66 in Oklahoma, Stroud is home to the Rock Café, built in 1939 and still serving classic roadside food, as well as the historic Skyliner Motel. To both the east and the west of this town are sections of the historic 1926 roadbed of Route 66.
RV Parks & Campgrounds
Lined with countless roadside attractions, diners, motels and gas stations, Route 66 through Oklahoma also has more than its fair share of RV parks and campgrounds. You can find a campground in pretty much every town, but we would like to highlight the two RV parks below, located respectively in Tulsa and Bridgeport.
Tulsa Route 66 RV Park, Tulsa OK
Its location in Sapulpa, just minutes from downtown Tulsa, the Sapulpa Route 66 RV Park is directly on Route 66. It is a great base to explore the numerous attractions in Tulsa, while also offering all amenities for a comfortable time at the campground itself, including cable TV, full hook-ups, shower buildings and laundry facilities.
Territory Route 66 RV Park, Bridgeport OK
Also located directly on Route 66, the Territory Route 66 RV Park in Bridgeport is a top-rated campground popular among RV travelers.
Although small, it has full hook-up sites and can accommodate big rigs, and previous visitors praise the friendliness of the owners. This is a nice base to explore historic Bridgeport, once a thriving community along Route 66, but now almost a ghost town.
Texas:
Texola – Shamrock – McLean – Amarillo – Vega – Glenrio
Distance about 189 miles/304 kms
Route 66 follows a nearly straight line across the pancake-flat landscapes of the Texas Panhandle. The southern part of the Great Plains, this region is characterized by vast ranches, oil and gas production, and—of course—Route 66. If you are looking for the "middle of nowhere" while driving Route 66 with an RV rental, this is as close as you will get.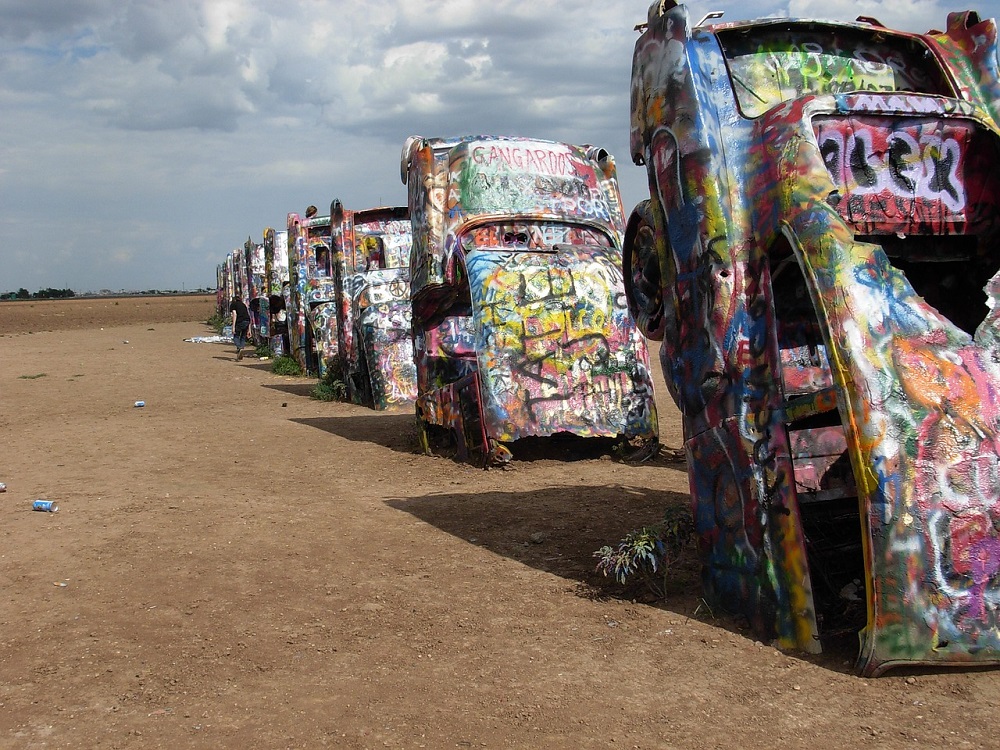 However, there are still many classic Route 66 attractions to see here, from neon signs and old gas stations to family-owned motels and all kinds of kitschy Americana.
McLean: A small town in the Texas Panhandle plains, McLean is home to a few fascinating landmarks. Its Main Street is literally Route 66, while other attractions include the ruins of a POW camp, a historic gas station and a barbed wire museum, which shares a building with the Texas Route 66 Museum.
Amarillo: The only large city on Route 66 in Texas, Amarillo's historic district has numerous valuable buildings in various architectural styles. This cowboy city is the heart of the regional ranching industry, which is evident in its rodeos, burger restaurants and its steakhouses, especially the famous Big Texan Steak Ranch.
Cadillac Ranch: Arguably one of the most famous art installations along Route 66, the Cadillac Ranch is a row of ten semi-buried Cadillacs in Amarillo. Brightly painted and set in a field, this is a not-to-be-missed attraction when road tripping Route 66 by motorhome.
RV Parks & Campgrounds in Texas
In Texas, too, you will find a large number of great RV parks. When driving Route 66 with your RV hire, you might want to explore a certain place in greater detail—especially the Amarillo area is chock-full with fun attractions.
If you are planning in staying in Texas for a few days, consider parking your motorhome at one of these Route 66 RV campgrounds in Texas.
Texas Route 66 RV Park, Shamrock TX
Route 66 runs directly in front of the Texas Route 66 RV Park in Shamrock. Its affordable nightly rates attract both tent campers and RV travelers alike. The latter can choose from a variety of sites, including full hook-ups, 20/30/50 Amp spaces and long pull-through sites. Guests can enjoy the use of free Wi-Fi, a camp store stocked with groceries and souvenirs, laundry facilities, a play area and more.
Route 66 RV Ranch, Amarillo TX
Located right on Route 66 in Amarillo, the Route 66 RV Ranch offers a "cozy pit stop for travelers to call home" and, in true Texan manners, "a convenient spot to hang your hat before you hit the road again." This is a peaceful RV campground that offers all modern amenities, from Wi-Fi to shower blocks and complimentary coffee. Storm shelters are available, too—this is, after all, tornado country.
Palo Duro Canyon, Amarillo TX
Easily accessible by car and motorhome, the Palo Duro Canyon State Park is one of northern Texas' greatest parks. It is about 25 miles from downtown Amarillo and has a great campground, which has 20/30/50 Amp hook-up sites for both small and large RVs, as well as public restrooms and showers.
Palo Duro Canyon State Park is a fantastic place to stay, enjoy spectacular canyon landscapes and learn about local Native American heritage. Activities include hiking, horseback riding, biking and bird watching.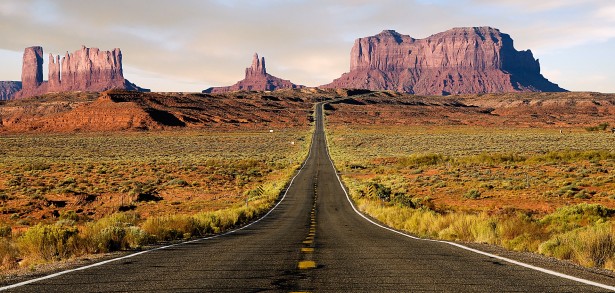 New Mexico:
Glenrio – Tucumcari – Santa Rosa – Albuquerque – Grants – Gallup
Distance about 392 miles/631 kms
In New Mexico, you will enter the glorious American Southwest. A region characterized by Old West towns, abandoned gold and silver mines, Native American heritage and spectacular nature, such as canyons and rock formations, this is a road tripper's paradise.
There are many miles of original Route 66 to discover here, while other sections parallel I-40, connecting well-known Route 66 towns like Tucumcari, Santa Rosa and Albuquerque.
1926-1937 Alignment
The original 1926-1937 alignment of the Mother Road went from Santa Rosa north to Romeroville, Pecos and Santa Fe; before heading south to Algodones, Nernalillo, Albuquerque, and Los Lunas; before heading west to Grants.
Since 1937 Re-Alignment
In 1937, Route 66 was re-aligned along a more direct route from Santa Rosa, through Albuquerque to Grants and Gallup in the west.
Tucumcari: One of New Mexico's quintessential Route 66 towns, Tucumcari gets its fame from a super-successful advertising campaign. "The town that's two blocks wide and two miles long", it has basically all iconic Route 66 attractions—dozens of them—from historic motels and museums to flashing neon signs, gas stations and diners.
Santa Rosa: Another small historic Route 66 town, Santa Rosa is now bisected by I-40, yet has still managed to keep several old attractions. The town remains a popular stop among Route 66 RV travelers, thanks to landmarks like the Route 66 Auto Museum, the Club Café ("The Original Route 66 Restaurant Since 1935") and the Blue Hole, which attracts scuba divers.
Albuquerque: A sprawling city in the heart of New Mexico, Albuquerque is on the banks of the Rio Grande and has a magnificent stretch of Route 66. The Mother Road runs right through the city center, eighteen glorious miles of neon signs, motels, roadside attractions and diners. Don't miss the American International Rattlesnake Museum or the Indian Pueblo Cultural Center.
Petroglyph National Monument: A fascinating park in Albuquerque, Petroglyph National Monument is an ancient volcanic basalt landscape home to hundreds of archaeological sites. Its main attractions are more than 20,000 images carved in rocks by both the Ancestral Puebloans and early Spanish pioneers.
RV Parks & Campgrounds
The New Mexico section of Route 66 is one of the highway's most iconic parts. From Texas to Arizona, there are several classic Route 66 towns, dozens of diners and motels, as well as many excellent RV parks and campgrounds. Below, you will find our recommended RV parks in each of the three main towns along Route 66 in New Mexico.
Blaze-in-Saddle RV Park, Tucumcari NM
A great base to immerse yourself in the Route 66 oddities of Tucumcari, the Blaze-in-Saddle RV Park has 45 full-service RV sites. There are pull-through sites, which can accommodate the largest RVs, as well as tent sites.
Horses are welcome, too—there are three horse pens and even a horse motel. In terms of amenities, the park provides full hook-ups, Wi-Fi, laundry and shower facilities.
Santa Rosa Campground & RV Park, Santa Rosa NM
Billing itself as "New Mexico's Premier RV Campground & BBQ Restaurant", the Santa Rosa Campground & RV Park has tent sites, cabins and RV sites. The latter include big rig-friendly pull-through sites. Full hook-ups up to 50 Amp are available.
Guests can enjoy free Wi-Fi, cool off in the swimming pool, browse the Southwest gift shop and indulge in mouthwatering food at the Western Bar-B-Q Restaurant (they also deliver to your campsite!).
Route 66 RV Resort, Albuquerque NM
Located 14 miles west of Albuquerque, the Route 66 RV Resort offers first-class camping on historic Route 66. This large RV park features high-end amenities, ranging from showers and laundry facilities to indoor games, pickleball courts and an open-air Rally Barn with a full outdoor kitchen and several picnic tables.
There are 100 campsites with hook-ups ranging from 20 and 50 Amp to 100 Amp. Pull-through sites for large motorhomes are available. The Las Vegas-style Route 66 Casino is right next door.
Arizona:
Lupton – Holbrook – Winslow – Flagstaff – Williams – Seligman – Peach Springs – Kingman – Oatman
Distance about 388 miles/625 kms
Many motorists driving Route 66 with an RV rental rave about the old highway's Arizona section. Here, you will travel on long stretches of seemingly empty roads, far from any development and past breathtaking natural landmarks.
This is one of the most beautiful and atmospheric sections of the Mother Road, taking you to iconic destinations like Petrified Forest National Park, Meteor Crater, Winslow, Flagstaff and historic trading posts. Perhaps the most famous of all Arizona Route 66 attractions is the detour to the Grand Canyon, while Monument Valley is another popular side trip.
Meteor Crater: Located between Winslow and Flagstaff, the Meteor Crater is one of the world's best preserved meteorite impact craters. Also known as the Barringer Crater, after the family who owns the land, it is one of Route 66's greatest natural attractions.
Petrified Forest National Park: The only national park crossed by Historic Route 66, Petrified Forest preserves rich deposits of petrified wood, along with Native American sites and the breathtaking badlands of the Painted Desert. The park offers great day hiking and cultural exploration.
Twin Arrows Trading Post: Just like many other former Route 66 icons, the Twin Arrows Trading Post is now nothing more than a collection of ruins. The large, yellow signature arrows still greet motorists as they arrive in town, but its former diner, gas station and other buildings have been abandoned.
Hackberry: One of the longest continuous sections of old Route 66 runs from Seligman and Kingman, Arizona, on its way passing by the unassuming town of Hackberry. A formerly thriving silver mining, cattle and railroad town, with a reputation for gun fighting and gambling, Hackberry now has one of Arizona's quirkiest Route 66 attractions: the Hackberry General Store.
Jack Rabbit Trading Post: Located five miles west of Joseph, the historic Jack Rabbit Trading Post has survived all changes to Route 66, up to the creation of I-40—it now has its own exit! It is recognizable by its huge HERE IT IS billboard featuring a jackrabbit. The store sells all kinds of Route 66 gifts and souvenirs
Winslow: Route 66 runs through downtown Winslow, a town made famous by the Eagles song Take It Easy: "…I'm standing on the corner in Winslow, Arizona…" Nowadays, the town's top attraction is a statue of a man carrying a guitar and standing on a street corner, a classic photo spot among Route 66 travelers.
Oatman: A previously bustling Wild West gold mining town, Oatman is now a relic of the fortunes of the past. A popular stop among RV travelers on old Route 66, the town has several restaurants, gift shops and a number of historic Old West-style buildings. It is also famous for its wild burros (donkeys) that wander its streets.
Side Trip: Grand Canyon National Park
A UNESCO World Heritage Site, Grand Canyon National Park is one of the most-visited national parks in the USA. A short northbound detour from Route 66, just past Flagstaff, it is well worth the time.
As arguably the world's most famous river canyon, seeing the majestic Grand Canyon is a humbling, almost spiritual experience. Grand Canyon Village on the South Rim has a large RV campground, as well as hiking trails, overlooks, restaurants and other visitor facilities.
Here you can stay for several days if the urge takes you; there is plenty to do from hiking through the floor of the Canyon to getting a birds' eye view from a helicopter tour.
Side Trip: Las Vegas
When you have thoroughly enjoyed the spectacle that is the Grand Canyon you continue on route 66 to Las Vegas. There are so many attractions to enjoy here; that a few days are the minimum you will need to see the highlights. Enjoy one of the top shows and see if Lady Luck is on your side.
On a side trip to Las Vegas from Route 66, you pass by the extraordinary Hoover Dam and the Lake Mead National Recreation Area, both of which are worth visiting.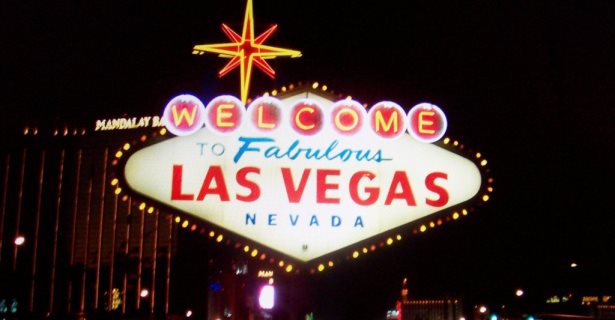 Park your Route 66 RV rental at one of Las Vegas' campgrounds and experience "Sin City" at its casinos, nightclubs and the famous Strip. Additionally, there are also several beautiful parks around the city, especially the Valley of Fire State Park, which makes for a spectacular drive.
Side Trip: Monument Valley
One of the best-known landscapes in the American Southwest, Monument Valley has served as the backdrop of many Hollywood western movies. In reality, it is a huge area dotted with massive sandstone buttes and formations on the Arizona-Utah border.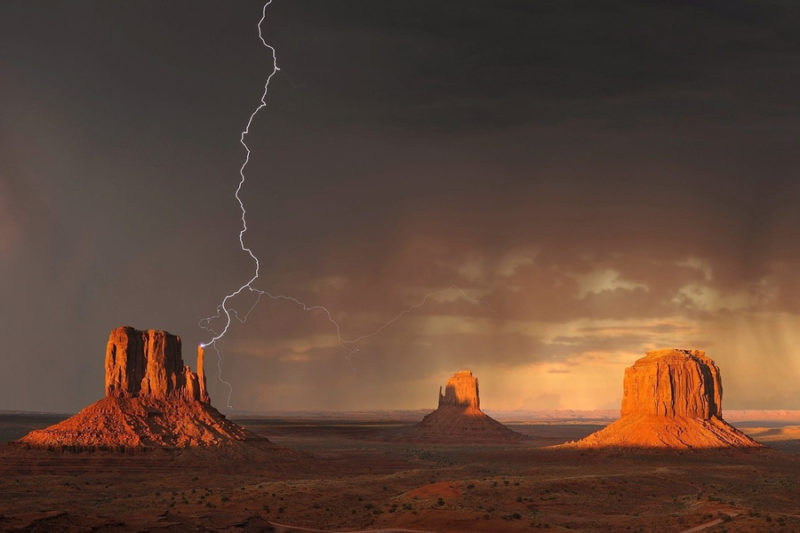 Managed by the Navajo Nation, Monument Valley is a not-to-be-missed detour on a Route 66 road trip. U.S. Route 183 runs through Monument Valley, but you can also drive a 17-mile scenic dirt road (for a small fee)—not suitable for RVs, though—or go on guided tours.
Side Trip: Sedona
Situated just south of Flagstaff, Sedona is a beautiful side trip from Route 66. This popular desert town is surrounded by magnificent canyons, pine forests and red-rock formations.
Red Rock State Park offers great hiking, picnicking and bird watching, while the town itself is renowned for its arts community, galleries and spas.
RV Parks & Campgrounds
Filled with a wealth of natural and historical attractions, Arizona is a state you will want to spend several days in while driving Route 66 with an RV rental. Like in other states, Route 66 across Arizona is lined with vibrant towns, roadside attractions, fun detours and numerous RV parks. When crossing Arizona on Route 66, we suggest you stay at the following campgrounds, all of which allow you to explore their respective areas in greater detail.
Meteor Crater RV Park, Winslow AZ
Just across Route 66 from the famous Meteor Crater, the Meteor Crater RV Park is a top-rated campground. There are more than 70 RV sites, all of which are pull-through sites, that have a variety of hook-up options. Amenities and services are plentiful, ranging from free Wi-Fi and coffee to fuel discounts, a convenience store, hot showers, a recreation room and coin-operated laundry facilities.
Seligman / Route 66 KOA, Seligman AZ
A popular stop among people on a Route 66 RV road trip, the Seligman / Route 66 KOA can accommodate all types of motorhomes, from trailers to Class A RVs. All sites are pull-through. A park your RV rental here for a day or two and experience the Route 66 nostalgia of Seligman, home to one of the longest remaining stretches of Historic Route 66. At the campground itself, there are a playground and general store, book exchange, swimming pool, laundry facilities and free Wi-Fi.
Woody Mountain Campground, Flagstaff AZ
Arguably the best RV campground on Route 66 in Flagstaff, the Woody Mountain Campground is a superb base to explore this beautiful region. The campground has a variety of sites, from tent sites and partial hook-ups to full hook-ups and pull-through sites (although most sites have a 40-feet length limit). There are dump and water stations, as well as high-speed Wi-Fi, a bathhouse, general store and laundry facilities.
California:
Needles – Goff – Amboy – Ludlow – Barstow – Helendale – Victorville – San Bernardino – Pasadena – Santa Monica
Distance about 318 miles/512 kms
The last state on Route 66 when driving in a westward direction, California offers plenty of sights and activities. This stretch is more than 300 miles long, but you could spend weeks exploring the many highlights along the way.
From classic Route 66 towns like Needles, Ludlow, Barstow and San Bernardino to stunning Mojave Desert scenery at parks like Mojave National Preserve and nearby Joshua Tree National Park, this is Southern California at its very best.
Of course, there are countless Route 66-themed roadside attractions as well, including numerous diners, gas stations and museums. On your RV rental road trip on Route 66, your last (or first) destination is Santa Monica, just west of Los Angeles.
Needles: Located just across the border with Arizona, the town of Needles is the "Gateway to Route 66 in California." Founded in 1883, it is one of the oldest towns in the region and home to many historic attractions, including several vintage Route 66 motels and inns.
Bagdad Café: Arguably the most famous Route 66 attraction in Newberry Spring, the Bagdad Café is the set location of the 1987 cult film Bagdad Café. Located in the heart of the Mojave Desert, this welcoming café attracts both Route 66 motorists and fans of alternative European cinema.
San Bernardino: A major town on California's Route 66, San Bernardino is home to many quirky attractions, including the iconic Wigwam Motel and Bono's Giant Orange. The town's biggest claim to fame, however, is that it was the location of the very first McDonald's. Nowadays, you can visit the First Original McDonald's Museum, which displays Route 66 and McDonald's artifacts.
Santa Monica Pier: The western terminus of Route 66, the Santa Monica Pier has a small amusement park and carousel, while a walkway leads to famous Venice Beach. This is a wonderful area to go for a beachfront walk, the perfect end (or start) or a Route 66 RV rental adventure.
Side Trip: Joshua Tree National Park
Route 66 runs a short distance north of Joshua Tree National Park, one of California's most spectacular desert parks and a super-popular side trip. Home to Joshua tree forests, huge boulders and historic mines, this is an incredibly popular stop among people driving Route 66 with an RV.
Although all of the park's campgrounds are basic and don't have any hook-ups, some of them can accommodate RVs up to 25 or 35 feet in length. Reservations are strongly recommended.
RV Parks & Campgrounds
There is an abundance of RV parks and campgrounds along Route 66 in California. Whether you are looking for an off-the-beaten-path camping experience in places like Joshua Tree National Park or a comfortable stay at a modern RV park, you will find a place to park your vehicle. Out of all California Route 66 RV campgrounds, we would like to highlight the following two.
Desert View RV Resort, Needles CA
Located in Needles, near the Arizona border and the gateway to Route 66 in California, the Desert View RV Resort is an amazing place to let your experiences on Route 66 in Arizona sink in. Spend a couple days there, relaxing after an attraction-filled section of the highway, before embarking on its last stretch.
This top-rated RV resort offers free Wi-Fi, a swimming pool, indoor and outdoor games, and much more. Popular activities in the area include parasailing, golfing, boating, fishing, mountain biking and rock climbing.
Adelanto RV Park, Adelanto CA
The Adelanto RV Park near Victorville is a great campground for motorhome travelers. It offers pull-through sites and big rig access, and has restrooms, a laundry room, full hook-ups, a pet area, swimming pool and playground.
Situated in a strategic spot in southern California, it is only an hour from the beach, Hollywood, Nascar Speed Way and Disneyland. It is a great base to explore this part of California for a few days.
Best Time of Year to Drive Route 66 in an RV Rental
Since you are literally crossing the USA on a self-drive RV holiday on Route 66, you can expect a variety of weather conditions. From the Great Lakes region in Chicago across the Midwest, the Southwest and the southern California deserts, the route crosses many different latitudes, altitudes and climate zones. All of those have their own seasonal weather patterns, which can be vastly different from one another.
Although you can drive Route 66 with an RV rental all year round, there are certain periods that are much more enjoyable and easier than others. Below, we describe the four seasons on Route 66, highlighting the recommended times to plan this world-famous road trip.
Spring
As the weather transitions from winter to summer, early-spring may come with snowfall and low temperatures across the northern half of Route 66. This is a time of huge variability in weather conditions. Toward the end of spring, however, in May and early-June, conditions are generally close to ideal for driving Route 66 with an RV hire.
This is the time right before the peak summer season—attractions and campground will be open, but the massive summer crowds have not arrived yet. The months of May and (early-)June are a fantastic time for a Route 66 RV adventure.
Note: It is important to know that spring is tornado season across the Midwest. Although these powerful whirlwinds can occur throughout the entire year, they are most common in spring, from March to June. Route 66 runs right through the states of Kansas, Oklahoma and Texas, a region known as "Tornado Alley". Therefore, we strongly recommend keeping an eye on the weather forecast if you are RVing along Route 66 in spring.
Summer
The season with the sunniest weather and some of the longest days of the year, summer is the high season along the entire length of Route 66.
Although the weather is as warm as it gets, you will have to share your Route 66 experience with thousands of other travelers. Motels and campgrounds will be fully booked, while prices may also be higher this time of year. Visiting certain attractions might involve waiting in line for a bit.
Additionally, the deserts of the Southwest and California can be unbearable hot in July and August. This is a popular time to drive Route 66, but there are a number of downsides.
Fall/Autumn
If you want to drive Route 66 with a motorhome and have the best possible experience, we suggest waiting until the summer crowds have dissipated. Generally, September has weather that is as comfortable as August, but the highway will be much less busy.
Note, however, that the Labor Day weekend, the unofficial end of the summer tourist season in the USA, is one of the busiest weekends of the year along Route 66.
We recommend planning your Route 66 RV holiday in late-September or early-October for relatively quiet roads, parks and attractions, as well as beautiful fall foliage on the way.
Winter
If we had to pick the worst season to drive Route 66 with a motorhome rental, it would be winter. From December through February, heavy snowfall can—and does—occur along almost the entire route. Especially along the northern part of the route, from Chicago across the Midwest and even in the higher regions of the Southwest, you should expect snow and icy road conditions.
Road closures are not uncommon this time of year, while some RV parks may also be closed for the season.
FAQ Route 66: One Way RV Rentals
Can I do a one-way RV rental on Route 66?
Yes, pick up and drop offs are available for campervan hire and RV rentals in Los Angeles and Chicago, for those looking at driving the complete Route 66 one way. For people wanting to do a shorter section of Route 66, then both Las Vegas and Albuquerque offer alternative options for start and finish points.

Route 66 can also easily be included as part of a longer Trans-America self-drive from Los Angeles, San Francisco, or San Diego on the west coast; across to New York, Orlando, or Miami on the east coast.
Are there one way charges for Route 66 one-way RV rentals?
One way rental fees may apply if dropping off at a different depot than the one you start from. The exact charge will vary depending on the distance involved, and if the RV rental company needs to re-locate vehicles for other hires. These charges can seem high, but if you consider the savings from not having to drive all the way back due to savings on fuel, daily rental rates and time; dropping off at a different depot can be a very cost effective alternative.
Which states does Route 66 go through?
When starting in Chicago, Illinois you will drive through Missouri, Kansas, Oklahoma, Texas, New Mexico, and Arizona before finishing in California at Santa Monica in Los Angeles County.
Is unlimited mileage available for one-way RV rentals on Route 66?
Yes, unlimited mileage/km packages are available for one-way hires in the United States of America, including for one-way RV rentals on Route 66 between Los Angeles and Chicago or any other branch.
What are the Fuel Prices in the USA?
Prices for gas in America vary between states. You can compare the current daily costs for both petrol and diesel throughout the US on the AAA website. On Route 66 gas prices tend to be highest in California and cheapest in Missouri, Kansas, Oklahoma, and Texas. Costs of fuel in New Mexico, Arizona and Illinois lie somewhere in between these prices.
What is the fuel consumption of an RV Rental?
The larger and heavier the RV, the more gas you will use. So as a rough rule of thumb, a large A Class RV will use about 8-13 mpg (18-29 litres/100 km), whereas a Class C motorhome will use around 17-22 mpg (11-14 litres/100 km), and a Class B campervan as little as 18-25 mpg (9-13 litres/100 km).

RV rentals with a diesel engine (known as diesel pushers in the US) tend to be anything up to 30% more fuel efficient than the same size RV with a gasoline (petrol) engine.
How long is Route 66?
The original length of Route 66 from Santa Monica in Los Angeles County to Chicago, Route 66 is a total distance of 2,448 miles or 3,940 kilometres. However, over the years the route has been changed as the road has been re-aligned. Today you can drive about 85% of the original route.