Hungary Motorhome Rental and Campervan Hire
Book and Compare RV Rental or Campervan Hire in Hungary
Hungary is connected to other major European capitals with its two international airports where motorhome and campervan rental agents meet you off at the arrivals hall. Reserve your recreational vehicle online before you travel, and simply pick up your keys on arrival to enjoy your Hungarian self drive holiday right away.
Top Destinations to See By Campervan Rental in Hungary
Hungary is a landlocked country in central Europe small enough for its popular tourist attractions to be explored in a week on a Hungary motorhome rental.  The land of the Magyars makes up for its small land area with natural beauty and built environment, boasting a clutch of architecture that spans the ages – from the Romans to the Ottoman Turks to the Soviets.
Budapest, the capital, has plenty of baroque, neoclassical and Art Nouveau architecture to rival Paris, as well as an abundance of Turkish baths to soak in after a day of sightseeing. If you fancy a wine tour, a Transdanubia drive on your Hungary RV hire is in order. Drive down to Badacsony on the north shore of Lake Balaton – the area is a dedicated wine growing region, with some of the vineyards dating back to Roman times.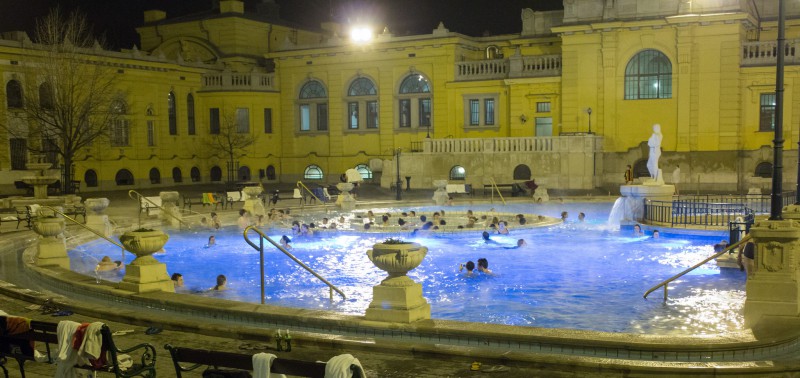 The 'Hungarian Sea' is the largest freshwater lake in central Europe, and a recreation area for locals on summer vacation. There are caravan parks on Lake Balaton's shore that accept RVs, motorhomes and campervans, so you can take your time hiking, fishing, sailing, swimming and kite-surfing in the country's summer capital. Then follow E71 to soothe aching joints in the mineral baths located in small villages off of the motorway.
A road trip on a Hungary campervan rental to the Great Plains in the southeast offers wide open views of alkaline grasslands, meadows and wetlands. Szeged and Debrecen are notable cities in this vast open space and worth a stop – Debrecen is the largest Calvinist city in Europe while Szeged is the sunniest in Hungary. If you are driving a one way motorhome hire in Hungary, one way motorhome rentals are available to Dubrovnik, Split, Zadar and Pula in Croatia, where you can drop off your vehicle.
Hungary has a fair share of UNESCO World Heritage Sites, and the large cave system of Aggtelek National Park that extends well into Slovakia begs exploration. Within the region lies the historic town of Eger popular for its thermal baths, castles, Baroque buildings, and 'bull's blood' (red wine). There's a caravan park for your Hungary RV rental in the Valley of Beautiful Women, and some 80 wine cellars around!
Driving in Hungary by campervan or motorhome rental:
Drive on the right side of the road.
By Hungarian law, you are required to carry the following documents at all times: valid driving license, proof of insurance, passport, proof of ownership or special power of attorney if not the owner of the vehicle, and international driving permit. Third-party insurance is also required
Speed limit for campervans, motorhomes and RVs inside built-up areas is 50km/h, 80km/h on motorways, and 70km/h on semi-motorways.
Hungary has a zero-tolerance policy on drinking while driving. Even if the amount of alcohol in your blood is less than 0.08%, you're still going to be fined. More than that and you will be subject to legal proceedings.
A pass/toll fee is required when using the motorway network.