Canada
Scenic Drives in Canada
Explore Canada by RV or Motorhome Rental
The only disadvantage about traveling the spectacular scenic drives in Canada is that you have to fit it all into the rather brief summer! Canada is without doubt one of the earth's most beautiful countries, and the best way to immerse yourself in at least some of the great Canadian sights and experiences is to get away from the cities and head out into the country in a motorhome or RV rental.
Depending on how much time you can spare, there are many wonderfully scenic routes you can choose that will take you from emerald lakes to soaring mountains and deep, mysterious forests where you can lose yourself for a little while.
Sea to Sky Highway – Vancouver to Whistler
You can drive the famous Sea to Sky Highway from Vancouver to Whistler and back in 5 -7 days, but some extra time will give you a much better insight into this part of British Columbia.  If you are renting a motorhome, arrange for pick-up in Vancouver or Seattle and be sure to spend some time in each of these cities – they have a lot to offer tourists – before you set off to Whistler.  Along this route you will visit Howe Sound, a beautiful fjord that has been carved out by glaciers, and the Shannon Falls Provincial Park to see BC's  3rd highest waterfall.  Next up is Whistler, famous as a winter ski resort, but also great in summer when you can enjoy golf, hiking, climbing and more.
On your way back to Vancouver you drive through old gold-rush territory, the dry Thompson River Valley, cattle country (Empire of Grass), Harrison Hot Springs and more incredible scenery. There are good RV campgrounds, but they do fill up quickly in summer and it's wise to plot your route and book well in advance. From Whistler you can continue on to Calgary, the starting point for the next scenic drive.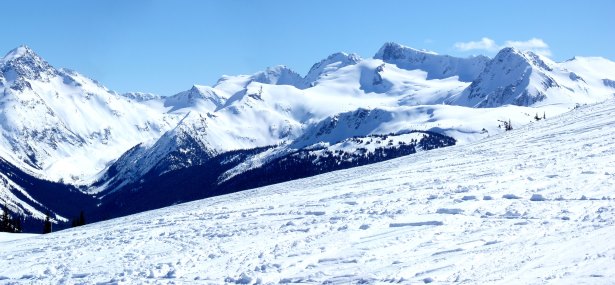 Icefields Parkway – Banff and Jasper National Parks
This scenic drive has been called one of the best in the world by National Geographic, so it is definitely one to add to your bucket list.  The Icefields Parkway route starts in Calgary and then heads west into the Banff National Park to Lake Louise.  Here you join the Icefields Parkway, one of the most striking stretches of road anywhere in the world.
You can stop to take guided hikes, tour historic buildings and be treated to sightings of nears, elk and moose. You will pass through canyons, hot springs, several mountain ranges and lakes, waterfalls and more. You can walk, hike, bike and fish just about everywhere in this unspoilt natural wonderland.
The Great Trans-Canadian Highway
You need a lot of time to do this scenic road trip…about 9 months should be enough! To travel this entire route from Vancouver on the West (Pacific) coast to Montreal or St. John's on the East (Atlantic) is considered a once-in-a-lifetime grand adventure. Be warned, this is the world's longest national highway (7,821 km) connecting all ten provinces of Canada, and you should be a seasoned RV camper to consider this route, but if you have the time and the inclination, it will be a magnificent experience you will cherish forever. Start planning now!