Ireland
Scenic Drives in Ireland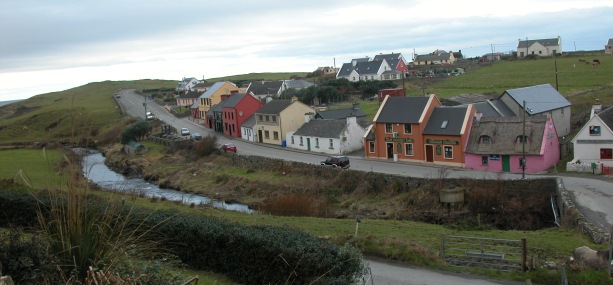 No matter where your travels in Ireland may take you, you will never be far from the start of another brilliant scenic drive!  This tiny country is all about non-stop beautiful landscapes and seascapes, and if you string together the 10 best scenic drives in Ireland you can just about circumnavigate the island and see most of the best bits in about 14 days.  Of course, if you can spare more time, all the better; you will have more chance to wander off the main route.  The best way to do this route is to take your accommodation along with you – arrange to pick up a motorhome rental or campervan hire in Dublin, and start the tour by driving north to Belfast.
Two Highlights of the Drive
Antrim Coast Road
The section of the coastal route from Belfast to Londonderry in Northern Ireland is widely acclaimed as one of the best drives in Ireland, and is better known as the Causeway Coastal Route. Along this magnificent stretch of coast you will have excellent views, visit pretty little seaside towns (such as Carrickfergus, which has a well-preserved 12th century Norman castle, a modern marina and a good museum).
A little further along you will come to Larne, which is the gateway to the famous Glens of Antrim and the Antrim coastal road. The entire route is ridiculously picturesque and you cannot visit Ireland without driving along this wild and wonderful coastline. Along the way there are plenty of interesting villages, castles and market towns to tempt you off the road, and you must make time to explore Londonderry, the only completely walled city in the British Isles.
The Dingle Peninsula
After you have completed this northern part of your circumnavigation by motorhome or RV rental, you will travel south, past plenty more beautiful stretches of coastline and interesting towns and villages to the next highlight – the Slea Head Drive on the Dingle Peninsula, one of the best drives in the south of Ireland. This is a circular drive which starts and ends in Dingle, and includes many attractions and superb views along the section of western coastline; this is not a long drive, and can be done in a day, but it is a great part of the country to linger for awhile and there is a good campervan park just 10mins outside Dingle, right beside the beach.
From Dingle you can make your way slowly east towards lovely Cork, where you can visit the famous Jameson Distillery to see how great Irish whiskey is made before continuing back to Dublin.