Top 25 Motorhome Campsites in Spain
Get ready to pack your bags, hop into your motorhome and discover the incredible sights, sounds and smells that the country has to offer with these top motorhome campgrounds and RV parks in Spain. Each one has been chosen for its superb customer reviews, fantastic facilities, excellent location and value for money.
With a landscape rich in diversity, spanning from rugged sandy beaches and white-washed fishing villages to stunning mountain ranges and thick lush forests, Spain is one of the very best places in the world to go camping.
A much more adventurous getaway than a standard hotel- or apartment-based break, these motorhome campsites in Spain reward you with a natural, local and alluring experience most visitors can only dream of.
If camping brings to mind much-rather-forgotten childhood memories of shivering in a cold, sodden tent while the wind blows and the rain pours outside, get ready for Spain's motorhome campgrounds and RV parks to totally turn things around for you.
Considerably more comfortable, well-equipped and luxurious than a tent, a motorhome provides you with all the creature comforts of home with the added benefit of wheels on a camping holiday in Spain.
Top motorhome campsites in Catalonia
1. Camping Interpals
An ultra-deluxe campground located by the sandy coves of the Costa Brava, Camping Interpals is a four-star resort that boasts the services and facilities you'd only ever expect to find in a top-end hotel.
For the little ones there's a kids' pool, larger-than-life play area, spacious multi-sports court and fun art workshops. For the bigger ones, there's a large outdoor pool, relaxing hydromassage hot tub, live music performances and a bar-cafe that specialises in the local cuisine.
The surroundings are second-to-none, with roomy tent and motorhome pitches set amongst manicured lawns dotted with tall pine trees. But take a ten minute stroll to the coast and you'll find the perfumed pine forests replaced by golden sandy shores lapped by aquamarine waters where you can take a swim to cool off.
2. Camping Prado Verde
Set in the very heart of nature in Val d'Aran close to the Girona River in the Pyrenees, Camping Prado Verde is a motorhome parking site in Spain that offers a wealth of diverse experiences.
From the Baqueira-Beret ski resort where you can zoom down snowy slopes to the small city of Vielha with its charmingly rustic restaurants, and the hiking, climbing and cycle trails that flow throughout the local area, this motorhome campsite in northeastern Spain is ideally positioned for nature lovers who want to get active outdoors.
Open all-year-round, the holiday park features a bar, cafe and restaurant where you can find freshly-baked bread and icy cool drinks perfect for sipping in summer.
For the little kids, there's a children's pool, playground and games zone with ping pong onsite, plus a cinema, paintballing and minigolf available in the local area. For the bigger kids, there's an adults' pool and petanque court onsite, with nightlife, museums and high-energy sports centres just a couple of kilometres away.
3. Camping Blanes
If you're searching for a sunshine-filled Costa Brava break with all the services and facilities of a luxury resort without the sky-high price tag, Camping Blanes is perfect for you.
Open all-year-round, this beautiful caravan park is just ten minutes' walk away from the centre of Blanes, where you'll find yourself surrounded by gorgeous botanical gardens, stunning beaches, architectural marvels and delicious seafood restaurants.
The caravan site itself is located within a natural forest, just a short stroll away from a powder-soft beach. Its incredible location means you can enjoy breakfast in the cool wooded shade before popping over to the beach for an afternoon siesta in the sun.
The amenities really are second-to-none at this motorhome overnight parking spot in Spain, with everything from a swimming pool with spa-like water jets and open-air bar to playground, games room and minimarket.
But if you do want to explore further afield, Camping Blanes is lined by a lengthy promenade which leads you to loads of bars, cafes, restaurants, shops and other recreational facilities.
4. Camping Alannia Els Prats
One of the best choices for an action-packed family holiday, Camping Alannia Els Prats in Tarragona is in the centre of all the action.
With easy access to the wonderful Miami Beach with oodles of water sports, the adrenaline-pumping PortAventura theme park and the Mont-Roig del Camp area brimming with cycling and hiking trails, even the most difficult-to-please members of your family will have an amazing time at this trailer site in Spain.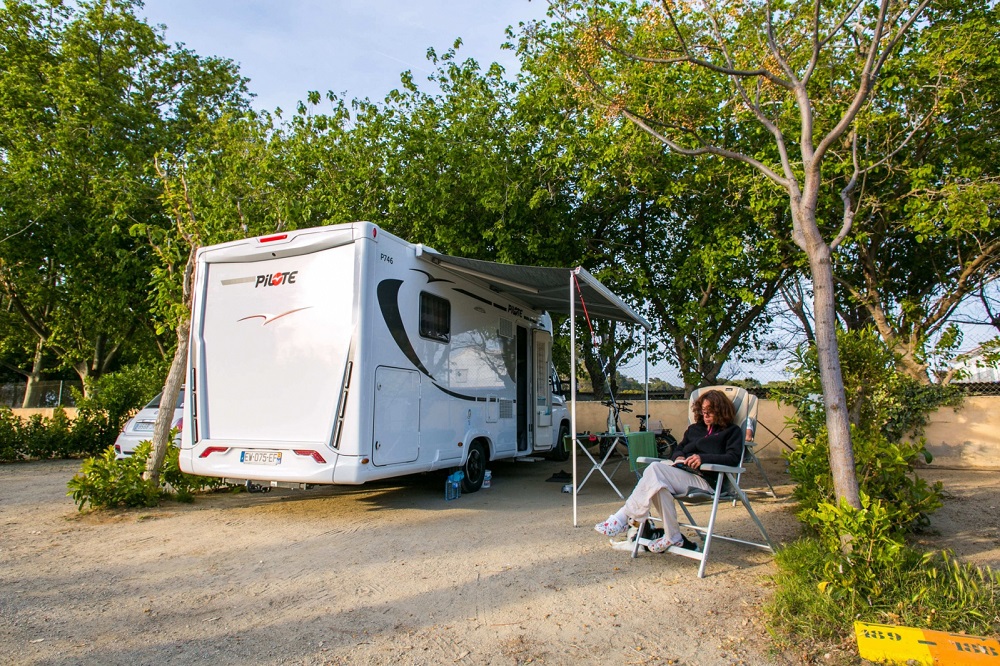 It's not just the surrounding area that's bursting with things to do — the caravan site itself is brimming with ways to keep everyone entertained.
For the little ones there are art workshops, outdoor games, mini discos, swimming pools, water slides and kids' clubs, while adults will have a great time with dance lessons, sports clubs, evening shows, tasting sessions, zumba and luxurious spa.
All this in addition to the must-have essentials, including onsite restaurant, bar, supermarket, multi-sports courts, laundrette, WiFi access and bathroom block.
5. Camping Clarà
One of the best motorhome campsites in Spain for beach lovers, Camping Clarà provides guests with direct access to a protected 5km stretch of gorgeous Catalonian coast in the middle of the Costa Dorada.
The diverse shoreline boasts an excellent golden sandy beach perfect for families, as well as a natural ecosystem brimming with sand dunes, fresh- and saltwater ponds and all kinds of diverse wildlife.
So whether you want to relax in the sunshine or go on an eco hunt, you'll have plenty of natural attractions to enjoy at this Spanish motorhome campsite.
The motorhome pitches here are spacious, protected by natural shade and on flat ground for ultimate comfort and tranquility. The RV park's quiet vibe makes it ideal for a relaxing break away from it all.
But with a bar-restaurant with terrace, well-stocked minimarket, family-friendly entertainment during summer onsite, as well as scuba diving, fishing, horse riding and golf courses nearby, you never have to worry about being bored at this caravan park.
6. Camping Vilademager
A real walker's parade, Camping Vilademager is surrounded by remarkable nature trails you can explore to unveil the immense beauty of the local area. Thundering waterfalls, mysterious caves and ancient castles are just some of the spectacular wonders you can expect to see if you go hiking here.
If you prefer to travel on the road, you'll be pleased to know the famous Montserrat monastery is just under an hour's drive away, while the medieval town of La Llacuna is even closer.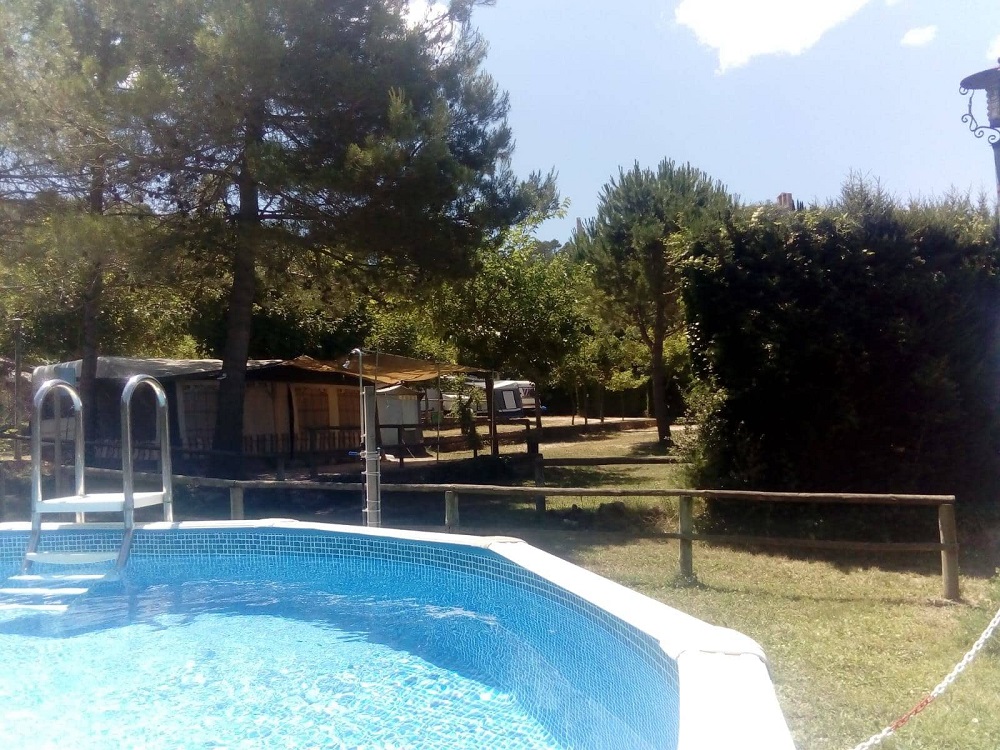 After a day of exploring, you can take it easy back at the motorhome park. There's an outdoor plunge pool where you can take a refreshing dip, a play area for the little ones to burn off their extra energy and a bar where you can sip your favourite drink and unwind.
If you fancy a little bit of cooking during your visit, you can take advantage of several stone barbecue pits and whip up a smoky feast.
Top motorhome campsites in Alicante
1. Camper Area 7
Exclusively open to motorhomes and caravans, Camper Area 7 is a Spanish motorhome campsite in Alicante — an ideal location for a much-deserved holiday.
Just steps away from the dazzlingly beautiful Muchavista beach, with its aquamarine waters and golden sands, this coastal motorhome park makes it easier than ever to relax and take it easy while working on your tan or taking a dip.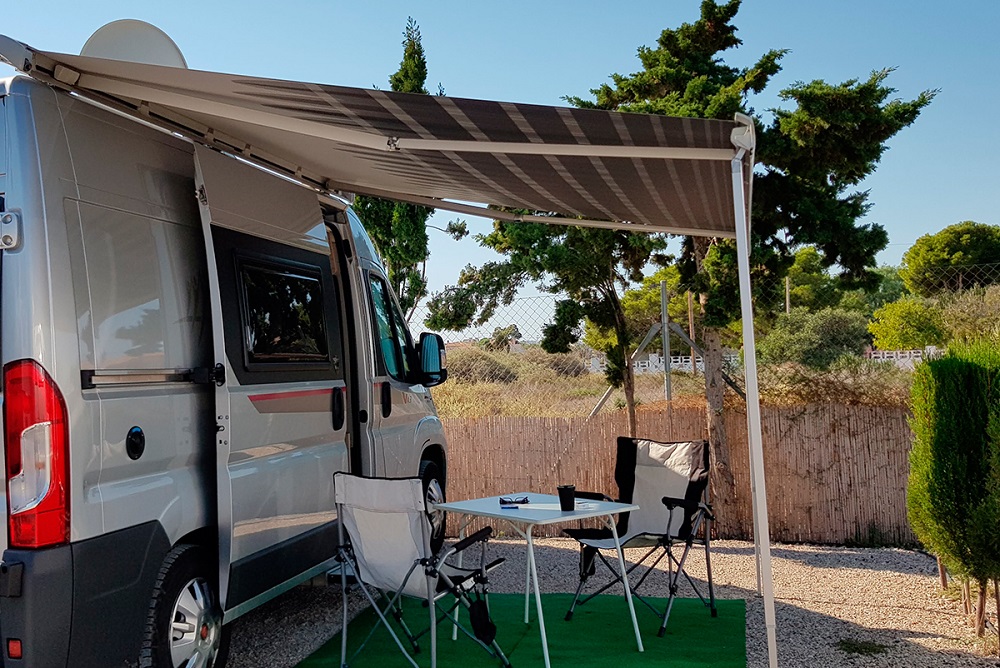 If you ever tire of the sun, sea and sand, you can take a short walk into town, where you'll find a huge selection of bars, cafes, restaurants and shops to choose from. There's also a superb public transport network nearby so you can get out and about without having to drive.
Despite its relatively small size, Camper Area 7 comes well equipped with everything you need to be comfortable during your stay. From a children's playground, petanque court and guest lounge to laundry facilities, excellent bathroom amenities and WiFi access, this motorhome site in Spain has everything you need for fun and functionality.
2. Camping Sol de Calpe Boreal
A strikingly modern RV site with the latest innovative mod-cons, Sol de Calpe Boreal is a year-round motor camp in the Costa Blanca, a highly-privileged Spanish resort which enjoys more than 300 days of sunshine every year.
Putting nature directly at your fingertips, the RV campsite is located on the Mediterranean coast, with a buzzing holiday resort on one side and a blissfully peaceful beach on the other.
Sol de Calpe Boreal offers spacious motorhome pitches, two of which are specially adapted for visitors with limited mobility.
All plots come with individual electricity, water and drain facilities, plus guests can take advantage of WiFi access, swimming pools, pool games, launderette, restaurant-cafe and evening entertainment.
Definitely short-list this trailer park if you're planning on travelling with your four-legged friend as it's small pet-friendly.
3. Sol de Calpe Austral
A wonderful option for people who want to be in the centre of all the action, Sol de Calpe Austral is one of the best located RV campsites in eastern Spain. With several golden sandy beaches, bars, restaurants and shops all within easy walking distance of the motorhome camp, you'll never have to venture far.
Onsite you'll find a huge range of services and amenities to keep the whole family entertained.
There's a large outdoor swimming pool connected to a kids' pool and surrounded by a grassy area perfect for taking a siesta, plus a children's playground, restaurant which specialises in tapas, bar with superb cocktails, multi-sports zone, petanque court, minimarket, library and social lounge.
One of the best motorhome campsites in Spain for summer, Sol de Calpe Austral organises loads of activities and entertainment during their peak season, including games, classes and workshops during the day, followed by live music and cabaret on an evening.
4.Camping la Pedrera
Camping la Pedrera is one of the best winter caravan sites in Spain as it enjoys blissfully warm sunshine all-year-round. Set within the heart of a flourishing natural park and only a short drive from Embalse de la Pedrera (the largest marsh in Alicante), this motorhome site is also a top choice for nature buffs.
From reservoir fishing and birdwatching to cycling and hiking, Camping la Pedrera provides you with loads of outlets to get back to nature.
You'll find plenty to keep you entertained within the holiday park, too. There's a large outdoor swimming pool next to a kids' pool, hot tub, sunbathing area with loungers, children's play park, WiFi access, restaurant, bar and arcade room.
Plus all the usual facilities, such as a showerblock, washing-up facilities, laundrette and spacious gravel motorhome pitches with electricity hookups.
Top motorhome campsites in Galicia
1. Camping Santa Tecla
A colossal trailer site spread out across A Guarda, one of the most beautiful parts of Galicia, Camping Santa Tecla is perfectly positioned for exploring the local area.
Nestled on the banks of the Miño River, this fantastic campground is close to the ancient fortified city on Monte Santa Tecla hill, quiet fishing villages where you can lose yourself and several golden sandy beaches where you can take it easy and relax. With so much in the surrounding area, the motorhome campsite in northwestern Spain is the perfect base from which to explore.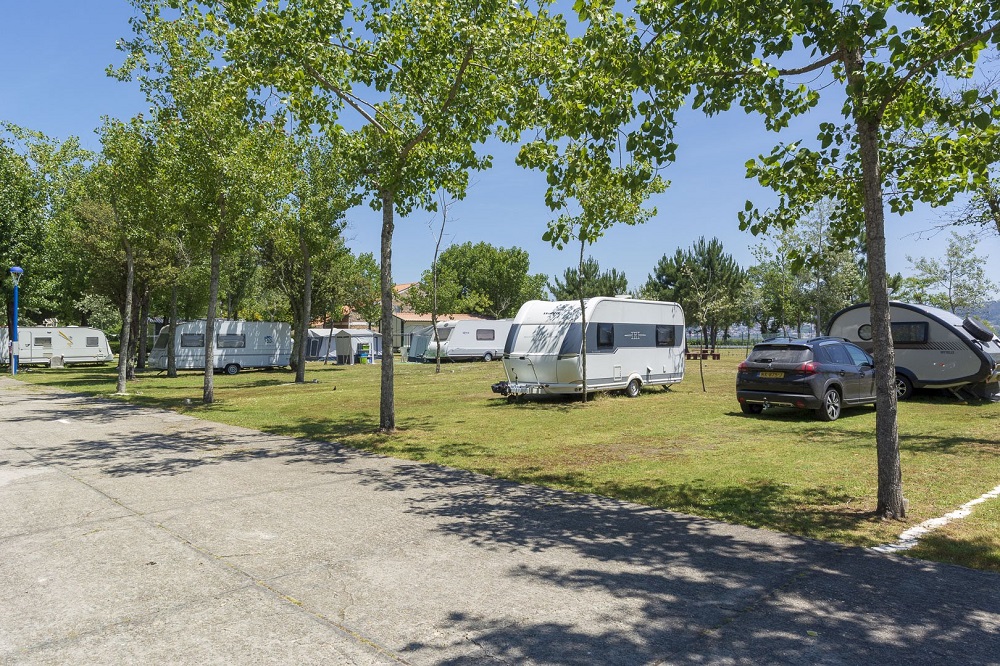 Here you'll find all the services and facilities you'll need to make yourself feel right at home, from a restaurant, outdoor swimming pool and bar-lounge to WiFi access, free private parking and a children's playground.
If you hate travelling without your four-legged friend, you'll be happy to know Camping Santa Tecla is also pet-friendly.
2. Campsite A' Vouga
One of the best motorhome parking spots in Galicia, Campsite A' Vouga lines a powder-soft golden sandy beach lapped by crystalline waters just begging you to take a dip. Many of the motorhome pitches have incredible views of the picturesque coastline.
But if you get unlucky and can't see the sea from where you are, you can always go to the beachside bar-restaurant and soak up the coastal vistas from there while you sip a cold beer. You can often see dolphins swimming just offshore, so keep an eye out.
If you get bored of the picture-perfect beach, there's plenty more to do in the local area.
Take a stroll around the charming small village of Louro, explore the quaint harbour town of Muros or head to the Galician capital of Santiago de Compostela and discover the city's world-famous cathedral.
3. Camping Bayona Playa
A truly spectacular beachside RV park in northwestern Spain, Camping Bayona Playa is nestled onto a sandy peninsula which stretches out into the sea. Blanketed in thick, lush trees which provide some superb shade from the Spanish sunshine, this RV site has everything you could possibly want for the ultimate family holiday in Spain.
From a seasonal outdoor pool with waterslides, a children's playground and basketball court to a cafe, restaurant with incredible views and multi-sports court, you'll never find yourself wanting here.
With plenty of family-friendly activities going on during the daytime and superb live music performances on an evening, there's always something going on.
But if you do decide you want to explore further afield, you'll be glad to know Camping Bayona Playa organises all kinds of excursions, such as windsurfing, snorkelling, birdwatching and hiking during summer.
4. Camping Monterroso
A small riverside caravan park just a short drive from the Monterroso province, Camping Monterroso is an amazing summer caravan site in Spain the whole family can enjoy.
Swimmers will have an amazing time with the huge outdoor pool, smaller kids' pool and nearby river. If you prefer to keep yourself dry, you can take advantage of a tennis court, picnic spot, coffee bar, karaoke pub and ice cream kiosk.
Because it would be a real shame to miss out on the stunning surroundings, the motorhome park also rents out bicycles. The incredibly generous sized motorhome pitches are all grassy and protected by trees — something you'll really appreciate come the balmy summer nights.
Other onsite facilities and services include free WiFi access, minimarket, laundrette, showerblock, washing-up area and river fishing.
Motorhome campsites in Valencia
1. Camping La Naranja
The perfect blend of nature-infused and urban-central, Camping La Naranja is set within a natural lush paradise, with ample vegetation, just a short drive away from the modern, vibrant city of Valencia.
The popular Gandia beach is a 15-minute walk away, where you can have a go at everything from flyboarding, windsurfing and kayaking to jetskiing, horseback riding and boat parties.
For something more cosmopolitan, jump into your motorhome and head north for Valencia, where you can immerse yourself in a city alive with culture, gastronomy, art and energy.
Equally perfect for families and groups of friends, Camping La Naranja provides guests with access to a swimming pool, cafe-restaurant, rustic barbecues, cycle hire, play area, laundrette, internet access, bathroom block and WiFi access.
If you find yourself yearning for a little bit more, you'll find loads more land- and water-based sports activities in the surrounding area, as well as restaurants, cafes, bars and shops.
2. Oasis Country Park
Nestled within the small village of Rugat within Valencia, Oasis Country Park is the ideal RV park for an outdoor adventure retreat. The surrounding area is filled with unparalleled opportunities for lazy forest rambles, tranquil bike rides, intrepid rock climbing, relaxing lake swimming and bird watching.
If you prefer more of an urban experience, grab your motorhome keys and follow the one-hour drive to Valencia for the chance to explore museums, art galleries, an aquarium and fantastically beautiful architecture.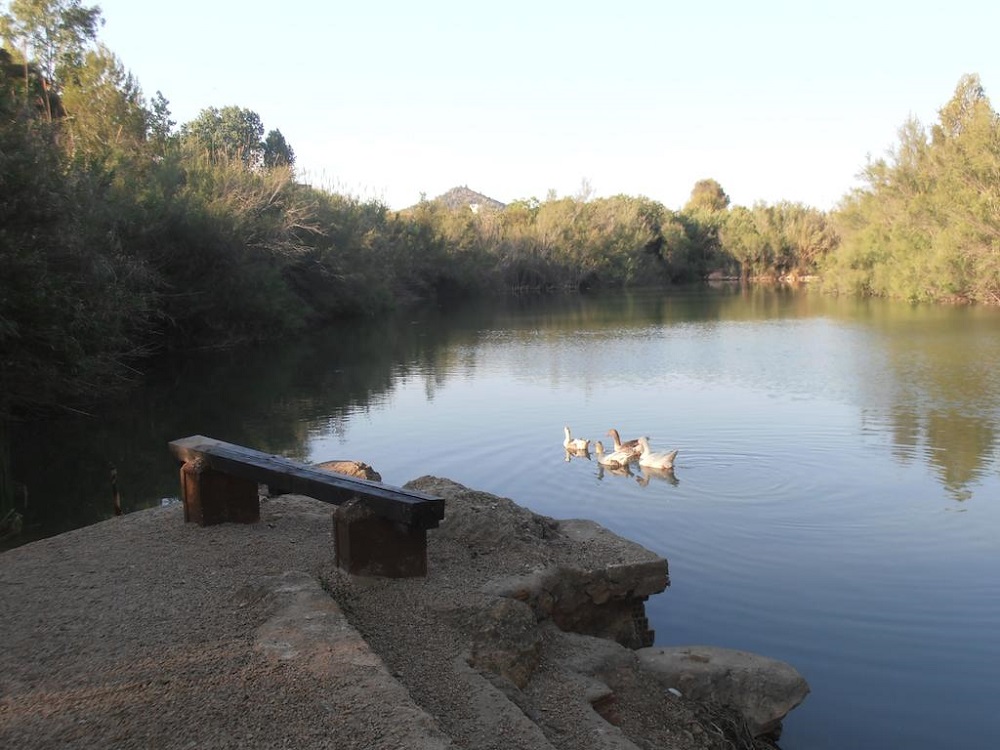 If you'd rather take it easy and spend your time within Oasis Country Park, you'll find plenty of onsite services and facilities to keep you amused, too.
From the basic essentials including laundrette, cafe-bar, bathroom block, WiFi access and mini market to more luxurious amenities like a teens' club, petanque court, hot tub and fishing lake, you can easily spend your entire holiday here.
With dog-exclusive facilities, including their very own pool and agility course, your pet will have a great time here, too.
3. Xeraco Campers
The ideal beachside caravan park for a tropical getaway, Xeraco Campers is a modern trailer site with everything you need to feel like you're on a luxurious holiday somewhere exotic.
Surrounded by fields of fragrant orange trees, the caravan site boasts a lagoon-style pool with palm trees, a grass-covered sunbathing area and open-air restaurant which specialises in pizzas.
Thanks to its central location, the motorhome site is within easy reach of a huge choice of bars, restaurants, cafes, bakeries and supermarkets. Plus you'll also find children's entertainment at the nearby Gandilandia and paintballing close by in Daimús.
Here you can ditch your motorhome and rent one of the motorhome park's speedy scooters to explore the local area. Whether you coast along the Xeraco beach promenade or follow the winding mountainous roads, you'll have a terrific time exploring the local area.
4. Camping Coll Vert
For a mix of cosmopolitan city life and laid-back beach tranquility, choose Camping Coll Vert. Located within the Albufera Natural Park, this motorhome campsite in southeastern Spain is just a short walk away from a golden sandy beach and a quick drive away from vibrant Valencia city.
When you want to take it easy, you can soak up the sunshine during a beach day or head into the park for a bit of hiking and birdwatching.
Then when you want something a bit more active, head back to the motorhome campground where you'll find an outdoor pool with a slide, playground, football pitch, petanque court and basketball court. All guests also have access to free WiFi, minimarket with fresh bread and shower facilities with hot water.
Although there's no bar or restaurant onsite, barbecue kits are permitted so you can make your own food. If you don't fancy it, there's a bus stop just outside the holiday park where you can catch public transport to Valencia. Here you'll find a huge choice of bars, restaurants and cafes.
Motorhome campsites in Murcia
1. Camping Naturista El Portus
If you're feeling adventurous, add Camping Naturista El Portus onto your road trip itinerary. Enjoying a prestigious beachside location far away from the hustle and bustle of holiday resorts, this caravan park near Cartagena is a family-orientated site that prioritises excellent customer service and taking care of the environment.
Almost all of the 500 motorhome plots are surprisingly large and come equipped with an electrical connection, for the utmost traveller comfort. Five bathroom blocks with hot water, WiFi access, restaurant, bar, supermarket sports facilities and swimming pool are also available.
What really seals the deal for Camping Naturista El Portus is the amazing spa. Here you can pamper yourself with the thermal circuit or treat yourself to one of the fantastic massages, aesthetic treatments or hydrotherapy sessions available for individuals and couples.
2. Área Los Alcazares
An eco-friendly RV site open all-year-round, Área Los Alcazares replaces an electricity grid with solar power and uses rainwater to filter waste pollution, making it one of the first motor camps of its kind in Europe.
The roads and motorhome pitches are very roomy (ideal if you've got a large vehicle) and there's a cafe-bar, shower block, laundrette and WiFi available onsite.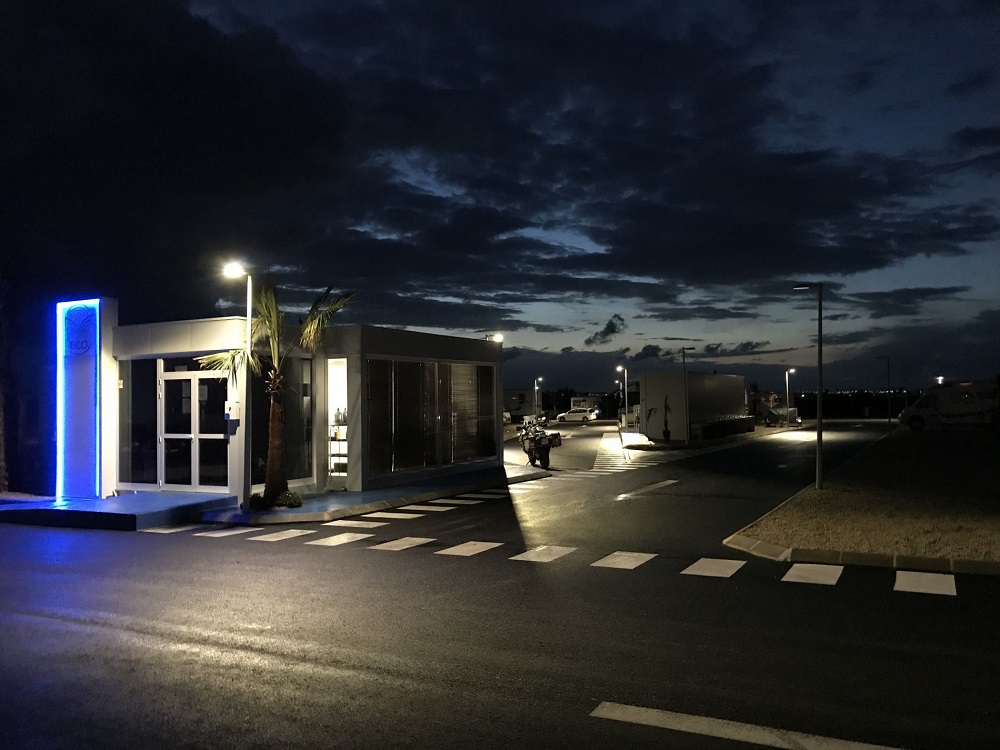 Although the RV campsite is distinctly urban with only a few palm trees for greenery, the Playa Los Narejos beach and Mar Menor lagoon are just a short walk away. If you don't fancy the walk, you'll be glad to know the trailer park also offers bicycle hire.
Other places of interest nearby include the quaint town of Los Narejos, go-karting, Las Charcas mud baths and a golf course.
3. Camper Park Casablanca
The perfect place to get away from it all, Camper Park Casablanca enjoys a convenient location within easy reach of the gorgeous Costa Blanca coastline, the university city of Murcia and the blissfully peaceful mountain surroundings.
The trailer park has a brilliant atmosphere and regularly organises activities such as communal dinners, parties, workshops and dances. It's a fantastic trailer site for anyone who really wants to get involved during their holiday.
Facilities include a minimarket with freshly baked bread and local produce, a covered barbecue area, free WiFi access, bathroom block, washing-up area and laundrette.
As an added bonus, all guests staying at this Spanish motorhome campsite get a discount at the nearest petrol station and a handful of restaurants, too. It's perfect if you're trying to keep your spending in check.
Motorhome campsites in Huesca, Aragon
1. Camping Valle de Bujaruelo
Boasting a one-of-a-kind location on the verdant hillside of the Monte Perdido UNESCO World Heritage site, Camping Valle de Bujaruelo is one of the most picturesque motorhome parks in Spain.
Spread out over grassy staggered terraces with plenty of natural shade, the motorhome pitches here blend harmoniously with the surrounding countryside filled with cycling, hiking and nature trails.
Almost all plots are equipped with electricity and guests have access to two facility blocks with bathrooms, laundrette, drinking water, bar-restaurant, picnic area, supermarket and WiFi access.
Apart from its prestigious location, one of the best aspects of the Camping Valle de Bujaruelo is that you don't need to reserve in advance. You can simply show up and take any empty spot, making it perfect for spontaneous travellers.
2. Camping Peña Montañesa
Camping Peña Montañesa is a breathtaking motorhome campsite in Spain, nestled in between the Pyrenees mountains and the Cinca River.
Boasting unparalleled views, the campground is an amazing place to spend your summer holidays, with a large outdoor pool, children's pool and several hot tubs.
Don't worry if you're thinking about visiting in winter, you can still enjoy the indulgent heated indoor pool, hot tubs and sauna whatever the weather.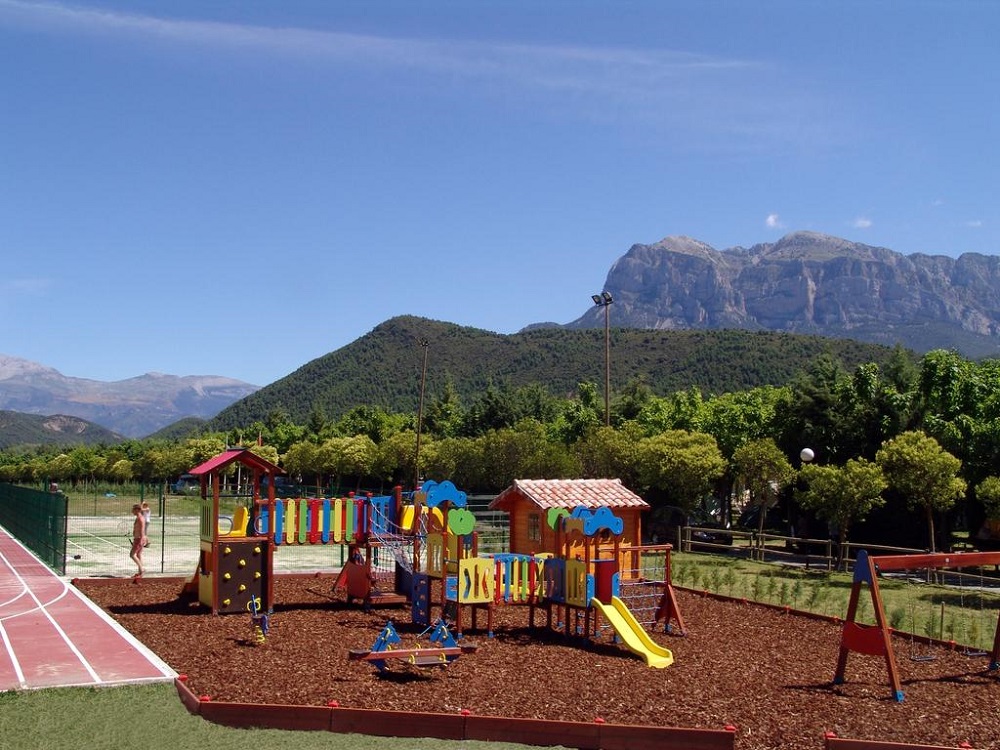 There are plenty of other services and facilities to enjoy, too, including a children's playground, multi-sports court, bar with open-air terrace, restaurant serving regional specialities, well-stocked supermarket, bathroom block with hot water and free WiFi access.
Whether you want to spend your days hiking in the heavenly mountains and cycling the mountain tracks or getting lost in the streets of nearby Aínsa town and immersing yourself in the local culture, Camping Paña Montañesa is a wonderful holiday park to escape to.
3. Camping Municipal de Benabarre
For an unplugged back-to-nature family holiday, consider staying at Camping Municipal de Benabarre. This northeastern Spain motorhome campsite is a marvellous place to get outdoors and try your hand at hiking, cycling, kayaking, fishing, swimming, sailing, tennis, climbing, horseback riding and any other outdoor activity you've always wanted to try.
You'll find most of these spectacular things to do available at the world-famous Mont-Rebei gorge, just a 15-minute drive away.
If you're planning a more relaxing retreat, you'll be glad to know that this holiday park has all the services and facilities you could ever need onsite. So you'll never have to leave if you don't want to!
The 38 grassy motorhome pitches each come with an electric hookup and all visitors have access to hot water, laundrette, communal salon, WiFi, swimming pool, barbecue pits and bar-restaurant.
4. Camping Valle de Ansó
A small, family-run motor camp in northeastern Spain, Camping Valle de Ansó is a beautiful trailer park within the peaceful Ansó valley of the Pyrenees.
Surrounded by hiking trails, cycle paths, walking routes and wildlife hotspots, the Spanish motorhome campsite really is a haven for nature lovers who want to leave their hectic city lives behind for a little while.
During summer you can make use of the outdoor swimming pool, grassy sunbathing zone and bar with outdoor terrace. And if you visit during winter, you can venture up into the mountains for loads of skiing and snowboarding fun.
Despite being in a wonderfully remote location, the small town of Ansó is just a short walk away, where you'll find a choice of restaurant specialising in regional cuisine, small shops with local produce and bakeries with freshly-made goods.
Pack your bags, hit the road and go!
Spain's motorhome campsites are excellent accommodation options if you want to hit the open road and explore the country according to your own schedule.
And with more than 1,100 motorhome sites spread out across the rich, varied landscape, you can easily incorporate them into your perfect itinerary.
For the best of Spain motorhome campsites with ratings, pictures, lists of services and reviews, visit Euro Campings.