Texas RV Rentals, USA
Book an Recreational Vehicle Rental Vacation in Texas
After Alaska, Texas is the second-largest state in the USA, unlike Alaska, it's the second most populous state after California, so let's not be under any illusion that Texas is big. This doesn't mean that an in-depth summary about hiring an RV or motorhome in Texas needs to be big, mind you. On the contrary, we're going to provide a comprehensive, yet easy-to-follow guide: this is all you need to know about hiring an RV or campervan in the Lone Star State in just a couple of pages.
We'll begin with the types of rental vehicle available in Texas and the best locations in Texas from which to hire your RV or motorhome, before suggesting ten top Texan attractions for you, your friends or family while taking into consideration children of all ages. We'll follow this up with the best scenic drives in Texas, after all, this is what a self-drive holiday is all about when you boil it down -which opens up the tantalising prospect of planning a road trip without spending hours poring over maps. Finally, after a spot of weather advice, we'll recommend some places to stay, campgrounds to suit you and your crew, however big or small.
Types of RV rentals in Texas
It doesn't matter whether you're travelling alone or with as many as seven, you'll find the right campervan, motorhome or RV in Texas to suit the exacting needs of everyone. Choosing the right vehicle for your self-drive vacation may be a daunting prospect, but it needn't be like that. For all intense and purposes, there are only two styles of motorhome or RV to choose from, once you've nailed that down its merely a question of how many people are joining you on your trip, where you're intending to travel to and the facilities you'll require, all with consideration your budget.
Class C Motorhome
The fundamental difference between Class C and Class A is the way they are built. If you think of a Class C as a travel trailer attached to the chassis of a truck with a cab, then you're almost there. Class C 'motorhomes' as they're typically referred to, are a marriage of two major components and then fitted accordingly.
There is an illusion that a Class C motorhome hired in Texas is somehow inferior to a Class A vehicle hired from the same location, this is incorrect, Class C's can be just as luxurious as Class A's but tend to be cheaper.
Class A RV Rental
So, why do Class A 'RV's' tend to be more expensive to hire? In short, your RV rental in Texas will be a bespoke vehicle, designed as a single concept from scratch. RV's tend to resemble buses with many models having a 'slide-out' option to provide even more space when you're parked up in your preferred Texan campground.
Of the two classes, this is the one that is preferred by those who live on the road but, for most of us on a self-drive vacation, a choice between Class A or C will boil down to cost and/or taste.
RV Rental Locations in Texas
You're better off hiring your RV or motorhome from Houston and Dallas, for a start both locations in Texas will have a great choice of RV's or motorhome rentals for you and your travelling companions.
Houston and Dallas offer a load of great things to see, relatively close to your point of arrival or departure. This can help self-drive rental holidaymakers acclimatise to a new environment, or provide a fascinating backdrop for a long farewell, prior to picking up/dropping off your gear at your designated RV Rental office, heading from, or to, the nearby airport.
Dallas, TX
The third-largest city in Texas and, for people of a certain age, forever associated with a man called JR. But enough of that, Dallas is one of the fastest-growing cities in the US and, while there is an element of the population that go for the ten-gallon hat, Dallas is about diversity.
Dallas is bursting with art and culture, great food, craft beers, for example, and is a veritable paradise for those that like to shop. There's plenty of campgrounds for your motorhome in and around Dallas too, making it a convenient stopping-off point on your road trip.
Top 3 Dallas Attractions:
Dealey Plaza and the Sixth Floor Museum: AKA 'the front door of Dallas' and, more recently, the site marking the assassination of JFK. A fascinating, if grim, peek into the dark side of the American dream.
Beavers Bend State Park: Worth visiting for the numerous scenic drives required to get you there and, once you've arrived at this area of immense beauty, there's plenty of places to camp too.
Athens: On first glance, visiting one of the first Certified Retirement Communities in Texas sounds like a non-event, but Athens is also home to the Scenic Fall Foliage Driving Trail…
Leading Dallas RV Rental Brands: Cruise America, El Monte, Mighty
Houston
As with Texas, there are plenty of nearby campgrounds to park up your motorhome for the night in Houston, but America's fourth-largest city is, arguably, all about big surprises. Evidence? Check out Underground Tunnel Tour before or after diving into the three essentials below.
Top 3 Houston Attractions:
Space Center Houston: They've just built an RV Park close to Space Center Houston, the official visitor centre of NASA which needs little introduction. Plan this one to avoid disappointment.
Galveston: You can drive on to Galveston in your motorhome via route 45, the kids will love this island city, especially Moody Gardens and the Pleasure Pier.
Houston Museum of Natural Science: Another essential stop-off point, make this acclaimed museum an essential part of your Texan road trip. For those on a budget, it's free to visit on Thursday.
Houston RV Rental Brands: Cruise America
RV Rentals in Texas – The Texas Triangles
Texas is the biggest of the Lower 48 contiguous states. This distinction is proudly displayed by Texans in their Lone Star flag, cheeky bumper stickers, gargantuan shopping malls, sprawling urban areas, to say nothing of Enron-sized accomplishments, attitudes and fiascos, and that fiercely rebellious spirit that formed the Texas Republic in 1836.
Cruise America has a branch in Houston and Dallas Texas; whilst Dallas also has national RV rental and sales operators like Mighty Motorhomes and El Monte RV. For those on a budget, you can book online to find the best deal or a cheap Texas RV rental or motorhome hire in Texas and to confirm availability of suitable models. One way RV rentals to other US states are available.
The road well-travelled is the Texas Triangle, a route that starts from Houston USA and runs north to Dallas-Fort Worth, then winds down to Austin before finally arriving in San Antonio. Of course, you can cover the Triangle in a recreational vehicle or RV rentals in Texas in reverse, starting from San Antonio. You can also take the Dallas-San Antonio-Houston route or its reverse if you start from the top.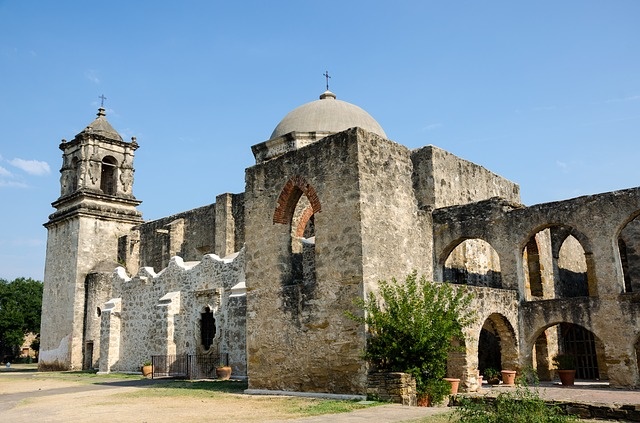 A smaller triangle, Texas' Wine Trail, follows the San Antonio-Fredericksburg-Austin route, with the legs of the triangle less than 80 miles on all sides.
San Antonio to Austin Texas by RV Rental
From culinary heritage and history, drive your motorhome rental or campervan hire to state capital, Austin; otherwise famous as the Live Music Capital of the World; thanks to its hugely attended spring event SXSW (South by Southwest Interactive, Film and Music Festival).
If you miss this March festival, there is the US Grand Prix in the fall. If you cannot make that November date either; there is always the BBQ Trail to console you which culminates in the BBQ Capital of Texas; less than 35 miles south of the Circuits of the Americas and less than 70 miles out of 'San Antone.'
Austin to Dallas by RV Rental in Texas
About two hundred (200) miles to the north of Austin is the Dallas-Fort Worth Metroplex. If you have shopping money to burn; this shopping mecca in the Southwest is one mind-bending destination for ultimate indulgence in retail therapy. Dallas, in particular, has the most malls per capita in the United States and is surrounded by a surprising number of RV parks for Texas RV hire vehicles in Dallas; that are well-equipped for full hook-ups and well-endowed by opportunities for outdoor recreation.
The final leg of the Texas Triangle is 239 miles long from Dallas down to Houston, Texas; best known for the Lyndon B. Johnson Space Center just 27 miles southeast of downtown via the Gulf Freeway. Otherwise, Houston USA is home to some 500 petrochemical and manufacturing companies and thousands of service establishments that make it the epitome of urban sprawl you can best explore on Texas RV rental.
Top 10 Attractions in Texas
Once again, we're faced with the nigh-on impossible task of choosing a top ten of the top attractions in Texas. Obviously, what you want to see and do is entirely subjective, so our list reflects a cross-section of interests designed to appeal to self-drive RV rental holidaymakers, whether it's just the two of you, families with young and older children or a group of friends up for some fun.
Choose the Texan attractions that appeal to you and have some fun joining them up with a Lone Star State scenic drive or two. More on that later but, for now, viola.
San Antonio River Walk
Finally, we get to San Antonio, arguably the most beautiful city in Texas, typified by the San Antonio River Walk, which is like scenic drive on foot. Park up your motorhome rental and plot a path, or dive into one of the many events along the way.
The Alamo
The hometown of state dish chili con carne; San Antonio in Central Texas is a great place to start also because of the legacy of the conquistadores; a 1716 Roman Catholic fortress right in the heart of downtown popularly known as The Alamo.
The battle for the Alamo must rank as one of the most famous battles in US history, let alone Texas. Check out the battlefield and visit the building of Mission San Francisco de Solano when you arrive, but most importantly of all, don't forget the Alamo!
Big Bend National Park
At 1,251.8 sq miles, you're not going to do Big Bend National Park in a day, but as a Texan scenic drive, it's worth your time, it even takes in a part of the Rio Grande on the Mexican/US border. A West Texas road trip packed full of natural history.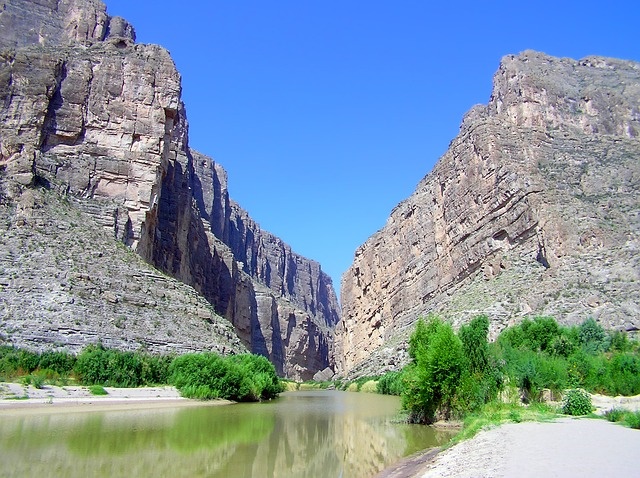 Padre Island National Seashore
This one is for the beach lovers, kids and those who like their natural history on the wet side. On the latter note, Padre Island National Seashore has the longest undeveloped barrier island in the world and you can drive your motorhome rental from Texas right onto it!
You will need a permit to camp here at either Bird Island Basin or Malaquite Campground, which is available at the entry kiosks. Facilities are limited, with no hookups available. But there is an RV dump station, as well as a water station that you can use.
Texas State Capitol in Austin
It wouldn't be a Texan self-drive vacation without at least one place to visit in Austin. The Texas State Capitol lies at the heart of the Lone Star State and, as you'd expect, it's very big, and claimed to be the seventh-largest building in the world during construction.
Guadalupe Mountains National Park
This one might be worth avoiding if you're travelling in your motorhome rental with a dog, but for those off the proverbial leash, Guadalupe Mountains National Park offers a wide variety of natural attractions for all ages and ability. Make sure you plan your trail(s) in advance!
You can park your Texas RV rental at either Pine Springs Campground or Dog Canyon Campground. These are basic wilderness campsites without any water, power or sewer hookups, dump stations or showers. There are limited overnight RV spots at both campgrounds, which are available strictly on a first come basis.
Fort Worth Stockyards
Famous for the Fort Worth Longhorns, a breed of steer that more than earns its name, the Fort Worth Stockyards provides a peek in the Wild West of old, complete with gun-fight re-enactments and a hands-on cattle drive. One for the family we think.
USS Lexington
The chances are it's going to be one particular member of the Texas road trip crew that wants to visit USS Lexington. On the plus side, there is loads to do in Corpus Christi Bay why he/she whiles away the hours on this fascinating floating museum.
Cadillac Ranch Amarillo
Public art, Texan style. It seems perfectly appropriate that, amid a Lone Star State road trip, you arrive at Cadillac Ranch Amarillo, the final resting place of ten Cadillac's, half-buried in cow pasture on Route 66. Why appropriate? Something to muse on when you get there.
Natural Bridge Caverns
You're going to need to park up the motorhome rental for this one but, before you book tickets for Natural Bridge Caverns (in advance we recommend) make sure you're happy climbing and crawling your way around a cave populated by spectacular stalactites and stalagmites. If you're feeling particularly brave, a zip-line awaits…
Top Texas Scenic Drives
We felt the best way to present this list was by attempting to be as diverse as possible while sticking to the brief and, for the record, it's not been easy. Due to the enormity of Texas, there are hundreds, if not thousands, of scenic drives for you and your Texan motorhome rental.
So many that unless you had years of hands-on experience, access to privileged information, plus some helpful locals providing tips and suggestions, we'd still be in the campground trying to work out which way to go.
El Camino Real de los Tejas National Historic Trail
Or, the Royal Road of the Tejas Indians, an ancient trail that was founded by native Americans later used by the Spanish to colonize a pre-US Texas. A great scenic drive but, ironically, best explored on foot, just like the ancestors of modern-day USA did.
Willow City Loop
It may on be 13 miles long, but this amazing scenic drive, best started in Fredericksburg in springtime, could take days if you're perpetually stopping to check out nature and stunning views -though you are discouraged from doing so. Willow City Loop is an ideal drive for romantics of all ages.
Lonesome Highway
Not the one in Bob Seger's 'Turn the Page', the one named because you're unlikely to see another car or signs of civilisation. You'll be enchanted by its beauty as the Lonesome Highway winds towards the Guadalupe Mountains. And delighted your motorhome rental in Texas is less than two years old.
Best Time of Year to Visit Texas in an RV
Put quite simply, April to October but, of course, this varies across the state. Texas is almost three times larger than the UK -approximately 243,610 sq km, Texas is approximately 678,052 sq km- so what happens in the east in July, say, isn't necessarily the same story in the west.
For the self-drive RV rental holidaymaker, close attention must be paid to the weather, especially between April and May when the risk of tornadoes increases. And don't forget that Texas is prone to hurricanes and biblical thunderstorms, but that's what makes hiring a motorhome in Texas so much fun!
Spring
Aside from the aforementioned tornadoes (though do people hire motorhomes in Texas for the sole purposes of chasing tornadoes at this time of year) on a general scale, this is a good time to visit, but the likelihood of encountering extreme weather increases on the coastline.
Summer
It's going to be intensely hot; it's the same story for most of the state and these extreme conditions can lead to drought. This may not be an issue in the big cities, but if you're planning on taking your Texan self-drive motorhome to the rural east, be prepared.
Fall/Autumn
On the whole, arguably the best time of year to visit Texas. It's going to be cooler without the threat of winter conditions. Hang around until the end of the fall and, assuming you're in reach of the trees, you're in for a colourful treat as the leaves turn.
Winter
If you're in the right spot, like McAllen, you'll barely notice winter in Texas and the southern parts rarely see the mercury drop below freezing. But if you're pointing your Texan motorhome towards the panhandle, you're likely to encounter fierce wind and snow. Worth avoiding, then.
Top 5 Texas RV Parks
There are hundreds of campgrounds and RV parks in Texas, below we've handpicked 5 to get you started, but you may be asking why you need to even use a campground at all. For most states, the campground provides self-drive holidaymakers with a place to recharge the RV, dump the grey and black water, even a safe spot for the kids to play.
But in Texas, they can also serve as great sources of local top-tips and advice, to the degree that they may even consolidate the unpredictable, such as weather conditions (see above) or extreme terrain.
Fredericksburg RV Park
305 East Highway Street, Fredericksburg, TX 78624
It's akin to a tranquil park, but with concrete RV sites offering full hook-ups with 30/50-amp electric service. Fredericksburg RV Park is more likely to appeal to the more mature self-drive holidaymaker as it's lacking in facilities to keep the kids occupied, which could be a good thing.
This peaceful RV park has open and shaded sites, only a few blocks from Main Street, Fredericksburg; with all the amenities to make your RV rental stay pleasant.
By the River Campground
175 Riverview Road, Kerrville, TX 78028
More of the old P&Q at By the River Campground and, as the name implies, it's by a river, the Guadalupe River to be precise. It's certainly aimed at families (it has a swimming pool) but it's no theme park resort, this one is all about nature's bounty and the natural beauty of Texas Hill country.
RV campsites have full hookups with waterfront, back-in and pull-through sites available. With clean hot showers, laundry, restrooms and an outdoor BBQ area, By the River Campground has all the facilities you need.
Grand Texas RV Resort
22846 State Highway 242, New Caney, TX 77357
The Grand Texas RV Resort also has a pool, but you're probably not going to need it. This RV Park is all about the action across the street, Big Rivers Waterpark and Adventure, offering fun for all ages, it says here. Get ready to drag the kids away.
Conveniently located an easy drive from downtown Houston and Bush Intercontinental Airport, this RV campground has large pull-through and back-in sites with hookups for cable TV, power, water and sewerage.
Hidden Valley RV Park
5706 Coleman Way, Von Ormy, TX 78073
Back to the quiet country atmosphere of a park that's squarely aimed at folk that like to take it easy, maybe relax with a spot of fishing or checking out the local flora and fauna. Hidden Valley RV Park welcomes locals and holidaymakers and it's pet friendly too.
Hidden Valley includes all the basic amenities from powered sites, water and WiFi to picnic tables, a modern laundry and large shower block.
La Hacienda RV Resort
5220 Hudson Bend Rd, Austin, TX 78734
A swimming pool and hot tub, four-hole chip and putt course, a playground… This is where you want to be if you have a boisterous family or you're travelling with your mates, but La Hacienda RV Resort also offers some peace by Lake Travis. This one could have it all.
La Hacienda has pull-through and back-in RV campsites with gravel pads, 30 and 50 amp electricity with cable and WiFi available. The campsites include concrete patio area with a picnic table and are pet friendly.