Dallas RV Rentals, Texas USA
A few years ago, we noticed that there was so much information online about hiring a motorhome rental in Dallas, you could waste hours just trying to find out the basics and still be none the wiser. That's when we decided to put all the useful, practical advice in one place, make it easy to understand as quickly as possible, allowing you more time to dream about the road trip adventure heading your way.
We'll start with the most obvious, the best motorhome rental companies in Dallas for you, your family or your friends. Not all motorhome or RV rental companies are the same, aside from their physical location in Dallas, they offer different styles, types of campervan, motorhome or RV. For example, one rental vehicle may be more suited for a couple, another could be ideal for a small family or a group of mates, so we'll explain the difference between them (Class C or Class A?) ensuring you make the right decision based on passengers and/or price comparison.
Now we've got you on the road, you'll be looking for somewhere to stay overnight. We'll provide you with a shortlist of recommended campgrounds in and around Dallas, whether you're with kids, friends or just want some peace and quiet for the pair of you. Finally, we'll recommend some cool places to visit, even if you have some idea of where you want to go, we might just have a couple of destination suggestions below that you've got to check out.
Book & Compare Motorhome Rental and Campervan Hire in Dallas TX
Dallas does not just beckon with gargantuan shopping malls and equally enormous stadia and amusement parks; it also entices with savoury barbecue, authentic Tex-Mex, and frozen margarita. Of course, it was unfortunate that the Big D got involved in a presidential assassination 50 years ago; but that is now water under the bridge, a compelling history preserved in what was once a textbook depository downtown. The Big D, part of the Dallas-Fort Worth Metroplex, is huge, and Dallas RV rentals or motorhome hire would put you in an centrally located spot to explore the greater Texas Triangle: Dallas-Fort Worth and San Antonio to the southwest, or Dallas-Fort Worth and Houston to the southeast.
Major US RV rental companies like El Monte RV, Cruise America RV Rental, Compass Campers and Moturis RV Rentals operate out of Dallas and allow you to pick up your Dallas camper rental here and leave it in their offices elsewhere in the Triangle. Book online to find the best deal on Dallas campervan hire in Texas, USA.
Top RV Rental Companies in Dallas, Texas
This section is more about deciding which is the right rental for you and then selecting from one of the three top rental companies in Dallas. Firstly, campervans, motorhomes and RV's in and around Dallas tend to be on the larger side, having a small campervan isn't really an option in the Lone State, you're going to need something larger that can cope with multiple miles of highway; everyone knows that everything is bigger in Texas!
Sure, this means you may find yourself in something larger than you expected (with more space than two of you need, say) but don't worry, these modern motorhomes are surprisingly easy to drive, the streets are wide, even in the city, and the further you are away from Dallas, increasingly empty.
Just be aware that Class C motorhomes are more likely to be a little easier on the wallet than their Class A counterparts. This is because, quite simply, that Class A motorhomes, or RV's, tend to be a little more luxurious. These vehicles are built for purpose whereas Class C motorhomes are inclined to be a decked-out cabin attached to a truck chassis.

Cruise America
With 126 Cruise America rental depots scattered over the US, Canada and Alaska, the Dallas RV rental depot could be the beginning of a one-way scenic drive to any one of dozens of Cruise America locations, though this may incur additional fees. Whatever you've got in mind, the Dallas depot is only 12 miles from Dallas Fort Worth International Airport, so you can land and get going relatively quickly. With a good range of Class C motorhomes to service you, your partner, wider family and friends, Cruise America could be your perfect motorhome rental company.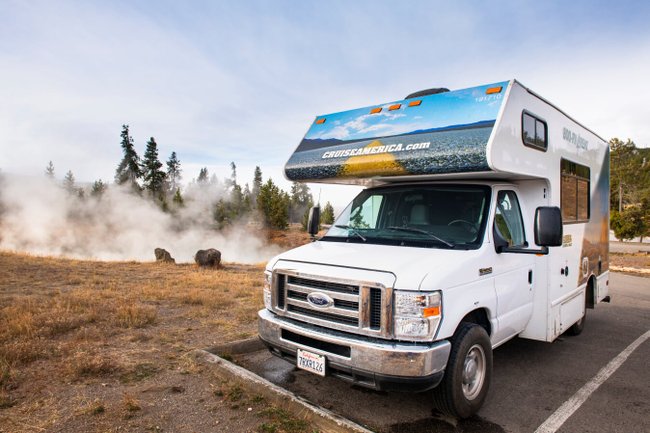 Class C
Don't be fooled into thinking that that Class C motorhomes are somehow inferior to Class A options. Sure, you might not be guaranteed a bathroom or as much space, but there are plenty of Class C's that can give the more costly Class A's a good run for their money.
Take Cruise America's Large RV Rental, it can sleep as many as 7 and comes with a freshwater toilet, a shower and gas cooktop. Indeed, all three motorhome rental options at the Dallas depot have bathrooms and well-equipped kitchens, just pick the right one for you and get going.
Dallas RV Rental depot: Cruise America, Dallas Love Field Airport (DAL), 8558 Denton Drive, Dallas, Texas, 75235
Located 12 miles/20 km from Dallas Fort Worth International Airport (DFW), or 9 miles/14 km from downtown Dallas.
Cruise America Dallas hours:
Monday to Saturday:

Pick Up: 1 pm to 4 pm
Drop off: 9 am to 11 am

Closed Sundays and Public Holidays
Included with Standard Rate:
24-hour assistance
0-4 years old
Mighty Campers
Parent company El Monte are one of America's largest RV Rental companies, so they're obviously doing something right! Mighty Campers themselves have five depots in the USA, including Dallas, located just over 30 miles from the Airport and downtown Dallas.
They have three Class C motorhomes and two Class A RV's, though the Class A Mighty Camper MS31 has almost exactly the same features as the latter classed MA34. On the whole, Mighty Campers cater for larger groups or couples looking for more space, if that sounds like you, check them out.
Class C
The Mighty Camper M22 is the smallest motorhome rental in the range, but still manages to sleep 4 and a child, though it might be a bit of a squeeze. The M28 which can sleep a maximum of 6 (that's 4 adults and 2 kids, though) may be a better bet for just 4 adults if the budget allows. No problem with space when it comes to the MS31, though at 32 feet in length it might be a bit of a handful for inexperienced drivers. It can sleep a maximum of 7… But see above for caveats.
Class A
It probably doesn't get much better than this: two Class A machines that want for nothing. The MA33 and MA34 are almost identical, save an extra space for a child in the latter, and both come with everything you're going to need for your scenic drive and preferred campground visit, plus a few additional bells and whistles to add that touch of luxury. Both the MA33 and the MA34 will require a confident driver who isn't fazed by its size -while Class C cabover style motorhomes drive like pick-ups, these Class A examples are more like semis'!
Dallas RV Rental Depot: Mighty Campers, 3500 South Central Expressway, McKinney, TX 75070, United States
Located 32 miles/51 km from Dallas Fort Worth International Airport (DFW), or 32 miles/52 km from downtown Dallas.
Mighty Campers Dallas office hours:
Monday to Friday: 9 am to 4 pm*

Pick Up: between 1 pm and 4 pm
Drop off: between 8 am and

Saturday & Sunday: Closed
Included with Standard Rate:
24-hour assistance
0-2 years old

El Monte
While you're likely to find a larger range of motorhomes from El Monte in other depots dotted over the USA, the Dallas branch has kept things simple, mindful of the fact that most self-drive holidays in this central part of the US are more likely to be larger groups than smaller families.
El Monte, Dallas offer a Class C example that can accommodate as many as 7 of you and a Class A RV that sleeps 6 but comes with more space and, with that, a higher price tag.
Class C
El Monte's Class C Family Sleeper (FS30) is guaranteed to be no older than 2019 and can sleep as many as 7 people across two double beds and three singles; the last single is hidden in the slide-out which adds a few extra square feet of room at night-time.
With a toilet, shower, kitchen and air-con throughout, the FS30 is more than up to the task of ensuring your self-drive vacation is just as comfortable during the day -the driver gets power steering and automatic transmission- as it is the night.
Class A
The Class A RV Family Sleeper (AF34) is a no-holds-barred slice of luxury. It's been designed to ensure that you, your crew and your pilot are cosseted all the way from Dallas to your destination, whether on the road or parked up for the night. Perfection.
Dallas RV Rental Depot: El Monte RV Rentals, 3500 South Central Expressway, McKinney, TX 75070, United States
Located 32 miles/51 km from Dallas Fort Worth International Airport (DFW), or 32 miles/52 km from downtown Dallas.
El Monte Dallas office hours:
Monday to Friday: 9 am to 4 pm

Pick Up: between 1 pm and 4 pm
Drop off: between 8 am and 11 am

Saturday & Sunday: Closed
Included with Standard Rate:
24-hour assistance
0-2 years old
RV Rental in Dallas, Texas
Dallas, and Texas in general, has well-developed and well-maintained highway system; so that a cruise around the city on your Dallas RV rentals in Texas is surprisingly hassle-free; if you avoid the rush hours of 7:30-9:00 AM, and 4:30-6:00PM. Especially if you are heading downtown to see the Sixth Floor Museum; where Lee Harvey Oswald fired the shots that killed President John F. Kennedy.
If you come between late September and October; the Texas State Fair, one of the largest in the country, is held southeast of downtown. Overnight parking of Dallas RV rentals around "Big Tex" is not allowed; but there are plenty of RV campsites within and around Dallas where you can relax and get away from the crowds.
Lone Star State
You may be surprised to learn that the Lone Star State and cowboy country is a veritable playground for animal encounters of all spots and stripes. Kids would love the Dallas Aquarium and Dallas World Aquarium for the thousands of aquatic animals they have on display; while African animals and Galapagos tortoises, among others, find another home in the Dallas Zoo. Parks for campervan hire or motorhome rental are located 15 minutes away, which puts you within 10 miles of the Arboretum for a breath of floral scent, and within 4 miles of the historic district in West End.
On the scale of big, the Meadows Museum of Art houses some of the largest collections of El Greco, Picasso, Velazquez and Goya outside of Spain; while the Dallas Museum of Art contains an immense collection of western and eastern pieces.
If you are looking for more action and fun; head on to the massive 212-acre theme park 15 miles west of Dallas at the Six Flags Over Texas for a day – and night – of rides and glitzy festivals. Five minutes to the west is another gargantuan stadium; home to the Dallas Cowboys where you can catch them at practice or play. You can catch the Dallas Mavericks (NBA) and Dallas Stars (NHL) in their home court at the American Airlines Center downtown. Both stadia have special parking lots for RV rentals in Texas.
Top Attractions near Dallas
To some, Dallas will always be the name of a TV show, to others, it's a large, vibrant city famed for the Dallas Cowboys, grand food portions (to match the headgear and pick-up trucks) with theme parks, nightlife and museums to feed your body, mind and soul.
Outside the city, as you head into the wider state of Texas, you'll encounter beautiful parks, enchanting towns and plenty of lakes that account for the (largely flat) Texan geography. In this part of the USA, scenic drives in Texas feel truly epic, almost legendary, so plan your Dallas RV rental routes carefully.
Beavers Bend State Park
You can be in Beavers Bend State Park in just over 3 hours from Dallas, a comparatively short scenic drive to southeast Oklahoma where pinewood forests, rivers and lakes are waiting to welcome you. A great place to park up, chuck on a pack and hit the trail.
The river area along the scenic Mountain Fork River has two campgrounds with powered sites suitable for RV rentals, with both 50 amp and 30 amp hook-ups available.
Fort Worth
Beginning life as a trading post for cowboys over 150 years ago, Fort Worth is now the go-to place for art galleries, world-class museums, including the National Cowgirl Museum and the Texas Cowboy Hall of Fame. A visit to Fort Worth Stock Yards is essential.
Athens, Texas
A mixed bag with something to appeal to everyone, Athens, Texas is a short drive in your Dallas motorhome rental to a town populated by flowers, lakes, wineries and museums. For the brave-hearted, get a bird's eye view of the town from one of the nine zip line tours.
Fredericksburg
Occupying a unique place in US history, Fredericksburg is the location of two infamous civil war battles with more modern conflicts under examination in the outstanding Pacific War Museum. For those seeking something more relaxing, the local wineries are sensational and boast fantastic views of the countryside.
Jefferson
More US history can be found at Jefferson, a few hours east of Dallas on your self-drive holiday. Jefferson Historical Museum is a great place to begin your tour of this scenic city, which is also a hub for riverboat trips, lake fishing and, for the curious, how about a ghost tour?
Turner Falls State Park
Looking for family stuff to do and a place to camp for the night? Turner Falls State Park isn't just home to Oklahoma's largest waterfall, it's a water park for all ages!
But maybe the best part is that you're never too far away from your Dallas RV rental. Stay overnight in your RV at Turner Falls campground, which has water and electric hook-ups with dump sites available.
Waco
It's not all about the Waco Siege, so let's just get that out the way. Waco is famous for its Magnolia Market and Dr Pepper (the museum is great) but it's also home to Waco Mammoth National Monument where you can visit the final resting place of these legendary beasts.
Arbuckle Wilderness Park
Enjoy feeding the animals at Arbuckle Wilderness Park from your self-drive RV rental! Hit 200 acres of country, home to hundreds of free-roaming critters from around the world, but if you want to get up close and personal then check out the reptile house or the petting zoo. The kids will love this one.
Camping is available in nearby Arbuckle RV Resort in the Chickasaw National Recreation Area.
Palestine, Texas
If you're into trains and railways then Palestine, Texas will be a welcome sight at the end of a short, eclectic scenic drive (take the 45 from Dallas then the 287 from Corsicana) where you can hop on a train pulled by a proper old-fashioned steam locomotive.
Dinosaur Valley State Park
If you were expecting a bunch of cheap theme park rides featuring a plastic T-Rex and rubber Pterodactyls, then you're in for a surprise. An hour and half west of Dallas in your motorhome rental and you could be standing in actual dinosaur footprints, from dinosaurs that lived here 113 million years ago in the Cretaceous Age, all set in beautiful Texas countryside at Dinosaur Valley State Park.
Archaeological evidence show that native Indians lived here 6,000 years ago.
Best RV Parks near Dallas TX
You've hired your rig, planned a scenic drive in Texas to get you to your destination, it may take a couple of days but you're in a motorhome, so stop when you feel like it and get some rest. That's the idea anyway, but it may not be as simple as that.
Your passengers might need more than a cursory stretch of the legs, especially if you're travelling with kids, and you can't dump that black water anywhere you want to either. You'll be needing a campground at some point, here's four of the best in Dallas to get you started.
Bluebonnet Ridge RV Park
4510 N Fort Wilderness Trail, Lake Buena Vista, FL 32830
If you needed evidence that they do things bigger in Texas, then checkout Bluebonnet Ridge RV Park. It can accommodate RV's up to 90 foot in length (!) and there is a 5.5-acre catch and release lake if that's your preferred way to kick back.
Dallas Shady Oaks RV Park
1911 Edd Road, Dallas, TX 75253, United States
As the name implies, Dallas Shady Oaks RV Park is surrounded by tall trees to keep the heat off your Dallas motorhome rental. The campground offers full-hook-ups, free wi-fi and you can even park in private, cedar lined, lots if you want some peace and quiet with friends and family.
Lakeside RV Park
10216 FM 2757, Forney, TX 75126
It would seem that campgrounds and self-drive holidays are synonymised with fishing lakes in Texas and Lakeside RV Park is no exception. Indeed, this 20-acre campsite has no less than four lakes from which to choose, and even if fishing isn't your thing, it's pretty to look at.
Dallas/Arlington KOA
2715 South Cooper Street, Arlington, TX 76015, United States
Got kids? Located in the Fort Worth area, Dallas/Arlington KOA has got a playground, a pool and bicycle rental, so while the kids are working up an appetite, you've got some time to enjoy the wooded area with its picnic table and fire rings.