The Ultimate Arizona RV Road Trip Itinerary
Is Arizona the ultimate U.S. state for road trips? It would be hard to argue otherwise, especially if you're interested in ancient culture, Wild West history and absolutely epic landscapes. Arizona has all of it, in proportions unparalleled by any other state in the country. To truly experience the awesomeness of this rugged state, there's only one proper way: renting an RV. In terms of where to go, here's a suggested Arizona RV road trip itinerary for you.
Arizona RV Road Trip Itinerary – 5 Unmissable Places
Although it's quite difficult to narrow the many highlights in Arizona down to only a handful, there are some that simply stand out from the rest. We've picked the following five destinations in Arizona that should be the foundation of any Arizona RV road trip itinerary. Hop in your vehicle and get ready for a road trip unlike any other!
Grand Canyon
Arguably the greatest sight in the entire United States—Theodore Roosevelt certainly thought so—the Grand Canyon is sensational in its sheer size. Located in the north of the state, this spectacular canyon deserves at least three days of your time. While many people stop by for just a day, we recommend taking your time to truly get a feel for this majestic area. There's a lot more to it than the classic, very accessible lookout point.
Park your RV at the campground near Grand Canyon Village on the South Rim and spend your days hiking and scenic driving. Hike the Bright Angel Trail and the Rim Trail, watch for elk, bighorn sheep and California condors, and admire the amazing star-studded night sky.
Lake Powell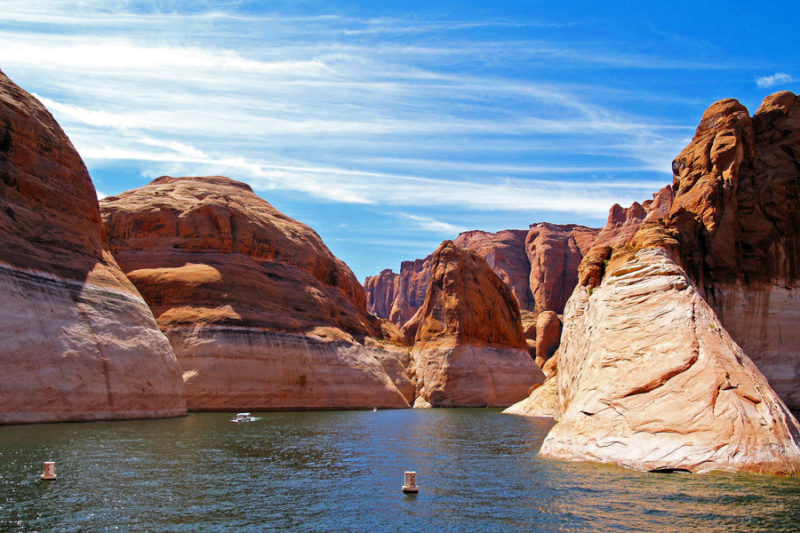 Located on both sides of the border between Arizona and Utah, gorgeous Lake Powell lies in the Glen Canyon National Recreation Area. This vast area of canyons, lakes, geological formations and desert offers an abundance of outdoor recreation. From fishing to hiking and mountain biking, this is an adventurer's dream destination. The greatest thing to do, however, is boating. Exploring this flooded multi-arm canyon by boat or jet ski is a fantastic experience.
Also, you might want to see world-famous Horseshoe Bend and nearby Antelope Canyon (which lies just east of Page, outside the park's boundaries).
Monument Valley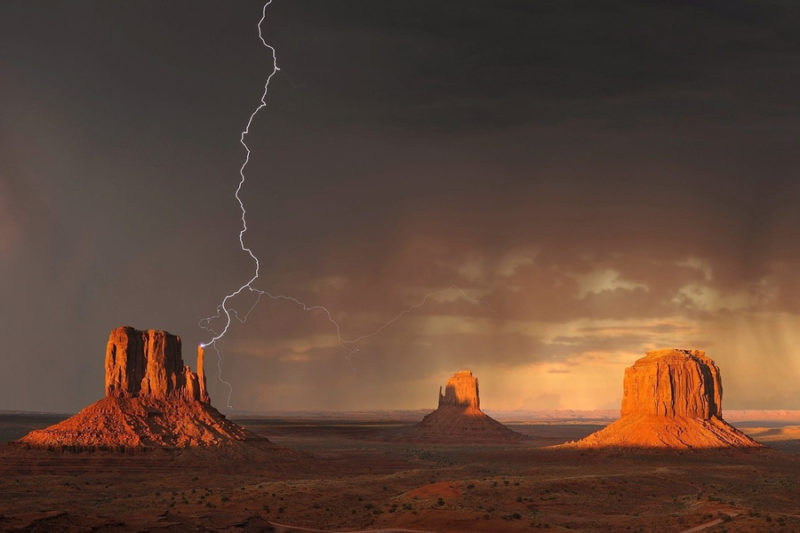 To the east of Lake Powell, also on the Arizona-Utah border lies Monument Valley, arguably the most famous place in the American West. With its magnificent buttes and sandstone formations, this is sight that everyone must see once in their life.
The valley is part of the Navajo Tribal Park and is one of America's greatest places to drive through. It's a logical part of your Arizona RV road trip itinerary.
Petrified Forest National Park
Driving south, you'll soon come across Petrified Forest National Park, one of the most underrated national parks in America. Rather small, this park is packed with attractions and deserves two full days. The stars of the show are the thousands upon thousands of petrified logs that litter the area. Other highlights include the Puerco Pueblo ruins, the otherworldly Blue Mesa and the gorgeous Painted Desert.
There are no campgrounds in the park, though, but we strongly recommend going for an overnight hike into the Painted Desert wilderness. Solitude, perspective, wonderful night skies and occasional wildlife encounters await you there—a once-in-a-lifetime experience.
Saguaro National Park
In the very south of the state lies Saguaro National Park, the first national park named after a specific plant. Consisting of two separate districts, on both sides of Tucson, this desert park protects sections of the Sonoran Desert and vast numbers of saguaro cacti, the natural icons of the Wild West.
Park your RV at the fun Gilbert Ray Campground just outside the Tucson Mountain District and spend a couple of days on the park's scenic drives and trails. Keep your eyes out for tortoises, coyotes, javelinas and rattlesnakes.
Where to Rent an RV in Arizona?
This Arizona RV road trip itinerary takes you around almost the entire state. This gives you the freedom to fly into any of its three major cities. Each of them would be a good starting point for this road trip. Phoenix has the largest airport in the state and is probably the best option if you're flying in from far away. Flagstaff and Tucson, however, also have an airport and are valid alternatives.
Another popular place to start a drive through Arizona (and Utah) is Las Vegas. There are regular day trips from the city to places like the Grand Canyon and Zion National Park, indicating its proximity to epic nature.
Are there any other destinations that you would add to this Arizona RV road trip itinerary? Let us know in the comments below!