Los Angeles Motorhome Rental, California USA
Compare RV Rentals and Campervan Hire Rates in Los Angeles Online
The City of Angels is the moniker of Los Angeles, California, a translation from the Spanish name. The city is set against the backdrop of the Hollywood Hills, adorned with the famous Hollywood Sign. Los Angeles is one of the biggest urban areas in the State of California. There are several Los Angeles campervan hire agents operating out of Los Angeles; go online and compare rates, which will check all of the major agents including Cruise America, Apollo Motorhomes, El Monte RV and Compass Motorhome Rentals; and get you the best and cheapest Los Angeles motorhome rental deal to suit your needs.
RV Rentals in Los Angeles: Drive the Pacific Highway Coast
The Pacific Highway coast road from Los Angeles northwards towards San Francisco is a stunning drive along winding roads clinging to the rock face. Set off along Highway 101 sampling the best of the California Coastline. Santa Cruz is a particularly beautiful area at the top of Monterey Bay. See the enormous Redwood Trees, some big enough to drive a car through (though not sure about a Los Angeles RV rental!) and let your hair down at the beachfront amusement park.
San Francisco, with its stunning Bay Area, iconic Golden Gate Bridge, and Silicon Valley nearby, is a centre of culture and quirkiness in the USA. The city grew during the Gold Rush of the 1800s; but has since been destroyed by earthquake and fire in 1906, then rebuilt. The city streets are pleasant to stroll through. A highlight is a tour of the former prison on Alcatraz Island, located offshore in the Bay. As legend has it, the fortification is impenetrable to those trying to get in; and especially for those trying to get out!
A Los Angeles campervan rental trip through L.A. cannot be complete without spending a day in Hollywood; home of the rich and famous from musicians to actors to socialites and the well-heeled alike. Malibu beach is not far from the main city. L.A. enjoys almost all year round sunshine and fine weather, so no matter when you visit you are sure to find sunshine and refreshing sea breezes, which make California RV rental in Los Angeles vacations a real treat. You can't visit California without getting out into its Wine Country; Napa and the Napa Valley are close to San Francisco. Enjoy cellar doors, fine cuisine and breathe in the fresh air of nature.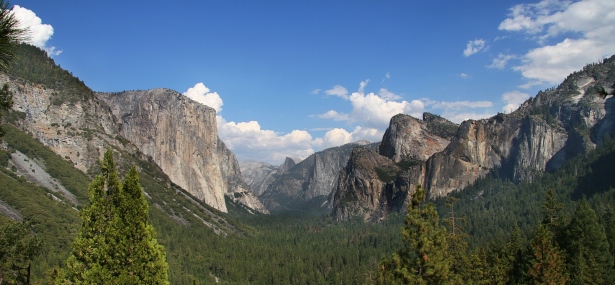 Yosemite & Kings Canyon National Parks by Motorhome Rental
Most Los Angeles motorhome rental in California agents will allow you to drop your campervan rental in a different major city location; so in theory you keep on going until you run out of map! However, you might opt to return south to Los Angeles via Highway 5, veering off into Yosemite and Kings Canyon National Parks. Both have great facilities suitable for motorhome hire, campervan rentals and Los Angeles RV hire set-down. Get into nature with hiking, bicycling, rock climbing, skiing, horse riding trails and much more. The Parks run tours and nature discovery walks open all year round.