Arizona Motorhome Rental, USA
Campervan Hire and RV Rentals in AZ
If you book and compare Arizona motorhome rentals and campervan hire online; they offer locals and tourists a unique opportunity to see the spectacular and diverse Arizona landscape, while enjoying a budget-friendly and relaxing family holiday. The incredible scenery to be found in this south-western region of the United States has made Arizona a favourite destination for nature lovers from all parts of the world; and seeing it all from a motorhome rental, campervan hire or recreational vehicle (RV) rental in Arizona, USA is simply the most sensible choice.
The reason for this is down to the beautiful, but unforgiving, terrain. Hiring a campervan, motorhome or RV in Arizona needs a little more consideration than just working out how many people you're going with. And this is where we come into the equation.
Firstly, it's not a question of how many people are accompanying you on your road trip adventure, but with whom -not everyone will be comfortable travelling in the middle of nowhere and the best thing you need is to be with happy travel companions! Secondly, think about where you're travelling too, that Class B Camper may have mood lighting, but the 4×4 is going to be a lot handier when you're up for checking out the cacti in Saguaro National Park. Finally, plan your schedule around campgrounds… You may not even have considered those, we'll find out why they're more than a good idea later on.
Distances between towns in America are vast; taking your accommodation along with you means no back-tracking and gives you more time to enjoy the wide open landscape and all the attractions of the region. You do not have to worry about where to park your rent a motorhome in Arizona; this state is just made for an Arizona RV rentals vacation, and there are dozens of RV holiday parks available. Some camping grounds operate on a first come first served basis, so do a bit of research before you leave to avoid disappointment, especially in peak season.
What to expect from an Arizona Motorhome Rental
Arizona RV rental is available in several sizes and configurations to suit your individual needs. You can choose an economical smaller Arizona campervan rental suitable for 2-3 persons; or a very large motor home on wheels sleeping up to 6 persons. All motorhome rentals in Arizona offer comfortable sleeping areas and well-equipped kitchens; so that you can easily rustle up a meal under the stars.
The larger luxury motorhomes have many extras; such as a shower, toilet, air-conditioning, power hook-up and even TV and DVD players. There are a few very rugged scenic routes in Arizona that are only suitable for smaller truck-type RV's to undertake. You need to bear this in mind when choosing your motorhome rental in Arizona.
Types of Arizona RV Rental Vehicle
Let's take a look at the differences between different types of motorhome to get you out on those Arizonian highways. We'll keep it simple; Campervans, Motorhomes and RV's can be split into three classes.
At its most basic, RV's are Class A, similar in size and shape to a bus, but with a homelike interior, Campervans are Class B, these tend to be customised MPV's or vans (or 'minivans' in USA English) and Motorhomes, the largest category, are Class C -we'll go into more detail on this class further down the page.
Campervan
These cunning vans have been adapted to accommodate living quarters and are a great option for couples, especially those on a budget. In addition to being discreet, their compact size makes them ideal for popping in and out of towns and cities, with larger options preferable for long scenic drives.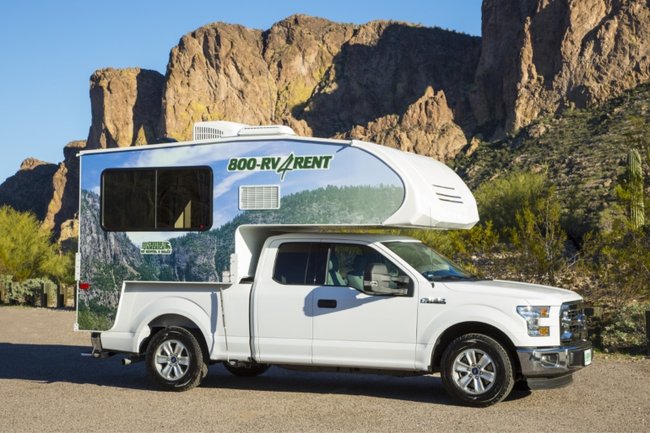 Truck Camper
Truck Campers in Arizona are a fusion of a 4×4 flatbed truck, a Toyota HiAce, say, piggy-backed with living accommodation. When it comes to heading further afield and/or off the beaten track, you'll be wanting one of these. On certain roads, nothing else will do.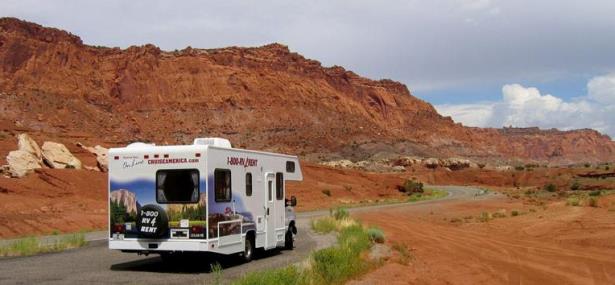 Class C
Class C motorhomes in Arizona occupy the largest category of vehicles on this page and come in a range of sizes. Also known as 'cabovers' some (not all) models benefit from extra space with slideouts. Require even more space? Choose a motorhome with twin slideouts on either side! Probably worth noting that Truck Campers are also categorised as Class C vehicles and, for the record, some of these come with slideouts too.
Compact Motorhome: These Class C motorhomes tend to be known as 'semi-integrated because they don't have a berth over the cab. They're a great option for couples or families with small children, some even have bathrooms for additional comfort and convenience, but slideouts are uncommon.
Standard Motorhome: This category can sleep as many as 6, they tend to be known as 'fully-integrated on account of the berth over the cab, which shores up additional accommodation/space inside. They're ideal for families or groups of friends with plenty offering even more room from a slideout or two.
Large Motorhome: While some large motorhomes remain firmly in the Class C category, many are Class A examples: these are coach-built from the ground up and can accommodate as many as 8 or even more. Some examples are nothing short of opulent with bathrooms and multiple slideouts as standard, the ultimate in luxury travel.
RV Rental Locations in Arizona
As with most states, RV rental locations are more popular around airports, and Arizona is no exception. In each you'll find a collection of well-known and local motorhome rental companies, offering a broad range of Campervans, Motorhomes and RV's to cater for your self-drive holiday in Arizona. But before you pick a company based on cost, convenience etc., think about where you're planning on going, for example, have you considered one-way hire? Maybe choosing a hire company with more than one depot, hiring in one state and dropping off in another, would be a better road trip option…
Phoenix, Ariozona
The short answer is because you can, the whole point of hiring a motorhome is to travel freely, and Phoenix AZ provides a great counterpoint to Salt Lake City, Utah, so that you do not have to return your Arizona RV rentals to the original pick-up point. It's just over 650 miles away, about a 10 hour's drive between the two cities, and you'll get a terrific range of scenic drives to choose from too. Which means that travelling to Salt Lake City one way, the most populous state in Utah, from virtually anywhere in Arizona isn't a problem.
Leading Arizona RV Rental Brands in Phoenix
Cruise America, Escape Campervans, Expedition Motorhomes
Where to go with your Arizona RV Rental?
The deciding factor is always going to be the amount of time at your disposal. Arizona is a very large State, and while there are opportunities to visit every nook and cranny; it will take you many weeks! Here are some of the most popular itineraries for an Arizona RV rentals holiday:
Right at the top of the list is the Apache Trail Historic Road on Route 88. This 42 mile stretch of brilliant scenery is one that can only be undertaken by the smaller campervan hire and motorhome rentals as part of the trail is un-tarred and very narrow and steep in places. Outstanding natural beauty – try to make it a must-do.
The Grand Canyon National Park and Hoover Dam are also absolute must-see sights, and very accessible by RV rental with some very good overnight stopping places. Then go on to Las Vegas for some excitement of a different kind!
Or perhaps you fancy a taste of the Old West? Drive south to Tucson and traverse the Patagonia-Sonoita Scenic Road to admire the very beautiful Patagonia Mountains; visit Tombstone, the home of the OK Corral, and visit some local wineries.
Top 10 Attractions in Arizona
Below is a great opportunity to get a map and mark up these top ten attractions in Arizona. Once accomplished, it's a question of joining up the dots to get the best scenic drives or road trips -depending on how long you've got and your ideal start/end location- with regard to your preferred attraction. Our final bit of advice before we get stuck in, the best attractions in Arizona are subjective, this is our list, so do your research to get the most out of your self-drive vacation!
Grand Canyon National Park
The Grand Canyon doesn't need any intro from us, it could even be the most famous natural attraction on the planet, but those two words 'national park' is a game-changer. I mean, why look at this wonder of nature from one angle, when you can see all of it from your motorhome rental.
Glen Canyon National Recreation Area
No, Glen Canyon National Reserve isn't the Scottish incarnation of the above, but it is less than 75 miles away and a better bet if you're in the market to see something truly spectacular without all tourists. The contrasting forest/desert scenic drive between the two Canyon's is sensational.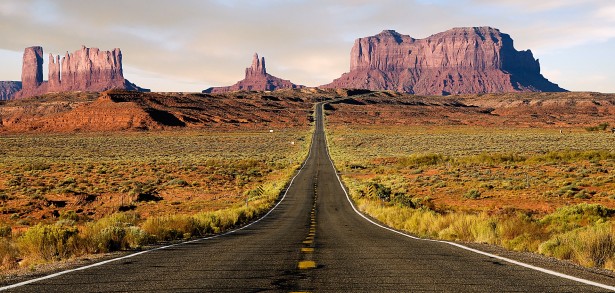 Monument Valley
Straddling the border of Arizona and Utah lies the Navajo Tribal Park, in which you'll discover Monument Valley. There is something truly magical about the vista of gigantic rock formations that, once seen, will never leave you. It's ideally suited for Truck Campers too. Get one, go there.
Jerome
A 30-minute drive off Highway 17 is Jerome, and it's unmissable. Built in 1916 as a mining town, it's slowly transformed into a sort-of boutique village cum art installation, with places to stay and little wineries dotted about for the road-worn, bon viveur to rest awhile.
Sedona
Sedona lies close to Flagstaff and is surrounded by an environment typified by canyons, forests and red rock buttes. The town compliments the extraordinary landscape that surrounds it, making it the ideal place to enjoy the natural scenery while being cosseted with delicious food and refreshing drinks.
Hoover Dam
This triumph of engineering will appeal to scientifically minded -3,360,000 cubic metres of concrete divert water to a hydroelectric power plant with a total power capacity of 2,080 megawatts- and the aesthetes. And when you're done at Hoover Dam, by complete contrast, Las Vegas is a 40-minute, motorhome rental, drive away.
Canyon de Chelly National Monument
This huge park (aren't they all in Arizona) also lies in Navajo Tribal Lands and the prehistoric tribal art tells a story of their ancestors, and theirs too. Physically, Canyon de Chelly National Monument is a hymn to sandstone cliffs, lush canyons and the 800-foot tall Spider Rock Spire. Breathtaking.
Antelope Canyon
The phrase 'slot canyon', which describes Antelope Canyon, doesn't do it justice -it doesn't even get close. Nothing could prepare the road-tripper for an experience that borders on the ethereal. Park up the motorhome rental, grab a guide and go inside…
Saguaro National Park
Head to the city of Tucson (this may be a good time to flag this great city up) and you'll be in the middle of the two sections of Saguaro National Park. The park is named after the native Saguaro Cactus, instantly recognisable from old Westerns and Roadrunner cartoons.
Petrified Forest National Park
You may think you'll have some clue as to what you're going to get at Petrified Forest National Park. But you'll be wrong. A rainbow of colours lie encapsulated in colossal rock formations as far as the eye can see, and not a single tree in sight.
Top 5 Arizona Scenic Drives
To be honest, we struggled with this section. It's almost impossible to jump into your motorhome rental and, when in the Arizonian countryside, not be in a scenic drive in some form or another. To complicate matters further, we've already acknowledged a couple of must-do scenic drives further up the page, so it's down to your discretion.
Figure out what you want to see on your self-drive holiday in Arizona and cross-check below to see if you can squeeze in a scenic drive or two when getting to/from your chosen destination.
Grand Canyon South Rim Scenic Drive
We touched on this earlier, now for the specifics. Arguably the best place to witness the spender of the Grand Canyon is from Highway 64 that extends 25 miles along the south rim. The South Rim Scenic Drive only 25 miles but you'll be stopping so frequently it could take all day.
Kayenta to Monument Valley
Another short/sweet one for you at a mere 28 miles. The action takes place on Highway 163 from Kayenta, Navajo County and it's advisable to go to Monument Valley (rather than the other way around) just to experience the eye-popping approach to your destination.
Route 66 – New Mexico Border to California Border
This one sounds thrilling before you've even got the crew into the motorhome rental and hit the gas. With at least 13 hours of drive time ahead, you could spend your entire holiday cruising down Historic Route 66, the most iconic highway in the world, stopping to check out the towns along the way.
Coronado Trail to National Scenic Byway
You won't have time to check out the views, your eyes will be glued to the road! Route 191 between Springerville and Clifton is 123 miles long and has over 460 turns on the way, so Coronado Trail through the White Mountains is a spectacular drive year round. And one they won't forget. Ever.
AZ 89A – Prescott to Flagstaff
More highway scenic sights await the motorhome rental pilot on this 92-mile road that starts at Prescott high up in Arizona's central Bradshaw mountains before US Route 89A drops spectacularly into the Colorado Plateau. There are plenty of places to stop along the way, take stock of it all before arriving at Flagstaff and kicking back.
Best Time of Year to Visit Arizona in an RV
Arizona is warm and sunny all year round, but being such a large, landlocked state that borders on – clockwise from the North- Utah, New Mexico, Mexico, California and Nevada the weather could be markedly different depending on where you're at.
Hawley Lake, for example, registered a temperature of 40 degrees below zero in the winter of 1971, while the average maximum temperature in Phoenix rose to a record-breaking 107.9 degrees in the summer of 2020. As with all these things, when it comes to self-drive holidays, do your homework, check the average temperature against the locations in your schedule.
Spring (Mar – May)
Flagstaff (north) High 59°F/15°C. Low 30°F/-1°C
Tuscon (south) High 85°F/29°C. Low 55°F/13°C
Quite a broad-church temperature-wise between the two cities during spring, ranging from the cold in Flagstaff to the clement in Tuscan, making it arguably the best option for self-drive RV rental holidaymakers.
Summer (Jun – Aug)
Flagstaff (north) High 69°F/21°C. Low 48°F/9°C
Tucson (south) High 100°F/38°C. Low 75°F/24°C
Even in the summer months, things could still be quite cool in Flagstaff. Tucson, on the other hand, can get very hot and, for many, a high of 100°F/38°C might be a bit too much.
Fall/Autumn (Sep – Nov)
Flagstaff (north) High 62°F/17°C. Low 32°F/0°C
Tucson (south) High 85°F/29°C. Low 60°F/16°C
Things are getting decidedly chilly in Flagstaff at this time of year, though you could have some good days. Tucson, on the other hand, looks ideal in the fall, it may even be the perfect time to go on an Arizona RV rental vacation.
Winter
Flagstaff (north) High 43°F/6°C. Low 18°F/-8°C
Tucson (south) High 66°F/18°C. Low 42°F/5°C
As far as these two destinations go, winter isn't the season to be jolly. Unless you like skiing! Check out the Arizona Snowball Ski Resort, 260 inches of average snowfall, 2300 ft. vertical drops and beginner slopes. Cool.
Best Arizona RV Parks
So, you've hired a campervan/motorhome/RV from Phoenix Sky Harbor International airport: it's got all you need inside, toilet, shower, kitchen, dining, slide-outs…Why would you need a campground? To begin with, you'll require a place to dump the black/grey water and, more than that, electrical hook-ups will ensure you're not going to wake up to a flat battery.
That wouldn't be much fun -in certain parts of Arizona that's putting it somewhat mildly. Besides, they're a great place in which to relax/let off steam, grab some game-changing advice from the locals or just to meet like-minded self-drive holidaymakers.
Grand Canyon Railway RV Park
601 West Franklin Avenue, Williams, AZ 86046
Just a couple of blocks from Route 66, Grand Canyon Railway RV Park, offers 124 wide RV parking spaces with water, sewage and 30/50 amp hook-ups. The adjacent railway is more than an entertaining distraction, why not see the Grand Canyon from the POV of a historic railroad car!
Meteor Crater RV Park
Interstate 40 Meteor Crater Road, Winslow, AZ 86047
The clue is in the name, Meteor Crater RV Park is located right next to a meteor crater, so the likelihood of coming into contact with a second is highly unlikely. There isn't a play area for the kids, but the 36 hooked-up RV sites are great for the motorhome rental.
Rancho Sedona RV Park
135 Bear Wallow Lane, Sedona, Arizona 86336
It's certainly pet-friendly, but the kids will have to do without a play area at Rancho Sedona RV Park, though there's space for horseshoes, tetherball and volleyball. With dedicated adult-only sites among 80 plus parking spots, there is a distinctly grown-up feel about this well-appointed park.
Eagle View RV Resort
9605 North Fort McDowell Road, Fort McDowell, AZ 85264
Lying on ancient land, the Fort McDowell Yavapai Nation region is the ultimate place to park up, relax and enjoy the ancient landscape. Eagle View RV Resort Park does, quite literally, offer views of eagles circling overhead and the on-site swimming pool will be most welcome when the mercury rises.
Tombstone RV Park & Campground
1475 Highway 80, Tombstone, AZ 85638
Family-friendly -there is a pool and playground and the whole cowboy vibe will appeal too- Tombstone RV Park & Campground offers large, level pull-thru sites for every flavour of motorhome rental. The 24-hour laundry is a bonus, and your four-legged friends will appreciate the dog park.
Grand Canyon Camper Village
549 Camper Village Lane, Tusayan, AZ 86023
Seven miles from the South Rim of the Grand Canyon and within walking distance of shops and restaurants, Grand Canyon Camper Village offers self-drive holidaymakers the best of both worlds -plus 30/50 amp sites, 30 amp water/electric sites or electric only sites for your RV rental.