Chicago RV Rentals in Illinois, USA
Compare Motorhome Rental and Campervan Hire in Chicago IL
If you're looking to rent a motorhome or RV in Chicago for a vacation, a scenic drive or you just want to get out there with or without the family and see something new, we are on hand to show you everything you need to know about hiring or renting a motorhome in and around Chicago or, as the locals call it, The Windy City.
We're not just talking about Class A or Class B RV/Motorhomes (don't worry, more on that later) or what's included with your rental. We'll feature top tourist sights to visit, unmissable things to see and great US road trips to take you to and from Chicago which, incidentally, has the largest number of federal highways in the USA.
In addition to the above, our mission is to recommend some fantastic campgrounds in Chicago and the surrounding area in which to park-up for the night, so whether you're travelling alone, as a couple, with kids or pets, we'll ensure you have the best range of facilities for your requirements.
Last and by no means least, we've also listed the best motorhome rental companies and the location of their depots, so you can spend less time comparing prices and rates from random Chicago motorhome rental companies and more time planning your epic trip.
Discover your perfect RV rental in Chicago to suit both your criteria and schedule and drive away with the lowest rates available anywhere in the city!
Chicago in Illinois, USA is the gateway to dozens of exciting holiday options in the North of America. One of the best ways to see this vast expanse of country is to travel by road in a Chicago Motorhome Rental.
RV and motorhome holidays have been very popular in the USA for a long time. The recent recession has made motorhome rental in Chicago even more attractive for cash-strapped locals and tourists alike.
If you are flying into Chicago's O'Hare airport, there are several Chicago RV rentals companies close to the airport including Pure RV, Compass Campervans, Moturis RV Rentals and Camping World, Cruise America motorhomes and El Monte RV. Book online to rent a campervan and find the best deal or a cheap Chicago RV hire or campervan rentals. Once you have had all the details about a motorhome holiday explained to you, you will find yourself on the road to adventure in no time at all.
What type of Chicago Motorhome rental is ideal for you?
RV rental in Chicago come in all shapes and sizes; from small vans just right for couples, to huge bus-size vehicles that can comfortably accommodate up to 6 people. The larger Chicago RV rentals are equipped with everything you need for home-from-home comfort; including air-conditioning, TV, electrical hook-up (or generator), shower, toilet and a good kitchen with all you need to prepare meals.
Because Americans have been enjoying Chicago campervan hire holidays for many years; Illinois has hundreds of excellent campgrounds and RV parks. You will have no trouble finding good spots to spend each night; it would be wise to plan and book ahead during the peak season in August.
Top RV Rental Companies in Chicago, Illinois
Motorhome or RV rentals in Chicago can be broken down into two specific types of vehicle: Class A, machines that have been designed from the ground up and are similar in stature to a coach or bus and more likely to be to a referred to as 'RV's'.
Class C vehicles typically referred to as 'motorhomes', have more traditional cab-over styling and are usually caravan-like structures which have been permanently attached to the bed of a pre-existing vehicle, such as a pick-up truck. And as you'd expect from one of America's great cities, there are dozens of rental companies in Chicago offering a huge range of Class A and Class C vehicles.
All the main players are on hand to satisfy the needs of the customer, all offering the traveller a load of options, offers, deals, bargains… But there are also plenty of smaller, frequently overlooked, operators that may be able to service the needs of the customer far more effectively and save you money. Here are a few prime examples to check out when you're looking for your perfect Chicago motorhome rental.

El Monte
If you're looking to hire a Class A or a Class C RV in Chicago, Illinois then you need to check out El Monte. Located in Glen Ellyn, West Chicago, El Monte is equidistant from the international airport and downtown Chicago and are a good bet if you're looking for one-way hire to El Monte depots in California or Florida.
Glen Ellyn is close enough to national forests and the state park if you're after a long weekend or somewhere memorable to start an epic USA raid trip.
Class C
El Monte's Class C Family Sleeper can sleep up to seven of you (that's one more than their Class A offering) so if there's a bunch of you on a budget, or you just want to spend more money on the fun stuff, this could be the ideal choice.
For 4 of you El Monte have two options the M22 and the C22, and the same for 6 (M28, C28) with the C25 perfect for 5. All of their Class C models come with a kitchenette, toilet and shower, so you're perfectly self-contained in your Chicago Motorhome rental.
Class A
El Monte's Slideout AC35 could be the last word in RV luxury. It's powered by a Ford v10 6.8L and at over 32 feet long (and 8 feet wide) has ample space for 5 of you, but it's all the little extras that make this RV Rental in Chicago such an attractive option: how about cruise control and power steering, factory cab air-con and a full-on surround sound music and TV system?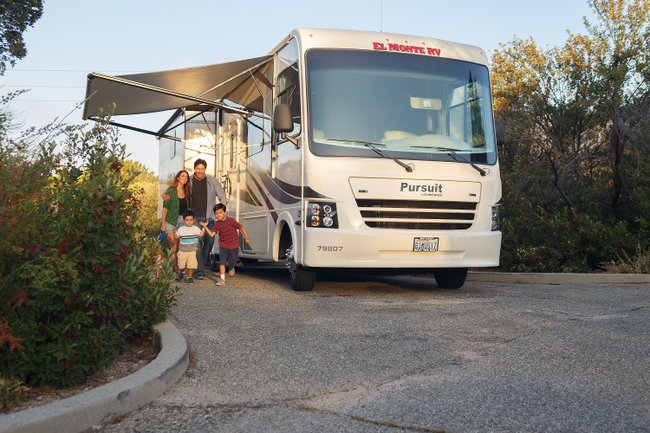 The 7 berth AF35 is similarly decked out but compromised slightly to accommodate more of you, not that you'll really notice once you hit the road.
Chicago RV Rental Depot: El Monte RV Rentals, 21W700 North Ave Glen Ellyn, IL 60137
Located 31 miles/50 km from Chicago Midway International Airport (MDW), or 29 miles/47 km from downtown Chicago.
El Monte Chicago office hours:
Monday to Friday: 9 am to 4 pm

Pick Up: between 1 pm and 4 pm
Drop off: between 8 am and 11 am

Saturday & Sunday: Closed
Included with Standard Rate:
24-hour assistance
0-2 years old

Cruise America
With 128 depots scattered over the USA and no less than five in Chicago (plus another two in Illinois) to choose from, your best bet for easy access to and from Midway International Airport is the depot located in Franklin Park in the O' Hare Area.
Cruise America Chicago have kept their rental story relatively simple by offering four varieties of motorhome, but with a good range of capacity from 2 to 7 berths. If you want to bring your pet along Cruise America could be one of the best motorhome rental companies in Chicago too!
Class C
All of Cruise America's Class C motorhome rental vehicles are available at the Chicago depot, with their Compact motorhome suitable for 2 adults and 1 child being their smallest RV rental, along with the larger Standard 5 berth motorhome or the Large 7 berth RV options.
All of Cruise America's cabover style motorhomes are fully fitted with a kitchenette, toilet and shower and walkthrough convenience at bargain prices, quite a tempting prospect if there are 2/3/4 looking for a bit more space to enjoy. It's not as if you get to embark on a US road trip every day is it?
Chicago RV Rental depot: Cruise America, 2732 Mannheim Rd, Franklin Park, IL 60131, United States.
Located 18 miles/29 km from Chicago Midway International Airport (MDW), or 29 miles/47 km from downtown Chicago.
Cruise America Chicago hours:
Monday to Saturday:
Pick Up: 1 pm to 4 pm
Drop off: 9 am to 11 am
Closed Sundays and Public Holidays
Included with Standard Rate:
24-hour assistance
0-4 years old
Where to go and what to see in your Chicago camper rental:
There is no shortage of choices when it comes to exploring from Chicago, starting with the city itself. It is quite difficult to drive around any city in an RV; but luckily there are several parking garages offering daily parking for your campervan hire.
Once you have explored the city, let us start with the prime attraction, beautiful Lake Michigan. You can drive up both the east and west coasts of Lake Michigan and thoroughly explore the beautiful coastline, stopping whenever the urge takes you to park for a night and enjoy the great outdoors.
Visit Shawnee National Forest for endless hiking trails under the canopy of trees, and then explore the Shawnee Hills Wine Trail, or take your Chicago camper rental on a drive along Illinois famous Route 66 Scenic Byway to experience the many roadside attractions to Los Angeles and Santa Monica.
If you want to explore further afield, you have the option of booking a one-way RV rental in Chicago and driving all the way across the USA to the East or West coasts, where there are numerous drop-off locations. Book the grand tour of America today in your Chicago RV rentals.
Top 10 Places to Visit near Chicago
Usual story here, the challenge of whittling down just ten great places to visit near Chicago. We've tried to make the list as objective as possible by presenting a broad church of interesting places, so bear in mind for every park or museum listed here there are dozens of great alternatives.
What isn't so obvious is that we've also ensured that each of our featured destinations will incorporate a great US road trip for you, your crew and your trusty Chicago motorhome rental. After all, quoting the great American philosopher Ralph Waldo Emerson, 'It's the not the destination, it's the journey.'
Milwaukee
Home to the most famous brand of motorcycle in the world, have a day off from your Chicago RV Rental and rent a Harley Davidson for a ride in Milwaukee. If that's not your scene, the Milwaukee Art Museum is definitely worth your time and the kids will love Milwaukee County Zoo.
Holland, Michigan
Founded by Dutch settlers in 1847, this part of Michigan is like a little slice of Holland. Check out the Windmill Island Gardens, sample an award-winning craft beer or the delicious fare from a downtown restaurant. A trip to the Big Red Lighthouse in Holland is virtually a rite of passage.
Lake Geneva Region
No, not the one in Europe, this a resort city located south of Wisconsin and popular with locals from neighbouring cities.
Lake Geneva is famous for the Grand Geneva Resort (formally Playboy's first-ever resort) and for fans of hard rock, Royal Recorders has seen more than its fair share of great artists.
North Utica
For folk renting a motorhome or RV in Chicago, enjoy a proper USA scenic drive that follows the shores of Lake Erie, with a warm welcome waiting at the other end. North Utica offers an unpretentious taste of old-school American nestling in beautiful countryside and isn't to be missed.
Chicago Botanic Gardens
Located close to downtown Chicago, this could be a great place to visit at the beginning or the end of your self-drive holiday in the USA. If 385 acres of landscaped gardens with millions of plants and flowers sounds like your thing, you're going to absolutely love Chicago Botanic Gardens.
Old State Capitol State Historic Site
Arguably one of America's most famous buildings, and certainly the one that shaped her most famous son, Abraham Lincoln. Indeed, it was here he delivered his famous 'House Divided' speech in 1858, seven years later the President's body lay in state in the Old State Capitol before interment. Enough said, really.
Starved Rock State Park
RV or motorhome rentals in Chicago can get to Starved Rock State Park in around 90 minutes, giving you plenty of time to drift through unique geological formations, spectacular waterfalls and white, red and black oak trees. It's like all the best scenic drives in Illinois' have come together for a party.
Abraham Lincoln Presidential Library & Museum
Pretty self-explanatory on the one hand, but with the added bonus of allowing museum visitors to get a more 'hands-on' journey via stunning exhibits, theatre presentations and clever technology.
For those seeking a more traditional, contemplative, experience you'll need to head over to the superb Abraham Lincoln Presidential Library & Museum.
Blaum Bros Distilling Co
Can you tell your Straight Bourbon from your Straight Rye? Learn and discover the magic of Bloom Brothers distillery by joining the two founding brothers who quit their day jobs in 2013 to pursue their dream. Obviously, leave the RV or Motorhome rental in your campground for this one.
Brookfield Zoo
Aka Chicago Zoo, which means 450 species in an area about the size of 163 NFL football fields. Brookfield Zoo have got big cats, bears, birds, reptiles and a load of surprises with animals from all over the world. Informative and fun for everyone and just 14 miles west of downtown Chicago.
Best Campgrounds & RV Parks near Chicago
If you're after a comprehensive list of the best campgrounds and RV parks near Chicago, you're in the right place. Here are four options that cover everything from the tranquil, to kid/pet friendly and, maybe, even a few surprises as well.
Kankakee South KOA
425 East 6000S Road, Chebanse, IL 60922, United States
You don't often get Friday night stock racing as a feature when examining the best campgrounds near Chicago, but Kankakee South KOA does, along with a pool, playground, games courts, shade under one of the oak trees and more.
There's ample space for your motorhome or RV and they even have a dog park.
Chicago Northwest KOA
8404 South Union Road, Union, IL 60180
You got to hand it to KOA when it comes for stuff to do for the kids: Frisbee Golf, Gem Mining, Jump Pad, Gagaball, Polipong… No, we don't know either, but it sounds fun!
Either way, at Chicago Northwest KOA long pull-through RV sites will delight drivers with big rigs.
Enchanted Shores RV Park and Campground
11018 West Wilmington Rd, Peotone, IL 60468
After a day's self-driving in the USA, how about a spot that boasts a bit of peace and quiet? Enchanted Shores RV Park and Campground has more mother nature and cosy campfires, less boisterous theme parks and noisy swimming pools and a good range of accommodation for your RV/motorhome and all who sail in her.
LaSalle/Peru KOA
756 North 3150th Road, North Utica, IL 61373
Ever heard the phrase 'spoilt for choice?' At LaSalle/Peru KOA there are over half a dozen choices of pull-through sites to suit the dimensions and requirements of you and your motorhome or RV. Choose between grass and concrete, shade or roadside with a load of great on-site facilities.