Santiago de Compostela
Santiago de Compostela, Spain
Follow the Pilgrims Way by Motorhome Rental
The traditional 'way of the pilgrims' departs from St. Jean Pied de Port in southern France near the northern Spanish border. Many people still prefer to walk the ancient footways to Santiago de Compostela, which take them weeks and even months depending on the route.
Thus, the nearest pickup point for a RV rental vehicle we recommend is at Pamplona, only 75 kms away in Spain. Alternatively Bilbao is another good option, on the Spanish coastline some 200 kilometres away on good roads. The pretty town of St. Jean Pied de Port has numerous street cafés for cakes and coffee. Then it is time to head roughly southeast for Roncesvalles a short distance away.
Day One: St. Jean Pied de Port to Oviedo
The road from St. Jean Pied de Port to Santiago de Compostela follows close to the north Spanish coastline for some 470 miles / 750 kilometres. You could drive it in a day, but you will not, because you pass through delightful historic hamlets almost guaranteed to distract.
Roncesvalles was the site where Spanish Basques destroyed part of Charlemagne's army in 778. Many pilgrims rest their feet and have their passports stamped in the pretty little chapel… but we drive on to Oviedo approximately halfway to Compostela.
We bypass Pamplona on the ring road before continuing on to a magnificent viewing site at Puerta de Perdón high in the hills, where there are metal silhouettes of mediaeval pilgrims on their journey. We half enjoy the jealous looks of motorists as we open our picnic table and brew a fresh pot of tea. Then we overnight further on at the ancient town of Oviedo founded by two monks in 761 as a pilgrims' refuge.
Day Two: Oviedo to Santiago de Compostela
We leave promptly after an early breakfast, increase our pace, and bypass numerous hamlets on the 190-mile / 300-kilometre second leg of our journey. Seeing increasing numbers of pilgrims walking along the roadside adds to our excitement. Our first impression of Santiago itself is a maze of highways and roads. Once past them, we park our motorhome and walk the last few hundred meters in thoughtful silence.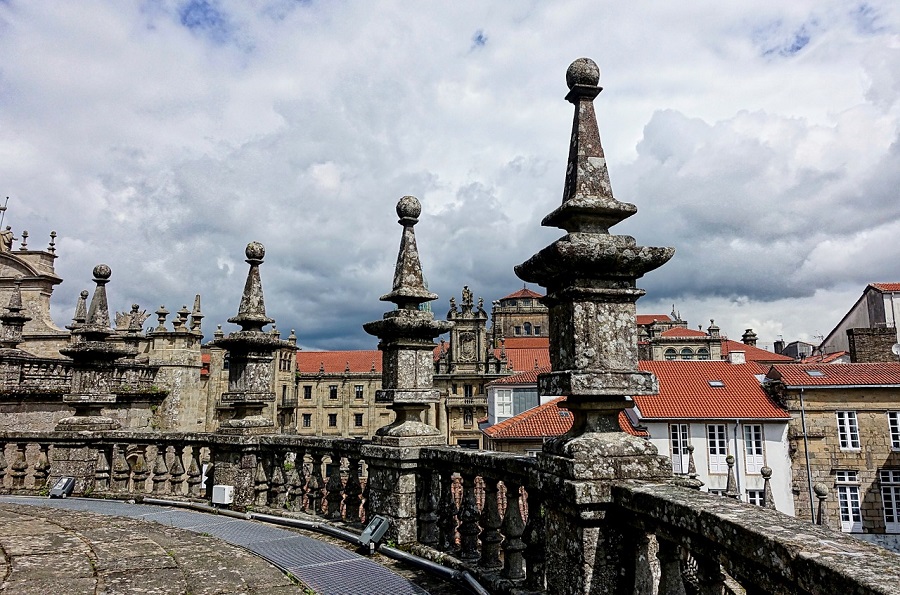 The narrow cobbled streets and ancient buildings lining them seem to beckon us to the massive cathedral. Religious or not, the stones have an awe-inspiring, yet calming presence. The building, marking the supposed burial site of an apostle is not the prettiest structure we have seen, but it quite something to visit, and see the crowds going in and out through massive wooden doors. We purchase a traditional scallop shell, and head for a welcoming campsite for the night.
Onward to Lisbon to Return the Rental
We decide to follow the west coast of Spain and Portugal heading south, as there is no convenient recreational vehicle drop-off near Santiago de Compostela. We stretch our journey of 335 miles / 530 kilometres to Lisbon over three days, overnighting at Porto, Figueira da Foz, and Lisbon where we return the motorhome rental to Lisbon airport.