Pacific Highway
Pacific Coast Highway USA
Monterey to Morro Bay via Big Sur
Come and enjoy one of the world's best scenic drives as you make your way down the magnificent Pacific Coast Highway USA, or Route 1, from Monterey to Morro Bay in California or vice versa.  The drive can be completed in about 5 hours at a leisurely pace, but if you would like to stop and do some exploration along the way it would be better to give yourself a couple of days.  It is a great drive to undertake in a compact campervan or mid-size RV, but the narrow shoulders and steep drop-offs that you will encounter from place to place make it tricky for oversize vehicles, and it should only be undertaken by experienced RV drivers if you have one of these; larger RV's are also advised to drive the route from South to North, to make the hair-raising drop-offs a little less scary!
If you set out from Monterey (in the North) you can be in the colourful and arty town of Carmel in just under 5km.  Carmel is home to the famous Pebble Beach golf club and there is quite a bit to see in the village before you continue on your way, and just 6kms further on you will come to the Point Lobos State Reserve, the country's first undersea ecological reserve – well worth a visit.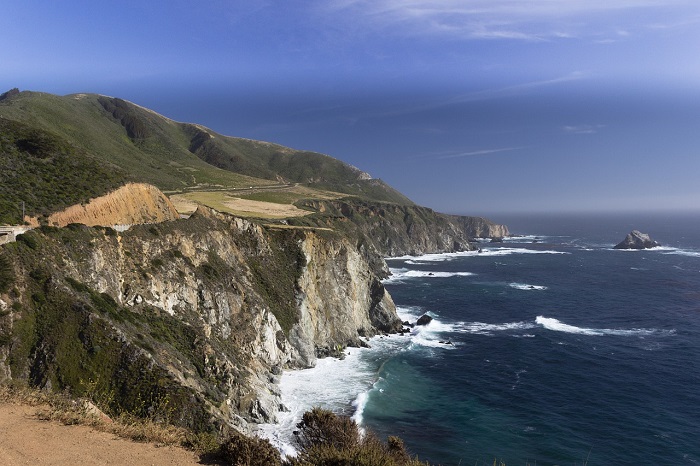 Big Sur
Shortly after leaving here you will get to the most scenic section of the drive, the start of Big Sur which extends for 145kms to San Simeon, California. This is the awe-inspiring sector of the journey – be sure to stop often to appreciate the incredible views that unfold around each bend in the road – redwoods reaching skyward on one side, pacific waves crashing on the other.
Soon you will reach Bixby Bridge, where the road seems suspended high above the coastline. Once you have crossed the 200mt expanse you will soon drive through Big Sur (a great place to stay overnight) and reach the Pfeiffer State Park and the white sands of Pfeiffer Beach. The road continues to hug the coastline as you pass Lucia, Plaskett, Gordo and Ragged Point, before veering inland to San Simeon. You can visit Hearst Castle here or find Seal Beach where you can watch hundreds of Elephant Seals basking and playing. The end of the route is Morro Bay, a charming little fishing harbour.
There are many great places to park overnight, and the Kirk Creek Campground at Big Sur is one of the best – right on the beach with the waves lapping just nearby and outstanding views.