Alaska Motorhome Rental
Compare RV Rentals & Campervan Hire in Alaska
America's "Last Frontier", Alaska embodies wildness unlike any other U.S. state. With an Alaska RV rental, you can explore some of the largest undeveloped wilderness areas in North America, including a number of spectacular national parks, as well as amazing state parks and historic mining or fishing towns.
As far as RV travel in Alaska goes, most of it is concentrated around southern Alaska—specifically the greater Anchorage area and the region between Anchorage and Fairbanks. That is, however, where you can find several world-class road trip destinations like Denali National Park, Kenai Fjords and the Seward Highway, among lots more.
On this page, we will tell you all about renting an RV in Alaska. We cover everything from the types of RV you can rent in Alaska to where to pick up your Alaska RV hire, the top places to visit, recommended campgrounds and the most scenic driving routes. Continue reading to plan the self-drive RV holiday in Alaska of your dreams.
Alaska is a land of many superlatives. The largest state in the US is the least densely populated, home to the northernmost city in the US (Barrow), home to the highest point in North America (Mount McKinley), the country's last frontier, and at two cents an acre, the greatest bargain in the United States real estate at the time of its purchase. Alaska is indeed great in so many ways. After all; the word comes from the Aleutian "Alyeska" meaning the "great land." Book and compare your Alaska motorhome rental, campervan hire or RV rentals online to get the best and cheapest deals on recreational vehicles (RV) rentals in Alaska.
Types of Alaska RV Rental Vehicle
No matter what kind of self-drive holiday in Alaska with an RV you are planning, you should be able to find the perfect vehicle. Every type of RV is available for hire in Alaska, from smaller class B and popular class C to luxurious class A motorhomes. Adventurous visitors who would like to immerse themselves even more in the Alaskan wilderness can even rent a sturdy truck camper in Alaska.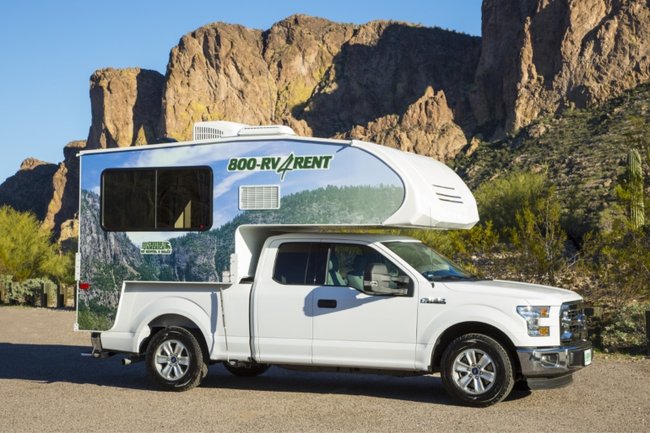 Truck Camper
For an unforgettable off-the-beaten-path—quite literally—road trip in Alaska, you will need a 4WD RV that can manage rough roads and steeper terrain. Luckily, such a vehicle does exist!
You can hire a truck camper in Alaska for the ultimate wilderness experience. These vehicles are basically a combination of a regular pickup truck and an RV-like living and sleeping cabin, which is installed directly into the truck bed.
Class B Campervan Hire
Class B RVs also provide you with the opportunity to explore Alaska's river valleys, mountains and forests, allowing you to get to places that the bigger class C and B motorhomes simply can't access. Easier to drive and manoeuvre, and more fuel-efficient, than larger RVs, class Bs are an upsized campervan, equipped with all kinds of camping and cooking gear and comfy beds.
Small enough to fit in a typical street or garage parking spot, these RVs can also manage narrower roads, steeper grades and sharper turns than most other RVs. For a memorable van-life experience in Alaska, this is a great choice.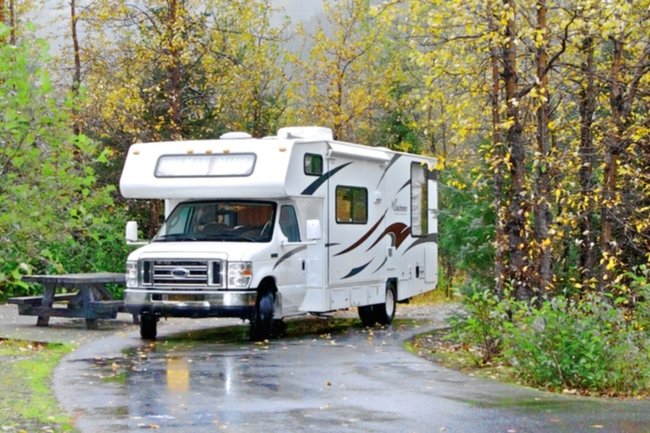 Class C Motorhome Rental
The most popular type of Alaska RV rental, class C motorhomes hit that sweet spot between space, comfort and affordability. Class C RVs come in a variety of sizes and capacities, but generally, they are ideal for road tripping families, groups of friends and couples who want more space to hang out, cook and sleep when renting an RV in Alaska.
They have all the amenities you can expect from a large rental RV, but offer better gas mileage than the huge class A motorcoaches. Class C RVs are easily recognized by their design, which features an upper storage or sleeping area that extends over the motorhome's cab. Although bigger, driving a class C RV is similar to driving a large van.
Some types of class Cs are non-slide out, but many—if not most—class C RV rentals in Alaska do have some kind of slide out, either single or twin.
Slide Outs
Most modern class C and A RVs have one or more slide outs. These features make the interior space of the motorhome larger—sometimes significantly larger—when parked. As the name itself suggests, slide outs literally slide out from the side of the vehicle. They can enlarge a bedroom or living room area, or even both, depending on the type of Alaska RV rental you choose.
When renting an RV in Alaska, these are the different types of slide outs that are available:
Non-Slide Out: Non-slide out RVs have no slide outs.
Single Slide Out: Single slide out RVs have one slide out on one side of the vehicle.
Twin Slide Out: Twin slide out RVs have a single slide out on both sides of the vehicle.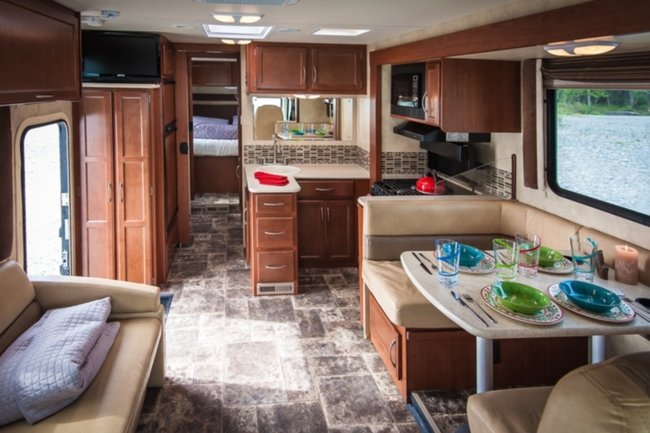 Class A RV Rental
The largest kind of RV rental in Alaska, class A motorhomes are also the most luxurious—and expensive. However, for the larger rental price tag, you do get amazing comfort, interior space and fantastic amenities. Designed similarly to commercial buses and trucks, these RVs provide plenty of sleeping, eating and relaxing space. Some of them even have full bathrooms and kitchens.
Therefore, class A motorhomes resemble an actual bus, rather than a large van, which is why they are sometimes referred to as motorcoaches. They have a large panoramic front window and offer full passenger access to the entire vehicle while driving.
Anyone who is looking for that "home away from home" feeling while road tripping in Alaska will find it in a class A RV. On top of that, as large as they already are, many of them also have a single slide out, which offers even more interior space at your campsite.
RV Rental Locations in Alaska
You can rent an RV in Alaska in a handful of different places. Most of them are on the south or southeast coast—Anchorage, Seward, Skagway and Whittier—while you can also pick up your Alaska RV rental in Fairbanks, which is the largest town in the Alaskan interior.
Wherever you choose to start your road trip in Alaska, you will have plenty of options for adventure and sightseeing. Each town has its own nearby nature parks, scenic driving routes and wildlife viewing opportunities. Below, we describe the five locations where you can rent a motorhome in Alaska.
Anchorage, AK
Located on the Cook Inlet in south-central Alaska, Anchorage is the state's largest city and major tourism hub. It is well-known for its cultural attractions, such as the Alaska Native Heritage Center, as well as its proximity to breathtaking nature at places like Chugach State Park.
Anchorage is the northern end of the Seward Highway, which runs south to Seward and Kenai Fjords National Park. Additionally, the city is also the main gateway to interior southern Alaska's famed national parks, including Denali and Wrangell-St. Elias, the largest national park in the USA. Home to the only Cruise America depot in Alaska, Anchorage is probably the most strategic and convenient place to pick up (and drop off) your vehicle when renting an RV in Alaska.
Leading Anchorage RV Rental Brands: Cruise America, Clippership RV
Fairbanks, AK
With a population of just over 30,000 people, Fairbanks is the largest town in the Alaskan interior. It is the gateway to the vast wildernesses of inland Alaska.
As the main centre of transportation in this huge area, Fairbanks has excellent railroad, air and road connections to other places in Alaska and beyond. Home to Clippership RV depot, it is a great starting point for adventurous RV road trips around central Alaska.
Fairbanks RV Rental Brands: Clippership RV
Seward, AK
A must-visit destination on a road trip in Alaska with an RV, Seward is also a possible starting point for your self-drive holiday. The southern terminus of the amazing Seward Highway, it is home to Clippership RV depot.
When visiting this vibrant port town on the south-central coast, you can explore breathtaking Kenai Fjords National Park on kayaking excursions or boat tours, walk on massive glaciers, and see iconic wildlife like puffins, Steller sea lions and whales.
Seward RV Rental Brands: Clippership RV
Skagway, AK
Alaska's oldest incorporated city, Skagway used to be the "Gateway to the Klondike" during the Klondike Gold Rush in the Yukon. Now a popular cruise destination in the spectacular Inside Passage, Skagway also serves as the starting point for road trips to the Yukon.
There's only one road in and out of the town, Route 98 (Route 2 in Canada), which runs deep into the heart of Canada's northern wilderness and connects to the famous Alcan Highway near Whitehorse.
Skagway RV Rental Brands: Clippership RV
Whittier, AK
A popular stop on the Alaska Marine Highway System, the small coastal town of Whittier is about 60 miles southeast of Anchorage.
Located on the western shore of Prince William Sound, the town itself has little to offer to tourists besides the Clippership RV depot and connections to other destinations in southern Alaska.
Whittier RV Rental Brands: Clippership RV
Routes for Alaska Campervan Rental
There are two ways to get a dose of the great Alaskan wilderness on a recreational vehicle. One is to fly to Anchorage and rent a motorhome in Alaska; then hit the road northwards to Fairbanks Alaska. Afterwards journey back down to Prince William Sound, and finally travel west to fly back home from the take-off point.
Another is an arduous overland journey from the state of Washington, across Canada's Yukon on ALCAN Highway, and finally farther up to Seward Highway, making a final stop at Kenai Peninsula in an RV rental in Alaska. If you are prepared to slog it through 2,400 miles of recreational vehicle driving, then this epic journey is befitting an RV nomad who wants to leave everything behind – at least for the moment – and embark on aimless wandering through glaciers and mountains, prairies and taigas, placid ponds and stormy fjords.
RV Hire Alaska Route:
Anchorage-Fairbanks-Valdez-Anchorage
Anchorage is the United States' most populous northernmost city (although it is technically a municipality); and therefore a great jump-off point on your Alaska campervan hire adventures. Here, you can arrange for an Anchorage, Alaska RV rental, stock up on supplies and sundries, and perhaps socialize as much as you can before heading off into uninhabited territories for days on end.
From Anchorage, Denali is only 125 miles north, home to Mount McKinley (also known as Denali) National Park. Fairbanks is 250 miles further north, and only 120 miles south of the Arctic Circle; making it – in fact, touted – an ideal spot to watch the magnificent Northern Lights.
Drive your Alaska RV rentals or campervan hire down south to Copper River Valley, 250 miles from Fairbanks, to witness the annual salmon run. Then it's off to Valdez, 131 miles south of the "salmon route," for a stunning view of Prince William Sound. From the confines of your motorhome rental in Alaska, hop on board a cruise on the Sound and an up close encounter with seals, sea otters and whales.
Finally, it's the last 300 miles of westward driving back to Anchorage for your flight back home. You will be sore all over from all the bumps in the road; but you will surely be enchanted to come back for more, perhaps even for good.
Top 15 Attractions in Alaska
America's "Last Frontier", Alaska is a place of sprawling wilderness areas, towering mountain peaks, pristine lakes, wild rivers, rugged coasts, massive glaciers and a magnificent diversity of wildlife. In short, this is a great destination to experience true wildness and immerse yourself in spectacular nature.
So, it shouldn't come as a surprise that most of the state's top attractions to see and visit with your Alaska RV rental are natural. Alaska is home to no fewer than eight national parks, including several of the remotest, wildest, largest and least visited in the USA. On the other hand, this is also where you can find Denali National Park and Kenai Fjords, both extremely popular tourist destinations.
Below, you will find Alaska's greatest attractions and highlights. Check them out and try to include as many as you can in your Alaska RV hire road trip.
Denali National Park
Centred on the highest mountain in North America, which is also the park's namesake, Denali National Park preserves a huge tract of wilderness north of Anchorage. It is known for its vast tundra, glaciers and spruce forests, as well as abundant wildlife, such as wolves, caribou, grizzly bears and moose.
There is only one road in this spectacular park, while several campgrounds in and around the park provide you with a place to set up camp with your Alaska RV rental.
Chugach State Park
Located at Anchorage's doorstep, Chugach State Park encompasses towering mountain ranges, pristine lakes and rivers, and dense forests. Home to bears, moose, Dall sheep and dozens of other animals, no other wildlife-rich park is so close to a major city as Chugach State Park.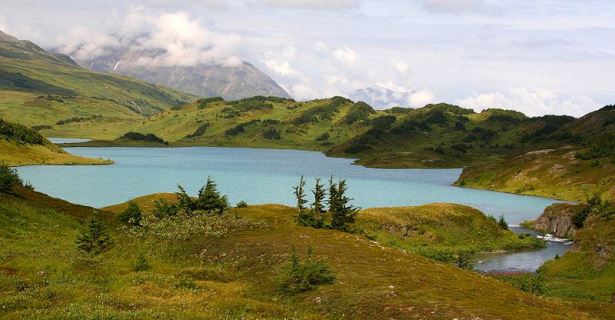 The scenic Seward Highway passes by this park, while you can also literally hike into the park from Anchorage itself.
Wrangell-St Elias National Park & Preserve
As large as six Yellowstones, Wrangell-St. Elias National Park is by far America's largest national park. It encompasses a vast area of glacier-clad mountains, wide river valleys and forests, which extends from just east of Anchorage to the Canadian border.
The meeting points of four major mountain ranges, the park is home to nine of the sixteen highest peaks in the USA, including towering Mount St. Elias. Visitors can explore historic mining sites, go day hiking, boating, fishing and mountaineering. Note that the two roads into the park are both gravel roads. They are usually passable to all vehicles in summer, but make sure to check beforehand.
Kenai Fjords National Park
Located on the Kenai Peninsula, just west of Seward, Kenai Fjords National Park is one of Alaska's most visited parks. The place "where mountains, ice and ocean meet", it offers a wide variety of activities, from glacier hiking to sea kayaking and marine wildlife viewing excursions.
Kenai Fjords National Park is home to the famed Harding Icefield, as well as the majestic Exit Glacier. There is one campground in the park, which is tent-only. You can set up camp with your Alaska RV rental at other nearby campgrounds, though.
Klondike Gold Rush National Historical Park
Made up of four units—one in Seattle, Washington and three in Skagway, Alaska—the Klondike Gold Rush National Historical Park tells the story of the late-1890s Klondike Gold Rush in the Yukon.
The Alaskan coastal town of Skagway served as the gateway to these goldfields at the time and now much of its historic town centre is preserved as a national historical park. Attractions include the White Pass & Yukon Route Railway Broadway Depot, the Mascot Saloon, and the Chilkoot and White Pass Trails.
Northern Lights
One of Mother Nature's most breathtaking phenomena, the ethereal Northern Lights are visible in the Alaskan night sky from early-fall to late-spring.
The best Northern Lights viewing period is from November through January. You have the best chance to see them in Fairbanks and further north above the Arctic Circle.
Mendenhall Glacier
Only about a dozen miles from downtown Juneau, the Mendenhall Glacier is the most famous feature of the Juneau Icefield.
This 13-mile-long glacier can be viewed from the historic visitor centre, while trails offer visitors the opportunity to immerse themselves in this spectacular landscape and view wildlife.
Alaska Wildlife Conservation Center
At milepost 79 of the Seward Highway and the entrance to the Portage Valley, you will find the Alaska Wildlife Conservation Center. A recommended stop on an Alaska motorhome road trip, this non-profit research, conservation and education organization is home to many iconic Alaskan animals.
There is arguably no better place to learn about Alaska's wild animals than the AWCC. Here, you can see grizzly bears, wood bison, coyotes, moose, reindeer, muskoxen and more others safely in a natural setting.
Alaska SeaLife Center
Set on the shore of Resurrection Bay in Seward, the Alaska SeaLife Center is the only permanent marine mammal rehabilitation centre in the state.
It is also Alaska's main public aquarium, home to a wide range of wildlife, from puffins and octopuses to Steller sea lions and harbor seals.
Alaska-Canadian Highway
Also known as the Alaska Highway or Alcan Highway, the Alaska-Canadian Highway runs through western Canada and connects the contiguous United States and Alaska. It is one of the great driving routes in North America, a 2,200-mile adventure across some of the world's wildest landscapes.
The Alaska Highway runs from Dawson Creek, British Columbia to Delta Junction, Alaska via Whitehorse, Yukon. This epic highway ends at the Richardson Highway, which continues to Fairbanks.
Seward Highway
A scenic 125-mile highway between Anchorage and Seward, the Seward Highway is one of Alaska's most scenic driving routes. You can drive its entire length easily in just one day, but there are enough attractions along the way for several days of exploration.
From the Turnagain Arm and the Chugach Mountains to the Alaska Wildlife Conservation Center and the Exit Glacier, this highway is an absolute highlight of any Alaska RV rental road trip.
Dog Sledding
Alaska is, of course, home to the iconic Iditarod Trail Dog Sled Race. You don't, however, have to be an expert dog musher to experience the thrill of dog sledding in Alaska. There are various places where you can do on dog sledding trips, whether it is a one-day or multi-day outing.
This fun activity is possible throughout the year. While winter's snowpack makes for ideal conditions, in summer you can go dog sledding on glaciers. This is arguably the most "Alaska" thing you can do on your RV road trip.
University of Alaska Museum of the North
Set on the campus of the University of Alaska Fairbanks, the Museum of the North is a fantastic place to visit in inland Alaska.
The museum's award-winning exhibits cover everything from Alaska's wildlife and wild places to stories about the people of Alaska and contemporary Native Alaskan art. A must-visit attraction on any self-drive holiday with an RV in central Alaska.
Portage Valley
The Portage Valley is a 14-mile-long isthmus connecting the Kenai Peninsula to the Alaskan mainland.
Not so long ago covered by the massive Portage Glacier, the valley is now crossed by the Seward Highway and offers world-class glacier viewing, wildlife watching, hiking, boating, fishing and other outdoor activities.
Dalton Highway
Sometimes called "the loneliest road", the Dalton Highway is suitable only for experienced, well-prepared and adventure-minded road trippers. Running for 414 miles from just north of Fairbanks to Prudhoe Bay on the north coast of Alaska, this mainly gravel road—sometimes in quite a bad condition—cuts through the heart of the northern Alaskan wilderness.
There are only three small towns along the way, while one 240-mile stretch has no facilities at all. You could drive the Dalton Highway with a well-equipped 4WD campervan, but taking a large Alaska RV rental on this road is a bad idea.
Best Time of Year to Visit Alaska in an RV
Alaska is a glorious destination year-round. From winter's dog sledding and Northern Lights viewing to the wildflowers, midnight sun, wildlife watching and outdoor recreation of summer, there is always something to do in Alaska.
However, that said, when visiting Alaska with an RV, some months are undeniably better than others. Check out the best time to RV in Alaska below.
Spring
Spring doesn't arrive in Alaska until sometime in May and is quite a short season. This time of year still has lots of snow on the ground, but is also a good period to see wildlife emerging from wherever they overwintered.
Wildflowers start to bloom, rivers grow in size and volume, waterfalls are spectacular, and animals abound. Late-spring, from mid-May to mid-June is a nice time to explore Alaska with an RV in peace and quiet, before the summer crowds arrive.
Summer
The Alaskan summer is pretty short, but comes with an explosion of activity. From mid-June to mid-August (which kicks off the fall season in Alaska), Alaska is an amazing destination for all kinds of outdoor pursuits. This is arguably the best time to rent an RV in Alaska for most activities.
From wildlife viewing excursions and boat tours to fishing, camping, scenic driving, kayaking, rafting and much more, summer in Alaska is phenomenal. June 21 is the longest day of the year in Alaska—Anchorage has 19 hours of daylight and Fairbanks 22 hours that day. Doing an outdoor activity like hiking or even golfing at midnight is a unique experience.
Fall/Autumn
The fall season in Alaska starts as early as mid-August and runs through September. September is a beautiful month to visit Alaska and rent an RV for a few reasons.
It is much quieter this time of year than mid-summer is, while fall foliage in the national parks is gorgeous. Evenings may be chilly in fall, but there is also a good chance of seeing large wildlife foraging hungrily before winter sets in again.
Winter
Although many major highways and some campgrounds remain open through winter in Alaska, this may not be the greatest season to go on a self-drive RV holiday in Alaska. If you do decide to visit in winter, which is roughly from November through April, you can enjoy world-class Northern Lights viewing, unforgettable dog sledding excursions, snowmobiling and skiing.
Remember that December and January are the darkest months, with only a few hours of daylight per day, so it may be a better idea to visit in November, February or March. 
Best Alaska RV Parks
You will find several excellent RV parks and campgrounds in and around Alaska's major towns, from Seward to Anchorage and Fairbanks. Many campgrounds line the state's scenic highways between those towns, too, offering road trippers a convenient and comfortable place to spend the night.
Additionally, state and national parks usually also have at least one campground, but make sure to check in advance if they can accommodate RVs. Below, we have selected a handful of the best Alaska RV parks.
Riverview RV Park, Fairbanks
If you are looking for a place to camp with your RV near Fairbanks, check out the Riverview RV Park. Located halfway between Fairbanks and North Pole, this family-owned-and-operated RV campground has 160 campsites, 154 of which have full hook-ups.
Additionally, guests can enjoy free cable TV and Wi-Fi, use the laundry facilities and play some midnight sun golf at the three-hole Pitch 'n' Putt Golf green.
Golden Nugget RV Park, Anchorage
Open year-round, the Golden Nugget RV Park in Anchorage is a great basecamp to explore the natural beauty of the greater Anchorage area. While located close to downtown malls, restaurants and bars, this RV park is also just a quick drive from pristine forests, majestic mountains and iconic wildlife.
There is a total of 215 sites, which include 34 large pull-through sites for big rigs and 87 back-in sites for smaller motorhomes.
Denali RV Park & Motel
Denali National Park is a major destination for many people who rent an RV in Alaska. One of the best campgrounds near this breathtaking park is the Denali RV Park & Motel, situated mere minutes from the park entrance.
This campground offers spectacular views and great hiking trails, as well as several RV campsites and motel room-style accommodation. It boasts 82 full hook-ups sites with cooking areas and access to laundry facilities. Wi-Fi is available, too, but can be unreliable due to the remote location.
Seward KOA
Opened to campers in 2019, the Seward KOA is one of the newest and most modern RV campgrounds in Alaska. Big rig-friendly, this campground has large pull-through sites and full hook-ups.
Amenities include free showers with heated floors, laundry facilities, Wi-Fi, a tour shuttle and a dog park. It is only five minutes from both downtown Seward and the imposing Exit Glacier.
Haines Hitch-Up RV Park
Located near the north shore of the Inside Passage, the Haines Hitch-Up RV Park is the best place to camp in this remote part of south-eastern Alaska. Haines is the terminus of the scenic Haines Highway, which runs to Canada and is the only road in and out of the town.
If you are planning an off-the-beaten-path road trip with your Alaska RV rental, this is a great place to come and stay. Popular activities are exploring Native Alaskan culture, salmon and trout fishing, bear viewing and boat tours to Skagway and Juneau.