Seattle RV Rental, Washington, USA
Book Motorhome Rentals & Campervan Hire in Seattle
A centre of everything from entertainment and commerce to food and transportation, Seattle is one of the best places to start an RV road trip in the Pacific Northwest. With a Seattle RV rental, you can explore this amazingly diverse part of the USA at your own pace. You get to visit three majestic national parks, explore stunning coastlines, hike on mighty volcanoes and wander through pristine rain forests.
Famous for its music scene and coffee culture, Seattle is an outdoorsy city surrounded by beautiful nature. From the nearby Olympic Peninsula to the Puget Sound, from the North Cascades to Mount Rainier, renting an RV in Seattle allows you see it all. History buffs and culture-seekers will also have plenty of choices on their motorhome road trip from Seattle, including places like the Boeing Factory and the vibrant mountain town of Leavenworth.
On this page, you will find all the Seattle RV rental basics. We will tell you all about the best RV rental companies in the city and recommended campgrounds. At the end, we have a shortlist of the top destinations near Seattle to visit on your self-drive RV holiday.
The birthplace of grunge rock and Starbucks; Seattle in Washington, USA is the largest city in the Pacific Northwest; and its ports the second largest cargo handler in the United States. Home to Native Americans for 4,000 years before the arrival of the first Europeans; Seattle is still occupied by the Duwamish people along with newcomers from all over Europe, Asia and Africa. Seattle is poised to become a more cosmopolitan city in the next 20 years. book and compare Seattle RV rental, campervan hire or motorhome rentals; for a self-drive camping vacation on America's west coast.
Top RV Rentals in Seattle, Washington State
As the unofficial capital of the Pacific Northwest, Seattle has a major international airport, as well as great bus and railroad connections. Once you're there, you can rent an RV in Seattle from a handful of companies.
If you are looking for a large motorhome for a family road trip in style and comfort, major companies like Road Bear RV and Cruise America will have exactly what you need. On the other hand, for a memorable van-life experience in the beautiful Pacific Northwest, check out Seattle campervan rental companies such as Britz and Escape. You will find all of them below.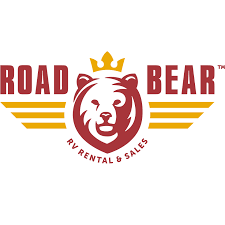 Road Bear RV
Road Bear RV is one of America's biggest and most-used RV rental companies. With depots all across the country, including Denver, New York, Los Angeles and Seattle, they cater to a wide range of customers and road trippers. Their fleet features the newest luxury motorhomes in the industry, including a luxurious Class A model and several types of Class C RVs.
This company has become as popular as it is thanks to its exceptional customer service, 24/7 roadside assistance, knowledgeable and helpful staff, and well-equipped vehicles. Additionally, when planning your RV vacation from Seattle, you can find a wealth of travel tips and info on their website.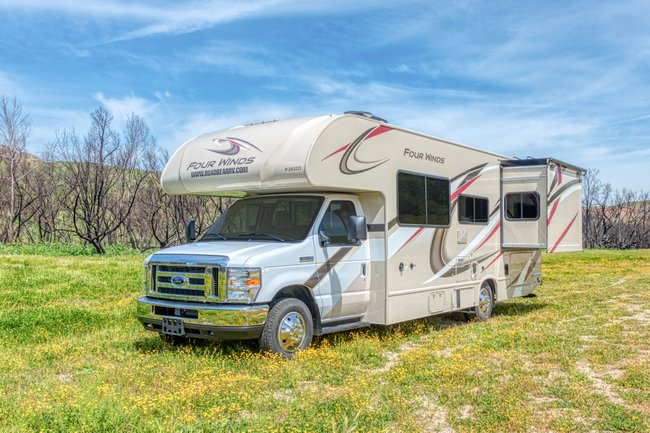 Class C Motorhome Rental
Road Bear's Seattle RV fleet includes four different types of Four Winds Class C motorhomes built by Thor Motor Coach. Each model has modern RV amenities like a kitchen microwave and fridge/freezer, a few different sleeping areas and a bathroom with toilet and shower. The only major things that distinguish these high-quality RVs are their length and sleeping capacity.
21-23' non-slide Class C RV: sleeps up to 4 adults
22-24' non-slide Class C RV: sleeps up to 5 adults
25-27' Class C RV with slide out: sleeps up to 4 adults and 2 children
28-30' Class RV with slide out: sleeps up to 5 adults and 2 children
Class A RV Rental
When it is resort-level luxury you want during your Seattle RV road trip, check out the luxurious Class A RV from Road Bear. Equipped with a slide out, this spacious 30-32' RV has many amazing features, including showers, air-conditioning, a full kitchen, huge LCD TV. Its four beds offers plenty of room for up to 4 adults and 2 children.
Seattle RV Rental Depot: Road Bear RV Rentals, 1541 S 96th St, Seattle, WA 98108, USA
Located 8 miles/12 km from Seattle-Tacoma International Airport (SEA), or 8 miles/13 km from downtown Seattle.
Road Bear RV Seattle office hours:
Monday to Friday:

Pick Up: between 1pm and 4pm
Drop off: between 8am and 10:30am

Saturday: By appointment
Sundays & Public Holidays: Closed
Included with Standard Rate:
Free transfer
24 hour assistance
Tourist information/Maps
0-2 years old

Cruise America
If you rent an RV in Seattle with Cruise America, you can enjoy the stunning Pacific Northwest scenery in one of the most iconic rental recreation vehicles in the USA. Cruise America is arguably the best known RV rental company in the entire country, with dozens of locations all across the USA.
The Seattle RV rental process with Cruise America is as easy as it gets. They will help you with all aspects of RVing, from renting the actual vehicle to creating the perfect itinerary. Their free app helps you on the road by providing you with all kinds of information about RV campgrounds and their amenities.
Class C Motorhome Hire
The three Cruise America RVs you can rent in Seattle are all Class C vehicles. Designed and built to offer comfort and luxury on the road, they are easy to navigate and operate—ideal for a worry-free self-drive RV holiday in the American Northwest. These well-appointed Class C RVs are pet-friendly and have similar amenities. Those range from a generator and air-conditioning to a bathroom with toilet and shower, and a kitchen equipped with a gas cooktop, fridge and microwave.
Compact 19' Class C RV: sleeps up to 3 people
Standard 25' Class C RV: sleeps up to 5 people
Large Class 30' C RV: sleeps up to 7 people
Truck Camper Rental
The Pacific Northwest is home to some of America's greatest parks and forests, home to vast wilderness areas. So, if you are planning an off-the-beaten-track trip from Seattle, Cruise America is a great company to look into. They are the only Seattle RV rental company that offers truck camper rentals. Attached to an F-150 pickup truck, they are powerful enough to tackle the steepest drivable terrain, while also being easy to drive—even for first-timers.
Seattle RV Rental depot: Cruise America, 12201 Highway 99, Everett, Washington, 98204
Located 35 miles/56 km from Seattle-Tacoma International Airport (SEA), or 22 miles/35 km from downtown Seattle.
Cruise America Seattle hours:
Monday to Saturday:

Pick Up: 1pm to 4pm
Drop off: 9am to 11am

Closed Sundays and Public Holidays
Included with Standard Rate:
24 hour assistance
0-4 years old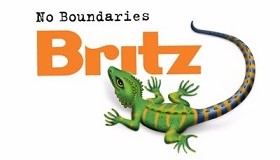 Britz Motorhome Rentals USA
With seven RV rental locations around the USA, from Orlando and New York to San Francisco, Las Vegas and Seattle, Britz Motorhome Rentals is one of the most popular RV rental companies in the country. When you rent an RV in Seattle, the friendly Britz staff will guide you through your vehicles, ensuring that you have all the knowledge you need for a successful and memorable RV holiday.
Currently, all Britz motorhomes are 4-berth models, which are guaranteed to be built no earlier than 2017. They have a bathroom, kitchen with cook stove, microwave, fridge and freezer, a large outside storage space with a camping table, and a shade-providing awning. Rates include everything from towels and bedding to complimentary airport/hotel shuttle, convenience kits and up to 100 miles per day.
Seattle RV Rental depot: Britz Campervan Rental, 1541 South 96th Street, Seattle, WA 98108
Located 8 miles/12 km from Seattle-Tacoma International Airport (SEA), or 8 miles/12 km from downtown Seattle.
Britz RV Seattle office hours:
Monday to Friday:

Pick Up: between 12:30pm and 4pm
Drop off: between 8am and 10:30am

Saturday: By appointment
Sundays & Public Holidays: Closed
Included with Standard Rate:
100 miles per day
Free transfer
Bedding/Linen
Kitchen/Cutlery
24 hour assistance
Tourist information/Maps
0-2 years old
Escape Rentals USA
Rent a campervan in Seattle with Escape Rentals USA and explore the glorious landscapes of the Pacific Northwest. The depot is just 5 miles from the Seattle-Tacoma Airport—they offer one-way rentals, which allow you to pick up your campervan in Seattle and drop it off at any other depot in the USA. Drive down the Pacific coast to California or head inland for Cascade Range and Rocky Mountain scenery.
Escape campervans stand out on America's highways thanks to their beautiful and colourful exterior decorations. Their Seattle campervan fleet consists of two models, both of which can sleep up to five adults. They also come with a kitchen with sink, fridge and stove, plenty of storage space and even a solar-powered battery system.
Seattle Pickup/Dropoff: Escape Rentals, 22834 Pacific Hwy South, Des Moines, WA 98198 USA
Located 5 miles/7 km from Seattle-Tacoma International Airport (SEA), or 17 miles/27 km from downtown Seattle.
Escape Rentals Seattle office hours:
Monday to Sunday

Pick up times: 1pm to 4pm
Drop off times: 8:30am to 10am

Closed Christmas, Memorial Day, Labor Day, New Year's Day, Thanksgiving, and Independence Day.
Included with Standard Rate:
Bedding/linen
24 hour assistance
Tourist info/maps
0-6 years old
Campervan North America
If you are planning your dream national parks road trip in the USA, Campervan North America has the perfect campervan rental for you. Its five pick-up and drop-off locations are chosen specifically because their location near several epic national parks, from Denver and Las Vegas to Bozeman and Seattle.
They offer customers the amazing opportunity to explore America's landscapes off the beaten path. The Campervan North America fleet consists of five different campervan models, which can sleep between two and five adults. This is a great company for a fantastic van-life experience in the Seattle region.
Seattle Pickup/Dropoff: Campervan North America, 204 East Pioneer Street, Kent, WA 98032, USA
Located 11 miles/18 km from Seattle-Tacoma International Airport (SEA), or 20 miles/32 km from downtown Seattle.
Campervan North America Seattle collection times:
Pick Up: 2pm to Sunset
Drop off: 8am to 10:30am
Included with Standard Rate:
Bedding/Linen
Kitchen/Cutlery
24 hour assistance
Tourist info/maps
0-6 years old
Pike Place Market and University District
Because of Seattle's geography, it can be perpetually cloudy when you come between October until May. But this is good excuse to make your first stop on your Seattle motorhome rental at the original Starbucks coffee shop in Pike Place Market, Seattle's farmer's market since 1907.
A surface lot for RV parking is situated across the Seattle Aquarium and within walking distance of the market; putting you within striking distance of other attractions downtown. On a clear day, drive your Seattle camper rental to the Space Needle Observation Deck a mile north for 360-degree views of the city and the spectacular Olympic Mountains in the horizon. Or, you can head half a mile south of the market to Smith Tower Observation Deck, once the tallest building in the west, for fantastic views of the waterfront.
From here, the nearest RV park offering full hook-ups is less than 7 miles north in the University District, which also puts you within quick driving distance on your Seattle campervan rental to the many museums and art galleries that dot the campus and surrounds.
Gold Fever, Microsoft Headquarters and Mt. Rainier
Due to Seattle's ports and its proximity to Yukon territory; it took an active role in the "Klondicitis" of the late 19th century. Less than three miles south of the Museum of History and Industry is Klondike Gold Rush National Historical Park. You can join the Trail to Treasure walkabouts to learn the stories of Seattle's Pioneer Square and Puget Sound historic districts, and the gold fever than engulfed the Northwest Pacific, Canada and Alaska.
You can also drive your motorhome rental or campervan hire across Lake Washington and visit Bill Gates' house on the eastern shore, and drive eight miles northeast to Redmond where Microsoft is headquartered. Redmond is a pleasant district surrounded by numerous parks and Lake Sammamish at the foothills of Cougar Mountain Regional Wildland Park. Mount Rainier, the highest mountain in the Cascades; and the most prominent volcano in the Pacific Northwest; is just 70 miles south on your Seattle RV rental road trip holiday.
It's easy to explore Seattle and surrounds on a Seattle RV rental. International motorhome hire company Road Bear RV; as well as US companies Cruise America, and Escape Rentals all receive booking online and have offices in Seattle. You can book Seattle RV rental, campervan hire or motorhome rentals in Washington State; so as to get the best deals and a cheap RV rental in Seattle.
Top 10 Attractions near Seattle
Few major cities in the USA offer such a variety of nearby attractions as Seattle does. While there is quite a lot of history to discover and food to enjoy in and around the city, Seattle's main drawcard is its proximity to breathtaking nature. Mountain ranges, wilderness coasts, volcanoes and temperate rain forests are all within just a few hours' drive from the city centre.
The opportunity to explore this natural diversity is one of the main reasons many people rent an RV in Seattle. However, because there is so much to see and do, choices will, unfortunately, have to be made. To help you decide on your ideal Seattle motorhome road trip itinerary, we share the ten top attractions near Seattle. Many of these places are must-visit destinations on a first-time RV holiday from Seattle.
Mount Rainier National Park
Centred on the biggest volcano in the Cascade Range, Mount Rainier National Park is one of America's oldest and most popular national parks. Under three hours from Seattle, it offers great hiking, cycling, mountaineering and wildlife viewing. In summer, spectacular wildflowers carpet the high slopes, while abundant huckleberries create a wonderful fall foliage display.
Mount Rainier National Park has three drive-up campgrounds. Cougar Rock campsite accepts RV rentals up to 35 feet, and has a toilet, water and a dump station. The other campgrounds accept smaller RV hire vehicles and do not have any dump stations.
Boeing Factory
The Boeing Everett Factory is the world's largest manufacturing building by volume. Located about 25 miles north of Seattle, this is where Boeing's huge 747, 767, 777 and 787 Dreamliners are built. The facility is open to visitors who can go on tours and see these massive airplanes being constructed. Tours take place seven days a week.
Olympic Peninsula Loop and Olympic National Park
One of the most popular areas to explore with a Seattle RV rental is the Olympic Peninsula Loop. Located across the Puget Sound from Seattle, this large peninsula in northwestern Washington is home to Olympic National Forest and Olympic National Park.
The towering Olympic Mountains are the heart of the region, a roadless wilderness of peaks, lakes, forests and streams. However, Highway 101 loops around essentially the entire peninsula, offering access to its numerous amazing attractions. Olympic National Park, a UNESCO World Heritage Site, is the star of the show, home to Roosevelt elk, temperate rain forests, a rugged coastline and a vast interior wilderness. A plethora of campgrounds dot the region.
Most campsites on Olympic Peninsula limit the size of RV rentals to 21 feet, though a few will take larger RV's up to 35 feet.
Mount St Helens
Situated in the southern half of Washington State, Mount St. Helens is famous for its 1980 eruption, which remains the most destructive and deadliest volcanic event in U.S. history.
Now a natural icon featuring an enormous crater and blast zone, St. Helens is about 100 miles south of Seattle and 50 miles north of Portland, Oregon. Protected as a national volcanic monument, the park now offers historical exhibits, fantastic day hiking and stargazing.
Snoqualmie Falls
One of the most visited single natural attractions in Washington, Snoqualmie Falls draws in 1.5 million people each year.
Only about 30 miles from Seattle, this 268-foot waterfall is exceptionally scenic and can be seen from hiking trails and observation decks. There are several accommodations, restaurants and other tourist attractions nearby.
Wenatchee National Forest
A vast national forest that extends almost 140 miles along the east side of the Cascade Range, Okanagan-Wenatchee National Forest features mountain peaks, forests, alpine meadows, lakes, rivers and valleys.
There are more than 150 picnic areas and campgrounds throughout the national forest, while popular activities are as varied as backpacking, canoeing, cycling, horseback riding, hunting and fishing. Many of the campsites are suitable for campervans, camper trucks and RV rentals.
Puget Sound
A complex inlet of the Pacific Ocean, Puget Sound is an intricate collection of waterways, bays and canals. Seattle sits on its eastern shore, while the Strait of Juan de Fuca and Deception Pass connect it to the open waters of the Pacific.
Puget Sound separates Seattle and the Olympic Peninsula and is a popular fishing, boating, sailing and wildlife viewing destination.
North Cascades National Park
Even though it is only about three hours northeast of Seattle, North Cascades National Park is one of the least-visited national parks in the USA. Protecting a mountain wilderness in northern Washington State, the park is home to jagged peaks, more glaciers than anywhere else in the lower 48 states, gorgeous alpine lakes and abundant wildlife.
There a number of campgrounds in the river valleys, offering easy access to trailheads and lakes. Goodell Creek and Gorge Lake Campgrounds are suitable for small RV rental vehicles; other campsites are only suitable for tents..
Gig Harbor
A popular tourist destination and one of the gateways to the Olympic Peninsula, Gig Harbor is both a town and a bay in the southern Puget Sound.
It is famous for the amazing views of the Puget Sound and Mount Rainier from its historic waterfront, which also has great restaurants and shops. A number of urban and state parks surround this charming seaside town, while Olympic National Park is just a short drive away.
Leavenworth
One of the most popular tourist towns in the North Cascades, Leavenworth is known for its Bavarian-style buildings and alpine vibe.
Front Street is home to restaurants serving traditional German cuisine and beer, while the fascinating Nutcracker Museum has thousands of old nutcrackers. It is part of the Cascade Loop Scenic Byway, which circles around the Cascades Range in northern Washington and is a popular trip with a Seattle RV rental.
Leavenworth is also close to wineries, wildlife viewing spots and North Cascades National Park.
Best Campgrounds & RV Parks near Seattle
Surrounded on all sides by spectacular nature, from the islands of the Puget Sound to the Olympic Mountains and mighty Mount Rainier beckoning in the distance, Seattle has no lack of great camping options. There are numerous state parks, national forests and three national parks within just a few hours of the city. All of them offer world-class camping experiences, many able to accommodate both tents and large RVs.
In case you are searching for campgrounds closer to Seattle, we have selected and discussed the five best ones below. Set up camp at these Seattle RV parks or campgrounds on your way out of the city, or use them as a convenient base to explore Seattle and its surroundings.
Lake Pleasant RV Park
24025 Bothell Everett Hwy, Bothell, WA 98021, United States
Located just north of Seattle, Lake Pleasant RV Park is a family-owned RV park with over 30 years of experience. All sites are a short walk from a small lake, while some are actually on the lakeshore.
Lake Pleasant is a great base camp for trips to the wining and dining scene in Woodinville or the urban attractions of Seattle. Amenities include Wi-Fi and cable TV, full hook-ups, catch-and-release fishing opportunities, hiking trails and a tourist information centre.
Eagle Tree RV Park
16280 WA-305, Poulsbo, WA 98370, United States
The Eagle Tree RV Park is on the beautiful Kitsap Peninsula, a place filled with state parks, wineries and craft breweries, trails and beaches. It is just a short drive from the Seattle Ferry, the Puget Sound, Hood Canal and the Olympic Peninsula.
Surrounded by huge cedar trees, Eagle Tree's amenities include a clubhouse with full kitchen, coin-operated showers, free Wi-Fi, laundry facilities and a variety of RV sites.
Bryn Mawr Beach RV Park
11326 Rainier Avenue South, Seattle, WA 98178
Set on the southern shore of Lake Washington, a huge inland lake just east of Seattle, the Bryn Mawr Beach RV Park has full hook-up RV sites, laundry and shower facilities. Popular activities include boating, fishing and day trips to Seattle. Note that there are only monthly rates at this Seattle RV Park—not nightly rates.
Cedar Glen RV Park
16300 NE State Highway 305, Poulsbo, WA 98370
Situated Brainbridge Island and Historic Poulsbo, the Cedar Glen RV Park has been a family-owned campground for many decades.
Cedar Glen is close to marinas, waterfront parks, the Hood Canal, ferries and spectacular views of the Olympic Mountains. Sites can accommodate large rigs, while amenities include free Wi-Fi, a recreation hall, showers and laundry facilities.
Maple Grove RV Resort
12417 Highway 99, South Everett, WA 98204
A top-rated RV park just 20 minutes north of downtown Seattle, the 5-star Maple Grove RV Resort features sites that can accommodate RVs as large as 40 feet, as well as several pull-through sites for even larger vehicles.
Maple Grove is a great (long-term) base to explore the greater Seattle area, its modern facilities ranging from laundry facilities and showers to even a nearby RV service facility.