Motorhome Rental Highlights in the Netherlands
The name Netherlands means low-lying region. Much of it is flat, especially that slightly below sea level but under shelter of dykes. But no worries about that, the inventive Dutch have everything under control.  The country is small, with an excellent road system. for those looking for the top motorhome rental highlights in the Netherlands; our motorhome, campervan and RV rentals depots in Amsterdam put everything easily in reach of a holiday traveler.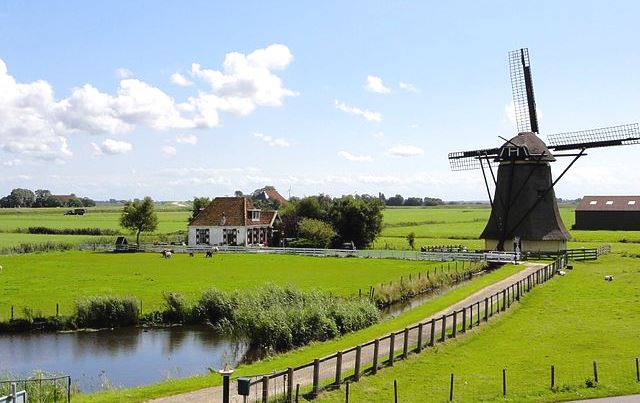 Motorhome Rental Highlights in the Netherlands
The Quirky Netherlands Way of Doing Things
Everything you hear about Holland (the other name for the country) is probably true, and makes it one of the most photogenic countries in the world. The Dutch still wear wooden shoes occasionally, but not in cities. The 19 heritage windmills with lattice wooden sails are still turning merrily. And yes, the tulips flowering in vast fields are one of the most beautiful sights we ever saw anywhere.
They make their own wines in the Maastricht region, where the river flows through idyllic countryside. The Drenthe region is famous for it's megalithic burial chambers comprising huge boulders in large piles. This would be a challenging task even with modern equipment. Archeologists believe glaciers dragged them into Holland. There is a good chance of still finding one underground, but not beneath these poppies.
A Happy Country with a Great Heritage to Explore
The Dutch people are exceptionally friendly, especially in the countryside where they are eager to welcome visitors and help with advice. Traveling by rented motorhome or campervan hire through their lovely country is a rare pleasure, because the going is easy, everything is signposted and the roads are good. As you might expect, their caravan parks are exceptional too, and well maintained throughout.
A visit to the Netherlands is incomplete without walking along canals in Amsterdam and visiting three art museums. The Rijksmuseum contains some of the world's most famous renaissance paintings by Dutch masters. The Stedelike Museum is dedicated to modern work. The cherry on the top for many is the Van Gogh Museum where you may learn the history and see the work of this great man.
You could drive between Rotterdam and our motorhome rental depot Amsterdam in a matter of a few hours. Although you could loop between them for a week, and still hardly touch on what the country has to offer. Short distances in the Netherlands make it practical to set off without a plan, and discover what this delightful country offers the motorhome traveler.