Ultimate African Campervan Safari: 5 Destinations to Visit
Although there's a myriad of fascinating historic sites and a huge diversity of cultures to explore, Africa remains first and foremost a wildlife-watching destination. Safaris are almost synonymous with Africa. They are one of the first things that come to mind when thinking about this exciting continent. These are the ultimate African campervan safari destinations if you're considering going on a motorhome rental safari in Africa.
5 Amazing Destinations for the Ultimate African Campervan Safari
Make no mistake, though: this is an enormous continent. While the name "Africa" is sometimes used generically, implying a lack of variety, it is actually one of the most diverse continents. And in terms of size, significantly bigger than North America—and also larger than South America and Europe combined.
Therefore, there are countless places you can visit. Among the best destinations are Africa's national parks—the greatest places in the world for wildlife watching. For ultimate freedom and exploration at your own pace, consider renting a campervan. This gives you the opportunity to go on a memorable self-drive campervan safari in Africa in one of the following places.
Kruger National Park, South Africa
One of Africa's most well-known and popular nature parks, Kruger National Park in South Africa is a superb destination for a campervan safari in Africa. The park is home to the Big Five (lion, leopard, elephant, Cape buffalo and rhino); and also boasts significant cultural and archaeological sites. It's this variety that makes this one of the greatest overall destinations on the continent. It is easily reached by rental campervan from South Africa's large cities.
Masai Mara National Reserve, Kenya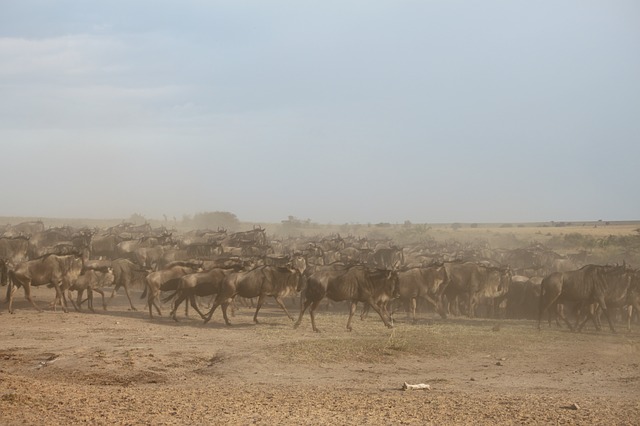 Masai Mara National Reserve is the premier game reserve in Kenya, situated just across the border from Tanzania's Serengeti National Park. This is a prime spot to witness the world-famous Great Migration of more than two million wildebeest and zebra. These giant herds attract lots of predators such as lions, leopards and cheetahs; while other large herbivores include giraffe, buffalo, elephant and rhino.
Serengeti National Park, Tanzania
Without a doubt one of the world's greatest national parks, Tanzania's Serengeti National Park is a phenomenal destination for a campervan safari in Africa. Together, Serengeti National Park, the Ngorongoro Conservation Area and above-mentioned Masai Mara National Reserve boast the most diverse populations of terrestrial wildlife on the planet. Spotting iconic animals like lions, elephants, wildebeest and buffalo is pretty much guaranteed.
Chobe National Park, Botswana
For game watching and the ultimate Africa campervan safari in Botswana, head to Chobe National Park. It's the most accessible park in the country, home to the largest concentration of elephants in all of Africa. Note that self-drive 4WD safaris in this park require lots of planning—the terrain is rough, there are river crossings and seasonal flooding.
Etosha National Park, Namibia
Its main feature may be a salt pan so large it's visible from space, but Etosha National Park still boasts huge numbers of wildlife. Several popular waterholes dot the salt plain, drawing in animals from miles away. One of southern Africa's best wild-watching destinations, it's home to zebra and wildebeest, cheetah and leopard, elephant and black rhino. So, rent a 4WD campervan in Namibia and go for the drive of a lifetime.