Latvia Is a Good Place to be in a Campervan
If you have time on your hands, and want an affordable holiday then Latvia is a good place to be free in a Latvia campervan rental holiday. It is between Scandinavia and Europe and has a delightful blend of cultures. The climate ranges from humid continental to oceanic maritime. Let us pick up the motorhome rental we reserved at Riga the capital city and see what we can find.
Latvia Campervan Rental Holiday
An Easy Going Camper Van Romp from Riga to Salacgrīva
We are having a great time in Riga, but we are trying to decide where to go next. Should we go north to Estonia via Salacgrīva, or head south through Latvia to Lithuania? Both routes could meander along the Baltic Sea coast. It's a small country. We have a Latvia campervan holiday booked for two weeks. We spin a coin, Salacgrīva it is.
The route is a mere 120 kilometres / 75 miles. But there are many delightful coastal stops along the way so we suspend judgement. If we spend a weekend exploring who cares? As long as we have a great time in our luxurious RV or motorhome rental, who cares including us? Surely, this is the way motorhome holidays are supposed to be we tell each other.
A Day or Two in Riga Before We Leave
Riga is an ancient city with a modern twang so we enjoy the best of two worlds. It is the cultural heartland with a number of theatres producing local and international live shows. It also has one of the largest ports in the Baltic. We spent the evening at the waterfront sipping local beer and watching the ships passing by.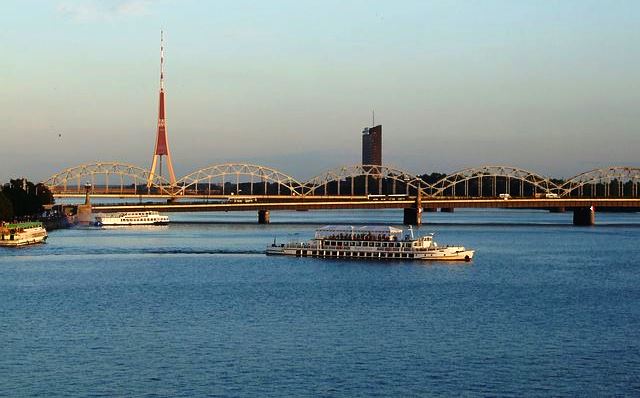 The following day we spent a relaxing time wandering among the largest collection of art nouveau buildings in the world. Riga was in the right time at the right place at the turn of the 19th and 20th Centuries. It was experiencing an economic boom not even Soviet invading forces could destroy. But we must travel on to Salacgrīva, stopping overnight at many delightful seaside resorts along the way.
Salacgrīva Turns Out to Be a Real Treasure by the Seaside
Salacgrīva stands at the mouth of the Salaca River where it discharges into the Baltic Sea not far south of Estonia. It is chalk and cheese different from Riga, being a seaside town with all the amenities we expected including a classic lighthouse. We decided to continue our Latvia campervan rental holiday going north to Tallinn in Estonia. This time we took a democratic vote, but being only two the coin decided once again as it often does when chilling out together.