Best Places for a Scandinavian RV Holiday
What makes a Scandinavian RV holiday or motorhome rental vacation so attractive is the region's "everyman's right". This rule basically determines that you're allowed to camp and wander around on all public lands—and there's a lot of that in Scandinavia. You're pretty much free to park your vehicle everywhere along the road as well. Just make sure you leave after 24 hours.
5 Awesome Destinations for a Scandinavian RV Holiday
Even though it's one of the world's most expensive regions, this right of access can make traveling around Scandinavia surprisingly affordable. Renting an RV and exploring all kinds of breathtaking landscapes was never easier. If you're not sure where to go—the sheer number of stunning destinations for an RV holiday in Scandinavia is overwhelming, you can use the following list as inspiration.
1. Lapland, Sweden
An RV holiday in Scandinavia means a road trip throughout (sub)arctic wilderness. One of the wildest areas in a huge, rugged peninsula is Swedish Lapland. The arctic part of Sweden, Lapland is the home country of the indigenous Sami people. This is where you'll find world-famous places like the Kiruna Icehotel but also epic hikes such as the long-distance King's Trail and fantastic Northern Lights watching (winter) and midnight sun delight (summer).
2. Lakeland, Finland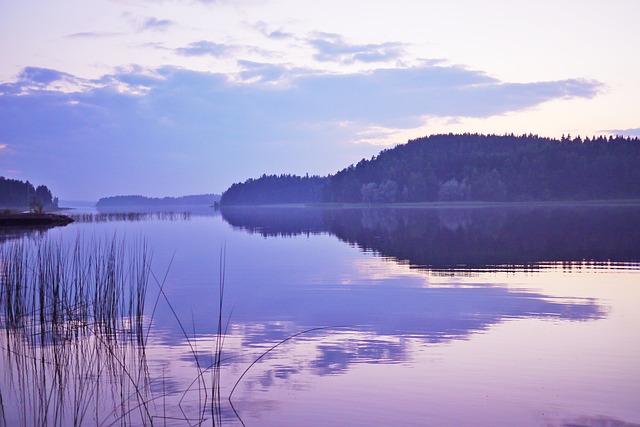 Finnish Lakeland, also known as the Finnish lake district, is a vast region in central and east Finland, the largest of the country's four landscape regions. More than 25 percent of the region's surface areas consists of water. There are thousands upon thousands of lakes—literally too many to count—organized in networks that are separated by ridges. It's a sensational, invigorating and overwhelmingly quiet place to visit. You can easily spend a week there with your RV or motorhome rental, exploring the lakes and landscapes, fishing, boating, hiking and wildlife-watching.
3. Lofoten Islands, Norway
Arguably the world's most spectacular archipelago and definitely the most beautiful one north of the Arctic Circle, the Lofoten Islands rise up abruptly from the Arctic Ocean. A series of rugged mountain islands, lined by jagged peaks, sand beaches, rocky coasts and impossibly pretty towns, they're surprisingly accessible. Ferries connect the islands to the mainland while cruise ship itineraries feature the Lofoten Islands as one of their major highlights. It's a great destination for outdoor activities like hiking, fishing, boating and even scuba diving and surfing. All islands are connected by picturesque bridges, making this one of the best destinations for a Scandinavian RV holiday.
4. Stockholm, Sweden
A Scandinavian RV holiday need not be limited to the great outdoors. A city break is certainly possible as well, particular when there's so many gorgeous cities around. One of the world's most photogenic old capitals is Stockholm, boasting ocher-colored architecture, fabulous museums and a plethora of green spaces. It wouldn't be Scandinavia if water didn't play a major role as well, though. Stockholm is set at the mouth of Lake Mälaren and spread out across fourteen islands. About a third of its surface area consists of water; parks and other green area are another third. There's plenty of outdoor fun to be had in Sweden's capital, in other words.
5. Southwestern Fjords, Norway
Norway's southwestern region, known popularly as Fjord Norway, is where you can find the country's most famous and spectacular fjords. Thundering waterfalls, snowcapped mountain chains, azure blue fjords and absolutely gorgeous towns characterize this region. There's plenty to see and do here, but the top attractions include the towns of Bergen, Flåm and Ålesund, fjords like Geirangerfjord, Sognefjord and Hardangerfjord, and scenic roads such as the iconic Atlantic Road. A myriad of beauty awaits you in this relatively small corner of the world!