Exploring Norway's Epic South Western Fjords
Where to go by Motorhome or Campervan Rental
If you're looking for a destination that offers magnificent and monumental landscapes, Norway is pretty much the best place you can go. This Scandinavian country is the northernmost nation in Europe and, with a length of more than 15,000 miles (or 25,000 kilometers), has one of the longest coastlines in the entire world.
Broken up by enormous fjords, countless bays and inlets, and tens of thousands of islands, the Norwegian coast is arguably the most spectacular on earth. In fact, National Geographic has previously named Norway's south western fjords as the number one tourist attraction in the entire world. There's enough material to back up that claim.
Ice Age
Completely covered by a kilometers-thick sheet of ice during the Ice Ages, Norway now features epic mountain ranges and valleys, deep glacial lakes and the world's most rugged coast. After the ice retreated, coastal valleys flooded with ocean water, creating the massive fjords that we see today. All of Norway is still rebounding from the heavy weight of all that ice—the country rises by several millimeters every year.
Fjord Norway
While beautiful fjords line the entire Norwegian coast, you'll find the best ones in the northern and southwestern parts of the country. The southwestern coast, known aptly as Fjord Norway, is the most popular destination.
This is where you'll find the Geirangerfjord, arguably the world's most famous and greatest fjord. This marvelous bay is so significant that it's also a UNESCO World Heritage Site. The nearby Nærøyfjord is also protected as World Heritage by UNESCO. Other major attractions in Fjord Norway are the Sognefjord, which is the deepest and second-longest fjord on the planet, and iconic Pulpit Rock above Lysefjord.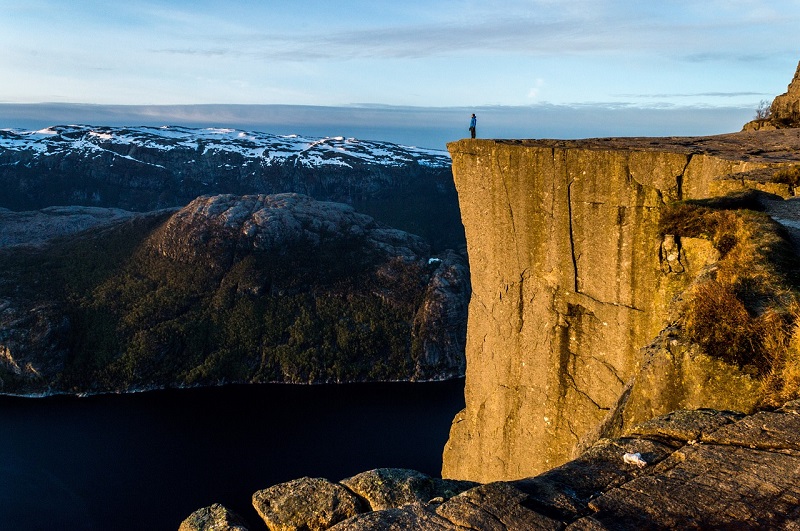 Bergen UNESCO World Heritage Site
The charming coastal city of Bergen is the gateway to this magnificent region. The city itself is absolutely stunning as well. Its waterfront—known as Bryggen—is a UNESCO World Heritage Site as well and home to wonderful, colorful historic warehouses, which now house restaurants and bars. Reaching Bergen and these world-class fjords by motorhome rental from Oslo, Stavanger or Grimstad is a piece of cake.
South Western Norway Highlights
To sum up the major highlights in southwestern Norway:
• Bergen (gateway to the fjords)
• Geirangerfjord (UNESCO World Heritage, striking cliff waterfalls, breathtaking scenery)
• Sognefjord (world's deepest and second-longest fjord)
• Nærøyfjord (UNESCO World Heritage, dramatic coastal cliffs, quiet solitude)
• Lysefjord (home to Pulpit Rock, epic fjord views)
• Hardangerfjord (spectacular views from Trolltunga, second longest fjord in Norway)
Additionally, you're also encouraged to visit the following attractions and towns:
• The Atlantic Road (world-class coastal drive)
• Flåm (destination of one of the world's greatest train journeys)
• Ålesund (island town filled with Art Nouveau architecture)
• Stavanger (vibrant city renowned for its cuisine)
Alternatively, if you're after more quietness and remoteness, head to Northern Norway. There, you'll find peace and solitude and, depending on in which season you visit, the midnight sun or the northern lights. Epic fjords in this wild region include the Trollfjorden and Lyngenfjord.