Atlantic Ocean Road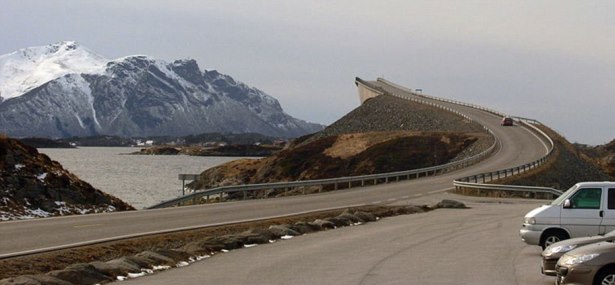 Atlantic Ocean Road, Norway
Motorists planning a visit to Norway have a great treat in store for them, because this is where you will find the unique Atlantic Ocean Road or (Atlantic Road) scenic drive. This remarkable engineering feat, chosen as Norway's "construction of the century" in 2005, is just 8 km long but what it lacks in length is more than compensated for in beauty and originality. The Atlantic Road zigzags its way across seven bridges, as it links the islands between Molde and Kristiansun in the western fjords. The Atlantic Road forms part of the 36km "National Tourist Route" between Bud and Karvag, and should feature on any driving itinerary in Norway.
There are four view areas along the 8km stretch where you can stop to enjoy the wonderful interplay of nature and architecture. The bridges that link the small coastal communities along the 8km stretch are not just useful, but also beautiful in their own right. Some of them incorporate special fishing bridges where you can try your hand at angling, while the tallest of the seven bridges, the Storseisundet Bridge, features an almost artistically dramatic curve. At each of the rest areas you will find magnificent views over the ocean and the view point at Askevagen has a 360 degree view out over the archipelago, with a clear glass enclosure to protect you from the sea spray. If you choose to travel the Atlantic Road in autumn, you may see one of the raging storms that lash the road at that time of year, sending billowing clouds of sea-spray high into the air.
Along the route you can sometime see whales, but seals are more commonly spotted and the area is home to a rich and diverse population of sea birds. Fishing tours are available for keen anglers and there are several places where you can park your motorhome rental or campervan hire for a few hours to enjoy hiking in the fresh sea air or to watch a magnificent sunset. Diving the crystal-clear waters is very popular in summer and you can go on a diving excursion from the Stromsholmen Sea Sports Centre. If you enjoy a bit of history be sure to visit the island of Haholmen, which was a fishing community as far back as the 1700's. Today the village has been beautifully restored and is a good place to spend the day learning about the Viking history of the village and enjoying the hospitality.