West Coast Wilderness Motorhome Rental Holiday in Tasmania
Tasmania is a small area by Australian standards, although it compares well in size with West Virginia. It packs a great deal of natural beauty into a landmass a quarter the size of the United Kingdom; with the West Coast Wilderness arguably a jewel in its crown. After collecting our campervan or RV rental at Hobart airport when we fly in, we head off on our West Coast Wilderness motorhome rental holiday in Tasmania for the old mining town of Tullah 325 kilometres (200 miles) distant.
West Coast Wilderness Motorhome Rental Holiday in Tasmania
We overnight at the peaceful pioneer town of Tullah, where we enjoy opportunities to explore the nearby lake and surroundings. Our choices include sea kayak, horseback, canoe or simply walking. We are hooked when we discover the Wee Georgie wood steam vintage railway. After that, we enjoy browsing quirky attractions and curious shops until it's time to prepare dinner.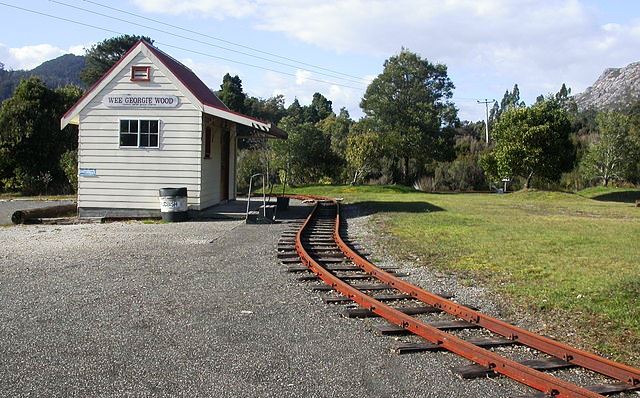 Onward Through the Historic West Coast Wilderness
The next morning we rise early, grab a quick breakfast in our motorhome rental, and head for Rosebery literally 8 kilometres (5 miles) down the road. This turns out to have a working zinc mine with an enviable record for environmental care. The place dates from 1893 when a lucky prospector found alluvial gold he could collect with a spade. But that's not the main attraction.
The big draw card is Montezuma Falls, at 110 metres (360 feet) Tasmania's highest, and well worth the three-hour return walk for the experience. The path turned out an easy-going level track through a pleasing rain forest complete with tree ferns, and the remains of a wooden trestle railway bridge that gave up the struggle and fell into a nearby creek.
Zeehaan Where Dame Nellie Melba and Houdini Entertained
We snacked on a tasty takeaway in the luxury of our Tasmanian campervan hire upon our return, before heading off for Zeehan 20 kilometres (12 miles) distant. Zeehan is something special. When its gold and silver mines were in their heyday; its Gaiety Theatre attracted the likes of Houdini and Dame Nellie Melba. Later, most of the 10,000 residents drifted away from the West Coast Wilderness leaving a gorgeous main street lined with grand old buildings.
We greatly appreciated our visit to the West Coast Heritage Centre with a fine collection of old mining machinery, steam locos and gallery of historic photos. They also have a world-class collection of minerals that made our eyes water. Our journey continued through Strahan, Queenstown, and Lake St Clair for several more days. Then we took a lazy loop back through the West Coast Wilderness to Hobart to return the RV rental that served us so well.