Tasmania Motorhome Rental, Australia
Book & Compare Campervan Hire & RV Rentals in Tasmania
Located 240 km off the southeast coast of the Australian mainland, Tasmania is a world on its own. Unlike the barren continent-sized island to its north, "Tassie", as its affectionately known, is home to lush rain forests, jagged mountains, pristine lakes, empty beaches, and a rich Aboriginal and colonial history. With a Tasmania motorhome rental, you can explore this wilderness island at your own pace.
More than 40% of Tasmania's land area is protected, including some of the world's most breathtaking national parks. The entire southwestern part of the island is a UNESCO World Heritage Site, preserving one of the largest and last surviving temperate wilderness areas on Earth. In short, Tasmania is a phenomenal destination for adventurous road trips, offering world-class hiking, camping, fishing, boating, white-water rafting and rock climbing.
Below, you can find everything you need to know about renting a campervan or motorhome in Tasmania. From available types of vehicles to Tasmania RV rental locations, recommended campgrounds and top attractions, this page has it all.
Both Hobart and Launceston cities have a number of locally operated, Australian-based and sub-licensed Tasmania motorhome rental, campervan hire and RV rentals companies that have offices right off the airports.
Apollo, Britz and AutoRent Hertz offer great selections of motorhomes and campervans and tempting discounts during the low season. Book online to find the best deal and book a cheap campervan hire in Tasmania.
Types of RV Rental Vehicle
Whether you are looking for a small campervan for a couple's road trip or a large 6-berth motorhome for a self-drive holiday with friends or family, you should be able to find the perfect vehicle for your Tasmania RV road trip.
HiTop Campervan
As its name suggest, a hitop campervan is a campervan with a "high top." These are the smallest types of campervans you can rent in Tasmania, a compact and cost-effective way to travel around the island.
Although they are small, hitop campervans do typically come with all basic camping necessities, such as a gas stove, one or two beds, a seating area, a microwave and fridge.
S/T Campervan (Shower/Toilet)
One size up from the HiTop campervan is the S/T campervan. This converted vans are a lot more spacious, offering more room to cook, eat and sleep.
The main difference, however, is that these vehicles have a shower and toilet, which offers a bit more freedom on the road—you won't necessarily have to look for campgrounds with these facilities.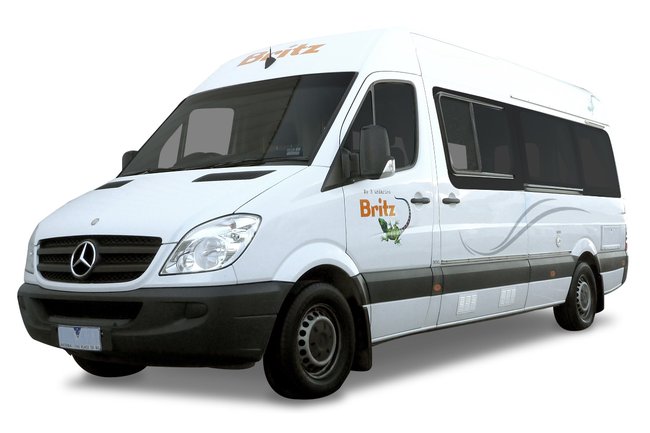 4 Berth Motorhome
A 4-berth motorhome is ideal for small groups of friends, parents with kids or two couples. Equipped with two double beds (or one double and two twin beds), they can sleep up to 4 adults. Additionally, these motorhomes are come with a small kitchen, a bathroom with shower, and seating area.
6 Berth Motorhome
Similar to yet bigger than the 4-berth motorhome above, a 6-berth motorhome offers a place to sleep to up to 6 adults. Usually this means there are three double beds, although some other configurations are possible as well.
In addition to lots of sleeping space, these large RVs also have a bathroom with shower, a spacious seating area (or even two) and a well-equipped kitchen. 6-berth motorhomes are the largest motorhomes you can rent in Tasmania.
RV Rental Locations in Tasmania
There are three places where you can rent a motorhome in Tasmania. Two of those are in the northern part of the island—Devonport and Launceston—while the state capital of Hobart, which is also the largest city in Tasmania, is on the southeast coast.
All three locations are excellent to start your self-drive holiday in Tasmania, connecting to many major highways around and across the island. Devonport is home to the Spirit of Tasmania ferry terminal (from Melbourne), Launceston has a domestic airport and Hobart has an international airport.
So, wherever you are arriving from, you can conveniently pick up a Tasmania motorhome rental directly in your destination city.
Hobart
The capital and largest city in Tasmania, Hobart is located on the banks of the Derwent River in the state's southeast. It is a major tourist destination on the island, home to an international airport with flights from Melbourne, Sydney, Brisbane, Adelaide or Perth.
Hobart is a great place to rent a campervan in Tasmania and start your road trip adventure. There are several campervan and motorhome rental companies in Hobart.
Backed by Mount Wellington, Hobart's attractions include the historic sandstone galleries and cafés of Salamanca Place, colonial-era cottages at Battery Point and a vibrant waterfront. This is a great place to start your RV road trip around Tasmania. Hobart is on Tasmania's southeast, so you can drive around the island clockwise or in reverse.
From Hobart, you can head north on your campervan hire to Tasmania's second largest city, Launceston, 200 kilometers away. It is adorned with graceful Victorian buildings and gateway to Tasmania's wine country.
Leading Hobart City & Airport Campervan Hire Brands: Maui, Apollo, Britz, Cruisin Motorhomes, Leisure Rent, Mighty Campers, Tasmania Campers, Tassie Motor Shack, Bargain Campers, GoCheap Campervans
Launceston
A riverside town in northern Tasmania, Launceston has a domestic airport and a number of RV rental depots. It is famous its scenic Cataract Gorge, home to a chairlift, hiking trails, overlooks and sculpted garden. To the northwest are the wineries of the Tamar Valley, while downtown attractions include the Queen Victoria Museum and Royal Park.
Launceston City & Airport Brands: Leisure Rent, Bargain Campers, GoCheap Campervans
Devonport
Situated at the mouth of the Mersey River in the Bass Strait, Devonport is the port where the Spirit of Tasmania ferry arrives from (and departs to) Melbourne on mainland Australia.
Because many people arrive at Tasmania in Devonport, you will find a number of motorhome rental companies here. Town itself offers great fishing, water sports, seafood, cycling and walking.
Devonport City, Ferry Terminal & Airport Brands: Leisure Rent, Bargain Campers
Top 15 Attractions in Tasmania
Ranging from important historic sites and towns to spectacular national parks, river valleys, beaches and mountains, the variety of Tasmanian attractions makes it one of the most diverse states in Australia. With a Tasmania RV rental, you are free to explore all this beauty at your own pace.
Below, we have compiled a selection of the not-to-miss attractions in Tasmania. We recommend that you use them as cornerstones of your personal Tasmania campervan road trip itinerary. They include some of the greatest sights in all of Australia!
Cradle Mountain – Lake St Clair National Park
Located in the Central Highlands, Cradle Mountain – Lake St Clair National Park is one of Tasmania's top natural attractions.
Made up of two major features—Cradle Mountain and Lake St Clair—this diverse park offers world-class hiking, camping and boating. It is also the location of the renowned Overland Track, one of Australia's greatest long-distance trails.
Hobart
The largest city and capital of Tasmania, Hobart is a vibrant coastal city on the island's southeast coast. It combines both culture and nature with attractions like Salamanca Place and Battery Point, as well as Mount Wellington, which offers excellent hiking opportunities.
Hobart started as a British penal colony in 1804; so there is plenty of buildings and structures in the central business district classified as historical.
Port Arthur Historic Site
A UNESCO World Heritage Site on a peninsula southeast of Hobart, the Port Arthur Historic Site is one of Australia's best preserved convict sites.
This former penal colony of the British Empire is now a fantastic open-air museum. It has over 30 prison buildings and ruins, as well as restored period homes, dating from 1830 to 1877.
Freycinet National Park
A popular park on the east coast of Tasmania, Freycinet National Park features spectacular coastal scenery. The park encompasses a peninsula home to the Hazards mountain range and beautiful bays and beaches.
Its star attractions is arguably Wineglass Bay, which can be reached via a hiking trail or by boat. Many campgrounds dot the area, while iconic wildlife is abundant as well.
Mount Wellington
The centrepiece of Wellington Park just outside of Hobart, Mount Wellington towers above the Tasmanian capital and offers a variety of outdoor activities.
A narrow road leads to the summit, but there are also several hiking trails to explore. Other popular things to do at Mount Wellington include biking, horseback riding and rock climbing.
Tasman National Park
Situated on both the Tasman and Forestier Peninsulas in southeastern Tasmania, Tasman National Park is one of the state's most stunning parks. It is characterized by massive rock formations and soaring sea cliffs.
Top attractions are The Blowhole and Tasman Arch, which are among Tasmania's most visited places. Wildlife thrives here, too, including possums, fur seals, penguins, dolphins and whales.
Cataract Gorge
Arguably the top tourist attraction in Launceston, Cataract Gorge is a beautiful river gorge just outside the city centre.
Comprising the lower section of the Esk River, the gorge is famous for its hiking trails, panoramic views, wonderful sculpted garden, suspension bridge, funicular, swimming pool and chairlift, which is the world's longest single-span chairlift.
Salamanca Place
One of Hobart's main tourist areas, Salamanca Place is home to rows of beautiful historic sandstone buildings. Formerly warehouses for the port of Hobart, they now house restaurants, cafés, bars and galleries.
Every Saturday, Salamanca Place hosts the bustling Salamanca Market, which is popular among locals and visitors alike.
Bruny Island
Tasmania's premier island destination, Bruny Island is off the Tasmanian southeast coast. Flanked by the D'Entrecasteaux Channel and the Tasman Sea, the island boasts wonderful eucalyptus forests and magnificent beaches.
A car and passenger ferry commutes between Bruny Island and the Tasmanian mainland numerous times a day, allowing you to take your campervan or RV across the channel.
Mount Field National Park
The oldest national park in Tasmania, Mount Field National Park is exceptionally diverse and home to abundant wildlife. While camping at Mount Field, you can explore alpine moorlands, towering eucalyptus forests and temperate rain forests.
There are some superb trails in this park, running to popular spots like Russell Falls and Horseshoe Falls, the summit of Mount Field and Lake Dobson, which is home to platypuses.
Richmond
Only 20 minutes from Hobart, the small town of Richmond is one of Tasmania's most popular destinations. It is in the heart of the Coal River Valley wine region and has dozens of Georgian buildings.
Now beautifully restored, many of them now house a restaurant, café, accommodation or art gallery. Richmond's star attraction, however, is the picturesque Richmond Bridge. Dating from 1820 and built by convicts, it is the oldest surviving bridge in Australia.
Mona – Museum of Old and New Art
The MONA, short for the Museum of Old and New Art, is an unconventional museum at the Moorilla winery in Hobart. The museum exhibits ancient, modern and contemporary art from the David Walsh collection.
Additionally, it is known for its ominous atmosphere, lack of windows and focus on topics like death, sex and the bizarre. A visit to this museum is not just about enjoying art—it is an experience.
Tamar Valley
The lush Tamar Valley stretches for 60 km from Launceston to the Bass Strait. You can find plenty of attractions and activities on both banks of the Tamar River, from panoramic views to excellent wineries.
In addition to wine, the valley is also known for its artisanal food products, including cherry delicacies, cheeses, truffles, cider and beer.
Tasmanian Devil Unzoo
Experience the "opposite" of a regular zoo at the amazing Tasmanian Devil Unzoo. This is a zoo without cages, a place home to wild wallabies, possums, echidnas, Tasmanian devils, native fish and almost a hundred different bird species.
You can explore this bush garden on a guided nature walk and learn about how this "unzoo" helps to save the last natural population of Tasmanian devils in the world. Located on the Tasman Peninsula, on the way from Hobart to Port Arthur.
Huon Valley
A geographic area in the southern corner of Tasmania, the Huon Valley stretches from just 30 minutes south of Hobart to Australia's southernmost point.
The region is home to beautiful nature parks, pristine forests and wild coasts. The largest town is Huonville, home to apple orchards and cideries.
Tasmania Circle Drive by RV Rental
"Tassie" measures 226 miles from north to south and 190 miles from east to west, making it relatively easy to cover by campervan hire in just a few days on the Tasmania Circle Drive.
Be aware, however, that most of Tassie's highways are yet to be developed to Australian standards, making your driving not unlike an obstacle course.
But this is really a small price to pay for Tasmania's vast expanse of pristine lands and really wild wildlife.
In fact, now is the best time to explore the island on Tasmania motorhome rental before it becomes deluged with nature-deprived travelers.
Motorhome Hire in Tasmania
South West Wilderness and East Coast
If you want to experience wilderness in its truest sense; drive your campervan rental to Tasmania's largest wilderness heritage site which stretches more than 1.5 million acres to the west and south coasts.
This unspoilt territory, creatively named South West Wilderness, was only sporadically explored by the Aborigines in the past; so there are no permanent settlements within miles around.
The nearest access to the park for your Tasmania motorhome rental is about 100 kilometers northwest of Hobart. The rest of the South West Wilderness area can be accessed on foot from Gordon River Road; which would take 12 days for experienced walkers to complete the trail.
Tasmania's East Coast is just 250 kilometers from Hobart; and driving your Tasmania motorhome rental along this route puts you within kayaking distance of various bays off Tasman Sea.
The East Coast is known for its whales and dolphins, giant crabs and crays, miles of deserted shell-strewn beaches and crystal clear waters that beg to be snorkeled, dived or fished.
Driving down the East Coast back to Hobart is also a trip unto itself; which rewards you with views of pink granite peaks of The Hazards and regular sightings of the Tasmanian devil.
Best Time of Year to Visit Tasmania in a Campervan
Nowhere else in Australia will you find such seasonal differences as in Tasmania. This temperate island has four distinct seasons, each characterized by its own weather patterns. Additionally, Tasmania's weather can be so unpredictable that you could experience a few seasons in just a day.
Even when road tripping around Tasmania with a campervan in summer, for example, you should still prepare for rain and wind. This is a wild island, after all, and the climate and weather is definitely a big part of that.
Note, however, that Tasmanian weather varies greatly between regions and landscapes. Hobart, for example, is one of Australia's driest capitals, while the southwest coast gets soaked with rain and boasts verdant rain forests.
Spring
The spring months in Tasmania are September, October and November. As the weather moves from winter into summer, this is a time of year of sometimes-large fluctuations in temperature and sunshine.
Snowfall is common at higher elevations well into October, while spring is also the windiest of all seasons in Tasmania. Prepare for sudden changes in the weather.
Summer
Summer runs from December through to February in Tasmania. This is the warmest season on the island. The hottest places are the river valleys to the west of Hobart, while the Central Highlands are significantly cooler even in January.
Along the coast and the Tamar Valley, for instance, you will be able to enjoy gorgeous weather. This is a great time to explore Tasmania's national parks, go camping, swimming and hiking.
Autumn/Fall
Autumn in Tasmania is from March through May. Similar to spring, this is a season of transition. March will enjoy the remnants of summer and can offer comfortable, sunny weather.
In fact, early autumn is often quite a lot sunnier and warmer than spring in Tasmania. Yet, when exploring Tasmania with a motorhome rental in the fall, you should prepare for all possible weather types, from sun to snow.
Winter
The Tasmanian winter months are June, July and August. These are typically the coldest and wettest months of the year in Tasmania.
Higher elevations receive significant amounts of snowfall during winter and temperatures regularly drop below freezing. Along the coasts, on the other hand, the temperature remains fairly stable and frost is rare. 
Best Campgrounds in Tasmania
As an Australian state home to vast wilderness areas, vibrant seaside and mountain towns, world-class national parks and beautiful coastlines, Tasmania has no lack of excellent campgrounds and caravan parks.
When you rent a campervan in Tasmania—whether it is in Hobart, Launceston or Devonport—you won't have any trouble finding a place to park your temporary "home on wheels" and set up camp for a few days. The following are some of the best campgrounds in Tasmania, a selection that represents only a fraction of the available campsites in Tasmania.
Huon Valley Caravan Park
Situated 37 km south of Hobart, the Huon Valley Caravan Park is a scenic holiday park on a farm in Huonville. There is plenty of space to park your RV or campervan, choice ranging from unpowered to powered sites. A handful of ensuite sites are available, too, as are some extra-large sites for big rigs.
Popular activities are exploring the farm and seeing its animals, including a daily afternoon Tasmanian devil feeding, and kayaking on the Huon River. Facilities include a dump station, camp kitchen, laundry room and showers.
BIG4 St Helens Holiday Park
A wonderful base to explore the east coast of Tasmania, BIG4 St Helens Holiday Park is only 300 meters from the St Helens waterfront. Major regional highlights are just a drive away, including such famous places as the Bay of Fires, Wineglass Bay, Binalong Bay and St Columba Falls.
This award-winning caravan park offers ensuite sites, concrete pad sites, powered sites and unpowered sites. Amenities include indoor and outdoor play areas, a games and TV room, barbecue area, bicycle hire, camp kitchen and much more.
NRMA Port Arthur Holiday Park
An award-winning holiday park near one of Tasmania's greatest attractions, the NRMA Port Arthur Holiday Park is one 1 km north of historic Port Arthur. The grounds encompass 40 acres of lawns and woodlands, offering spacious accommodation for everyone from tent campers to RV travellers. There are waterview cabins, glamping safari tents, ensuite and unpowered sites, and tent sites. Included in the Tasmanian Tourism Hall of Fame for its community involvement and superb service, this is truly one of the best campgrounds in Tasmania.
Cradle Mountain Holiday & Caravan Park
Stay at the Cradle Mountain Holiday & Caravan Park and explore one of Tasmania's top national parks—Cradle Mountain-Lake St. Clair National Park. The park has both powered RV sites and unpowered tent sites, accommodation all types of campers. Facilities include Wi-Fi, a store/kiosk, barbecue facilities, an activity room, laundry service and a well-equipped camp kitchen.
Big4 Iluka on Freycinet Holiday Park
Located in Coles Bay, just behind beautiful Muir's Beach and merely 1 km from Freycinet National Park, Big4 Iluka on Freycinet Holiday Park is one of the best campgrounds on the Tasmanian east coast. Its powered and tent sites provide a comfortable space to set up camp for a few days and explore the stunning landscapes of Freycinet National Park.
Communal facilities range from barbecues and a camp kitchen to a laundry room, children's playground and even a conference centre. A YHA backpacker's hostel is on site, too.
Mill Creek Campground, Fortescue Bay
Located in Fortescue Bay, Mill Creek Campground is on the southeast coast of the gorgeous Tasman Peninsula. Managed by the Tasmania Parks and Wildlife Service, this is a beautiful place to reconnect with nature. Activities on offer range from kayaking, fishing and snorkelling to bird watching, rock climbing and bushwalking.
This campground can accommodate large campervans and motorhomes, as well as people with boats. There is a boat ramp, showers, gas barbecues and a small shop selling basic camping supplies.
Mount Field Campground
Park your RV or campervan in one of Tasmania's greatest national park at Mount Field Campground. Located adjacent to the Mount Field National Park visitor centre, this enjoyable campground sits in a forest by the Tyenna River. Fourteen powered sites are available, as well as several unpowered sites. Facilities are excellent and include free electric barbecues, a shared cooking shelter, coin-operated laundry machines and a toilet and shower block.
Free Camping Tasmania
Besides booking a site at one of the top campgrounds in Tasmania above, you can also camp with a campervan for free (or extremely cheap) in many locations around Tasmania. On the Free Camping Tasmania website, you can find a listing of dozens of free campsites across the island, from the Bay of Fires to the inland highlands. Note that most of these places are offered on a first-come first-served basis and no reservations are available.