Galway to Westport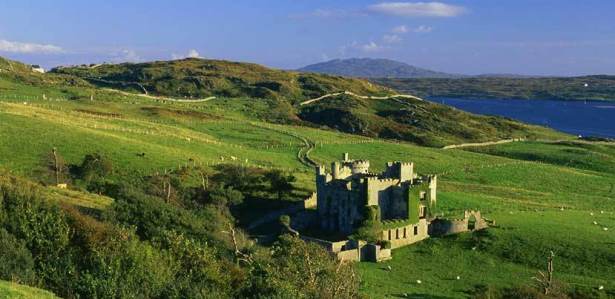 Galway to Westport Scenic Drive, Ireland
Ireland surely has the lion's share of scenic drives; you could visit every year and still find new and beautiful corners of the country to explore.  One of the very best areas to enjoy driving around is the amazing little section of the Wild Atlantic Way on the West Coast northward from Galway to Westport.  As scenic drives go, this one is not very long…just 85 miles….but it is packed so full of incredible scenery that you really need a couple of days to get the most out of it.  Enjoy the trip in a motorhome rental or campervan hire to have the most flexibility.
Start the tour in Galway, capital of the west, where you can easily spend a day enjoying the lively atmosphere and visit some of the historic sites.  A good way to see the city is to go on a Galway City Walking Tour and if you are interested in the macabre side of history and heritage, go on the Gore of Galway Tour.  Before you set off on your scenic drive you can also take a ferry to the Aran Islands, one of the last places in Ireland where Gaelic is widely spoken.
From Galway you make your way west through the rugged countryside, dotted here and there with sheep, until you reach Clifden, the "capital" of the Connemara region. Clifden is an attractive town presiding over the head of the narrow bay where the River Owenglin empties into the ocean. There are good walks all around here and you could also visit the Connemara Heritage Centre and the Station House Museum. However, Clifden is most renowned as the starting point of the Sky Road, a 12 km stretch of road with views to make your jaw drop. You could leave your motorhome hire in Clifden and either walk or cycle the circuit if you need some exercise, but driving the circuit takes the concept of scenic routes to a new dimension; take the upper road for a magnificent panoramic view of the rugged coast. You can also visit the ruins of Clifden Castle, overlooking the sea and there are beautiful beaches to discover.
Leaving Clifden on the N59, your drive will take you north, past Kylemore Abbey and Gardens, which is open to the public. Then pop into the pretty village of Leenane, at the foot of the Maamturk Mountains at the tip of Killary Harbour, the only fjord in Ireland.
From here you can continue to Newport and then on through the heart of Mayo County, past the sacred mountain Croagh Patrick and through the charming Doolough Valley and Connemara National Park, before reaching the end of the route at the most attractive Georgian town of Westport.
There are quite a few attractive caravan parks and campsites along the route where you can stop overnight and enjoy a sun-downer while you watch one of the best sun-sets in the world.