Albuquerque RV Rental
An oasis in the vast New Mexican landscape, Albuquerque offers the curious travellers a place to discover ancient and diverse cultures, authentic art, and the delicious New Mexican cuisine. Travelling on your Albuquerque RV rental, you can drive to the city's top attractions, explore nearby towns, and embark on an epic road trip with ease.
Going on a motorhome rental holiday is an excellent idea. There is so much to see in this enormous state and hiring an RV in Albuquerque will ensure that you have a comfortable place to rest, no matter your destination.
To help you get the best out of your RV holiday, we have created a dedicated Albuquerque RV travel guide for you! On this page you will find some of the best motorhome rental deals, the top campgrounds in Albuquerque, the most popular scenic routes, as well as famous attractions you can't miss on your holiday.
Most importantly, our website features everything you need to find that perfect vehicle for your next RV trip! There are plenty of vehicles to choose from including compact, standard, and large motorhomes. The only thing left for you to do is decide on a travel date, your group size, and your preferred RV vehicle, and start booking your Albuquerque motorhome vacation online!
Best RV Rental Company in Albuquerque, NM
The perfect Albuquerque RV holiday can only be achieved if you book the right motorhome vehicle with the right RV rental company. Whilst most motorhome rental agencies are located in Santa Fe, there a few depots in the city that are worth considering.
If you are arriving at Albuquerque International Sunport, we can help you look for a good rental company near the city. One of the best RV rental companies in Albuquerque is Cruise America. With a variety of vehicles available, including standard motorhome, compact motorhome, and large motorhome, any type of visitor, group, and budget is welcome.
With Cruise America's wide selection of RVs, it is now easier to search for the best Albuquerque motorhome rental in the city. Booking online has never been easier! You can quickly sort through the available RVs by vehicle type, date, size, price, or amenities.
Ready to jumpstart your New Mexico road trip? Start planning your Albuquerque RV holiday now!

Cruise America
Conveniently located near I-40, about 15 minutes east of downtown area and about 12 minutes from Albuquerque International Sunport, Cruise America is a great option if you are looking for an RV rental depot near the city.
Whether you are travelling with a small group or a large family, they have motorhomes that can accommodate from 3 to 7 people. Whatever your motorhome rental needs are – one-way, short term, or long-term, Cruise America can guarantee a stress-free rental service and a convenient 24-hour road assistance.
Their RVs are self-contained so you can park your motorhome and stay comfortably in most places. Amenities include air conditioning, generator, shower, microwave, gas cooktop, refrigerator, and pets are also allowed!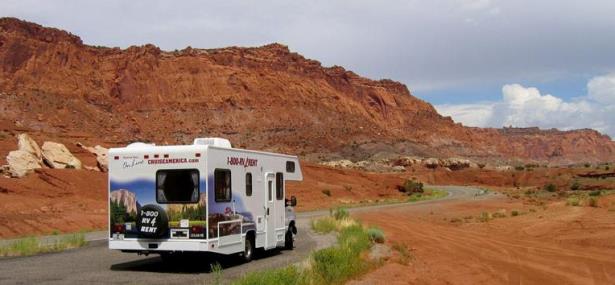 Class C
For those who are looking for an economical way to explore Albuquerque Class C motorhome rentals are an excellent option. Compared to Class A motorhomes, Class C RVs may be smaller, but they can also be built with amenities that you can find in larger vehicles. Because they are smaller, they are easier to manoeuvre in different road and weather conditions. Class C motorhomes are also easier to park and work very much like family passenger vehicles.
As many people are now looking for an affordable way of RV travelling, these Class C Albuquerque RV rentals are slowly becoming the top choice for a road trip holiday the US.
C19 – Compact Motorhome: Perfect for a small family with 2 adults and 1 child, this compact RV is fully self-contained. It features the amenities of larger motorhomes but with a unique rear kitchen design. This vehicle measures about 20 feet/6.1 metres in length.
C25 – Standard Motorhome: With a maximum passenger capacity of 5, this economical family unit is one of the most popular types of walk-through RVs in the US. It measures about 25 feet/7.6 meter long.
C30 – Large Motorhome: The perfect choice for large groups and families, this the largest amongst the three Class C motorhomes which can accommodate up to 7 people. This vehicle measures 30 feet/9.1 metres in length and features Ford V-10 Chassis Engine.
Albuquerque RV Rental depot: Cruise America, 10625 Central Avenue NE, Albuquerque, NM 87123
Located about 7 miles/11 kms from Albuquerque Airport (ABQ) or 9 miles/15 km from downtown Albuquerque.
Cruise America Albuquerque office hours:
Monday to Saturday:

Pick Up: 1pm to 4pm
Drop off: 9am to 11am

Early Birders (fee applies):

Pick Up: 9am to 12pm
Drop off: 9am to 3pm

Closed Sundays and Public Holidays
Included with Standard Rate:
24 hour assistance
0-4 years old
Top 10 Attractions near Albuquerque, NM
With your Albuquerque RV rental vehicle, you can visit many world-class attractions in and around New Mexico's largest city. Whether you are planning a family trip or an outdoor adventure, Albuquerque is a great place to start your RV holiday.
There are many scenic drives from Albuquerque, connecting you to some of the most iconic national parks and historical and natural attractions in New Mexico. From Albuquerque, you can drive the highest highway in the region and watch the New Mexican sunset, soak in the state's unique and mystical landscape, or visit a historical site and dive deep into their culture.
Ready to start planning your motorhome holiday? Here are the top 10 attractions near Albuquerque, NM.
Acoma Pueblo
Believed to have been established in the 12th century, the Acoma Pueblo is regarded as the oldest continually inhabited community in the US. Most of the population now lives in the beautiful earthen homes of the Sky City where you can take tours to learn about the history and culture of the Pueblo.
This attraction is only about 1 hour away from Albuquerque and if you want to stay longer, you can park your motorhome at the Sky City RV Park, which features powered sites, water, wi-fi, dump stations, showers, laundry, convenience store, and beautiful views of Mt. Taylor.
Jemez Springs
Take your Albuquerque motorhome rental to Jemez Springs, a village located about an hour's drive north of Albuquerque. The village sits along the Jemez Mountain Trail National Scenic Byway, making it a popular stop for those looking to unplug and experience the authentic culture and history of the area.
As the name implies, the village has an abundant of hot springs that are believed to have healing waters. Don't miss the 500-year-old ruins at the Jemez Historic Site!
Salinas Pueblo Missions National Monument
Located about 1.5 hours southeast of Albuquerque, Salinas Pueblo Missions National Monument is another top attraction you can't miss. There are 3 distinct sites that offer an insight into the early encounters between the Spanish and the Pueblo people.
Each historic site tells a story about culture, conflict, and struggles of the Pueblo people.
Bandelier National Monument
You can't leave Albuquerque without visiting the iconic Bandelier National Monument. Encompassing more than 30 thousand acres of land, this place is steeped in history and culture. Explore ancient dwellings, petroglyphs, masonry pueblos (villages), and beautiful rugged canyons.
There are plenty of walking trails in the area and you can park at the Juniper Family Campground if you plan to stay longer. The drive from Albuquerque takes about 2 hours, passing through the city of Santa Fe.
Carlsbad Caverns National Park
Featuring more than 100 caves and home to one of the largest limestone chambers in the world, this national park is another must see attraction near Albuquerque.
Carlsbad Cavern is the primary attraction of the park, where you can hike on your own from the natural entrance. Driving to the park with your Albuquerque RV rental takes about 5-6 hours.
Albuquerque International Balloon Fiesta
One of the best attractions in Albuquerque is the annual Albuquerque International Balloon Fiesta that happens every October. For 9 days, the city skies will be colourfully painted with over 500 hot air balloons.
The event takes place at the Balloon Fiesta Park in the northern part of the city. For more information, you may visit BalloonFiesta.com.
Chaco Culture National Historic Park
One of the best preserved and architecturally advanced structures amongst ancient Southwestern villages, the ruins of Chaco are an excellent show of engineering and skill of ancient pueblo dwellers.
If you plan to stay longer, you can park at the Gallo Campground, which is located inside the national park. Chaco Culture Historic National Park is in a remote location, about 3 hours northwest of Albuquerque. Please bring plenty of food, water, and other essentials.
Cumbres & Toltec Scenic Railroad
Take a trip back to the 19th century with Cumbres and Toltec Scenic Railroad. Voted as the most scenic train ride in the US, this is another must-visit Albuquerque attraction.
The steam train ride will take you through the Rocky Mountains of Colorado and New Mexico, and the spectacular Western scenery that can only be accessed through this scenic train route.
Taos Pueblo
Another ancient dwelling you will want to visit near Albuquerque is the Taos Pueblo. It is the only living Native American community that is both a National Historic Landmark and a UNESCO World Heritage Site.
Take a 2.5-hour trip from Albuquerque on your motorhome rental and learn about the lives and culture of the Pueblo Indians of Arizona and Mexico.
Gila Cliff Dwellings National Monument
Get a glimpse of the lives of the Mogollon people who built and lived in these Gila Cliff Dwellings between the 1280's and early 1300's. Located about 5-6 hours south of Albuquerque this unique attraction that shows the creativity and ingenuity of the earlier humans who inhabited this area.
If you wish to explore the surrounding Gila National Forest, there are 4 designated campgrounds nearby that can accommodate medium to large RVs.
Scenic Drives from Albuquerque, New Mexico
New Mexico is home to 25 scenic byways and highways. Whether you are planning to start your road trip from the city or looking for the next destination to add to your US motorhome holiday, Albuquerque is an excellent place to start.
Albuquerque is home to the longest urban stretch of the historic Route 66, which you definitely cannot miss on your holiday in New Mexico. Other scenic drives from the city will connect you to amazing nature, wilderness, and take you across other beautiful cities in the US. To help you plan you plan your road trip, we have listed some of the most popular driving routes from Albuquerque.
Route 66: Albuquerque to Chicago
Take your Albuquerque motorhome rental eastward, along Route 66 to Chicago, for an epic road trip! The recommended time to drive this route is 6-7 days, passing through Amarillo, Oklahoma City, and St. Louis.
The stretch from St. Louis to Tulsa is considered by many as the heart of Route 66, starting from the iconic Archway and ending in Tulsa where east meets west.
Route 66: Albuquerque to Los Angeles
Want to visit Los Angeles from Albuquerque? Embark on an unforgettable one way USA RV rental road trip from Albuquerque to Los Angeles along Route 66!
The journey can take around 5 days, if you want to enjoy the top attractions along Route 66 and towns including Holbrook, the Grand Canyon, Las Vegas, and Santa Monica.
Jemez Mountain Trail National Scenic Byway
This scenic byway is located only about 1.5 hours north of Albuquerque. The route takes you past beautiful red cliffs, mountains, nature preserves, and ancient cultures.
There are many interesting spots along the way, like the Soda Dam, which is a geologic wonder formed by many years of mineral deposits.
Sandia Crest Scenic Byway
Another scenic byway you can't miss is located less than an hour northeast of Albuquerque.
Sandia Crest Scenic Byway is the highest scenic drive in the southwest and features a winding road where you can spot deer, Rocky Mountain bighorn sheep, black bears, and other mammals. The road ends at an overlook that rewards you with a breathtaking view of Albuquerque.
Turquoise Trail National Scenic Byway
This scenic and historic byway is a great option for a detour if you want to visit Santa Fe without taking the interstate highway. You can enjoy a spectacular view of above Sandia Crest, and cruise along the historic mining towns of Golden, Madrid, and Cerillos.
There is an Albuquerque RV rental park nearby if you want to spend the night in this beautiful area.
Enchanted Circle Scenic Byway
New Mexico is also known as "The Land of Enchantment" and driving around this scenic byway in Taos is the closest you can get to experiencing this magical state.
An easy 2.5 hours drive north of Albuquerque will take you to the Enchanted Circle Scenic Byway, which is a picturesque 137-km loop through New Mexican valleys, mountains, mesa, and national forest. This byway is centred around Wheeler Peak, the highest in point in New Mexico.
Top 5 Campgrounds & RV Parks near Albuquerque, NM
Now that you have chosen your motorhome rental, it is time to find the best place to park your RV! There are plenty of excellent campgrounds and RV parks near Albuquerque and many of them are accessible through the city's main roads.
Whether you are simply passing through or exploring this part of New Mexico, there are several RV parks that you can choose from based on your preferred location or amenities. To help you decide, we have listed the top 5 campgrounds and RV parks in and around Albuquerque. We have also included their address and a link to their website so you can get more information about them.
Albuquerque KOA Journey
12400 Skyline Road NE, Albuquerque, NM 87123
About 10 minutes east of downtown Albuquerque, just off I-40, the Albuquerque RV Park is located close to the beautiful Sandia mountains.
The campground features powered sites, a swimming pool, indoor hot tub, children's playground, mini golf, horseshoes, propane refill station, wi-fi, bike rentals, and a large park for your pets!
High Desert RV Park
13000 Frontage Road SW, Albuquerque, NM 87121
If you are looking for an RV rental park in the western part of Albuquerque, High Desert RV Park is an excellent option if you are looking for a budget-friendly campground.
A quiet and friendly park just off I-40, this RV campground offers powered sites, free wi-fi, restrooms and showers, laundry facilities, propane refills, and spacious pet areas.
Enchanted Trails RV Park & Trading Post
14305 Central Avenue NW, Albuquerque, NM 87121
Also located about 15 minutes west of Albuquerque CBD, along I-40, the Enchanted Trails RV Park sits on top of a plateau providing visitors a view of the city and the Sandia Mountains.
Their amenities include powered sites, wi-fi, RV supplies, propane, laundry, hot tub, heated pool, and a gift shop that offers native crafts and regional food.
American RV Resort
13500 Central Avenue SW, Albuquerque, NM 87121
American RV Resort is located in a quiet, rural location but is close enough to the city.
Just off I-40, less than 15 minutes away from the city, American RV Resort offers great discounted rates and excellent amenities including powered sites, cabins, a clubhouse, a dog park, shot showers, cable, pool, laundry, propane, and highspeed wi-fi.
Route 66 RV Resort
14500 Central Avenue SW I-40, Exit 140, Albuquerque, NM 87121
If you are looking for a first-class RV resort, the Route 66 RV Resort is the place to go! About 20 minutes west of Albuquerque, along the historic Route 66, this RV park sits next to a casino with restaurants, gaming, and live entertainment.
They offer high-end amenities including full-service sites, powered sites, free wi-fi, convenience store, propane, handicap access, dog parks, pool with cabana, laundry, showers, and an indoor pool and hot tub.