The Ultimate New England RV Road Trip Itinerary
There are many regions in the USA that make for epic road trips. From the Deep South to the Rocky Mountains and especially the Southwest and California. New England, however, is something entirely different. The nation's most historic corner, it encompasses six states in the northeastern corner of the United States, New England is one of the country's most popular tourist destinations. With a New England RV rental, you can visit such wonderful historic cities as Boston, New Haven, Newport and Portland, as well as enjoy the natural beauty of Massachusetts, Rhode Island, Connecticut, Maine, New Hampshire and Vermont. New England a fantastic place for a two-week drive. Below, we've outlined the cornerstones of the ultimate New England RV road trip itinerary.
Drive along the rugged coasts the region is so famous for, including its world-class seafood, scenic lighthouses and great beaches, from Cape Cod all the way to Acadia National Park. Alternatively, head inland and explore its different mountain ranges, such as the Berkshires, the Green Mountains and/or the White Mountains.
You can pick up your New England RV hire in Boston, the region's unofficial capital, or a bit further south at the major airports of New York and Newark. On this page, you will find lots of useful information about renting an RV in New England, including the types of motorhomes you can rent, the region's greatest attractions, and scenic drives.
We also discuss New England's four distinct seasons, which all have something to offer. Unsurprisingly, though, spectacular fall foliage makes autumn the absolute best time to go on a self-drive holiday in New England. Read on to learn more!
Types of RV Rentals in New England
Whatever your idea of a dream self-drive road trip in New England is, you will be able to find an RV to match your needs. Easy-to-drive camper vans offer adventure and a memorable van-life experience, while Class C RVs accommodate families and other groups on a scenic holiday around New England. Class A motorhomes, on the other hand, offer ultimate luxury and comfort on the road.
So, whether you are planning a budget road trip, a family vacation or a comfortable getaway in a true home-on-wheels, you can rent the perfect RV for that in New England.
Class C Motorhome Rental
Of all types of RVs for hire in New England, Class C motorhomes are the most common and popular. These spacious recreational vehicles are significantly larger than camper vans, while easier to manoeuvre and cheaper than Class A RVs. They are ideal for groups of friends, couples and families (with kids).
Their cab is separate from the vehicle's living area, while you can easily recognize them by their upper storage or sleeping area on top of the cab. All Class C RVs have a full kitchens, a bathroom with shower, living area and at least one sleeping area. You can rent Class C RVs in New England without slide outs, with a single slide out or with a twin slide out.
Slide Outs
As the name implies, slide outs are a popular modern motorhome feature that slide out when the vehicle is parked. This creates a significantly larger interior space, greatly enlarging the surface area of spaces like living rooms, bedrooms or even both.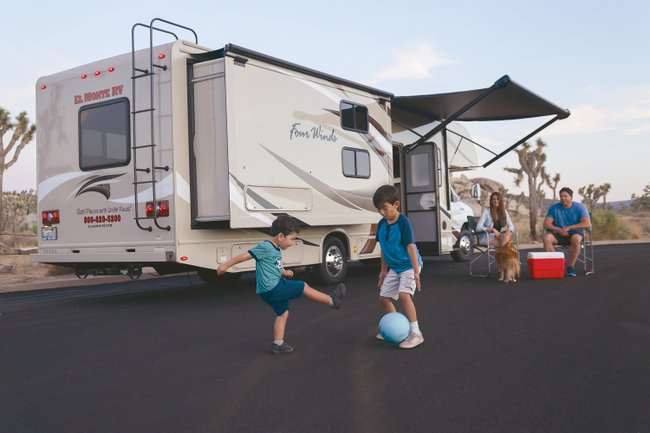 Non-Slide Out: Non-slide out motorhomes are not equipped with slide outs
Single Slide Out: Single slide out motorhomes have one single slide out on one side
Twin Slide Out: Twin slide out motorhomes have a single slide out on each side
Double Slide Out: Double slide out motorhomes have a double slide out on one side, but none on the other side
Class A RV Rental
The biggest and most luxurious New England RV rentals, Class A motorhomes are huge vehicles that offer lots of space and comforts.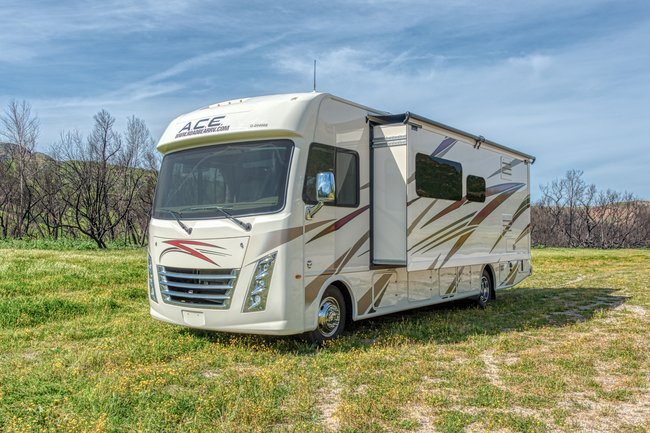 They are constructed in the same way as trucks and buses, complete with a panoramic front window and full passenger access between the cab and the rest of the RV. Class A's have spacious bathrooms, living areas, bedrooms and full kitchens, while they all have slide outs as well.
Camper Van Hires
The smallest type of motorhome rental in New England, camper vans are popular in the younger, adventure-minded demographic. Small, fuel-efficient and manoeuvrable, yet spacious and well-equipped, vans are ideal for couples and small groups of friends.
This is the type of RV you should rent in New England to have a real "van life" experience, enjoy ultimate freedom and share unforgettable moments with the closest people in your life. 
RV Rental Locations near New England
There are a few major cities where you can rent an RV for a New England road trip. The Northeast is home to several major international airports, railway routes and busy interstates, offering easy access to the region's quaint towns, scenic highways, beautiful mountains and wild coasts.
You can pick up your New England RV rental in Boston, the unofficial capital of the region and its only truly large city. Alternatively, you can start your self-drive holiday in New York or Newark, too. Both cities are just south of New England, but have three large airports between them.
Boston, MA
One of America's oldest cities, Boston is filled to the brim with historic landmarks, museums and other attractions. The city's famous Freedom Trail takes visitors past a series of important historic sites, from the Boston Common to the Bunker Hill Monument.
In addition to history, Boston is also a sports-mad city, home to the New England Patriots and Boston Red Sox, who play at iconic Fenway Park. As the unofficial capital of New England, this is a great place to rent an RV and explore the beautiful Northeast.
Top 3 Attractions:
Freedom Trail: Marked by bricks, the famous Freedom Trail runs past more than fifteen historic sites and landmarks, an amazing collection of churches, burying grounds, museums, parks, meeting houses and even a ship.
Faneuil Hall: A historic marketplace, Faneuil Hall is part of the Freedom Trail and managed by the National Park Service. Nowadays, it serves as a bustling shopping centre with many restaurants, food courts and stores.
Fenway Park: One of the most iconic baseball stadiums in the USA, Fenway Park is the home of the Boston Red Sox. Opened in 1912, it is the oldest stadium in Major League Baseball.
Leading Boston RV Rental Brands: Cruise America
New York, NY
New York City is arguably America's most famous city, a sprawling metropolis made up of Manhattan, Brooklyn, Staten Island, Queens and the Bronx. Home to two major international airports—JFK and LaGuardia—it is a gateway to the Northeast and the rest of the Mid-Atlantic region.
Visit world-renowned attractions like the Statue of Liberty, Central Park, Rockefeller Center and the 9/11 Memorial & Museum before picking up you RV rental and heading north to New England.
Top 3 Attractions:
Statue of Liberty: Located on Liberty Island in New York Harbor, the iconic Statue of Liberty is a massive neoclassical sculpture that attracts millions of visitors each year. You can take tours from Lower Manhattan or see it up close on the Staten Island Ferry.
Central Park: An expansive green space in the heart of Manhattan, Central Park is the oldest landscaped city park in the USA. It has lawns, rides and attractions, a zoo, lakes and ponds, and many miles of trails.
9/11 Memorial & Museum: Located at the former site of the Twin Towers, the 9/11 Memorial & Museum commemorates the September 11, 2001 terrorist attacks. The footprints of the two skyscrapers are now ponds with waterfalls, while the names of the victims are displayed on panels. The museum tells the story of the events of that fateful day.
New York RV Rental Brands: Britz Campervans, Cruise America, El Monte RV, Escape Rentals USA, Road Bear RV
Newark, NY
The largest city in New Jersey and one of the oldest in the United States, Newark is known mainly for the Newark Liberty International Airport, the Newark Museum and Branch Brook Park.
For millions of visitors, the airport is where they arrive in the USA (or on the East Coast), a great starting point for visits to nearby New York City. The presence of several RV rental companies makes it an excellent place to rent an RV for a New England holiday, too.
Newark RV Rental Brands: Britz Campervans, Cruise America, Road Bear RV
New England RV Road Trip Itinerary – 6 Must-Visit Places
It is here that you'll find the best possible combination of historic cities, charming villages, glorious coasts, rugged mountains and remote wilderness. Campgrounds abound in New England, which makes RVing a piece of cake. Add some wonderfully scenic roads and sensational fall foliage and you've got yourself a world-class road trip.
1. Boston, Massachusetts
The place where many—if not most—people pick up their RV rental in New England, Boston is one of the oldest major cities in the USA. Its Freedom Trail leads past more than a dozen historic landmarks, while stadiums like Fenway Park, home to the Boston Red Sox and the New England Patriots, attract sports lovers from all over the world.
The unofficial capital of New England, Boston is also one of America's oldest cities. Having played a vital role in the American Revolution, the city is dotted with fascinating historic sites.
This is the natural first destination on any New England RV road trip itinerary. Pick up your campervan hire or RV rental in Boston after exploring the city's parks, historic districts, museums and landmarks. Give yourself at least two days here.
2. Cape Cod, Massachusetts
A quick drive to the south of Boston lies Cape Cod, one of the premier beach destinations on the Eastern Seaboard of the U.S. Shaped like an arm with a flexed biceps, Cape Cod is an incredibly popular summer destination in Massachusetts. Located south of Boston, it is home to charming villages, wonderful beaches, photogenic lighthouses and great seafood shacks.
Visit the John F. Kennedy Museum in Hyannis, a bustling town that is also the departure point for ferry trips to Martha's Vineyards and Nantucket.
To make the most of your visit, alternate time on the beach with coastal hike or bike rides. And, of course, seafood is the only thing you're going to eat here. It's among the best in the world. This is a major vacation destination, so don't rush it and spend three days here.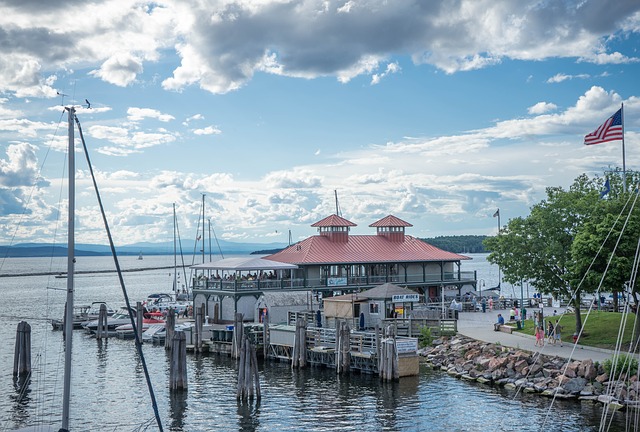 3. Burlington, Vermont
After a few relaxing days in Cape Cod, jump back in your RV and head north toward Vermont 's largest city. The drive is several hours, which is still relatively short considering that this is America. Once you're in Vermont, take your time driving through it. If any state could be described as pretty and charming, it has to be Vermont.
Hit scenic Route 100 through the Green Mountains and head toward Burlington, a vibrant college city. Set on the shore of shimmering Lake Champlain and backed by the Green Mountains, this is one of the most liveable cities in the entire nation. Home to historic sites, farm-to-table restaurants, craft breweries and boutiques, it is a must-visit destination on an RV road trip in Vermont. Grab a scoop or two of Ben & Jerry's—this is where they're from—sample a few craft beers and enjoy Vermont's great outdoors. Two days is a minimum.
4. White Mountains, New Hampshire
Cruise across Vermont and toward the heart of New Hampshire. This is the location of the White Mountains, an expanse of granite summits, rugged ranges, wide valleys, wild rivers and deep forests. There's lots of wilderness in New England, but this might just be the cream of the cream. Adventure enthusiasts will find this to be the highlight of their New England RV road trip itinerary.
Occupying about a quarter of New Hampshire, the White Mountains are a subrange of the Appalachians. They are well-known for their ruggedness, home to series of barren granite peaks, as well as tourist attractions like Bretton Woods, Cannon Mountain, the fantastic Mount Washington Cog Railway and the Mount Washington Auto Road, one of America's oldest man-made tourist attractions. New England RV rental travellers will want to hit the remote Kancamagus Highway, which runs through the heart of the White Mountains and offers spectacular leaf peeping in autumn.
Visit Franconia Notch State Park and head to the summit of Mount Washington, one of the world's most dangerous mountains. You can explore the White Mountains in one very long day, but you're encouraged to spend at least one night and two days.
5. Acadia National Park, Maine
More nature adventures await you in Acadia National Park, the only national park in New England, this is one of the most popular parks in the U.S. It's a phenomenal place to spend three days. Acadia National Park occupies much of Mount Desert Island, which is also home to the tourist town of Bar Harbor, as well as smaller islands and islets.
The scenic Park Loop Road is the best way to explore the park with an RV or campervan, while trails and historic carriage roads offer great hiking, biking and horseback riding opportunities.
Go for coastal or mountain hikes, bike the historic carriage roads, enjoy world-class seafood and take a dip in the (cold) Atlantic Ocean at Sand Beach. The beauty of this park is that you can see most of it on the Park Loop Road.
6. Portland, Maine
After all these outdoor activities, some of you may crave an urban environment once again. And if that's the case, there's no better place than Portland, Maine. This historic coastal city is one of the greatest cities in New England. A former fishing port and industrial area, Portland is now a vibrant and modern city, its warehouses turned into shops, boutiques, craft breweries and galleries.
There's also a gorgeous waterfront and it wouldn't be Maine if there weren't a couple of picturesque lighthouses around as well.
These are six recommended cornerstones of any New England RV road trip itinerary. Of course, there's much more to New England than just these, though. You're free to build your trip around the above-mentioned destinations. Other recommended stops include Providence, Stowe, Monhegan Island, Portsmouth and Salem.
Other Top Attractions in New England
From the coasts of Maine and Cape Cod, the mountains of Vermont and New Hampshire, and the farms of Connecticut to the urban attractions of Boston, Burlington and Newport, a New England RV road trip has something for everyone.
When you want to see New England with a motorhome, these are a few more attractions to base your itinerary on. They are the cream of the crop, the greatest highlights of this beautiful, historic region in the northeastern United States.
Martha's Vineyard, MA
One of the most popular summer destinations in New England, Martha's Vineyard is an island just off the south coast of Cape Cod. You can get there only by boat or by plane, after which you can explore quaint harbor towns and villages, beautiful beaches, lighthouses and farms.
Newport, RI
A small harbor town in Narrangansett Bay on the coast of Rhode Island, Newport is famous for its Gilded Age mansions along Bellevue Avenue—particularly The Breakers, a former Vanderbilt family mansion, is worth visiting. You can see many of these imposing "cottages" along the Cliff Walk. Additionally, Newport has numerous great seafood restaurants, too.
Litchfield Hills, CT
If you would like to see authentic New England scenery, villages, town greens, historic architecture and fall foliage, Connecticut's Litchfield Hills should be on your RV road trip itinerary. Visit attractions like the Railroad Museum of New England and the Winvian Farm, go canoeing on Lake Waramaug or hike to Campbell Falls, which is beautiful in autumn.
Bar Harbor, ME
A busy tourist town on Maine's Mount Desert Island, Bar Harbor is the gateway to Acadia National Park. The town offers access to Frenchman Bay, as well as numerous hiking trails, historic carriage roads and beaches. The scenic Park Loop Road, which loops through Acadia National Park, starts just outside the town, while you can set up camp at a number of RV campgrounds.
Franconia Notch State Park, NH
A gorgeous park in the heart of the White Mountains, Franconia Notch State Park is a mountain pass between the Franconia Range and Kinsman Range. It is along Interstate 93, which runs through the pass, and offers amazing hiking, fall foliage viewing and picnicking opportunities. The park's star attraction is the lush Flume Gorge, while the strenuous day hike to Franconia Ridge is one of New England's best hikes.
Salem, MA
Located on the coast of Massachusetts, just north of Boston, Salem is a vibrant city with a wealth of history to discover. It is most famous for its 1692 witch trials—modern-day attractions include the Witch House, candlelit Ghost Tours and the Salem Witch Museum. Additionally, Salem is also a historic port city, as shown at the Salem Maritime National Historic Site. The excellent Peabody Essex Museum has both Asian art exhibits and maritime and whaling history displays.
Green Mountains, VT
Running across Vermont from south to north, the Green Mountains are a verdant series of rolling slopes, valleys, farmlands and peaks. Vermont's scenic Route 100 parallels the mountain range, running through quaint New England villages, past renowned ski resort like Stowe and Killington, and through beautiful woodland scenery.
Top Scenic Drives in New England
A region characterized by rocky meandering coastlines, vast forests dotted with shimmering lakes, and beautifully rolling mountain ranges, New England is a road tripper's paradise. Pick up your New England RV rental at one of locations we described above and hit the region's scenic highways and byways.
There are scenic routes in essentially all six New England states, but some are head and shoulders above the rest, thanks to their sheer beauty, location and opportunities for outdoor adventures. So, whether you would like to discover New England's inland mountains on New Hampshire's Kancamagus Highway or Vermont's Scenic Route 100, or enjoy gorgeous coastal scenery on the Park Loop Road in Acadia National Park or Cape Cod's Old King's Highway, there are plenty of options for an RV road trip in the Northeast.
Below, we have picked the greatest scenic drives in New England, all of which are ideal for RV travel.
Kancamagus Scenic Byway, NH
A 34.5-mile section of New Hampshire Route 12, the Kancamagus Highway cuts through the beautiful White Mountains. Stretching between the towns of Lincoln and Conway, and without any buildings, gas stations or other large man-made features, it is known as one of America's best roads for fall foliage viewing.
Numerous RV campgrounds in the area make this a popular self-drive holiday destination in New England.
Park Loop Road, Acadia National Park, ME
Looping around Mount Desert Island, Maine, the Park Loop Road in Acadia National Park is the best way to explore New England's only national park on wheels.
This 27-mile scenic drive takes you past many of the park's top attractions, connecting its lakes, beaches, cliffs and mountainsides. Don't miss Sand Beach, Otter Point, Jordan Pond and the summit of Cadillac Mountain, which offers breathtaking views.
Route 100, VT
The longest numbered highway in Vermont, Scenic Route 100 runs along the state's north-south axis, from Massachusetts to Canada, for about 215 miles. It parallels the crest of the stunning Green Mountains, passing several tourist attractions and towns on the way—particularly ski resort towns like Ludlow, Killington and Stowe.
Route 100 is one of the most popular scenic highways among RV travellers in New England. It is especially busy in autumn for its glorious foliage, as well as in winter for winter sports.
Old King's Highway, Cape Cod, MA
Officially known as Route 6A, the Old King's Highway is a tree-lined road along the north coast of Cape Cod. It runs between the towns of Sandwich and Orleans, passing through some of America's oldest villages. Several of the churches and houses along the Old King's Highway are listed on the National Register of Historic Places.
Much less busy than Route 28, the main thoroughfare on Cape Cod, it makes for a nice and relaxed drive through quaint villages and past wonderful coastal scenery.
Rangeley Lakes Scenic Byway, ME
The Rangeley Lakes Scenic Byway winds through Maine's western mountains and lakes region. This amazing route is centred on Rangeley Lake, snaking its way along lakeshores, past mountain streams, through densely wooded areas and across scenic farmlands. The full distance is 52 miles, which takes you to attractions like Angel Falls, the Rangeley Lakes Region Logging Museum, Mooselookmeguntic Lake and the Height of Land, which is arguably the route's greatest viewpoint. 
Best Time of Year to Visit New England in an RV
Every season has something to offer in New England. Even if you are exploring the region with a New England RV rental, there are plenty of things to do from winter through fall.
Summer is a great time for activities like boating, swimming and camping, while winter offers world-class skiing, snowboarding, ice fishing and snowshoeing. Fall, however, is without a doubt the best time to visit New England in an RV. Famous around the world for spectacular autumn colours, New England's forests, hills and mountains are absolutely breathtaking in October.
Spring
The transition from the snowy winter to the sunny summer, spring in New England starts off with muddy trails and forests, but ends with lush greenery and flowers. It is arguably the quietest time of the year in this part of the USA, so spring is a great season for RV holidays in New England without the crowds of summer and fall. Waterfalls roar, wildlife roams, birds migrate and maple sap (syrup) flows in the New England spring.
Summer
Summer is an ideal time to explore New England in a motorhome. This is the time of year that has the most sunshine and warmest weather, making it a great time for extended camping trips, hiking, boating and swimming. From the beaches of Cape Cod to the wilderness of Maine's North Woods, the New England summer offers all kinds of outdoor adventures.
Fall/Autumn
Although New England is beautiful throughout the year, no other season is so mesmerizingly spectacular as autumn. Through October, the Northeast's forested slopes and valleys display all kinds of yellows, oranges, reds and purples. Corn mazes, pumpkin patches and apple cider stands await on a road trip in New England in the fall. Visiting New England with an RV in autumn is one of the greatest tourist experiences anywhere in the USA.
Winter
The months of November through February in New England are characterized by abundant snowfall, freezing temperatures and gorgeous winter scenes. This is the peak season for New England's many winter sports resorts, from Maine's Sugarloaf and New Hampshire's Bretton Woods to Vermont's Killington, Stowe, Jay Peak and Okemo Mountain.