Boston Motorhome Rental, Massachusetts USA
Campervan Hire and RV Rentals in Boston MA
In American history, Boston, the capital and largest city of Massachusetts, figures prominently. It was where Puritan colonists from England founded a New World in 1630; and consequently, it became the scene of several key events of the American Revolution. Today, Boston asserts its Old World reputation as the 'Athens of America'; as it houses many of the United States' elite learning institutions. Geographically, it also serves as a convenient staging point to explore New England by Boston motorhome rental, campervan hire and RV rentals in Massachusetts, USA.
Whether you're thinking about booking a campervan hire or RV rental in Boston, Massachusetts; or are even planning on flying to Boston Logan International Airport to pick up a vehicle for your self-drive holiday, a Boston RV rental vacation is a great way to explore New England!
A few years ago, we noticed that there was not a single place where you can grab all of the information you need to make the right choices when it comes to renting a motorhome in Boston-whether you're flying solo, taking along a load of friends or your small/large family- for a self-drive RV holiday. A place with simple, direct advice (without loads of adverts and pop-ups) providing just the right amount of information for your requirements, so you can get on with your self-drive holiday in Boston safe in the knowledge that, at every step of the way, you're making the right choices.
So, we'll start by suggesting top motorhome rentals companies in Boston, the best motorhomes you can hire for your Boston road trip, fantastic campgrounds to park up and hook up before, finally, recommending some of the best things to see and do on your motorhome rental vacation in Massachusetts: eye-popping natural attractions, top places to visit alongside some awe-inspiring scenic drives all await, while keeping an eye on the huge wealth of history Boston and the wider Commonwealth of Massachusetts has to offer. But let's not get ahead of ourselves! Before that, you'll be wanting to hire your perfect motorhome in Boston.
Best RV Rental Company in Boston, Massachusetts
It may come as a surprise that motorhomes are actually quite simple vehicles. Basically, we're talking about a four-wheeled chassis with seats, bedding and a kitchen of sorts, these days, many of them will come with the luxury of a toilet and/or shower, so all you need to do is to find one that can accommodate the needs of your passengers.
Virtually every RV/motorhome rental company will offer something that ticks all the boxes, meaning that finding the best motorhome for your self-drive holiday in Boston isn't that hard, but finding the best RV Rental company in Boston, Massachusetts is a different story.
How about we recommend just one, top motorhome rental company thereby taking all the hassle out of price comparison, the worries surrounding motorhome rental insurance/hidden costs/excess etc., with a fleet of four perfectly appointed motorhomes to cater for as many as seven of you or as little as one. Problem solved below.

Cruise America
You have a choice of no less than three Cruise America depots relatively close to Boston Logan International airport, but the closest is their depot to the south of the city in Lakeville. Here you'll find a choice of four motorhome rentals: The Large RV, The Standard Rental and Compact RV Rental, each will play host to 7, 5 or 3 respectively. The fourth choice is their 3 berth Truck Camper Rental which could be an invaluable bit of kit when visiting some of our more rugged top-ten must-see places in and around Boston.
Class C
The notion that Class C motorhomes are somehow inferior to a Class A option is unfounded. The fundamental difference between the two is the way they are manufactured: Class A motorhomes, more likely referred to as RV's, are built and designed as a single concept mobile home by a manufacturer, such as Jayco, with a similar profile to a bus.
Class C motorhomes (or campervans) are a fusion of prefabricated living quarters with a pre-existing chassis, cab and engine, so the facilities found in Class C motorhomes can be just as good as those found in the Class A options.
Boston RV Rental depot: Cruise America, 8 Harding Street, Lakeville, MA 02347, USA
Located about 41 miles/66 kms from Boston Logan International Airport (BOS) or 39 miles/63 km from downtown Boston.
Cruise America Boston office hours:
Monday to Saturday:

Pick Up: 1pm to 4pm
Drop off: 9 am to 11 am

Closed Sundays and Public Holidays
Included with Standard Rate:
24-hour assistance
0-4 years old
Top 10 Natural Attractions near Boston, MA
After spending some time checking out Boston's top sights, the wider Commonwealth of Massachusetts is loaded with a host of natural treasures in this charming corner of the United States, but with so many to choose from, how do you decide which are the best ones to see in your Boston RV rental?
Fear not, below you'll find a list of the top ten natural attractions near Boston, this incorporates areas of outstanding natural beauty, scenic drives, sensational food, velvety wines and maybe even a spot of US history thrown in for good measures. Actually, make that quite a large spot of US history…
Plymouth Rock
Featuring a full-scale replica of The Mayflower, a grand museum containing artefacts of the Pilgrim Fathers' era; Plymouth Rock is dotted with dozens of sites documenting the lives of the men and women that gave birth to the modern USA. A great place to kick off the history lessons.
Cape Cod
Cape Cod is similarly steeped in history, but maybe the best part is 40 miles of glorious coastline that adds up to a winding scenic drive on Route 6A. Delicious seafood and a glass or two of local wine await the famished traveller at the end of a stunning day.
Martha's Vineyard
Which brings us perfectly on Martha's Vineyard. For a fee, you can bring your motorhome rental from Boston on the ferry, but you're just as welcome to leave it on the mainland, bearing in mind this beautiful island is, as its name suggests, all about excellent wines. The food is fantastic too.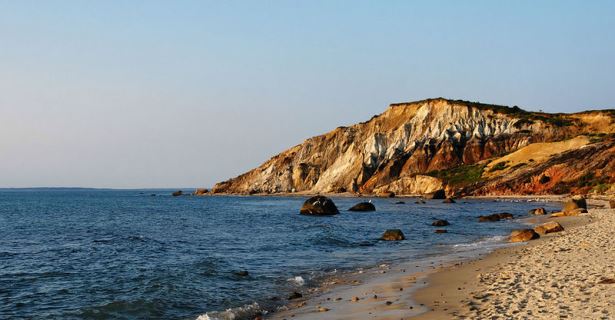 Salem & Marblehead
Salem and Marblehead are the perfect day out, the former is synonymous with witchcraft -or a huge miscarriage of justice- and the fascination with the 1692 trials is very much in evidence. An antidote to this dark period of US history is the beautiful (and historic!) harbour town of Marblehead.
Plimoth Plantation
A living museum, recreating the buildings and the lives of the Pilgrim fathers and the native Americans 400 years ago, Plimoth Plantation is complete with actors, animals and events to create a sense of authenticity. Motorhome rentals from Boston Airport hadn't been invented then, so watch where you park!
Provincetown
At the northern tip of Cape Cod lies Provincetown, the spot that the Pilgrim Father disembarked following their historic voyage from England. These days it's a hot spot for artists and the LGTB community, the contemporary buildings make an excellent backdrop to a lively town bustling with nightclubs and bars.
Stockbridge
Home to Norman Rockwell, America's iconic painter, Stockbridge celebrates the life and work of her favourite son with a great museum. It's a two-hour (not so scenic) drive from Boston on Route 90, so why not stay the night following an evening in the famous Red Lion Inn?
Lexington & Concord
Lexington and Concord mark the site of the beginning of the American Revolution in 1775 which lasted until 1783 when the US won their independence. Yes, it's a site of national interest with plenty to keep the historians occupied, but it's also a very attractive place to visit too.
Newport, Rhode Island
Perhaps the best scenic drive in Newport, Rhode Island for your motorhome rental is Ocean Drive, among many delights is Brenton State Park and the Newport harbour that's played host to America's Cup. For (inland) landlubbers, the houses on Bellevue Avenue are mandatory for lovers of Gilded Age architecture.
New England Coast
You don't have to leave your Boston motorhome rental to enjoy the New England Coast. In fact, there are so many scenic drives in this neck of woods we virtually lost count, but if you're going to do only one, check out Route 203 and take it from there.
Massachusetts RV Self Drive
Massachusetts may not be the biggest of the states in the US, but it certainly doesn't lack things to see. Fortunately, because of the relatively small size of the state; you can see most of it by obtaining a Boston motorhome rental or campervan hire. If you time your travel from late September to mid-October; you will be treated to a show of dramatic autumn foliage that even locals revel in. Even if you come outside of that window, there is still Fenway Park, home to the Boston Red Sox, and the Boston Duck Tour on an amphibious vehicle from where you can view the city's famous and historic landmarks.
One of Boston's prominent institutions is Harvard University. You can drive your RV rental to Cambridge where you can see what life is really like at one of the world's premium educational facilities. From Mondays to Saturdays you can get guided tours that start from the Smith Campus Centre.
From Cambridge you can travel west to Worcester in your campervan rental. This is home to the Worcester Art Museum; which houses some of the planets great masterpieces by Picasso, Monet and Goya – 35,000 in all; providing an experience that can rarely be matched anywhere else in the world.
From Worcester, head southeast in your campervan hire until you reach the coastline. From this famous piece of coast you could always take a trip to see the legendary islands of either Nantucket or Martha's Vineyard. Alternatively, you can drive your RV rentals around the Cape Cod Bay sampling the excellent seafood restaurants while keeping an eye on the whales.
After returning from the drive around Cape Cod, perhaps take the coastal road north to Plymouth. In Plymouth, the Captain John Whale Watching and Fishing Tours will afford you the opportunity to get close to some of the whales you saw from Cape Cod.
Continue north back to Boston where you can return your Boston motorhome rental; but before you do, ensure you get to experience even more marine life by visiting the New England Aquarium. The Aquarium provides a learning experience for both kids and adults with its thousands of marine creatures; that include penguins, seals and turtles to giant Pacific octopus, lobsters and rays, plus balloon fish, a giant anaconda and leafy sea-dragons. The Aquarium also features exhibits like the Yawkey Coral Reef Centre, Edge of the Sea, Giant Ocean tank and the Amazon rainforest.
Top Campgrounds & RV Parks near Boston
You'll be wanting a place to park up for the night in and around Boston, then. Or maybe you were thinking that because you're in a motorhome or campervan you can just stop when you feel like it and chill out for the night?
Well, yes and no. If you're planning on winging it without making camping arrangements near Boston, you'll quickly discover that finding a place to park -a place where you can re-charge generators and dump your wastewater- will require some pre-planning. So, here's four of the top campgrounds and RV parks near Boston for you and your passengers.
Boston/Cape Cod KOA
438 Plymouth Street, Middleboro, MA 02346
Swimming pool, mini-golf and bocce ball are just some of the amenities at Boston/Cape Cod KOA. Set in a woody landscaped park, this is a great resort for motorhomes/RV's large or small and it's close to some of the regions most celebrated attractions making it an ideal base camp.
Pine Acres Family Camping Resort
203 Bechan Road, Oakham, MA 01068
The big draw at Pine Acres Family Camping Resort is, as the name suggests, is the pine forest, but it might just be the boating, fishing and swimming in the lake (or pool) plus a variety of motorhome/RV sites with full hookups, that tickles your fancy. Check it out.
Atlantic Oaks RV Resort
3700 State Highway 6, Eastham, MA 02642
Close to the beach and backing onto the Cape Cod Rail Track, Atlantic Oaks RV Resort caters for motorhomes, campervans and RV's or rigs. The wooded pull-thru sites are equipped with full hookups and there's a playground for the kids, which could be a lifesaver for families.
Normandy Farms Campground
72 West Street, Foxborough, MA 02035
With a long list of facilities, including a swimming pool and a model racetrack, Normandy Farms Campground is voted one of the top thirteen campgrounds in the world by the Travel Channel. Full hookup sites can be upgraded to premium if you're looking to take it really easy.