Newark Motorhome Rental, New Jersey USA
If you are looking for your ideal self-drive holiday in New Jersey, we'll provide essential, simple-to-follow information on everything you need to know about hiring your perfect motorhome rental in Newark. We'll begin by looking at three great motorhome rental brands in New Jersey then, in more detail, on what they have to offer. Our aim is to empower you to make informed decisions as to which is the best campervan or RV suited to your needs -whether that's dictated by budget, passengers and/or your preferred destinations. And if you don't have any preferred destinations, we have got plenty of ideas or suggestions for things to do and places to see.
In addition to the above, we'll also focus on one area which is often overlooked in the planning stages of a US road trip, the campground. It's one thing to have the freedom to park-up on a whim and another entirely to ensure you have the perfect stop-off point where you can change your water and re-charge your batteries, literally and metaphorically, especially if you're travelling with children. Similarly, couples or friends on a self-drive vacation may be keen to avoid kids altogether, so we're on hand to help with that too!
Whatever your criteria, spend less time comparing prices from a random list of anonymous Newark motorhome rental agencies and trust our tried and tested suggestions, so you can allow yourself more time to plan those scenic drives between two, three or all of the great places we recommend.
Top RV Rental Companies in Newark
Whether you're in the market for the ideal rental for you or with your partner, friends or even the whole family, there are plenty of self-drive rental options in Newark. You might be after something that offers easy access to the Big Apple without having to pay exorbitant hotel fees, or maybe you need some space to get to grips with your RV before crossing the Hudson and battling with the downtown traffic… But most likely, you'll be wanting something safe and reliable that can take you around this alluring corner of the USA.
Motorhomes or RV's in the USA are separated into two distinct categories, Class C and Class A. The former look more like traditional motorhomes and are usually a little easier on the wallet, the latter resemble a small bus or coach and are inclined to be a little more refined inside and out so, if you're hiring a motorhome in Newark for the sole purpose of leaving it to the closest campsite to New York, the Class A option would be an extravagant and unnecessary gesture.
Check out our easy to follow guide and you'll be sure to get the perfect motorhome rental in Newark, whatever your criteria.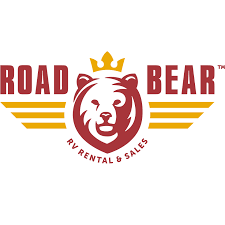 Road Bear RV
If you need to hire a motorhome in Newark with a good range of 3 to 4 berth campervans or RV's, then Road Bear RV could be your first and last choice. With no less than four Class C campervans, and one solid Class A RV, all of Road Bear RV Newark come with a toilet and shower with a range of seating and sleeping options.
Road Bear RV is definitely worth checking out if you're travelling with children because the berth number doesn't automatically relate to how many adults and children their motorhomes or RV's can sleep, as we shall see.
Class C
Road Bear RV Newark's range of Class C motorhomes allow for those planning a self-drive holiday the opportunity to pick-up a more considered rental for their US road trip.
They have four Class C motorhomes to choose from and can sleep as little as 4 -2 adults and 2 children- and as many as 7: their largest Class C campervan, the Class C 28 to 30, for example, has 4 beds, but sleeps 5 adults and 2 children. Just as important is that each of their Class C motorhomes will seat as many as it will sleep, ensuring everyone's safety on the road.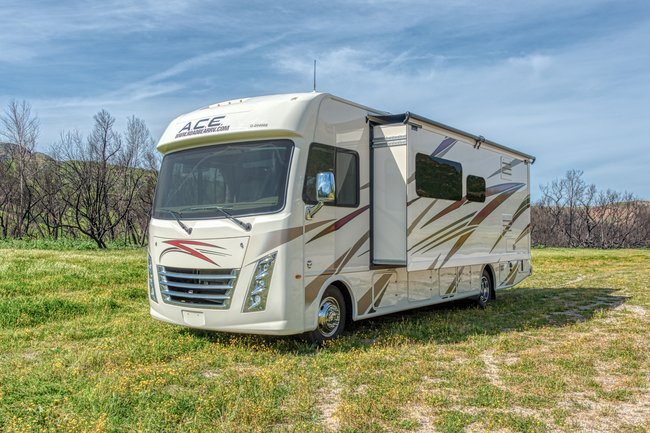 Class A
Road Bear RV's Class A 30-32 RV is, typically, more like a bus or coach in its stylings and offers a greater degree of comfort for as many as 4 adults and 2 children, plus a large fresh-water tank and more space in which to relax and sleep.
Newark RV Rental Depot: Road Bear RV Rentals, 42 State Route 36 East, North Middletown, NJ, 07748.
Located 30 miles/48 km from Newark Liberty International Airport (EWR), or 33 miles/53 km from downtown Newark.
Road Bear RV Newark office hours:
Monday to Friday:

Pick Up: between 12:30pm and 4pm
Drop off: between 8am and 10:30am

Saturday: By appointment
Sundays & Public Holidays: Closed
Included with Standard Rate:
Free transfer
24-hour assistance
Tourist information/Maps
0-2 years old

Cruise America
Cruise America have a slightly more no-nonsense approach when it comes to renting a motorhome in Newark. They have three Class C options that will sleep 3, 5 or 7 of you, in addition to the humans, all of Cruise America Newark's rental options are pet friendly and for many families, this could be a dealbreaker.
For couples, the Compact RV Rental offers everything you both need with all of the facilities you'd expect in a much larger motorhome, and if you're travelling with a child the dinette folds into an extra bed.
Class C
Cruise America's handsome range of cabovers offer walkthrough convenience and creature comforts usually found in Class A rentals. Their largest option, the Large RV Rental, manages to sleep 7 and is an excellent choice for larger families without the Class A Prices, and the dog can come too!
Newark RV Rental depot: Cruise America, 379 County Road, Cliffwood, New Jersey 07721.
Located 23 miles/37 km from Newark Liberty International Airport (EWR), or 38 miles/42 km from downtown Newark.
Cruise America Newark hours:
Monday to Saturday:
Pick Up: 1pm to 4pm
Drop off: 9am to 11am
Closed Sundays and Public Holidays
Included with Standard Rate:
24-hour assistance
0-4 years old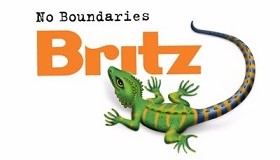 Britz Campervan Rental USA
There's something quietly confident about Britz Campervan Rental USA in Newark. They offer one Class C motorhome (a cabover that's between one and three years old) that can sleep as many as 4, but is just as ideally suited for a couple who want more space.
It's fully self-contained with a toilet, shower and kitchen, and is fitted with a large outside awning so you can bring the indoors, outdoors on a whim. Factor in a 40-gallon fresh-water tank, air conditioning, heating, hot water and a 110v generator, this could be the one for that great US Road trip.
Newark RV Rental depot: Britz Campervan Rental, 42 State Route 36 East, North Middletown, NJ 07748.
Located 30 miles/48 km from Newark Liberty International Airport (EWR), or 33 miles/53 km from downtown Newark.
Britz RV Newark office hours:
Monday to Friday:

Pick Up: between 12:30pm and 4pm
Drop off: between 8am and 10:30am

Saturday: By appointment
Sundays & Public Holidays: Closed
Included with Standard Rate:
100 miles per day
Free transfer
Bedding/Linen
Kitchen/Cutlery
24-hour assistance
Tourist information/Maps
0-2 years old
Compare & Book Deals on Campervan Hire and RV Rentals in Newark NJ
Newark is New Jersey's largest city and second largest in the New York metropolitan area; it is also one of the most racially diverse. New Jersey is on the eastern coast of the United States, nestled centrally between New York City and the state of Pennsylvania, so how better to experience more of these places than with a Newark motorhome rental, campervan hire or RV rental?
Liberty Bell, Chocolates and Wines
Once you have had a taste of the Big Apple and hopefully won some money in the casinos of Atlantic City; go a little farther to enjoy the beach boardwalk of Ocean City. From Ocean City drive your RV rental in Newark to Philadelphia and see the real Liberty Bell first-hand as well as the Betsy Ross House where the first flag of the United States was sewn.
From Philadelphia in Pennsylvania, drive your campervan hire or RV rentals to Harrisburg which is home to the famous chocolate factory and world-class amusement park, Hersheypark. Harrisburg itself has some interesting museums and an informative winery tour.
Explore the Appalachian Trail
After a chocolate overdose which the kids would probably love, travel through the Lancaster countryside to view typical Amish life. You can even rent your own buggy to do a tour the authentic old Dutch way.
From Lancaster, the next stop is the Appalachian RV Campground. This is where you can park your motorhome hire if you plan to hike the granddaddy of all hikes in America, the Appalachian Trail. This is also where Newark RV rentals and recreational vehicles from all around the country come to enjoy the many attractions that are nearby. Here they can swap information on interesting places to visit.
The Great Lakes and Niagara Falls
With your campervan hire in Newark; travel west to Pittsburgh and visit the Carnegie Museums of Art and Natural history before turning north for Erie. In Erie, you can enjoy a relaxed atmosphere as you enjoy a beach with water sport activities. Continuing north, cross into New York State and follow the Lake Erie shore up to Buffalo and then Niagara Falls. These falls are among the most impressive in the world; and are a part of the trip that should not be missed.
So as not to return on the same route as you went, head east, by-passing Rochester to Syracuse where you turn south continuing down through New York state back into Pennsylvania. Before returning your Newark motorhome rental; stop off at America on Wheels Museum in Allentown; or perhaps visit the Da Vinci Science Centre, which is also in Allentown. The centre is small but interesting and educational. From Allentown, it's only an hour and a half drive in your RV rentals or campervan hire to New Jersey.
Top New Jersey Attractions
New Jersey often plays second fiddle to the guys across the Hudson River, but we're on hand to show you that Newark and the surrounding region is so much more than a place to dump the RV while you go take a bite of the Big Apple.
For a start, New Jersey isn't all about the hustle and bustle of the city, it's a place full of natural beauty with some fantastic places to visit, but with so many alluring attractions in New Jersey, it could be hard to know where to begin. Not anymore it isn't.
Atlantic City
Famed for its 5.5-mile-long boardwalk (the longest in the world) the accompanying beach renowned for its great surf, Atlantic City is just as well known for its Casinos, but it's also home to the Atlantic City Aquarium and the kids will love the attractions on the steel pier.
Cape May
Widely regarded as one of America's oldest vacation resorts, and a super place for your self-drive holiday, Cape May's main attraction is on the shores of the Delaware Bay and the Atlantic. It's also an excellent resort to enjoy fine food and drink after some indulgent shopping.
Holly Shores and Beachcomber RV Camping Resorts at Cape May have facilities for RV rentals with water and electric power hook ups available.
Liberty State Park
Located in the mouth of the Hudson River, three sides of Liberty State Park are surrounded by water, great if you're up for a boat ride to see Liberty or Ellis Island or indulge in some fishing or crabbing. For landlubbers, it offers picnic areas and playgrounds for the kids.
Delaware Water Gap National Recreation Area
Superb for a scenic drive from Newark and in and around this vast beauty spot, Delaware Water Gap National Recreation Area may be a bit of a mouthful, but the sheer spectacle of the many waterfalls, brooks and mountains could leave you speechless; with plenty of options for hiking, canoeing, fishing, cycling and camping. Absolutely stunning.
Princeton
Pretty much defined by its famous university, recognised as one of the best in the world, which makes Princeton a college town that's both affluent and culturally minded. Enjoy boutique stores, flea and farmers' markets, alongside galleries and theatre halls. It's great for a bite to eat too.
Battlefield State Park
This 681-acre (3 km2) state park is also located in Princeton but deserves its own link. Battlefield State Park is where American and British troops fought each other on January 3, 1777 during the American Revolutionary war. A must-see destination for self-drive holiday history buffs.
Battleship USS New Jersey
More military history, but in the maritime vein, Battleship USS New Jersey is the most decorated battleship in the US Navy's history, and you can explore all 271 metres of her. The main tour is 90 minutes long, but the accompanying museum and memorial make this a fascinating day out.
Thomas Edison National Historic Park
From the humble lightbulb to the movie camera, the phonograph to the modern tattoo gun, Thomas Edison was America's greatest inventor. Point your motorhome rental towards Thomas Edison National Historic Park, home to Edison's home and laboratory, and visit the birthplace of some of the world's great inventions.
Grounds for Sculpture
This 42-acre sculpture park is a great way to enjoy a serene walk punctuated with thought-provoking, inspiring works of 3D art. Grounds for Sculpture was created by artists for artists, and as such, you're free to enjoy these works of art at your own pace, in your own time.
Paterson Great Falls
It was here, in 1792, that the famous city of Paterson was established. The weight of the falls was harnessed to power mills and factories, and your motorhome vacation in Newark won't be quite complete without visiting the birthplace of the American Industrial Revolution. Paterson Great Falls themselves are simply beautiful.
Best RV Parks near Newark, NJ
One of the best things about New Jersey is that, unlike New York, you're less likely to pay huge fees for parking, making dropping anchor in New Jersey a relatively pain-free experience. But at some point, you're going to need a place that can facilitate all the conveniences of a proper campground.
Apart from anything else, you've hired a motorhome or RV rental in Newark, undertaking all the necessary duties of a self-drive holiday are as much a part of your US vacation as visiting all the fantastic sites that we've listed further down the page. Here's four of the best.
Liberty Harbor RV Park
11 Marin Blvd, Jersey City, NJ 07302
Promising an 'urban camping' experience, this is a great opportunity to enjoy one foot in the door of a fully stocked campsite with easy access to the delights of New Jersey and the Big Apple, indeed Liberty Harbor RV Park claims to be the closest RV park to New York City. Go figure.
Windy Acres RV Park & Campground
294 Swartswood Rd, Newton, NJ 07860, United States
Enjoy all the delights of the New Jersey countryside in and around this pretty campsite set alongside Lake Paulinskill. Here you and the family can indulge in a host of outdoor activities and Windy Acres RV Park and Campground offer both waterfront and off-water views too.
The Great Divide Campground
68 Phillips Road, Newton, NJ 07860
If you're after some peace and quiet away from the bustle of the city, but not too far, the Great Divide Campground offers access to a lake, forests and mountains without having to abandon all the comforts of a great self-drive holiday. A perfect spot for both couples and families.
Mahlon Dickerson Campground
955 Weldon Road, Jefferson Township, NJ 07849
This isn't one for motorhomes or campervans without self-contained bathroom facilities due to the rural nature of this beautiful campground located within the Morris County Parks Commission. The Mahlon Dickerson Campground is a whole load of fun for those on a self-drive vacation keen to keep their camping experience authentic.