Scenic Route 100 Byway
Vermont's Scenic Route 100 Byway
New England at its best by RV Rental
Often appearing in lists highlighting the most scenic roads in America, Vermont's Route 100 is certainly pretty. Known as the Scenic Route 100 Byway, it meanders its way through the heart of Vermont, running from south to north for most of the state's length.
The entire road is 216 miles (or 349 kilometers) long and can be driven in just one day. Of course, however, you're advised to set aside much more time than that. This is a road you do not want to rush. In fact, if there's any road in America that requires you to slow down, it would be this one; making it ideal for an RV or motorhome rental holiday from Boston or New York.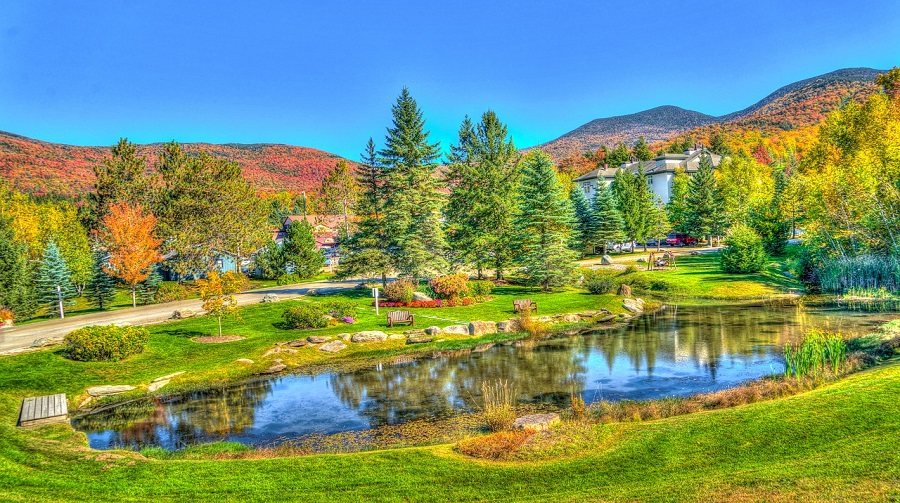 A Road That Oozes Charm
Route 100 is sometimes also called "Vermont's Main Street" or " the skier's highway" because it links together a series of beautiful towns and basically follows the Green Mountains. It runs through well-known winter sports resort towns such as Ludlow, Killington and Stowe. As a result, you'll find many of Vermont's best ski resorts along this amazing roads—examples are Jay Peak, Stowe Mountain Resort, Sugarbush and Okemo Mountain Resort.
If you're not into winter sports, you can drive Vermont's Scenic Route 100 Byway any other time of the year as well. However, as this is New England, you're strongly encouraged to visit this region in the fall. October is when fall foliage is at its peak, attracting thousands of road trippers from all over the world to this otherwise quiet state. Make sure to book your accommodations far in advance!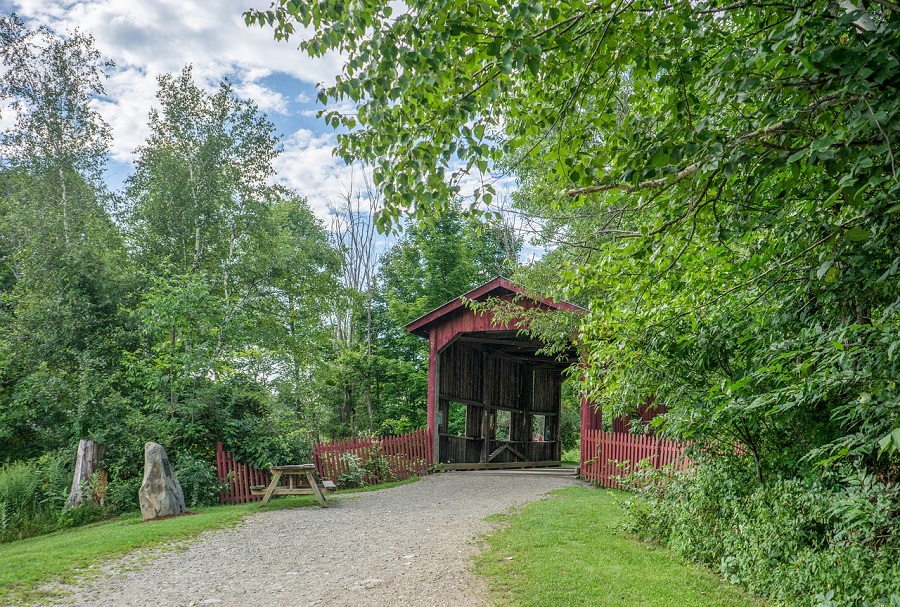 Vermont's Scenic Route 100 Highlights
In addition to the above-mentioned ski resorts, there are numerous other highlights on Route 100 as well. They range from historic homestead and charming lodges to craft breweries, hiking trails, covered bridges and pretty farms. The following are places you're recommended to stop at when driving the Scenic Route 100 Byway.
The President Calvin Coolidge State Historic Site
The 30th President of the United States, Calvin Coolidge is one of only two U.S. Presidents from Vermont. Located in beautiful Plymouth Notch, his family's old homestead is one of the most renowned historic sites in the state.
Ben & Jerry's Ice Cream Factory
If you didn't know that Ben & Jerry's is from Vermont, you certainly will after driving Route 100. In the town of Waterbury, you can tour the Ben & Jerry's Ice Cream Factory and, of course, try some of their newest flavors.
Long Trail Brewery
A short detour from Route 100 lies Long Trail Brewing Company, arguably the most well-known of the numerous Vermont breweries (Vermont has the highest numbers of breweries per capita of any U.S. state). You'll find this one in Bridgewater Corners. They have a large taproom and a pub-style restaurant.
Camel's Hump
By far the most recognizable mountain in Vermont, Camel's Hump got its name for obvious reasons. It looks like a camel's hump. This is also one of the best hikes in the states and one of the Vermont's highest peaks. The trailhead lies in Camel's Hump State Park, not too far off Route 100.
Moss Glen Falls
If you like waterfalls, you'll certainly love Moss Glen Falls, arguably the most scenic one in Vermont. There are actually not too many impressive falls in the state, which makes this one stand out even more. It's a short hike to get to its base. The trail starts just north of Stowe.