Shenandoah's Skyline Drive by Motorhome – Wildlife, Trails and Vistas
One of the greatest mountains roads in the USA, Skyline Drive snakes along the Blue Ridge Mountains' crest in central Virginia. It's located entirely within Shenandoah National Park and is also the only public road through the park. This is a park that deserves at least two full days of your time. Driving Skyline Drive by motorhome is by far the best way to explore it.
Skyline Drive by Motorhome – the Essentials
Skyline Drive is 105 miles long and runs from Shenandoah's northern entrance station near Front Royal to its southern entrance station at Rockfish Gap. Two additional entrance stations in between offer other access points. The park itself is basically a stretch of the Blue Ridge, pretty long and rather narrow. This means that by driving Skyline Drive, you'll get to see pretty much the entire park.
The road itself is winding, but because it lies along the mountains' ridge, there are no steep sections (except for the ascent and descent to Skyline Drive from the foothills). It's one of the easiest roads of its kind to drive. Smooth bends, wide open views and lots of stopping points make this drive an absolute breeze.
In fact, there are an incredible 75 overlooks along Skyline Drives length, offering you the chance for a break and leg-stretcher essentially every mile and a half on average. It's that plethora of scenic viewpoints, combined with the park's accessibility, that makes driving Skyline Drive by motorhome so popular. The park, by the way, lies only about an hour's drive west of Washington, D.C. and only 30 minutes from the beautiful college town of Charlottesville.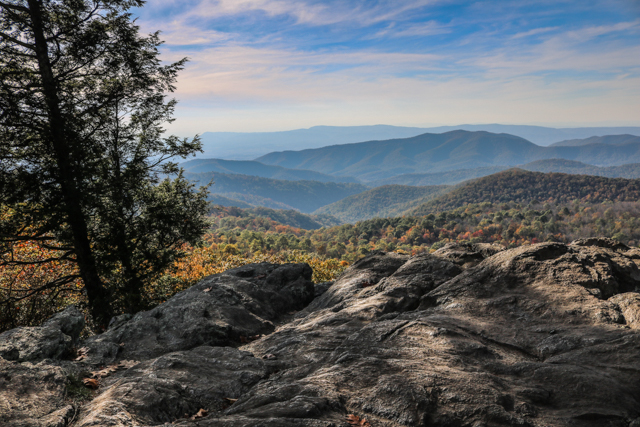 What Not to Miss
Highlights are numerous along this gorgeous road. In addition to its many overlooks, there are countless hiking trails, a few historic sites, and several campgrounds and lodges. Besides driving Skyline Drive by motorhome; you're also encouraged to go for a hike—really the best way to experience this forested mountain park.
A variety of trails, from short strolls to strenuous climbs, offer people of all ages and abilities the opportunity to see, hear, smell and feel Shenandoah National Park. Recommended trails include the Dark Hollow Falls Trail, Frazier Discovery Trail, Doyles River-Jones Run Loop, Stony Man Trail and Bearfence Mountain Trail.
In terms of natural attractions, it wouldn't be a national park if there weren't lots of then around. From beautiful waterfalls to open rocky summits, from wooded hollows to wildlife; Shenandoah is one of the greatest nature destinations on the East Coast of the USA. Wildlife is abundant here. When exploring Skyline Drive by motorhome, keep your eyes peeled for white-tailed deer, black bears, wild turkeys, chipmunks and squirrels. Skunks, coyotes, opossums and many other animals also call the park home, but are spotted less frequently.
As mentioned above, you will need a minimum of two days to truly explore and experience Shenandoah. This, of course, means you'll have to spend the night somewhere. Four campgrounds, scattered along Skyline Drive, provide a place to park your motorhome or RV rental at night. If you fancy more luxury, consider booking a room at Skyland Resort or Big Meadows Lodge.