Blue Ridge Parkway Scenic Drive
Driving the Blue Ridge Parkway by RV or Motorhome Rental
Without a shadow of doubt one of the greatest mountain roads in America, if not in the world, the Blue Ridge Parkway makes for the perfect driving holiday. By RV or Motorhome rental, you'll meander past wonderful lookouts, great hiking trails, historic sites and charming waterfalls.
Blue Ridge Mountains
As its name implies, the Blue Ridge Parkway is a highway that runs along the Blue Ridge Mountains. What sets it apart from basically all other American highways, however, is that it's totally uninterrupted. Simply put, when driving the Parkway, you won't see a single traffic light. There is also no advertising along the roads, no billboards or food and accommodation signs. This scenic road is all about nature, quiet scenery and peaceful enjoyment.
The fact that you can drive the whole thing without having to stop once—except to get gas and sleep, of course—is even more impressive when considering its amazing length. The Blue Ridge Parkway is no fewer than 469 miles (that is 755 kilometers) long. It runs along the crest of the Blue Ridge Mountains, which are part of the much larger Appalachian Mountains, winding its way past panoramic mountain summits and dozens upon dozens of overlooks.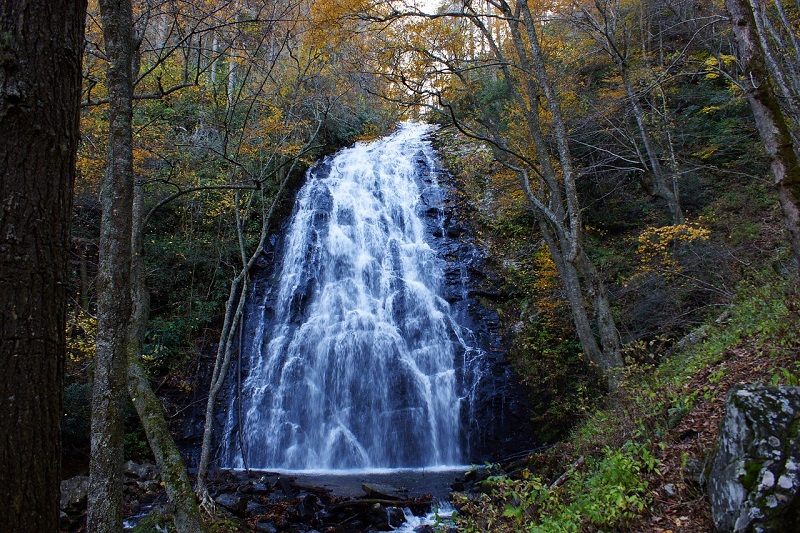 Scenic Hikes
Because of this length, many people drive only sections of it. It's an awesome day trip from places like Charlottesville and Roanoke in Virginia, or Asheville in North Carolina. However, to truly appreciate how great the Blue Ridge Parkway is, you should drive every mile, stopping at all major highlights and doing a few scenic hikes.
Skyline Drive
The Parkway's starting point, its northern end, lies near Waynesboro, Virginia. In fact, this starting point is also the terminus of Skyline Drive, an equally as gorgeous 105-mile drive through Shenandoah National Park. If you have time, you're encouraged to include that road in your itinerary as well. The Blue Ridge Parkway ends in Great Smoky Mountains National Park, North Carolina, connecting two of America's greatest mountain-and-woods parks.
Managed by the National Park Service, the Blue Ridge Parkway is effectively the most visited unit in their entire system. It's easily accessible from many major cities, including Motorhome or RV Rentals in Washington DC and Atlanta; it's possible to get a feel for it in just one day; and, maybe most importantly, it's totally free.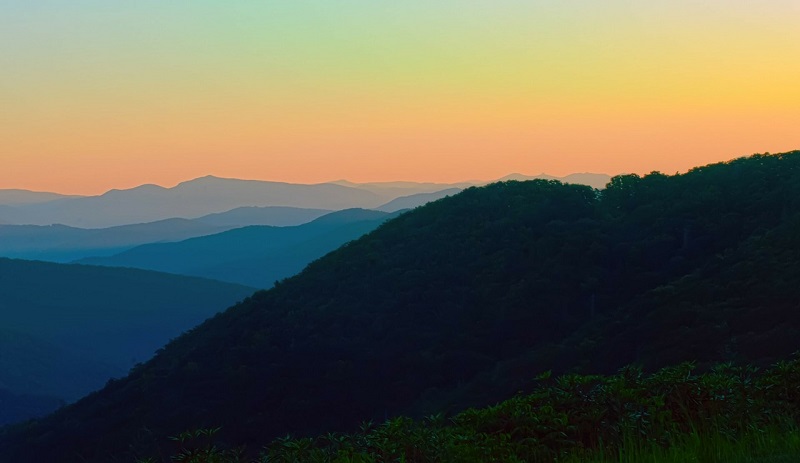 Highlights on the Blue Ridge Parkway Scenic Drive
When you drive the Blue Ridge Parkway, these are the main highlights you'll come across, from north to south:
In Virginia:
• Shenandoah National Park (starting point)
• Humpback Rocks (visitor center, exhibits and hikes)
• Raven's Roost Overlook (panoramic views)
• James River and Otter Creek (visitor center, hiking, fishing, camping, historic sites)
• Peaks of Otter (accommodation, hiking)
• Mabry Mill (old watermill, most photographed building on the Parkway)
• Blue Ridge Music Center (exhibits on the historic and origins of bluegrass music)
In North Carolina:
• Cumberland Knob (recreation area, place where construction on the Parkway began)
• Doughton Park (wildlife, hiking and camping)
• Moses E. Cone Park (historic estate, craft exhibits)
• Linn Cove Viaduct (impressive mountain-hugging bridge, visitor center and hikes)
• Craggy Gardens (wildflowers and hiking)
• Folk Art Center (traditional and contemporary Southern Appalachian craft exhibits)
• Mount Pisgah (hiking, camping, country store and restaurant, accommodation)
• Waterrock Knob (sunrises and sunsets, visitor center, hiking)
• Great Smoky Mountains National Park (ending point)