Campervan Drive from Billings Over Beartooth Pass
Some of our best memories are of cameo parts of longer journeys, and reliving the discovery motorhomes are made for pleasant driving. We decided to tackle Beartooth Pass after reading a post in New York Times. We collected our rental RV from friendly folk in Billings, Montana and she took everything in style.
Beartooth Pass is part of Route 212 from Billings to Cooke City. Folk have called it "the most beautiful drive in America", and this is easy to understand once being there. At a height of 10,947 feet (3,337 meters) above sea level, snow falls heavily in winter. Hence, the road may only be open from mid-May to mid-October.
A Relaxing Drive from Billings to Red Lodge Approaching Beartooth Pass
We decided to take the pass from Billings to Yellowstone in late April, a mere 200 miles in total (320 kilometres) which is small fry by U.S. standards. The road rose steeply before us as we left town. We arrived in Red Lodge after following 60 miles (96 kilometres) of pleasantly easy-going road in our luxury rental motorhome. We learned this was an old boomtown where The Sundance Kid pulled a robbery once.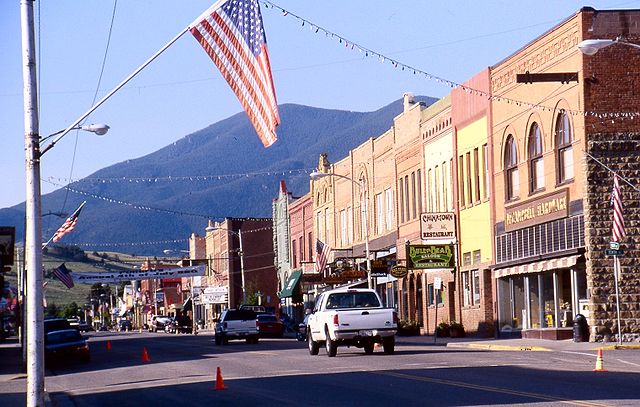 Nowadays the Main Street will take you back a hundred years with straight fronted buildings that could look good in any Western Movie set. Although only home to 2,100 people Red Lodge comes alive with festivals. These include the Winter Carnival in March, the Music Festival in June, and the Home of Champions Rodeo come July. We had a great midday meal at one of several steak and pizza houses.
Onward to Yellowstone 175 miles (280 Kilometres) Distant
We were feeling remarkably relaxed as we rejoined Route 212 and eased our rental campervan up to speed where wild horses roam. We were beginning to rediscover the joys of easy-going holidaying the recreational vehicle way. At one point, we found ourselves following seven miles of switchbacks along the rim of a gaping canyon. At length we pulled over into a turnout for a great view of a waterfall crashing down a cliff. A sign reminded us we were in bear country. "Be alert and make a noise," it said. We did!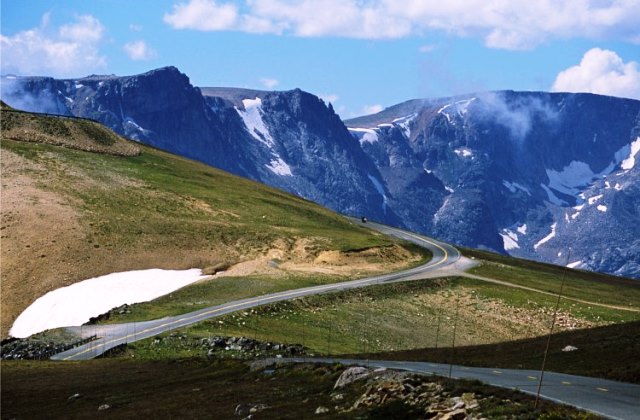 The settling sun was low down in the sky when we reached Yellowstone National Park after our journey across the mountain from Billings. Once through the entrance we followed a minor road into a valley. There we spent a peaceful night in our rental campervan with all the facilities we imagined. After exploring nature for two more pleasant days, we headed out to Salt Lake City Utah. We returned our rental recreational vehicle two days later with some regret and every intention to return.