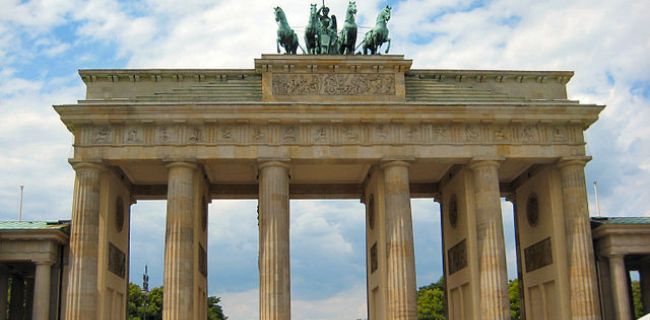 Berlin Motorhome Rental, Germany
Compare RV Rental rates & book Campervan Hire in Berlin
Thinking of a visit to Berlin, the capital city of Germany? Consider a Berlin motorhome rental, RV or campervan hire. This can be an inexpensive and convenient way to see this interesting part of north-eastern Germany. Modern-day Berlin is a wonderful city to visit. Hip, vibrant and a long way removed from the depressing place that it was before the dreaded wall came down.
Today Berlin is known for its' museums, fashion, gourmet food and a very vibrant nightlife. Hotels in Berlin can be very expensive, and this is where your Berlin motorhome hire will save you a lot of money. There are a couple of very good campervan parks really close to the city to use as your base for enjoying Berlin, and you will be able to go on many day-tips around the area, or even drive all the way across the country to Frankfurt, where a one-way drop-off of your Berlin motorhome rental is possible.
Which motorhome rental in Berlin is right for you?
Leading Berlin campervan rental brands Big Sky Motorhome Rentals, Euromotorhome Rental and Star Drive Germany have many late-model campervans to choose from. There is bound to be one that will suit your group size and budget. Browse our online listings now to choose the RV rental that suits you best.
The selection includes compact budget models without a shower or toilet (the facilities at the German campervan sites are really superior and usually absolutely spotless!) for two or four people, as well as really large and luxurious motorhomes that can sleep up to 6 adults in comfort.  Other than the budget vans; all our Berlin motorhome rentals  have a shower and toilet on board, as well as fully equipped kitchenettes, air-conditioned cabs and more.
Places to visit with your Berlin motorhome rental
First spend some time in or near the city to enjoy all the sights. The Wohnmobilpark Berlin is very centrally situated and has great facilities. You can park your campervan here and travel in and out of the city by train, to avoid parking problems; the station is just a few minutes walk from the park. Be sure to visit the Holocaust Museum – a very moving experience – as well as the Reichstag, the Berlin Wall Memorial and the Brandenburg Gate.
If you prefer to set up camp a little further afield, a good choice could be the Campingpark Sanssouci Potsdam, which is a lovely lake-side campsite with easy access by tram or train to central Potsdam or Berlin.
Once you have thoroughly explored Berlin and Potsdam; take your Berlin campervan rental to lovely Dresden. Here you could spend a few nights at the Bluherpark campsite. Blutherpark is centrally situated in the heart of the Old Town of Dresden.
If you decide to drive from Berlin to Frankfurt, be sure to get off the Autobahn regularly and visit the towns of Potsdam (Sanssouci Palace), Eisenach (Schloss Wartburg), Naumburg (medieval walls and cathedral), Erfurt (lovely Old Town) and Geinhausen, (very close to Frankfurt, this is a lovely old town with many medieval buildings). Once in Frankfurt, you can drop off your Berlin RV rental, motorhome hire or campervan rental at the Frankfurt depot. Then be on your way home most conveniently.