Day Drives from Philadelphia in a Campervan
We had a choice of a compact Philadelphia campervan rental, or a luxurious RV or motorhome after we stopped by at the Philadelphia depot in Pennsylvania. After we chatted with friendly staff we opted for the former. This was because we knew we would be visiting historic areas where parking would be at  a premium. As drove through town admiring classic buildings and historic streets, we immediately felt at home. We were in the cultural anchor of the Delaware Valley, also known as the "Birthplace of America".
Philadelphia Campervan Rental Day Drives
Philadelphia and the Brandywine Valley Tour
We spent a few days soaking up the historic culture. It was great knowing we had a well-maintained campsite to return to every evening. With most of our accommodation costs paid in advance, we knew what we had over to spend. We mostly cooked in, although we did enjoy a delicious meal one evening at McGillin's Olde Ale House in Independence National Historical Park.
We did miss our glass of wine with our meal that night, although the traditional beer tasted mighty good. Therefore we decided to make good by visiting the Brandywine Valley. Six wineries sprawl though the rolling countryside there, one once half-owned by Benjamin Franklin, undoubtedly a man of good taste.
Onward to Amish County and Lambertville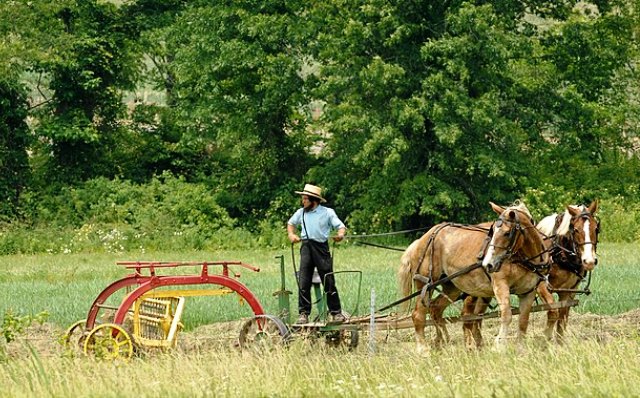 We felt attracted right away to the Amish way of life. Because in a way we were trying to get back to our roots too. We yearned for simpler ways of doing things, and good old honest family values. You should try traveling in a motorhome rental or campervan hire, and sleeping in it. It becomes a cocoon from which you view the world, and challenge many of yesterday's assumptions. In fact we liked Amish County so much we stopped over for our second night on the road.
Lambertville was our next port of call on our meandering journey through the Delaware Valley, and surrounds. We had set a week-or-so aside for our trip, having just retired with time on our hands. The quaint little town of Lambertville proved a delightful distraction, as we explored numerous antique and collectible shops, and purchased a few small souvenirs.
The Beautiful Sandy Beaches of Cape May
We crossed the border and entered New Jersey to visit this trip down memory lane the locals call 'the country's oldest seaside resort'. It's a great place for a traditional seaside holiday, and the local marine cuisine is very, very good.
We went slightly inland to follow a state hiking trail, before climbing the old lighthouse and taking in a remarkable view. Cape May is a mere two hour drive from Philadelphia, so we had an easy going ride to the rental depot before catching our flight back home. Quite delightful it all was!