Anchorage Motorhome Rental
Campervan Hire and RV Rentals in Anchorage, Alaska
Unlike many of the regions we've explored in the USA, Anchorage takes centre stage when it comes to pre-planning the rental of a motorhome or RV in Alaska. An Anchorage RV rental, motorhome or campervan hire is ideal for a self-drive camping holiday to explore the wider Alaska.
We'll begin by taking a look at the top rental companies in Anchorage from which to launch your Alaskan US road trip and examine some of the campervans and RV's they have on offer – including a compact Series B Camper and a huge 8-berth cabover -and make some comparisons to ensure that you drive away in the best possible motorhome or RV for you and your crew. We'll also keep you up to speed on how old the rentals are, what's included as standard, even how far the rental depots are from the airport.
We'll recommend some of the top campgrounds in the region to get some down time. Finally, the bit we've all come for, the best places to see and visit during your motorhome vacation. Punctuated with top scenic drives, invaluable tips and advice from the experts, this is all you need to know about your Anchorage motorhome vacation, and then some!
Anchorage RV Rentals let you enjoy the great Alaskan wilderness; and get you to places far out of the way without compromising the comforts of home. As the largest city of the Last Frontier, Anchorage is the transport hub of the region; which is serviced by major international carriers flying in and out of Ted Stevens Anchorage International Airport, Alaska, USA.
You can book your RV rental vacation in Anchorage ahead of your arrival (especially if you are coming in summer), and pick up the keys to your motorhome rental from operators maintaining offices less than 10 miles of the airport. You can compare and book online with Alaska Motorhome rental companies like Cruise America RV Rentals and Clippership RV who have flexible return policies and comprehensive road assistance; to get the best price on Anchorage RV rentals.
Top RV Rental Companies in Anchorage, Alaska
You may not be spoilt for choice when it comes to top rental companies in Anchorage, Alaska, but the two following companies more than compensate in the sheer quality of gear they have to offer, in fact, between them, Clippership RV and Cruise America have as many options as you'd find in half a dozen rental companies elsewhere in the USA.
Only one of the two recommended RV Rental Companies, out of 19 vehicles, offer a 2-berth option, a relatively rare Class B campervan (you don't want to get unintentionally stuck out in Alaska alone) but most are 4 plus and, unusually, two are 8 berth vehicles.
These are some of the largest motorhomes featured anywhere on these pages, perhaps even more surprising is that they're categorised as Class C motorhomes. Class C's are 'cabovers', meaning that the living/sleeping quarters have been applied to a pre-existing chassis, whereas Class A vehicles are more like busses, built from the ground up as motorhomes and more likely to be referred to as RV's.
Below, we've taken the hassle out of motorhome price comparison in Anchorage, ensuring that you and your crew leave with the perfect motorhome rental for a self-drive holiday you'll cherish for a lifetime.
Clippership RV
Clippership RV Anchorage doesn't do things by halves, they have no less than 20 RV's to choose from, mainly Class A RV rentals. Clippership RV can cater for as little as 2 (the Class B example) and as many as 8.
The 30 foot Class A Thor Evo RV rental comfortably accommodates 6 adults in comfort. It's the Class C options that offer the greatest variety of vehicles to the budding traveller and can sleep the most people.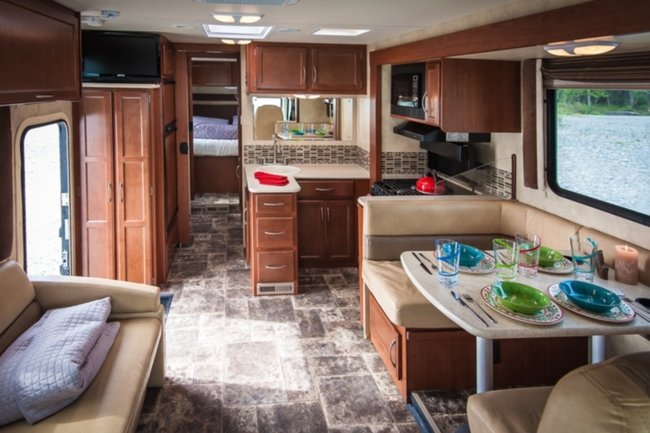 Class A
Clippership's flagship motorhome rental, the 30 foot Thor Evo Silver, caters for up to 6 travellers. If you're after a bit more room, more than a little touch of luxury (and you're feeling generous) you need to check them out; as they include a single slide-out to give improved comfort when camping overnight.
Class B
The 19 foot BT Cruiser is a 2 berth Class B campervan, for all intents and purposes, these are converted minivans aimed at couples. They come with flush toilets, showers, kitchens and all the mod cons of high-end RV's, and are ideal for those looking for a compact, small RV.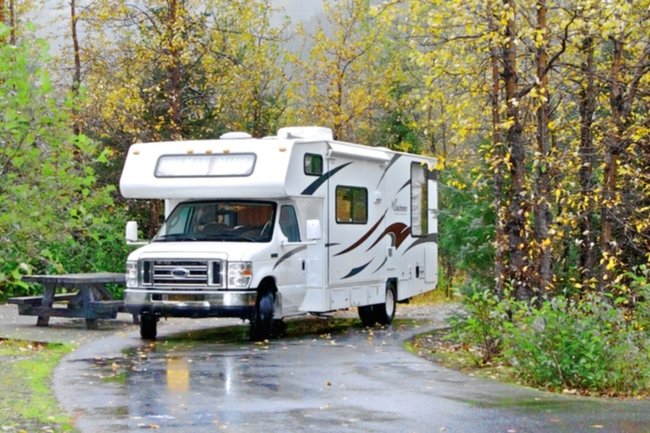 Class C
There are good reasons why Clippership has an abundance of Class C motorhomes. As noted, travelling around this part of the USA isn't as simple as just 'getting out there', and the more experienced you are in motorhome rentals and navigating unforgiving terrain, the clearer idea you'll have of precise requirements. The Clippership Class C RV rentals comfortably sleep between 4 and 8 adults, depending on the model.
To make best use of space, some of Clippership Class C rentals include single or twin slide-outs, which increase the interior space and roominess whilst camping; whilst making the vehicle more compact when driving.
Anchorage RV Rental Depot: Clippership RV Rentals, 5401 Old Seward Highway, Anchorage, AK 99518.
Located 3 miles/5 km from Ted Stevens Anchorage International Airport (ANC), or 4 miles/7 km from downtown Anchorage.
Clippership RV Anchorage office hours:
Monday to Sunday:

Pick Up: between 1:30 pm and 6 pm
Return: between 8 am and 10:30 am
Included with Standard Rate:
Free transfer from airport or city
Bedding/Linen
Kitchen/Cutlery
24-hour assistance
Tourist information/Maps
0-10 years old or more

Cruise America
3, 5 and 7 are the berth numbers when it comes to Cruise America's Anchorage depot. They've four well-considered options and have a trick up their proverbial sleeve in the form of the Truck Camper.
All of their motorhomes are Ford-powered and come with fresh-water toilets, showers, kitchens, air-con and they're pet friendly too which will be the clincher for some.
There's no messing around with Class A options here, we've three straight-up Class C cabovers (we'll get onto the truck camper shortly) that simply differ in the number of passengers they can accommodate.
Class C
Cruise America's Class C options are a dependable option when it comes to motorhome rental in Anchorage. The 3 and 5 berth options, the Standard RV and Compact RV, are powered by Ford's trusty V-8 Chassis Engine with a V-10 unit under the Large RV Rental.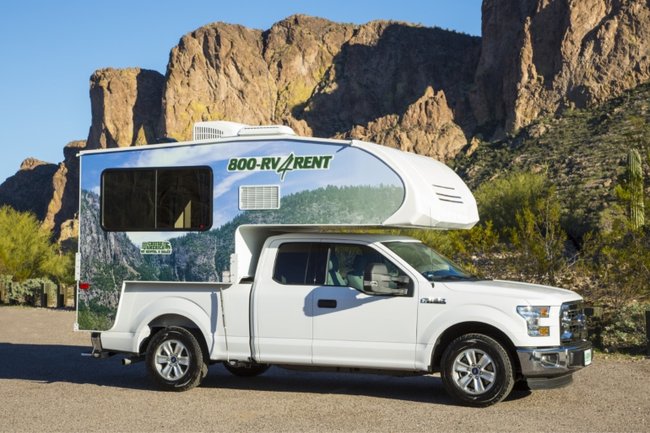 Truck Camper Rental
The power of Ford's F150 XLT is more than enough to shove the moderate weight of Cruise America's Truck Camper Rental anywhere you want. With plenty of grunt to get you in and out of the Alaskan terrain, this is the one for those looking to spice-up their self-drive holiday.
Anchorage RV Rental depot: Cruise America, 2230 Cinnabar Loop, Anchorage, Alaska, 99507
Located 6 miles/10 km from Ted Stevens Anchorage International Airport (ANC), or 7 miles/11 km from downtown Anchorage.
Cruise America Anchorage RV Rental hours:
Monday to Saturday:

Pick Up: 1 pm to 4 pm
Drop off: 9 am to 11 am

Closed Sundays and Public Holidays
Included with Standard Rate:
24-hour assistance
0-4 years old
Where Can You Go on an Alaskan Campervan Rental
Alaska is notorious for its unforgiving winters; so you may want to consider coming in between the months of May through September, when temperatures are moderate, with the month of June the most pleasant as days are sunnier and daylight hours way longer (an average of 19.5 hours).
There is a plethora of summer activities; that you can engage in as you explore the Alaskan wilderness with Anchorage RV rentals. The downtown area, about 15 minutes north of the airport, is a great first stop; since it is the historic core of Anchorage and the hub of all tourist activities. Cook Inlet is the arm of water that extends from the Gulf of Alaska to Anchorage; so you are in for whale-watching treat as the Beluga whale population is revitalized in designated protected areas around the urban center.
On the west coast of Anchorage lies Earthquake Park. This is where you can see what a major shaker can do, as what happened in this area in 1964. Ship Creek to the north offers rich fishing grounds and viewpoints for shorebird watching, and you can hit the Tony Knowles Coastal Trail on a bike from here until 11 miles down. Motorized and recreational vehicles are not allowed on the trail, but there are plenty of RV camps to the east where you can hook up for electricity, water and sewage while you hit the trails.
Chugach Mountains & Cook Inlet
Two miles further south on your Anchorage motorhome rental holiday is the foothills of Chugach Mountains, where moose and bear sightings are plentiful. Potter's Marsh is in the vicinity, a wilderness area where you can catch eagles overhead, water fowl and migratory birds. The eastern arm of Cook Inlet that borders Anchorage to the south is ideal for kayaking and boating; but do watch out for tidal bores (when incoming tide washes up a narrow channel against the direction of the current).
If you feel more adventurous, you can drive your RV rentals from Anchorage to Valdez; a trip which takes just over 5 hours, and gives you access to Prince William Sound. You can meet up with the native villages found offshore, or join a cruise for more wildlife sightings. For those wanting to drop off at a different location there are one way motorhome rentals available in the USA.
Top 10 Attractions near Anchorage
You can use these top ten attractions near Anchorage as a starting off or endpoint to (or from) one of the many scenic drives and epic US road trips that are common to this corner of the USA, or just join up the dots and do them all.
Don't forget to spend some time in Anchorage itself, it's a wonderful city and because it so distant from other US cities (the closest is Fairbanks at 359 miles) it has a uniqueness to it that needs to be experienced first-hand. Just make sure you plan everything well in advance.
Alaska Native Heritage Center
It's impossible to separate Anchorage and the wider region with the indelible links to its native peoples. A trip to Alaska Native Heritage Center isn't just advisable, it should be compulsory. It's not just a question of history, it's about the present too. Guaranteed to enrich your US road trip.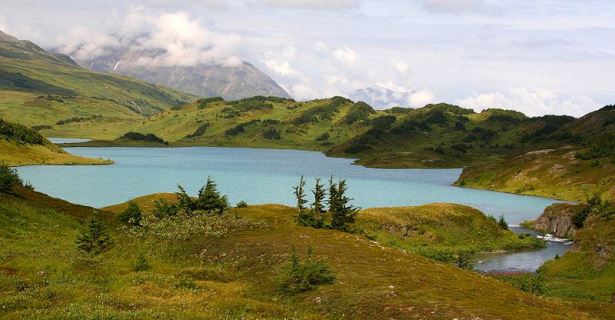 Chugach National Forest
You could spend your entire self-drive holiday roaming the stunning landscape on any one of the many scenic drives in Chugach National Forest in south-central Alaska. It's also home to the longest highway tunnel in North America, but the sheer beauty of the forest is where it's at.
There are 4 campgrounds at Chugach National Forest suitable for RV rentals. None of these have hookups, though most have fresh water and toilets available. Quartz Creek Campground has an RV dumpstation.
Kenai Fjords National Park
Planning trips are important, no more so than Kenai Fjords National Park, so before heading off, check the online daily updates. You'll be richly rewarded with a landscape many associate with 'Alaska': snow, mountains, and freezing oceans. But nothing can prepare you for the magic of this icy wilderness.
Prince William Sound
There are three towns in Prince William Sound, if you can only visit one, pick Valdez, a town overseen by huge, white mountains, surrounded by ice fields and glaciers with a port of pure-blue seas reaching into the Sound proper. A treat for your motorhome rental crew.
Denali National Park
Typified by tranquillity and solitude, this huge stretch of land (six million acres) is Alaska's most popular land attraction and home to Denali (Mt. McKinley) the highest mountain in North America. Leave your motorhome rental in your chosen campground and take a hike on one of the many trails in Denali National Park.
The campground in Denali National Park with the best facilities is at Riley Creek Campground. Amenities are seasonal and include Dump Stations, power hook-ups, laundry and drinking water. There are also 2 campgrounds at Teklanika River and Savage River that also accept RV rentals, but with less services.
Eagle River Nature Reserve
Another of Alaska's famed nature reserves -only a 40 minute outside of Anchorage- make Eagle River Nature Reserve part of an awe-inspiring scenic drive leading to log cabins and trails that meander through the stunning landscape. Take heed of the parking instructions, though, especially if you're in a big rig.
Turnagain Arm
Could this be the most beautiful stretch of highway in North America? Turnagain Arm is a waterway leading into the Gulf of Alaska, a 50 mile stretch of road can be done in a day, but you'd be missing out. This epic trip needs your full attention, so don't rush.
Portage Valley
Portage Valley is home to the famous Portage Glacier (best seen by boat) but it's only part of the story. Make sure you visit Begich Boggs Visitor Center for a comprehensive overview of the region's history, with guides on hand to help you make the most of your trip.
Matanuska-Susitna Valley
The Glenn Highway National Scenic Byway starts at Matanuska-Susitna Valley about 35 miles North of Anchorage. Take your time over this one and you'll be rewarded with extraordinary wildlife and eye-popping scenery. Make sure you visit Palmer and some of the surrounding towns for some good old-fashioned Alaskan hospitality.
Seward Highway
Have we saved the best to last? The Seward Highway is the ultimate scenic drive, 150 miles of acclaimed US road trip starting in Anchorage, ending in Seward. With an endless list of things to see and do along the way, the star of the show is the road itself.
Best Campgrounds & RV Parks near Anchorage
In this neck of the woods, campgrounds and RV parks aren't just a place to dump black water and re-charge batteries. Due to the nature of the vast terrain, travelling around here feels like you're a part of a large family, so you'll be glad of advice and tips offered to you by fellow travellers. Below, we've handpicked five of the best campgrounds and RV Park close to Anchorage, but if you're planning on heading further afield, do your research, check out and make note of campgrounds and RV Parks close to, or on, your designated route.
Golden Nugget RV Park
4100 Debarr Road, Anchorage, Alaska 99508
Golden Nugget RV Park has 34 large pull-through sites if you're planning a 'big rig' self-drive holiday, with 87 back-in sites to accommodate almost everything else. There's a playground for kids, a huge golf course and even a large wooded exercise area to walk the dog.
Anchorage Ship Creek RV Park
150 North Ingra Street, Anchorage, AK 99501, United States
Expect pull-thru sites and full-hookups and all the amenities and facilities required of a top-notch campground, but Anchorage Ship Creek RV Park is also a great place for a spot of R&R, hire a bike and explore the surrounding area via the 120 miles of paved cycle lane.
Bird Creek Motel & RV Park
29433 Seward Highway, Bird Creek AK 99540
You might want to take note of this small, friendly family run business if you're planning on undertaking one of Anchorage's best scenic drives, as it's just off the acclaimed Seward Highway. Bird Creek Motel and RV Park only have eight RV spaces, so you might want to book early.
Centennial Campground
8400 Starview Drive, Anchorage AK 99504
You can't just show up at Centennial Campground, you'll need to book one of the 84 sites (21 RV with electric; 20 RV non-electric; 42 RV/tent) well in advance. There are also some (re-assuring) guest rules on pet and food management to prevent the attention of curious bears!
Black Spruce RV Park
Joint Base Elmendorf-Richardson, Anchorage, AK 99505, USA
Don't be put off by the 'military campground', Black Spruce RV Park may be a no-nonsense campground (you can't make a reservation, for example) but it's set in beautiful woodland and has all the amenities you could wish for. There's even a playground for the little soldiers.