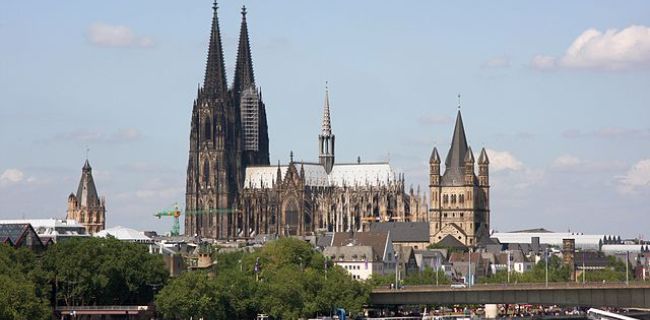 Essen Motorhome Rental, Germany
RV Rental and Campervan Hire in Essen, Ruhr Valley
The "three rings of Krupp" figure largely as the symbol of industrialization that took place in Essen; before the Allied tanks destroyed much of its urban core and outlying suburbs. But all was not lost. One of the oldest cities in Germany, Werden, and the half-timbered historic core of Kettwig, survived the blitzkrieg, as did the 8th century Werden Abbey and St. Ludger's Basilica which can still be found in the grounds of Folkwang University of the Arts. Essen's location in the Ruhr Valley also makes it an excellent staging point to explore the region by Essen motorhome rental.
Essen by Campervan Rentals
Essen has some great attractions of its own; like Grugapark with its aquarium, animal enclosures, botanical gardens and amusement park; and "the most beautiful coal mine in the world," UNESCO-listed Zollverein.
You will also probably want to visit some of its other great cities located in the Ruhr area. An Essen campervan hire will be the ideal choice for your vacation; as Essen is well connected to Duisburg, Dortmund, Bottrop, Hagen and Hamm, among others.
If you want to stock up your campervan rental, RV or motorhome hire in Essen and enjoy a bit of retail therapy, Ruhr is the best place to do it. The cities of the Ruhr area were once, with their coal fields, the industrial heart of Germany but since the war have successfully transformed into the cultural centre of the country and now house some of the biggest malls in Europe.
Discover the Ruhr
Despite its industrial past, Ruhr will delight both young and old travellers in Essen motorhome rental. One of the places not to be missed is the Movie Park in Bottrop, a mere 20 minutes to the north. It has six distinct areas: Hollywood Street Set with the Bermudan Triangle and Ice Age 4D, Streets of New York with its Transformers, Nickland with Sponge Bob's Splash Bash, The Old West with its wooden roller coaster Bandit, Santa Monica Pier with its Crazy Surfer, and Mystery River and Ice Age where you can experience some exciting rapids.
You can also put to good use your motorhome hire, RV or campervan rentals to visit some neighbouring cities. An old blast furnace in Duisberg has been transformed into an observation area which affords some spectacular panoramas.
Another of the Ruhr cities you can visit by campervan hire in Essen is Dortmund, which was once the brewing capital of the country and so a perfect day here may include a walk through its famous Rose garden followed by a visit to one of the many breweries that have been transformed into pubs. Cologne, an hour directly south of Essen, is known for its cathedral which, uninterrupted, took 600 years to complete.
Visit the Netherlands and Belgium
The Ruhr area is located in west central Germany, close to the borders with the Netherlands and Belgium. Your Essen motorhome rental would afford you the opportunity to travel through Aachen. Germany's most westerly city; Aachen has a cathedral that dates back to 786AD, when it sported the largest dome north of the Alps.
Then it's on to the Dutch city of Arnhem. Preshikhaaf is Arnhem's main shopping area and many Germans cross the border to shop there. You can follow their lead with your campervan rental in Essen. As one of the largest cities in the Netherlands, Arnhem has no shortage of attractions; among them is the Burger Zoo which is renowned for its underwater walks through deserts and mangroves, and its municipal museum which houses fine porcelain from China and Japan.