Crater Lake National Park Rim Drive, Oregon
One of the greatest roads in Oregon and even in the United States, the Crater Lake National Park Rim Drive inspires, bedazzles and impresses. Encircling the entire water-filled caldera, created after the explosion and collapse of Mount Mazama 7,700 years ago, this loop road takes you past all major highlights of Crater Lake National Park.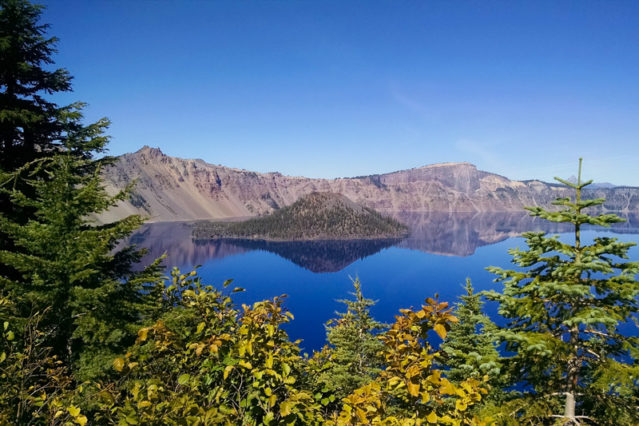 Highlights of the Crater Lake National Park Rim Drive
The Rim Drive is 33 miles long, a relatively short drive that runs through spectacular landscapes and natural scenery. You'll need a full day to enjoy all of its magic.
1. Crater Lake Lodge
Located in Rim Village, one of the main tourist areas and home to a visitor center; Crater Lake Lodge is one of those imposing historic lodges in Western national parks. This beautiful building is worth the stop, a wonderful place for breakfast or dinner, or a casual drink in the afternoon. It dates from 1915, conveniently built mere steps from the caldera to attract tourists to Crater Lake. That, of course, worked very well.
2. Spectacular Overlooks
Over 30 pullouts and overlooks line the Rim Drive, offering you the chance to enjoy and soak up these breathtaking Oregon landscapes. You can, of course, stop wherever you like, but don't miss Discovery Point, the Watchman Overlook, Cloudcap Overlook and Pumice Castle Overlook.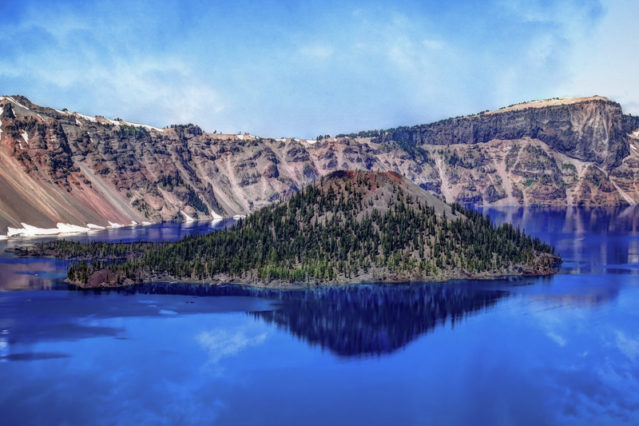 3. Wizard Island
Wizard Island is a volcano within a larger volcano, one of only a few such natural features in the world. Situated in the western part of the lake, it's yet another thing that makes Crater Lake so special. Various viewpoints and trails along the Rim Drive offer great views of the island, but you can also go on a boat tour. Options range from cruises around the lake to shuttles to Wizard Islands, which allow you to spend three hours there, exploring and swimming.
4. Hiking Trails
Some 90 miles of trails crisscross Crater Lake National Park and many trailheads lie along the Rim Drive. No matter how fit you are, you'll find a trail that allows you to experience the park's natural scenery from up-close. From the short Discovery Point Trail to the strenuous ascent to Mount Scott, there's something for everyone. Arguably the most scenic hike, however, is the climb up to Garfield Peak, offering spectacular views.
These are the four main things to see and do on the Crater Lake National Park Rim Drive. Consider using Portland as a base and pick up your RV there. Do you have other specific suggestions? Share them in the comments!