Sani Pass
Sani Pass, South Africa
The first thing to remember when planning to explore South Africa's scenic Sani Pass drive is that it is essential to use an off road vehicle. Now, while you might think that this kind of travel is reserved or tough 4×4 vehicles, you will be happy to know that you can easily find and rent special off road RVs or 4×4 campervans in South Africa from Durban or Johannesburg. These vehicles allow you to explore tough terrain and offer accommodation all in one.
Kwa-Zulu Natal to Lesotho by the Sani Pass
The Sani Pass is a route in Kwa-Zulu Natal and takes you on a scenic adventure for 9km and across into Lesotho. It starts out as a dirt road and is later upgraded. When exploring this area, you should certainly take your time and make sure that you are well rested due to the high concentration required.
The biggest advantage of this trip is that your holiday will allow you to visit two different countries. Although Lesotho is completely surrounded by South Africa, it's like a country within a country and they are independent with their own culture too. It's important to know that the border crossing closes at 6pm each night so be careful not get stuck on the other side! By driving up early in the morning, you will have more than enough time to explore before making your way back.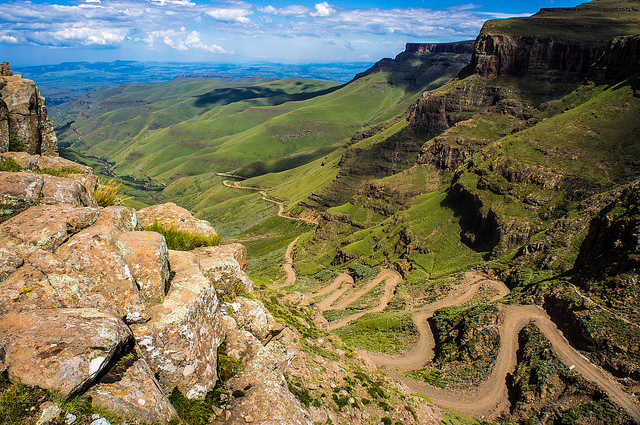 Due to the weather conditions in the winter and the nature of the route, it is best to explore this area during the summer months (December to February). In the winter months the rain and weather can result in road closure.
You may notice local taxis zooming along the road at higher than usual speeds and music playing at full volume. Do not follow this example! These taxi drivers are racing for money and putting their passengers at risk. Slow and steady is definitely best for everyone concerned.
Drakensberg Mountains
This road is wonderfully scenic as you travel up one of the most famous mountains in the country, the Drakensberg Mountains. You will come across the highest pub in Africa so make sure you stop in, enjoy the views and beverage of your choice.
Some of the most popular activities in this area include nature walks, hiking and angling. If you are using an RV to make your way along this route, you will be able to make the most of the camping facilities too. For campers, summer trips are essential since the winters here can get quite cold when snow covers the mountains.
Lesotho
Ensure that you collect a map to help you identify different viewpoints along the way. These are great for the driver in particular since it's not advisable to focus on the views when you should be concentrating on the road.
Once in Lesotho, you will really get a feel for the African culture. Take note of all the traditional huts, locals wearing authentic attire and enjoy hearing the locals chat away in their mother tongue. You can also pick up some wonderful traditional souvenirs while you are here.
The best news for shoppers is that you don't need to convert your South African Rands (ZAR) to the local Lesotho currency (Maloti) because these two are fixed to remain equal at all times. Lesotho merchants are usually happy to accept Rands but they will give you change in Maloti. Coin and currency collectors will be able to hang on to some money from two countries after this wonderful trip!