Kruger National Park
Touring Kruger National Park South Africa
Explore Kruger by Motorhome or 4WD Campervan Rental
Kruger National Park in South Africa is 19,485 square kilometres, or 7,523 square miles in extent. To put this in perspective, this is larger than the U.S. states of New Jersey, Hawaii, Connecticut, Delaware, and Rhode Island individually. A network of highways connects the inland nature reserve to the coastal towns of Cape Town, Port Elizabeth, and Durban. All major routes within the park have tarred surfaces, with speed limits of 50 kilometres, or 30 miles per hour.
Two National Parks Within One Huge Area
The smaller, southern half of Kruger is more popular with visitors, because it is nominally malaria-free although we recommend taking precautions. It is also within a half-day drive of the inland cities of Johannesburg and Pretoria. The south is a good place to spot the 'big five' lions, elephants, buffalo, leopard, and rhinos. However the rest camps usually book out in holiday seasons.
Travelling from the southernmost to the northernmost points in Kruger Park involves traversing 360 kilometres, or 220 miles. Here, the natural vegetation is sparser than the lightly forested south because there is less rain. This provides better viewing opportunities, although limited food resources support less game. Kruger also has a rich diversity of tropical and subtropical birds.
The Quieter, Better Places to Explore
There are usually vehicles in sight on the main tarred roads even in quiet season. Hence, the game is often nervous and may dash away without notice. Moreover, small traffic jams develop around 'big five' near the road. Hence, knowledgeable travellers often spend their time on dirt roads with speed limits of 40 kilometres, or 25 miles per hour.
These minor roads connect the main routes, or lead to view sites and waterholes before returning to the tarred road. The authorities manage these less formal routes as best they can, although the dirt surfaces do deteriorate in rainy season. Speak to the ranger at the gate where you enter the park. Ask them to comment on whether your campervan, RV, or motorhome rental will be able to navigate the roads to waterholes comfortably. If not, consider a game spotting tour with a guide.
If you are wanting to get on the 4WD tracks, then we recommend renting one of the 4WD campers from companies like Caprivi or Britz. Those people wanting more comfort, that want to stay on the main sealed roads should look at Maui Motorhomes.
Restful Places to Overnight Beneath the Stars
There are 21 rest camps open to the public, where no special permission is required to stop over. Facilities range from sites for caravans and tents, to huts, to safari tents, to family cottages, to luxury lodges. There are twelve main rest camps with restaurants and shops. Most of these sell diesel and petrol and accept major cards. You will find them marked on the informative map available when you book through the entrance gate.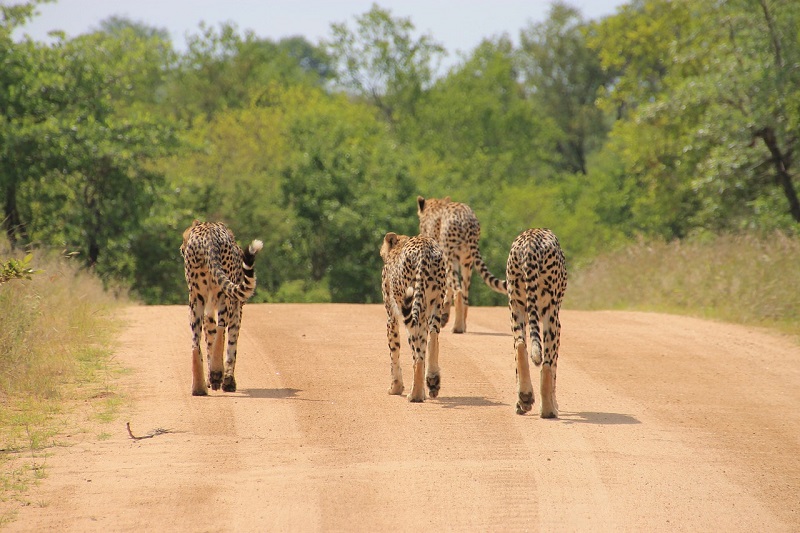 The simplest way to return to Cape Town and Port Elizabeth is via Johannesburg. If you wish, you can return to Durban via Swaziland. In this case, the speed limits are the same as Kruger, and you travel through remote rural areas with few facilities and almost no wild game.