Stelvio Pass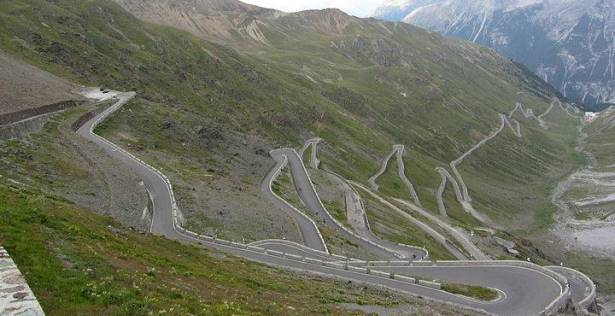 The Stelvio Pass, Italy Scenic Drive
Ortler Alps from South Tyrol to Bormio
One of the most thrilling roads to drive in the world!  The Stelvio Pass is in the Ortler Alps, between South Tyrol and Bormio in the extreme north of Italy.  This dramatic mountain pass has more than 75 km of twisting and winding road, dozens of hair-pins bends and enough adrenalin-pumping action to satisfy the most thrill-seeking driver.  The road is only passable during the summer months, and is definitely not for the nervous or faint-hearted driver.  However, the views along the way are simply sensational and for confident drivers it will be the experience of a lifetime.  The route is possible for motorhome rentals and campervan hires as well as coaches, so provided you plan to drive this spectacular route in summer where there is no chance of snow you can look forward to an amazing trip.  Pick up a motorhome rental in Milan, fasten those seat belts and prepare for the ride of your life!
Some scenic drives can be done in either direction, but it is highly recommended that you drive the Stelvio Pass from the north west side, perhaps starting in the charming little of Prato, where there is an excellent campsite – Camping Kiefernhain near the start of the route on the SS38. Approaching the Stelvio Pass from this direction means that you drive through the heart of the Stelvio National Park as you approach the base of the Pass. This is an area of particularly lovely tracts of forests with some good stretches of open road before you reach the start of the mountain pass which will take you up to an altitude of 2757Mt. Another advantage of driving from this direction is that you will be doing the steepest accent from here, which is a lot more fun than if you were driving downhill through these incredible hairpins! Once you are on the pass you can judge your progress by looking out for the numbered rock markers that tell you how many hairpin turns you still have to navigate en route to the summit of the pass.
Once you start your descent towards Bormio, which is still a thrilling drive but not quite as taxing as the assent, there are many places to pull off the road and take advantage of the stunning views.
A few tips for driving the Stelvio Pass
This road has just about achieved cult status and attracts thousands of drivers, cyclists and motorcyclists, especially on weekends in peak season. To have a little more of the road to yourself start your drive really early in the morning before the tourist coaches arrive, and plan to drive it midweek, if possible. Take along a second driver if possible so that you can swop places; the views all the way along the pass are stunning but you need to keep your eyes on the road most of the time.