Bellingham Motorhome Rental, Washington USA
Campervan Hire and RV Rentals in Bellingham
Bellingham may not be the largest city in the state of Washington; but it is a major gateway to the outdoor opportunities to be found in the San Juan Islands and the North Cascades; as well as an easy and short drive by Bellingham motorhome rental to the cosmopolitan offerings of Seattle and Vancouver across the Canadian border.
Bellingham is an excellent base to explore the scenic drives and top attractions of the Pacific Northwest. Surrounded by breathtaking beaches, islands, and mountains, getting a Bellingham RV rental is one of the best ways to explore this outdoor paradise.
This coastal city in Washington sits at the foot of the majestic Cascade Mountains, making it a popular destination for hiking, biking, camping, golfing, and skiing in winter. On our website, you will find the best Bellingham RV rental deals and a wealth of information on the top attractions and activities in and around the city to help you plan your road trip itinerary.
You will also find resources on the best RV campgrounds near Bellingham that can cater to different types of budgets, from families to luxury travellers. Compare motorhome deals amongst different rental companies and choose your preferred vehicle type including Class C, Class A, self-contained, and pet-friendly RVs.
Whether you are travelling to the city for the first time or you are a returning visitor wanting to explore the city's hidden gems, you will find that it is better to travel around on a Bellingham motorhome rental. All you need to do is browse through the reputable RV rental agencies on our website, book your preferred vehicle type online, and then start planning your road trip adventure!
Top RV Rental Companies in Bellingham, Washington
Finding a motorhome rental company in Bellingham that offers the best RV rental deals can be challenging but it does not have to be overwhelming! On our website, you can easily compare rates and choose amongst different vehicle types to make your road trip planning a breeze.
Some of our recommended motorhome rental agencies include El Monte and Mighty Campers. They have a great selection of motorhome vehicles that are suitable for most types of travellers and can cater to different types of budgets. Whether you are a solo traveller, a couple, or whether you are travelling with your large family, these Bellingham motorhome companies can offer you the best vehicle for your holiday. Their selection includes Class C and Class A vehicles, and you can choose amongst 4 Berth, 5 Berth, and 6 Berth motorhomes.
So what are you waiting for? Start your online search now and compare the best motorhome deals amongst the top RV rental companies in Bellingham Washington!

El Monte RV Rental
Located only 15 minutes from Bellingham, El Monte RV rentals is located in the town of Ferndale, Washington. As it is close to the USA and Canada border, their Bellingham RV depot is only about 70 kilometres from Vancouver International Airport (YVR) or about an hour's drive.
El Monte has been around since 1970 and they are one of the most trusted Bellingham RV rental agencies. They offer different types of motorhomes perfect for couples, small groups, and even large families. Their vehicles are not more than 3 years old, are self-contained, and can be fitted with child safety seats if you are going on a motorhome holiday with small children.
Class C
Perfectly designed for couples and small groups and families, El Monte Class C RVs can accommodate between 2 to 6 passengers. Each of these RVs are equipped with air-conditioning, heater, toilet, shower, cooktop, microwave, oven, fridge, radio, and TV. They offer the following Class C motorhomes:
C-22: These motorhomes are about 6.7 metres in length and are perfect for 2 adults, however these can also fit a small family with small children.
C-25: About 7.3 to 7.6 metres in length, these RVs are excellent for small families or two couples.
C-28: The largest amongst the three Class C RVs, these are family-sized units that feature more living spaces. These vehicles can fit up to 4 adults and 2 small children.
Class A
Want the real motorhome experience? Hire a Class A RV! About 9.7 to 10.3 metres in length, this type of vehicle is great for larger groups and families. Class A vehicles are also a better option if you are going on a road trip for an extended period of time.
For the ultimate Bellingham motorhome rental experience, we recommend El Monte's Class A RV! It has the features of the Class C RVs plus easy to set-up awnings, allowing you to fully enjoy the outdoors without leaving your vehicle.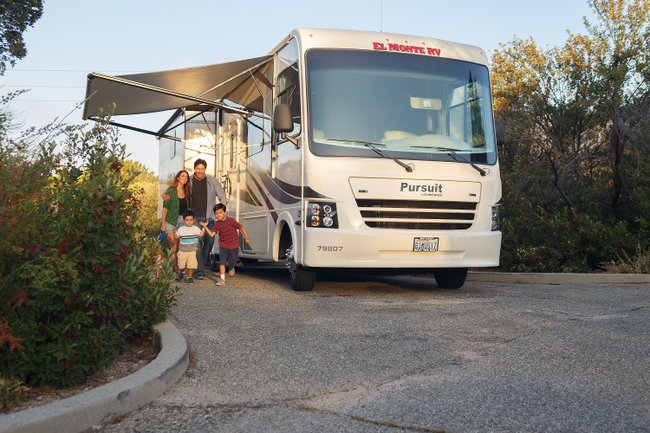 If you are looking for a bus-style, luxury RV for your next vacation, then a Class A vehicle might be the best option for you!
Included with Standard Rate:
24 hour assistance
0-2 years old
Mighty Campers
Part of an international motorhome rental company, Mighty Campers is known for their great customer service, budget friendly RVs, and a vast network of depots across the USA. They offer El Monte's budget fleet, so if you are looking for cost-effective motorhome rentals, consider Mighty Campers!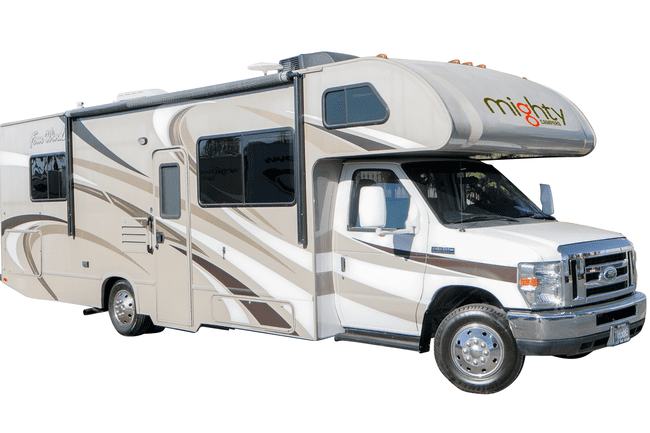 One of the reasons why you should choose this rental agency is that they have a large selection of excellent RVs and motorhomes at great prices. They also have a 24/7 on-the-road support and they offer transfers from certain airports and hotels.
Mighty Campers have 4 vehicle types, ranging from compact RVs to comfortable motorhomes, which feature an awning, a TV, microwave, air conditioning, and child seat attachments.
El Monte & Mighty Campers Bellingham Depot
5242 Pacific Hwy, Ferndale, WA 98248, USA
Located about 5 miles/8 kms from Bellingham International Airport (BLI) or 9 miles/15 km from downtown Bellingham.
Bellingham office hours:
Monday to Friday: 9am to 4pm

Pick Up: between 1pm and 4pm
Drop off: between 8am and 11am

Saturday & Sunday: Closed
Top 10 Attractions near Bellingham
Nestled on the banks of the North Tyne near the Canadian border, Bellingham WA is a great addition to your motorhome holiday itinerary. The city and its surrounding communities offer plenty of fun things to do like biking, hiking, walking tours, fishing, boating and other water activities, golfing, skiing in winter, visiting museums, and if you have the time, you can even take a ferry to visit Alaska!
The town is also home to two highway routes and many beautiful national parks in Washington are also within a few hours of driving, so there are plenty of options for you if you want to take your Bellingham motorhome rental for a scenic drive.
Whatcom Falls Park
Located within Bellingham City, Whatcom Falls Park features four sets of waterfalls and plenty of well-maintained hiking tracks. Many of these routes will take through deep forests and open meadows with views of creek gorges and still ponds.
If you're hiking, don't miss the moss stone bridge just near the parking area or do the 1.5 kilometre loop inside the park, staring from the Silver Beach Road parking area.
SPARK Museum of Electrical Invention
Located right in the Bellingham downtown area, this small but engaging museum features different kinds of artefacts that showcase the evolution of electrical gadgets and machines. They have an excellent staff and visitors of all ages will truly enjoy their time here.
If you are looking for quick break from your motorhome adventure, SPARK Museum of Electrical Invention is worth a stop.
Fairhaven Historic District
Located on the southern end of Bellingham, within this charming historical community you will find yourself amongst fine dining restaurants, bookstores, art galleries, and locally owned boutique shops.
If you're looking for a scenic spot in Bellingham and a place to stop for lunch or dinner, Fairhaven Historic District an excellent choice.
Olympic National Park
Just 3.5 hours southwest of the city, the snow-capped peaks of the Olympic Mountains make this park one of the top attractions near Bellingham.
The park houses diverse ecosystems, ancient rainforests, over 100 kilometres of rugged coastline, and thousands of years of human history. Take your Bellingham RV rental to the beautiful Olympic National Park and don't miss a chance to explore this vast Olympic wilderness!
Seattle Center
Home to the iconic Space Needle, the Seattle Centre is a building complex that houses museums, business centres, and arts and science centres. You can also see a piece of the Berlin wall inside the Seattle Center Armory.
Located only 1.5 hours south of Bellingham, the Seattle Center also holds occasional festivals and other events. Visit their website to check their events calendar.
Mount Rainier National Park
Another national park worth visiting is located about 3 hours south of Bellingham. Some of the top things to do in Mount Rainer National Park include hiking, climbing, camping, and participating in ranger-led activities throughout the park.
You can drive to Sunrise, the highest point reachable by car, to get amazing views of Rainer and nearby volcanoes. Another viewpoint is Paradise which affords incredible mountain views.
North Cascades National Park
Only about 1.5 hours east of Bellingham, North Cascade National Park is a breath-taking wilderness of glaciers, lakes, and conifer-clad mountains. The park's highway passes through several scenic viewpoints and leads to some famous hiking trails like Thunder Creek.
The park is home to more than 200 species of birds and provides shelter to grey wolves and grizzly bears. It truly is a beautiful natural attraction that should be included in your next motorhome holiday.
Leavenworth
A beautiful Bavarian-styled community in the Cascade Mountains, Leavenworth is another top destination in Washington. With your motorhome rental in Bellingham, you can drive 3 hours south west of the city to admire the Bavarian architecture, enjoy German beer and restaurants and fill your plate with bratwurst & sauerkraut!
If you are visiting in December, don't miss its annual Christmas Lighting Festival or you can catch the Bavarian Icefest in January.
Mount St Helens National Volcanic Monument
Further south, Mount St. Helens which located within the Gifford Pinchot National Forest, is a popular mountain climbing destination and other outdoor activities like hiking, hunting, and camping.
If you're up for the challenge, take the 4-6 hour trail up Mount St Helens and explore one of the best lunch spots in USA's Northwest!
Spokane
Travel the whole length of Washington state and drive from Bellingham to the vibrant city of Spokane. The city offers a variety of city and outdoor attractions for all types of travellers.
The road trip will take approximately 6 hours via I-90 or you can take the longer, more scenic route through the Cascade Mountains and Methow Valley, which takes approximately 8 hours.
Washington's Great Outdoors
Most of the state of Washington's attractions are easily accessible from the I5 south from Bellingham in the north of the state, a short distance from the Canadian border. This means that an ideal way to see many of them is to compare motorhome rental, campervan hire and RV rentals in Bellingham and book online. You could start by taking Highway 542 through the Mt. Baker-Snoqualmie National Forest where there are a lot of scenic views to enjoy; as well as perhaps spending some time hiking some of the magnificent trails that are there.
Moving on in your RV rental, you can move onto Highway 20 to pass through the sharp snow-topped mountains of the North Cascades. This scenic route will bring you to the Diablo Lake Boat Tours and onto Winthrop, a western themed town. From there you can pass through the Coulee Corridor to Grand Coulee Dam; passing Steamboat Lake State Park, Potholes State Park and the Lake Lenore Caves.
Explore Rainier and St. Helens by Motorhome Rental
On your way back to the coast, you can drive your motorhome hire through Mount Rainier National Park where the scenery is superb for both personal investigation and distant viewing. Continuing on with your campervan rental, you can pass on to the Mount St. Helens National Monument. Here, apart from seeing an active volcano up close, you will be able to see evidence of the 1980 eruption. By calling in at the visitor's centre, you will be able to see many interpretive exhibits; which will make you clearly aware of all the aspects of destruction caused by the eruption.
Moving westward, you will reach the Olympic Peninsula where, with your Bellingham motorhome rental, you will be able to spend the three days it takes to fully explore the UNESCO World Heritage site and the International Biosphere reserve that make up part of the Olympic National Park.
Oregon and Vancouver Wine Trails by RV Rental
Having completed your tour of the Olympic Peninsula by Bellingham motorhome rental; you will be able to get back to the I5 to visit Seattle, the largest city in the Pacific Northwest. While in Seattle, if time permits, you can take one of the Washington state ferries across the Puget Sound to visit one of the islands. You may also want to check out Seattle's Pike Place market where you will find all kinds of seafood; as well as a variety of street musicians, something uniquely north-western. Pike Place Market should also be on top of a coffee lover's itinerary; one of the original shops of Starbucks is still around.
If your beverage of choice is more on the fruity side; you may opt to drive your RV rentals five hours south to Oregon's Willamette Valley; home to its world-class Pinot noir and more than 300 wineries. Or, you can make a shorter trip across the border to the north to British Columbia's wine trail. In less than three hours, you will be at the cellar doors of Fraser Valley, an hour's drive east of Vancouver, sampling the best of the region's reds, whites and roses.
Best Campgrounds & RV Parks near Bellingham, WA
Bellingham Washington is one of the top destinations for a motorhome vacation. With an excellent outdoor setting, RV camping is amongst the most popular activities in the area.
Once you have booked your motorhome rental in Bellingham, finding the best campground can be a challenge. On our website, we will feature some of the best campgrounds and RV parks in and around Bellingham to help you plan your road trip! There are plenty of options, so we have listed a few of the best motorhome parks in the region. Whether you are looking for state parks or full-service RV resorts to book online for your next holiday, we have got you covered!
Bellingham RV Park
3939 Bennett Drive, Bellingham, WA 98225
Located just off I-5 and a short drive from the Canadian border, this family-owned park is a favourite amongst locals and tourists alike. Their RV park features laundry facilities, Wi-Fi, showers, a library, general store, and complimentary coffee and cookies! Their campground can accommodate any vehicle size and is pet friendly.
With its great location, Bellingham RV Park is an excellent stop for weekend getaways, cross border shopping, and casinos.
Hidden Village RV Park & Campground
7062 Guide Meridian Road, Lynden, WA 98264
Located in Lynden, about 12 kilometres from Bellingham, the Hidden Village RV campground is a rural park that features an "in the woods" setting. Facilities include a fitness centre, recreation room, an outdoor heated pool (May through September only), a playground, coin operated laundry, and an RV storage.
This RV park is only about 10 minutes away from the Canadian border and is surrounded by quaint shops and restaurants.
The Cedars RV Resort
6335 Portal Way, Ferndale, WA 98248 USA
A short drive from the Canadian border and Bellingham, this RV park can accommodate small to big sized rigs. The Cedars features recreation rooms, a playground, heated pool, library, general store, beer and wine store, laundromat, and a propane filling station.
If you are looking for a family-oriented resort for your Bellingham RV rental, the Cedars may be the best option for you!
Lighthouse by the Bay RV Resort
4700 Alderson Road, Blaine, Washington 98230
Located near the beautiful Birch Bay in Blaine in Washington, the Lighthouse by the Bay RV resort is open all year round and offers a total of 100 powered sites that can accommodate motorhomes up to 14 metres in length. Guests can enjoy a variety of amenities including showers, laundry, Wi-Fi, and a recreation room.
Beachside RV Park
7630 Birch Bay Drive, Blaine, WA 98230
Also located close to Birch Bay and about 10 minutes from Canada, from this motorhome campground you can easily access restaurants, shops, golf courses, and boating and fishing services. Amenities on Beachside RV Park include 72 sites, hot showers, Wi-Fi, laundromat, barbecue area, and an area where you can build a campfire!