Glasgow Airport Motorhome Rental, Scotland
Compare RV Rentals and Campervan Hire Deals in Glasgow UK
Glasgow Airport is the second largest of Scotland after Edinburgh Airport, although the city itself is the country's most populous. A Glasgow Airport motorhome rental, campervan hire or RV rentals in Scotland will put you on the road to one of the most visited destinations in the British Isles and the second most-visited after the capital city, thanks to its proximity to Clyde Valley, incredible transformation over the last two decades, pounding live-music and buzzing pub scenes, top-shelf shopping opportunities, and cutting-edge architecture standing side by side with well-preserved artifacts of its layered history.
If you're looking to rent a Campervan, Motorhome or RV in and around Glasgow you've just found the answers to all your questions! Think we're kidding? There's a lot of surplus information surrounding renting a motorhome that can turn a relatively simple process into a massive headache. We're here to put an end to that.
We'll begin by recommending a campervan, motorhome or RV company close to Glasgow airport and what they have to offer. This will help you to make a qualified decision in choosing the right vehicle for your Glasgow based road trip.
Following that, we get into some recommended campsites for your self-drive vacation. Experienced motorhome holidaymakers will appreciate this part of the page because it takes all the bother out of having to check out a bunch of reviews to ensure you're not camping next to a building site, whereas those new to self-drive holidays might be wondering why they need a campsite at all -I mean you've hired a campervan right? We'll get onto that as well.
Lastly, some cool things to see and do in and around Glasgow. Of course, you're free to research all that yourself, but we've compiled our list from people that understand you're on a motorhome road trip, that half the fun of visiting the stunning places we suggest is the journey there and back. Indeed, it may even be one of our recommended scenic drives that becomes the highlight of your motorhome vacation!
Main Motorhome Rental Companies at Glasgow Airport
Not all campervan, motorhome and RV rental companies in Glasgow are the same -some are much (much) better than others- so we've taken out all the hassle and provided a list of three top motorhome rental companies close to Glasgow Airport with a track record of supplying quality gear for individuals, couples, family, friends -anyone who fancies a Scottish road trip without aggravation. But before all that a couple of useful things to know.
Motorhomes (or Campervans or RV's for that matter) come in three Classes. We'll go into a little more detail below but for now, a good budget option for couples are Class B campervans (literally, converted vans) and for families of 4 or more, Class C motorhomes (the ones that look like 'a motorhome') are ideal. There is a greater range of options in this class than any other but, to keep it simple, 'integrated' campervans are usually roomier than 'semi-integrated' -more on that later. For the record, Class A motorhome, or RV's, are the large ones that look like busses and not ideally suited for the twisty roads surrounding the fabulous city of Glasgow. So, without any further ado, let's hit the road.

Anywhere Campers
When it comes to perks, Anywhere Campers have a few up their sleeve, kicking off with one-way Campervan rental, which means that you can pick up your campervan in Glasgow and drop it anywhere you like in Europe. Additionally, Anywhere Campers will deliver your choice of rental directly to your door; for many self-drive holidaymakers that will be all they need to know before making a booking. Anywhere Campers also assure renters that their vehicles are, on average, less than a year old. So far so good, so long as there are no more than 5 of you…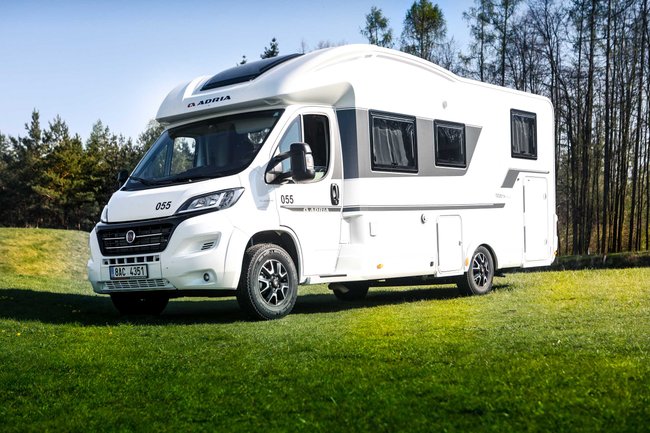 Motorhome Rental
…And by 5 we mean space for 4 adults and a child, Anywhere Campers only rent out the highly credible Adria Matrix 670SL as a manual or automatic. I guess it's safe to say that as their entire business model relies on one vehicle it's going to be pretty exceptional.
Included with Standard Rate:
250 kms per day
Free transfer
Bedding/linen
Kitchen/cutlery
24-hour assistance
0-2 years old
Glasgow depot: Free pick up and return at any Glasgow location
Anywhere Campers Hire Glasgow office hours: Pick up and drop off anytime
Touring Cars UK
Established in Finland in 1982, Touring Cars UK are one of the oldest campervan & motorhome service providers in Europe, working out of eleven countries including Scotland, specifically (in this instance) Glasgow. The majority of the fleet are supplied by German manufactures, Hobby and are either new or with less than 100,000 on the clock, so you can be sure that your scenic drive is going to be accompanied by peace of mind. Booking is easy too, especially for first-time renters: enter your details, dates of travel and Touring Cars UK will handpick the vehicle best suited to your needs.
Touring Cars UK Rental Vehicles include:
Campervan Shower/Toilet
This tidy Class B (i.e., a converted van) is ideally suited for 1 or 2 of you. It comes fully fitted with a toilet, shower and kitchen, with plenty of living room in which to dine or relax. With a turbo diesel engine, the TC Van is no slouch either!
Motorhome Rental
A Class C motorhome that will accommodate as many as 6 of you comes with a toilet, separate shower, a decent kitchen and plenty of space, courtesy of the cabover. Great for those wishing to bring the creature comforts of home on their road trip.
Touring Cars Glasgow Airport: Will meet you in the arrivals hall at Glasgow Airport (GLA)
Glasgow Depot: 253 Blairtummock Road, Glasgow, United Kingdom
Touring Cars Glasgow hours:
Monday to Sunday: Collection and return 8 am to 6 pm
Included with Standard Rate:
Unlimited kms
Kitchen/cutlery
24-hour assistance
Tourist information/maps
0-6 years old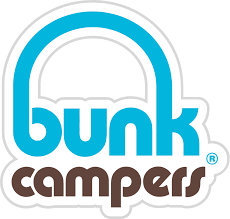 Bunk Campers UK
Nealy all of Bunk Campers fleet are built by Weinsberg in Germany so, right off the bat, you're investing in over 50 years of quality campervan experience. With a choice of nine rentals covering all classes, Bunk Campers offer accommodation for as little as 2 and as many as 6. All the rentals have unlimited mileage, roadside assistance and the kitchen is fully stocked with pots, pans and utensils. There is also the opportunity to get as much as 30% off selected campsites -just don't forget to read our recommended places to stay further down the page!
Bunk Campers Rental Vehicles include:
Poptop Campervan
A modern take on VW's classic campervan, but a long way from the old-school, air-cooled bus beloved by travellers of yore. For a start, there is enough room for 4 adults and it's sufficiently packed with almost everything you need for anywhere camping, and its budget-friendly too!
Hitop Campervan
More budget-friendly campervanning with Bunk Camper's Hitop Ranger/Vista, it sleeps 4 adults, but is arguably more suited for families, and comes with a cooker, fridge, dining table and heating. Motorhome renters can even add a portable toilet and additional tents for even more outdoor space and convenience.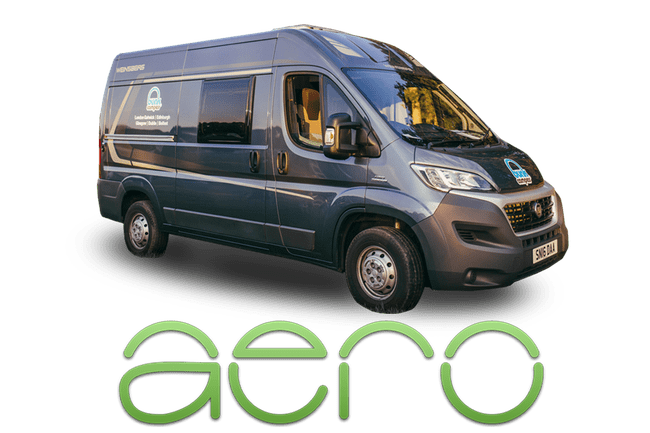 Campervan – Shower/Toilet
This could be the pick of the crop for couples who don't want to do their motorhome holiday by halves. Bunk Camper's Aero is more like an apartment on wheels than a campervan, in addition to all the kitchen goodies it comes with a toilet, shower and even mood lighting!
Motorhome Rental
Most motorhomes are Class C vehicles, i.e., a chassis, cab and engine that's been fused with prefabricated living quarters. They come in two basic flavours, integrated, better known as the traditional 'cabover', or semi-integrated which is a low-profile version of the former and a little easier on the eye.
Low Profile Motorhome – Aero Plus/Europa: Two fine examples of a Class C semi-integrated motorhome containing all the creature comforts a five-star apartment and ideal for couples or families who want the best on their self-drive holiday. There's even 'garage' space for bikes, tents and outside cooking facilities.
Coachbuilt/Cab Over Motorhome – Vista Plus/Grande: This classic looking 'integrated' motorhome may not look as pretty as its semi-integrated cousin but that cabover instantly frees up a bunch of interior space. Sleeping 4 or 6 respectively, these are the motorhomes you want if you're planning a long road trip.
Bunk Campers Glasgow: Unit 2, Liggat Syke Place, East Mains Industrial Estate, Broxburn, Scotland EH52 5NA
Location about 4.5 miles/7 km from Edinburgh Airport (EDI). From Glasgow City take the 21A Citylink Airbus (Stand E) direct to Edinburgh Airport, and get off at Dunnet Way. It is a short walk from there to the depot.
Bunk Campers UK office hours:
Monday to Saturday:

Pick Up: 3pm to 6pm
Drop off: 9am to 11am

Closed Sundays and Public Holidays
Included with Standard Rate:
Unlimited kms
Kitchen/cutlery
24 hour assistance
Tourist info/maps
0-3 years old
Glasgow City Attractions
Glasgow brims with cultural attractions indoors and out. First, there is the perennially popular – and free to enter – Kelvingrove Gallery Museum which houses one of Europe's great civic art collections. Then you have the pleasantly bustling Buchanan Street, Glasgow's main thoroughfare, which combines up market shopping, a vibrant café atmosphere, and impressive Victorian architecture from when Glasgow was one of Great Britain's main hubs of trans-Atlantic trade with North America.
Then about 45 minutes away by Glasgow Airport campervan hire is the Stirling Castle where some of the Scotland's monarchs, including the controversial Mary, Queen of Scots, were crowned. The castle, which sits atop an intrusive crag, overlooks a smaller hill where William Wallace staged a successful siege in the Battle of Stirling Bridge. Down the hill from the castle is Argyll's Lodging, a nobleman's house that was built in early 17th century by the first Earl of Stirling.
Top 10 Day Trips from Glasgow
Before we take a look at ten of the best day trips away from Glasgow, don't miss out on spending some time in Glasgow itself. For starters, art lovers will be spoiled for choice, Glasgow houses one of Europe's largest civic art collections but if you're pressed for time there is no better way of appreciating this beautiful city from one of the many guided tours.
Feel free to pick a theme -history and architecture, food and drink- and let the people that know the city inside and out show you the best things to see and do.
Loch Lomond
As we've seen in the former section, there are a number of places to camp close to, on the shores of, Loch Lomond. Located in the Trossachs National Park, self-drive holidaymakers are invited to discover this beautiful landscape from land to loch and just go with the flow.
Loch Ness
No, this isn't about a fictitious creature lurking in the icy depths of Loch Ness, though you could be forgiven for thinking so: head away from all that and simply enjoy this sensational body of water, the most voluminous in the UK, and surrounding scenery. Breathtaking.
Pitlochry
Before we get stuck in, the A93 and A924 scenic drive from Perth is an utter classic. Once you've arrived Pitlochry, rightly proud of its four-season array of attractions, is on hand to perfectly compliment a journey you'll remember long after you've handed back the motorhome keys.
Glencoe
More Scottish scenic drive action is to be found in the roads that take you through ancient volcanos and gorges cut by icy glaciers from Glencoe village, located close to Loch Leven and the vast area of Lochaber. For fans of wild, natural beauty, this should top your list.
Oban
Let's put aside the sheer gorgeousness of Oban for a moment and focus on the seafood, especially the shellfish and the drink that makes Oban famous the world over, whisky. Needless to say, if you're partial to a wee dram, you'll need to plan this one with care!
Inveraray
Almost cutting into the crystal-clear waters of the aptly named Loch Fyne, Inveraray is home to unblemished examples of Scottish Georgian Architecture. Inveraray Castle, the family home of the Duke of Argyll, the neoclassical church, jail and courthouse are mandatory for fans of both the architecture and local history.
Ayrshire Coast
Scenic drives galore in and around this stunning stretch of land located to the west of Glasgow, but you'd be doing yourself a huge disservice if you didn't take the chance to park up the motorhome rental, hit the beach and explore the fantastic Ayrshire coast on foot.
Trossachs National Park
We touched upon the Trossachs National Park earlier, but it deserves a mention in its own right. Also known as 'the highlands in miniature' it quickly gained a reputation as a source of inspiration for artists and poets alike, indeed, Walter Scott's Lady of the Lake is set here.
Edinburgh
Find a suitable campground (see above) park up the motorhome and grab yourself a big slice of Edinburgh. It may be Scotland's capital but, if you plan well, the historic heart of this enthralling city is small enough to get a lot done in a relatively short amount of time.
Stirling Castle
This internally famous Stirling Castle is considered by many as Scotland's must-see attraction. Among many facts, Mary Queen of Scots spent much of her life here and in 1507 the first recorded attempt at flight took place from its battlements; hopefully, your visit will work out better than that did!
Whisky, Castles and Glens by Motorhome
From Glasgow, drive your Glasgow Airport motorhome rental north past the scenic Loch Lomond, considered by many to be the most beautiful of the Scottish lakes, to Oban which is not only the home to one of Scotland's oldest single malt whisky distilleries but also located not far from the castles of Dunollie, the stronghold of the MacDougal Clan. Two miles away is the Dunstaffnage Castle which once belonged to the Campbells.
It is when you drive farther north in your RV rentals in Scotland and then take the A82 through the glens like Glencoe, site of the well-documented massacre of 1692, that you will truly appreciate starting your vacation in your campervan hire or motorhome rental because the scenic beauty of these glens can rarely be matched anywhere else in the world.
Drive to Loch Ness
Just to the north of Glencoe is the history-filled town of Fort William, named after William of Orange and a town that featured as a fortress for Oliver Cromwell's men during the English civil war and then later was under siege for two weeks during the Jacobite uprisings.
Continuing north in your RV rentals, you pass along the Great Glen which once again offers some spectacular scenery including Ben Nevis, the highest of Scotland's mountains. Perhaps stop off to talk with some of the campers at Loch Ness to see if the monster has been spotted recently. At the end of the glen you will reach Inverness, the most northerly of Britain's cities and known as the capital of the highlands of Scotland.
Returning south through the Grampian Mountains in your Glasgow Airport motorhome rental, you will reach Pitlochry, made famous by a visit by Queen Victoria in 1842. This town is now used as the centre for hill walkers to start their treks. If you still have the time, visit Bannockburn near Sterling, the site of one of Scotland's greatest battles against the English that was led by Robert the Bruce 700 years ago.
Best Campgrounds, Campervan & RV Parks near Glasgow
So, you've hired your motorhome rental for the ultimate road trip, the scenic drives and sights lie in waiting. As the first day comes to a close and your thoughts turn to a good meal and bed you suddenly release that there isn't actually a convenient place to stop. I mean, can you park up safely by the side of the road?
And what about charging batteries and dumping black and grey water?
Unless you're an experienced motorhome renter who knows all the answers to the above, here's four of the best campground and RV parks near Glasgow.
Strathclyde Country Park Caravan Club Site
Bothwellhaugh Road Bothwell, Glasgow G71 8NY, United Kingdom
With easy access to acres of picturesque parkland, Strathclyde Country Park Caravan Club Site is ideal for families, especially those with young children requiring an energy-releasing playground!
The modern family washrooms are ideal for self-drive holidaymakers without bathroom facilities and they can accommodate larger motorhomes/RV's on request too.
Lomond Woods Holiday Park
Old Luss Rd, Alexandria G83 8QP, Scotland
Fully serviced touring pitches, hard standing touring pitches, both with 10 or 16 amp hook-ups, all close to Loch Lomond, makes for a great opening pitch from Lomond Woods Holiday Park! For grown-ups looking for a bit of P & Q this could be ideal.
Milarrochy Bay Camping and Caravanning Club Site
Milarrochy Bay, Balmaha, Glasgow, G63 0AL, Scotland
More Loch Lomond action at Milarrochy Bay Camping and Caravanning Club Site, this one with spectacular views over the water itself, is certainly one of the most attractive campsites on the list. There are plenty of facilities for pets but not so kids, so bear that in mind before booking.
Cashel Campsite, Loch Lomond
Cashel, Rowardennan, G63 0AW, Scotland
It's a similar story, kid-wise, at the stunning Cashel Campsite Loch Lamond. Located on the east side of the water, views from the campsite also take in mountains and parks and there's a heap of nearby activities that will appeal to fans of the great outdoors.
Linwater Caravan Park
Clifton Rd, Newbridge, East Calder, West Lothian EH53 0HT, Scotland
Set in spacious parkland, Linwater Caravan Park is a no-nonsense place in which to stay overnight or for a few days before carrying on with your self-drive vacation. There's plenty of space for larger vehicles with 16 amp hook-ups available, plus, you won't get billed for pitching an awning!