Auckland Motorhome Rental, NZ
RV Rentals & Campervan Hire in Auckland, New Zealand
Auckland is the main international gateway on New Zealand's north island. Auckland is a great place to begin a trip through the country to the bottom of the south island; and in itself a wonderful region to explore. New Zealand roads are known for being narrow and windy; so overestimate your travel time and make sure the driver gets enough rest. Do make sure to read up on the rules of the road before getting behind the wheel. You can go online and reserve your motorhome or campervan rental before you travel; then pick up the keys from your Auckland motorhome rental, campervan hire or RV rentals agent; including leading brands Apollo Campervans, Maui Motorhomes and Britz Motorhome Rentals in Auckland.
Campsites and holiday parks in New Zealand can be pre-booked online prior to your vacation. You can either pre-book your campgrounds; or buy open dated vouchers for New Zealand Holiday Parks and campgrounds, that you use as you travel through New Zealand. One way rentals are available to other cities such as Christchurch, Queenstown and Wellington.
Auckland and surrounds by motorhome rental
Explore Auckland city in the classic way: by open top bus tour. Then get above it all on the Skywalk, or look out from the Stardome Observatory and Planetarium. The city also offers great food and nightlife. Explore the city architecture, art and cultural museums or scare yourself silly at Spookers!
West Auckland is a coastal area lined with beautiful beaches, volcanoes and rainforests. Once you have your hire campervan all set up; stretch your legs on a hiking trail or get a little adventurous on a mountain bike in Woodhill Forest!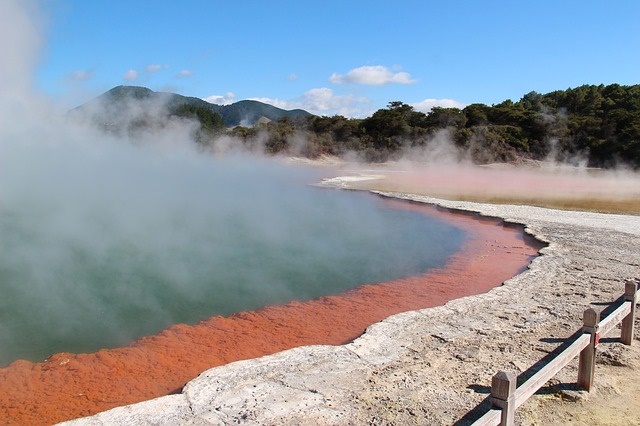 Geothermal & coastal wonders by campervan
New Zealand is known for its' stunning scenery, so don't waste time in getting out into it in your campervan hire or RV rentals.  There are holiday parks and caravan and camping sites that will accept motorhomes, campervans and recreational vehicles with truly amazing locations and facilities in the countryside surrounding Auckland.  Explore the Pohutukawa Coast, set up in a holiday park by the beach and ride horses along the shore, or visit the Bay of Islands.
Explore the geothermal wonderland of Rotorua with its geysers and hot pools. Take in a bit of Maori culture and take a Hangi & Concert tour. Visit Waitomo with its spectacular glow-worm caves, or take a drive in your campervan or motorhome around the Coromandel Peninsula. Hawkes Bay and Napier are major destinations for those interested in wine or art deco architecture.
The facilities all around New Zealand for hikers and campers are well maintained. Relax in the evening with the sunset and a bottle of fine New Zealand wine from one of the vineyards in the area.
At the end of your motorhome rental trip, simply return to the airport in your hire campervan and drop off the keys to your Auckland motorhome rental, campervan hire and RV agent. Then transfer straight to Auckland Airport and start to plan your next New Zealand RV hire trip!